What's Up?
Today is Friday 30 July 2021. Keep reading to learn about my very long Thursday that ended very wet.
I was glad to learn that BPN friend Kevin Hice was the third to sign up for Homer. Wherever you are, and whatever you are doing, I hope that you too have a great day.
Remember that you can find some great photo accessories (and necessities!) on Amazon by clicking on the Stuff tab on the orange/yellow menu bar above. On a related note, it would be extremely helpful if blog-folks like me, who spend too much money on Amazon, would get in the habit of clicking on the Amazon logo link on the right side of each blog post. As you might expect, doing so will not cost you a single penny, but would be appreciated tremendously by yours truly. And it works seamlessly with your Amazon Prime account.
This blog post took about less than an hour to prepare and makes 214 consecutive days with a new one. Please remember that if an item — a Delkin flash card, or a tripod head — for example, that is available from B&H and/or Bedfords, and is also available in the BAA Online Store, it would be great, and greatly appreciated if you would opt to purchase from us. We will match any price. Please remember also to use my B&H affiliate links or to save 3% at Bedfords by using the BIRDSASART discount code at checkout. Doing either often earns you free guides and/or discounts. And doing so always earns my great appreciation.
Homer Bald Eagles Winter 2022
Yes, this is an expensive (but competitively priced) trip. The price of the boat and the price of the fish have risen astronomically since my last visit in 2020. The photography on this trip of a lifetime is beyond amazing. You can do the whole trip with either the Canon 100-500 or the SONY 200-600 along with any 70-200mm lens. Flight photography until you cannot raise your arms, creative set-ups, lots of snow we hope (earlier in the season is best for that), and lots of opportunities for point-blank head portraits and talon shots. All in a variety of spectacular settings. If you are seriously interested in joining me for the world's best Homer/Kachemak Bay Bald Eagle trip(s) — mid-FEB thru early MARCH 2022, please contact me immediately via e-mail for dates and details. I am looking for a roommate who will be doing all eleven days.
The East Pond
The East Pond at Jamaica Bay Wildlife Refuge, Queens, NY was the place to observe and photograph North America's southbound migrant shorebirds. It shined from 1975 through about 2010. Then, for reasons noted in the blog post here, the place pretty much went down the tubes due to high water levels. At present, it seems that the folks at Gateway have gotten their act together; conditions at the pond are reported to be excellent this season. I have a strong connection to the East Pond. I photographed my first shorebird — a Semipalmated Sandpiper, there in August of 1983. I've been visiting for 45 years and have spent thousands of hours on the pond.
If you would like to learn to identify more than a dozen species of shorebirds and photograph some of them on an In-the-Field Workshop in August, please shoot me an e-mail to learn the dates and details. The East Pond is best for photography for just three specific days in a calendar year … I will be there then. Here's hoping that the East Pond will return to its former crown-jewel glory. See some good news below.
Selling Your Used Photo Gear Through BIRDS AS ART
Selling your used (or like-new) photo gear through the BAA Blog is a great idea. We charge only a 5% commission. One of the more popular used gear for sale sites charged a minimum of 20%. Plus assorted fees! Yikes. They went out of business. And e-Bay fees are now up to 13%. The minimum item price here is $500 (or less for a $25 fee). If you are interested please scroll down here or shoot us an e-mail with the words Items for Sale Info Request cut and pasted into the Subject line :). Stuff that is priced fairly — I offer pricing advice to those who agree to the terms — usually sells in no time flat. Over the past year, we have sold many dozens of items. Do know that prices on some items like the EOS-1D Mark IV, the old Canon 100-400, the old 500mm, the EOS-7D and 7D Mark II and the original 400mm DO lens have been dropping steadily. Most recently the price of used Canon 600mm f/L IS II lenses have been dropping like a rock with the introduction of the 600 III. You can always see the current listings by clicking here or on the Used Photo Gear tab on the orange-yellow menu bar near the top of each blog post page.
As used gear sales have slowed just a bit in recent months — especially with dSLR bodies, there are lots of great buys right now both below and on the Used Gear Page.
Price Drop
SONY a9 II Mirrorless Digital Camera Body
Price reduced $200.00 28 July 2021
Wally Barkley is offering a Sony a9 II in near-mint condition for a BAA record-low $2494.00 (was $2694.00). The sale includes the original box and everything that came in it including one battery and the charger, strap. Insured ground shipping via major courier to lower-48 US addresses only is also included. Your item will not ship until your check clears unless other arrangements are made.
Please contact Wally via e-mail or by phone at 1-231-675-6546 Eastern time zone.
As things worked out, the a9, and then the a9 ii, turned out to be life-changers for me. From the moment I tracked that first incoming Brandt's Cormorant at LaJolla, I knew that at that time, the SONY a9 series bodies featured the world' best AF. I upgraded to the a9 ii as soon as it was released for the slightly larger body size. At one point I owned two a9 ii bodies. A new a9 ii sells for $4,498.00 so you can save a very nice $2004.00 by grabbing Wally's a9 ii ASAP. Not to mention that the new Sony A1 sells for $6498.00 … artie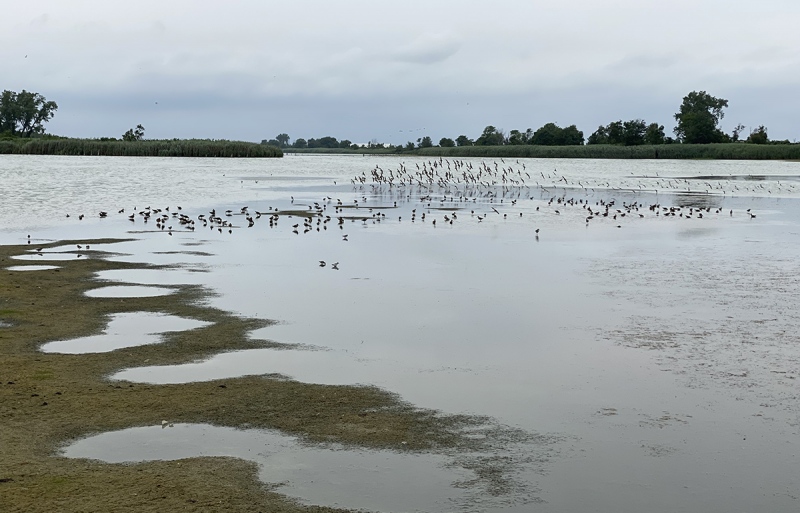 i-Phone Image
Shorebirds at the East Pond on 29 July 2021
A Very Long Day …
I was glad that I paid $60 to add "First-30 Vehicles-Off-the-Auto-Train feature. (I once had to wait more than three hours for my Sequoia). My car just missed beating me to the pick-up area where folks are re-united with their cars. It was, however, the first one off in the second group. My total wait was about six minutes. With our early arrival, I was headed north at 9:10am. I made lots of pit-stops, a picnic-lunch-stop, and lots of stretch-my-legs-stops. The eastbound only toll on the Goethals Bridge is an astounding $16.00. But for my crossing of the Verrazano-Narrows Bridge (AKA the Very Narrow Zano's Bridge), I had little traffic and my NAV system helped me get around one accident and one construction delay. The one-way pay by mail toll on the Verrazano is $10.17! Anyhoo I decided to stop at the East Pond at Jamaica Bay Wildlife Refuge.
Lots of memories surfaced as I drove down Cross Bay Boulevard. I lived there for several years with my late-wife Elaine Belsky Morris before we left for Florida in 1993. I was pleased to see that the water levels on the East Pond (above) were very good and that there were about 800 shorebirds present — mostly Short-billed Dowitchers and Semipalmated Sandpipers, despite the fact that the tide in the surround bays was halfway down. The largest numbers of shorebirds are almost always found an hour or two before and after the daily high tides.
I had heard years ago that my old friend Denis Macrae who lived in a ramshackle house right on the bay just south of the refuge was not doing well. I stopped by to see if I could recognize his house. Boy, had things changed. I rang the bell of a new home right on Cross Bay, but nobody answered. Not giving up, I walked down a path towards the bay when a guy in a pickup truck drove down his driveway to the right. "Fuzzy" had lived in Broad Channel for 74 years, since his birth in 1947. He told me that Denis had died a while back, but that his wife Chrissie, had bought the lovely new home just behind us. I went back, rang the bell again, and left a business card. I will try again when I visit the East Pond.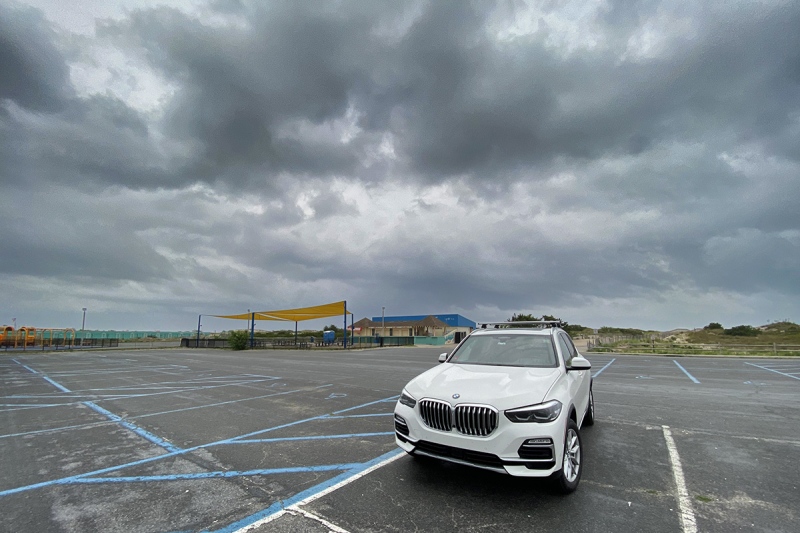 i-Phone Image
My X-5 in the parking lot at Nickerson Beach on a very stormy afternoon
That Ended Very Wet!
After visiting the pond, I headed to my motel in Rockville Centre. Despite the threatening skies, I headed out to Nickerson Beach. Not surprisingly, I was the only one in the parking lot. As I headed south (with only my i-Phone), a spitting rain in my face driven by a 25mph south wind made walking unpleasant despite the fact that I had put on a heavy hooded sweatshirt. It was obvious that the Common Terns had done very well this season as there were many dozens of fledged young on the beach. There were lots of Black Skimmers sitting on scrapes, but I did not see any chicks (though there might have been some or many being broods in the harsh weather).
When I got to the end of the East Colony, there were three vehicles on the beach facing west. The first two were small utility vehicles being driven by very young women. They drove off and waved as I approached. Next was a lady officer in a Town of Hempstead vehicle. She rolled down here window and said in an unpleasant voice, "The beach is closed. You must off of the beach now. A big storm is coming." I was about 3/4 of a mile from the parking lot. She was so concerned about my safety, that she drove off to the west without offering me a ride. I did not ask for one as I wanted to swing by the west Colony.
When I got back to my hotel, my sweatshirt weighed about 10 pounds, my dungarees about five. I checked the forecast. It was calling for clearing skies with northwest winds to follow the departing storm. I got into bed early and fell asleep quickly. My plan was to get up way early and be on the beach well before sunrise. With wind against sun early, the best (and only) opportunities are for skimmers landing backlit against the beach grasses. I woke at 3am, almost got out of bed, and fell back to sleep. I figured that I would wake on my own by five, throw the stuff in the car, and head to the beach. I woke at six. Sunrise had been at 5:49am and the sky was — as predicted, dead-clear. Knowing that a NW wind on a clear morning is death on bird photography, I stayed in and worked on this blog post. As soon as I hit publish, I will be headed east to younger daughter Lissy's home.
Typos
With all blog posts, feel free to e-mail or to leave a comment regarding any typos or errors.