Multiple Choice Quiz
Which of today's featured pleasing (to many folks) blurs do you like best?
A- Image #1 because ____________.
B- Image #2 because ____________.
C- I like both because ____________.
D- I hate all blurs because ____________.
Higher Res Viewing
Please note that the small JPEGs in each blog post are for display purposes only. Clicking on each blog image to enlarge it will bring up a stunning high resolution image. For unknown reasons, the smaller images simply do not look sharp. I am attempting to rectify that situation. In the meantime, click on the images to be impressed by the quality of the new higher res photos.
What's Up?
Due to popular demand, I created the Adobe Camera Raw/Raw Conversion Video on Wednesday. It will be in the store soon. And I went for a swim with grandson Idris at the community pool at my sister Ilene's home. Today is Thursday 25 August 2021 and I will be headed early to Nickerson Beach for a private In-the-Field session with IPT veteran Jim Dolgin. I will likely be heading back to Florida in about a week. If you would like to hook up for an In-the-field session at Nickerson Beach, please get in touch via e-mail. Wherever you are, and whatever you are doing, I hope that you too have a great day.
Remember that you can find some great photo accessories (and necessities!) on Amazon by clicking on the Stuff tab on the orange/yellow menu bar above. On a related note, it would be extremely helpful if blog-folks like me, who spend too much money on Amazon, would get in the habit of clicking on the Amazon logo link on the right side of each blog post when they shop online. As you might expect, doing so will not cost you a single penny, but would be appreciated tremendously by yours truly. And doing so works seamlessly with your Amazon Prime account.
This blog post took about one hour to prepare (including the time spent on the image optimization) and makes 239 consecutive days with a new one. Please remember that if an item — a Delkin flash card, or a tripod head — for example, that is available from B&H and/or Bedfords, is also available in the BAA Online Store, it would be great, and greatly appreciated, if you would opt to purchase from us. We will match any price. Please remember also to use my B&H affiliate links or to save 3% at Bedfords by using the BIRDSASART discount code at checkout. Doing either often earns you free guides and/or discounts. And doing so always earns my great appreciation.
Please Remember
With income from IPTs now close to zero, please, if you enjoy and learn from the blog, remember to use one of my two affiliate programs when purchasing new gear. Doing so just might make it possible for me to avoid having to try to get a job as a Walmart greeter and will not cost you a single penny more. And if you use Bedfords and remember to enter the BIRDSASART code at checkout, you will save 3% on every order and enjoy free second-day air shipping. In these crazy times — I am out at least forty to sixty thousand dollars so far due to COVID 19 (with lots more to come) — remembering to use my B&H link or to shop at Bedfords will help me out a ton and be greatly appreciated. Overseas folks who cannot order from the US because of import fees, duties, and taxes, are invited to help out by clicking here to leave a blog thank you gift if they see fit.
New and Better Bedfords Discount Policy!
You can now save 3% on all of your Bedfords photo gear purchases by entering the BIRDSASART coupon code at checkout. Your discount will be applied to your pre-tax total. In addition, by using the code you will get 2nd day air shipping via Fed Ex.
Grab a Nikon AF-S Teleconverter TC-14E III and save $14.99. Purchase a Canon EOS R5 and your discount will be $116.97. Purchase a Sony FE 600mm f/4 GM OSS lens and save a remarkable $389.94! Your Bedford's purchase no longer needs to be greater than $1,000.00 for you to receive a discount. The more you spend, the more you save.

Money Saving Reminder
Many have learned that if you need a hot photo item that is out of stock at B&H and would enjoy free second-day air shipping, your best bet is to click here, place an order with Bedfords, and enter the coupon code BIRDSASART at checkout. If an item is out of stock, contact Steve Elkins via e-mail or on his cell phone at (479) 381-2592 (Central time). Be sure to mention the BIRDSASART coupon code and use it for your online order to save 3% and enjoy free 2nd-day air shipping. Steve has been great at getting folks the hot items that are out of stock at B&H and everywhere else. The wait lists at the big stores can be a year or longer for the hard to get items. Steve will surely get you your gear long before that. For the past year, he has been helping BAA Blog folks get their hands on items like the SONY a9 ii, the SONY 200-600 G OSS lens, the Canon EOS R5, the Canon RF 100-500mm lens, and the Nikon 500mm PF. Steve is personable, helpful, and eager to please.
Gear Questions and Advice
Too many folks attending BAA IPTs (remember those?) and dozens of photographers whom I see in the field and on BPN, are–out of ignorance–using the wrong gear, especially when it comes to tripods and more especially, tripod heads… Please know that I am always glad to answer your gear questions via e-mail.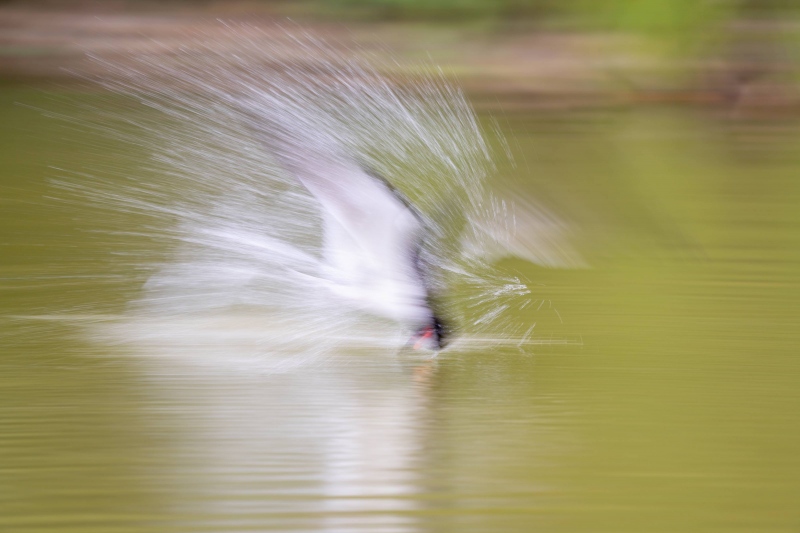 This image was created on 5 August 2021 at Nickerson Beach. I used the hand held Sony FE 200-600mm f/5.6-6.3 G OSS lens (at 467mm) and The One, the Sony Alpha 1 Mirrorless digital camera. ISO 250: 1/30 sec. at f/6.3 (wide open) in Manual mode. AWB at 7:21am on a dark, cloudy morning.
Tracking: Center Zone/AF-C Bird/Eye Detection AF was active at the moment exposure and performed as expected: very well.
Be sure to click on the image to enjoy a larger, hi-res version.
Image #1: Black Skimmer striking at fish or drinking
Your browser does not support iFrame.
The Location and the Situation
Finding this location at Nickerson Beach is easy. As you enter the parking lot, look around. If you see some skimmers and terns roosting in the parking lot, look around some more and you will locate the skimming location. The birds usually cooperate early on cloudy mornings, often — but not always, on mornings with a light drizzle and a wind from somewhere in the north.
Once you've figured out where the birds are skimming approach the location slowly and carefully with the wind behind you so that the birds are skimming towards you. Then set a slow shutter speed, determine the right exposure, and make lots of images. You will be deleting a very high percentages of the images that you make; each really good pleasing blur is like winning the lottery.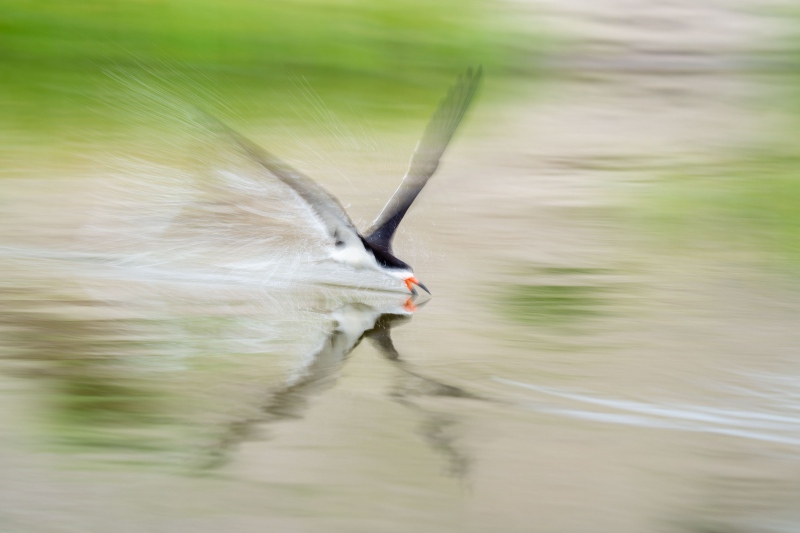 This image was created on 9 August 2021 at Nickerson Beach. I used the hand held Sony FE 200-600mm f/5.6-6.3 G OSS lens (at 356mm) and The One, the Sony Alpha 1 Mirrorless digital camera. ISO 100: 1/15 sec. at f/7.1 (wide open) in Manual mode. AWB at 6:41am on a cloudy morning.
Tracking: Center Zone/AF-C Bird/Eye Detection AF was active at the moment exposure and performed as expected: very well.
Be sure to click on the image to enjoy a larger, hi-res version.
Image #2: Black Skimmer skimming
Your browser does not support iFrame.
Vary Your Shutter Speeds
If there are lots of birds skimming, it pays to vary your shutter speed from time to time. Your choices lie somewhere between 1/8 (or very rarely 1/4) sec., and 1/125 sec. All things (especially your ability to match the speed of the bird in flight with your panning speed) being equal, the closer you are to the bird the greater the degree of blurring at a given shutter speed. 1/15 second as in Image #1 is usually regarded as the classic blur speed so it never hurts to start there.
RawDigger showed that both of today's featured images were close to one stop underexposed. The lower the light, the more likely folks are to underexpose their images. Accurately learning the accuracy of the exposure helps me to adjust the Exposure slider when beginning a raw conversion in ACR.
A Guide to Pleasing Blurs
Learn everything there is to know about creating pleasingly blurred images in A Guide to Pleasing Blurs by Denise Ippolito and yours truly. This 20,585 word, 271 page PDF is illustrated with 144 different, exciting, and artistic images. The guide covers the basics of creating pleasingly blurred images, the factors that influence the degree of blurring, the use of filters in creating pleasing blurs, and a great variety of both in-the-field and Photoshop techniques that can be used to create pleasingly blurred images.
Artie and Denise teach you many different ways to move your lens during the exposure to create a variety of pleasingly blurred images of flowers and trees and water and landscapes. They will teach you to recognize situations where subject movement can be used to your advantage to create pan blurs, wind blurs, and moving water blurs. They will teach you to create zoom-blurs both in the field and during post-processing. Artie shares the techniques that he has used and developed for making blurred images of flocks of geese in flight at his beloved Bosque del Apache and Denise shares her flower blur magic as well as a variety of creative Photoshop techniques that she has developed.
With the advent of digital capture creating blurred images has become a great and inexpensive way to go out with your camera and have fun. And while many folks think that making successful blurred images is the result of being a sloppy photographer, nothing could be further from the truth. In "A Guide to Pleasing Blurs," Artie and Denise will help you to unleash your creative self.
Typos
With all blog posts, feel free to e-mail or to leave a comment regarding any typos or errors.