What's Up?
At 7:00am on Saturday morning it was teeming rain with a 25mph north wind. By 8:00am things had calmed down a bit so we headed out to the beach. There were thousands of skimmers blasting off into a stiff east wind up and down the beach. But I knew exactly where we needed to be. We went to the perfect spot for the conditions. I killed to the tune of 5293 images. Taking a peek at the folder, I selected today's featured image.
It was truly a wild morning and there was not another photographer in sight. The action was non-stop with skimming and bathing skimmers and bathing terns and shorebirds. At one point there were 250 oystercatchers bathing in the pool in front of me. Then a tight flock of 100 Sanderlings bathing. We had dozens of Semipalmated Sandpipers in front of us, often within seven feet. There were a smattering of Least, Western, and White-rumped Sandpipers along with a single Pectoral. We also had a single juvenile Piping Plover, a few gorgeous young Short-billed Dowitchers, several Lesser, and a single Greater Yellowlegs, a few Ruddy The turnstones, and two Semipalmated Plovers. A swooping Peregrine cleared the pond in mid-morning but the birds returned within minutes.
I knew when we left the hotel where we needed to be: on the edge of a storm surge/rain pool with the east wind at our backs in the lee of a small dune. The birds knew also. Wherever you are, and whatever you are doing, I hope that you too have a great day.
Remember that you can find some great photo accessories (and necessities!) on Amazon by clicking on the Stuff tab on the orange/yellow menu bar above. On a related note, it would be extremely helpful if blog-folks like me, who spend too much money on Amazon, would get in the habit of clicking on the Amazon logo link on the right side of each blog post when they shop online. As you might expect, doing so will not cost you a single penny, but would be appreciated tremendously by yours truly. And doing so works seamlessly with your Amazon Prime account.
This blog post took less than an hour to prepare (including the time spent on the image optimization), and makes 241 consecutive days with a new one. Please remember that if an item — a Delkin flash card, or a tripod head — for example, that is available from B&H and/or Bedfords, is also available in the BAA Online Store, it would be great, and greatly appreciated, if you would opt to purchase from us. We will match any price. Please remember also to use my B&H affiliate links or to save 3% at Bedfords by using the BIRDSASART discount code at checkout. Doing either often earns you free guides and/or discounts. And doing so always earns my great appreciation.
Please Remember
With income from IPTs now close to zero, please, if you enjoy and learn from the blog, remember to use one of my two affiliate programs when purchasing new gear. Doing so just might make it possible for me to avoid having to try to get a job as a Walmart greeter and will not cost you a single penny more. And if you use Bedfords and remember to enter the BIRDSASART code at checkout, you will save 3% on every order and enjoy free second-day air shipping. In these crazy times — I am out at least forty to sixty thousand dollars so far due to COVID 19 (with lots more to come) — remembering to use my B&H link or to shop at Bedfords will help me out a ton and be greatly appreciated. Overseas folks who cannot order from the US because of import fees, duties, and taxes, are invited to help out by clicking here to leave a blog thank you gift if they see fit.
New and Better Bedfords Discount Policy!
You can now save 3% on all of your Bedfords photo gear purchases by entering the BIRDSASART coupon code at checkout. Your discount will be applied to your pre-tax total. In addition, by using the code you will get 2nd day air shipping via Fed Ex.
Grab a Nikon AF-S Teleconverter TC-14E III and save $14.99. Purchase a Canon EOS R5 and your discount will be $116.97. Purchase a Sony FE 600mm f/4 GM OSS lens and save a remarkable $389.94! Your Bedford's purchase no longer needs to be greater than $1,000.00 for you to receive a discount. The more you spend, the more you save.

Money Saving Reminder
Many have learned that if you need a hot photo item that is out of stock at B&H and would enjoy free second-day air shipping, your best bet is to click here, place an order with Bedfords, and enter the coupon code BIRDSASART at checkout. If an item is out of stock, contact Steve Elkins via e-mail or on his cell phone at (479) 381-2592 (Central time). Be sure to mention the BIRDSASART coupon code and use it for your online order to save 3% and enjoy free 2nd-day air shipping. Steve has been great at getting folks the hot items that are out of stock at B&H and everywhere else. The wait lists at the big stores can be a year or longer for the hard to get items. Steve will surely get you your gear long before that. For the past year, he has been helping BAA Blog folks get their hands on items like the SONY a9 ii, the SONY 200-600 G OSS lens, the Canon EOS R5, the Canon RF 100-500mm lens, and the Nikon 500mm PF. Steve is personable, helpful, and eager to please.
Gear Questions and Advice
Too many folks attending BAA IPTs (remember those?) and dozens of photographers whom I see in the field and on BPN, are–out of ignorance–using the wrong gear, especially when it comes to tripods and more especially, tripod heads… Please know that I am always glad to answer your gear questions via e-mail.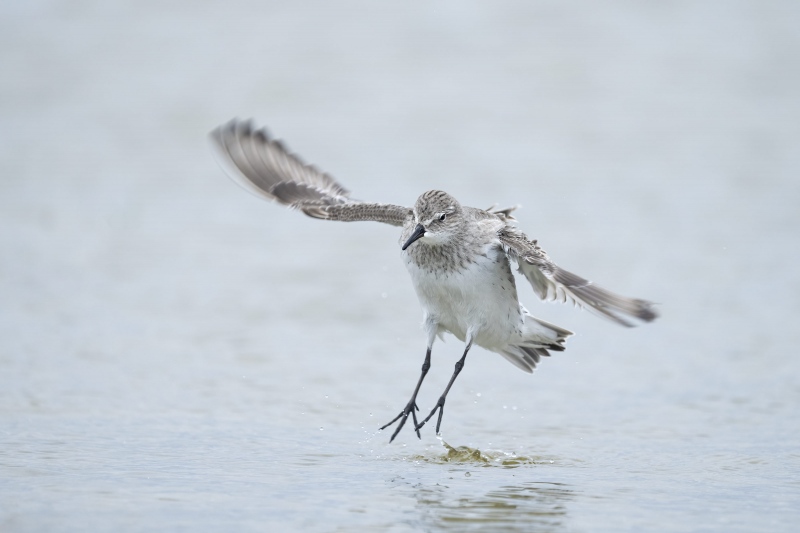 This image was created on 28 August 2021 at Nickerson Beach. While seated on damp sand, I used the hand held Sony FE 200-600mm f/5.6-6.3 G OSS lens (at 600mm) and The One, the Sony Alpha 1 Mirrorless digital camera. ISO 2000: 1/3200 sec. at f/6.3 (wide open) in Manual mode. AWB at 9:37am on a cloudy, dark, windy morning.
Tracking: Center Zone/AF-C Bird/Eye Detection AF was active at the moment exposure and performed amazingly well.
Be sure to click on the image to enjoy a larger, hi-res version.
Image #1: White-rumped Sandpiper flapping after bath
Your browser does not support iFrame.
Bathing Beach Birds
The smaller shorebirds bathed in an inch or so of water quite close to us. The terns a bit farther out in two to three inches of water, and the skimmers and oystercatchers a bit farther out than that in water perhaps two to four inches deep. The biggest challenge was to make a good image of a juvenile skimmer skimming toward us. Time at the editing table will tell.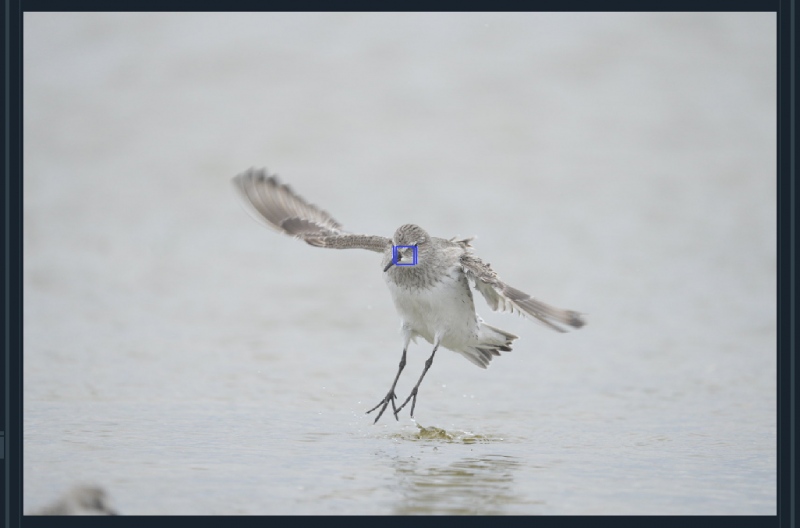 Image #1A: The active AF point for the White-rumped Sandpiper flapping after bath image
Shockingly Amazing!
I could barely believe that the a1 AF system detected and locked onto the face of the jumping sandpiper.
SONY a1 AF: Beyond Belief …
a1 Bird-Eye/Face Detection has gotten much better since the V1.10 firmware update that completely eliminated the EVF Blackout problems. It has become easier to trust the AF system whether working birds perched or on the ground, when doing flight photography, or when working off the tilted rear screen with the tripod almost at ground level. In short, thee a1 AF system is amazing.
SONY and artie
Switching to SONY, first with the a9 and the a9 II, and then to the remarkable a1, has enabled me (and others, like Mike De Rosa as seen a while ago in the blog post here), to create images of birds in flight and in action that I could not have even dreamed of when using Canon for 33 years and then Nikon for more than two. Most of the time I am using one of two AF methods that together, cover about 99% of the commonly-encountered bird photography situations. At present, I am experimenting beyond those … Learn more by joining the group!
From Long-ago IPT veteran Keith Kennedy via e-mail
Absolutely great information. I am calling Jim in a few minutes to order a couple of Delkin 128GB UHS-II cards. Your timely email has saved me a ton of money! Many thanks
In the same vein, via e-mail from John LeClair
Well, e-mail #21 alone was worth the price of admission!
From Pamela Viale, after receiving artie's a1 settings along with detailed instructions on how to copy them to her SONY a1 via e-mail
This e-mail group has been an incredible boon to me! Thank you so much!
From Joe Barranco via e-Mail
Thanks for your great ideas on the A1 set up. I have been getting MANY more keepers doing things your way!
From Barbara White via e-Mail
Wow, I just gotta say – I learn so much from the SONY Alpha a1 Set-up and Info group! My camera is on my desk, and I'm always picking it up and changing something that I've read about in the e-mails.
Thanks, Barbara
From Janet Horton via e-Mail
Hi Artie, Mystery solved. Yes, I was able to replicate what you did. I forgot that you have to set self-timer using the upper dial. I am used to that being a MENU selection.
Thanks much, Janet
SONY Alpha a1 Set-up and Info Group
The SONY Alpha a1 Set-up and Info Group is going great guns as more and more folks chime in with thoughtful questions and experience-based answers. As the a1 is becoming more readily available, more and more folks are getting their hands on this amazing body. With two folks joining yesterday, we are now up to an astounding 77 lucky and blessed photographers! Early on, we discussed the myriad AF options. I gave my opinion as to the best one for flight and general bird photography. More recently, we have been in contact with folks at SONY sharing our thoughts, experiences, and frustrations with the EVF blackout problem.
All who purchased their Alpha a1 bodies via a BAA affiliate link will receive a free subscription to the Sony Alpha a1 Set-Up and Info Updates after shooting me their receipts via e-mail. (Note: it may take me several days to confirm B&H orders.) This same service may be purchased by anyone with an a1 body via a $150.00 PayPal sent to birdsasart@verizon.net indicating payment for Alpha a1 Info Updates. Alternatively, folks can call Jim weekdays at 1-863-692-0906 to pay via credit card. New members will receive composite e-mails that summarize all previous discussions.
Typos
With all blog posts, feel free to e-mail or to leave a comment regarding any typos or errors.