What's Below?
Comments on the Canon EOS 5D Mark IV
On owning the Canon 500 II and the Canon 600 II
BIRDS AS ART High Key Pelican Action
Updated Thoughts on Shutter Speeds for Flight and for Action
Your Fave?
Which of today's two featured images is the strongest? Leave a comment and let us know why you made your choice.
What's Up?
I visited Central Park again on Tuesday morning. There were hundreds of southbound migrant passerines in the trees and bushes at Strawberry Fields. Along with several hundred birders and bird photographers. There were more than 20 species of warblers reported. I saw dozens of Common Yellowthroats and Magnolia and Black and White Warblers at close range at eye level. But as is typical in the park in the fall, photography was near-impossible. I'll be lucky if I made a single keeper. Why so difficult? The birds were foraging on the move. They flit instantly from bright sun to dark shade and are most often in filtered light so getting a good exposure is a huge challenge. Get me to the beach asap!
Speaking of the beach, anyone interested in the first DeSoto IPT needs to call Jim asap (863-221-2372) as it begins this coming weekend. Several folks have either signed up for or are interested in the 2nd and 3rd DeSoto IPTs. Learn more by scrolling down here or shoot me an e-mail if you have any questions. David Pugsley reports that there is constant action at DeSoto right now. I am looking forward to working with Mike De Rosa again on the 1st DeSoto IPT. We had a ton of fun at Jacksonville. You can learn about Mike's experience there in the Mike De Rosa: Learning a Ton, Making Great Images, and Dispelling Many Myths About SONY! blog post here.
I was glad to learn on Tuesday that the sale of Alice Garland's Nikon Coolscan 5000 ED Slide Scanner became pending on the first day of listing. There is tons of stuff to learn in today's post so be sure to keep reading below.
Today is Wednesday 15 September; I will be headed back to Florida on the Auto Train on Thursday afternoon. Wherever you are, and whatever you are doing, I hope that you too have/had a great day.
Remember that you can find some great photo accessories (and necessities!) on Amazon by clicking on the Stuff tab on the orange/yellow menu bar above. On a related note, it would be extremely helpful if blog-folks who, like me, spend too much money on Amazon, would get in the habit of clicking on the Amazon logo link on the right side of each blog post when they shop online. As you might expect, doing so will not cost you a single penny, but would be appreciated tremendously by yours truly. And doing so works seamlessly with your Amazon Prime account.
The streak is over at 254; going forward, I will aim for a blog post every other day. Please remember that if an item — a Delkin flash card, or a tripod head — for example, that is available from B&H and/or Bedfords, is also available in the BAA Online Store, it would be great, and greatly appreciated, if you would opt to purchase from us. We will match any price. Please remember also to use my B&H affiliate links or to save 3% at Bedfords by using the BIRDSASART discount code at checkout for your major gear purchases. Doing either often earns you free guides and/or discounts. And always earns my great appreciation.
Selling Your Used Photo Gear Through BIRDS AS ART
Please know that the longer you wait to sell your used gear, the less you will get for it …
Selling your used (or like-new) photo gear through the BAA Blog is a great idea. We charge only a 5% commission. One of the more popular used gear for sale sites charged a minimum of 20%. Plus assorted fees! Yikes. They went out of business. And e-Bay fees are now up to 13%. The minimum item price here is $500 (or less for a $25 fee). If you are interested please scroll down here or shoot us an e-mail with the words Items for Sale Info Request cut and pasted into the Subject line :). Stuff that is priced fairly — I offer pricing advice to those who agree to the terms — usually sells in no time flat. Over the past year, we have sold many dozens of items. Do know that prices on some items like the EOS-1D Mark IV, the old Canon 100-400, the old 500mm, the EOS-7D and 7D Mark II and the original 400mm DO lens have been dropping steadily. Most recently the price of used Canon 600mm f/L IS II lenses have been dropping like a rock with the introduction of the 600 III. You can always see the current listings by clicking here or on the Used Photo Gear tab on the orange-yellow menu bar near the top of each blog post page.
Right now, there are lots of excellent buys on the Used Gear Page.
Please Remember
With income from IPTs now close to zero, please, if you enjoy and learn from the blog, remember to use one of my two affiliate programs when purchasing new gear. Doing so just might make it possible for me to avoid having to try to get a job as a Walmart greeter and will not cost you a single penny more. And if you use Bedfords and remember to enter the BIRDSASART code at checkout, you will save 3% on every order and enjoy free second-day air shipping. In these crazy times — I am out at least forty to sixty thousand dollars so far due to COVID 19 (with lots more to come) — remembering to use my B&H link or to shop at Bedfords will help me out a ton and be greatly appreciated. Overseas folks who cannot order from the US because of import fees, duties, and taxes, are invited to help out by clicking here to leave a blog thank you gift if they see fit.
New and Better Bedfords Discount Policy!
You can now save 3% on all of your Bedfords photo gear purchases by entering the BIRDSASART coupon code at checkout. Your discount will be applied to your pre-tax total. In addition, by using the code you will get 2nd day air shipping via Fed Ex.
Grab a Nikon AF-S Teleconverter TC-14E III and save $14.99. Purchase a Canon EOS R5 and your discount will be $116.97. Purchase a Sony FE 600mm f/4 GM OSS lens and save a remarkable $389.94! Your Bedford's purchase no longer needs to be greater than $1,000.00 for you to receive a discount. The more you spend, the more you save.

Money Saving Reminder
Many have learned that if you need a hot photo item that is out of stock at B&H and would enjoy free second-day air shipping, your best bet is to click here, place an order with Bedfords, and enter the coupon code BIRDSASART at checkout. If an item is out of stock, contact Steve Elkins via e-mail or on his cell phone at (479) 381-2592 (Central time). Be sure to mention the BIRDSASART coupon code and use it for your online order to save 3% and enjoy free 2nd-day air shipping. Steve has been great at getting folks the hot items that are out of stock at B&H and everywhere else. The wait lists at the big stores can be a year or longer for the hard to get items. Steve will surely get you your gear long before that. For the past year, he has been helping BAA Blog folks get their hands on items like the SONY a9 ii, the SONY 200-600 G OSS lens, the Canon EOS R5, the Canon RF 100-500mm lens, and the Nikon 500mm PF. Steve is personable, helpful, and eager to please.
Gear Questions and Advice
Too many folks attending BAA IPTs (remember those?) and dozens of photographers whom I see in the field and on BPN, are–out of ignorance–using the wrong gear, especially when it comes to tripods and more especially, tripod heads… Please know that I am always glad to answer your gear questions via e-mail.
The Canon EOS 5D Mark IV
Whenever I have a 5D IV to sell on the Used Gear page, I write that I loved and used the 5D IV while my EOS-1DX and then my EOS-1D X Mark II sat on the shelf in my air conditioned garage … I was not kidding.
The Canon 5D Mark IV Camera User's Guide
Check it out here.
On Owning the Canon 500 II and the Canon 600 II???
When I was a Canon Explorer of Light (for 18 years), I owned both the 500mm and the 600mm f/4 lenses. While that may seem like overkill, owning both solved lots of problems. The 500 f/4 was lighter and smaller and much easier to hand hold and to travel with than the corresponding 600 f/4. I'd always leave the 600 at home for the San Diego IPT while that was my first choice for trips where the birds were more skittish. For Bosque del Apache, I would ship both lenses to Socorro. Today's Image #1 was made with the 600 f/4, while image #2 was made with the 500mm f/4 and the 1.4X TC. Both with the 5D Mark IV.
BIRDS AS ART High Key Pelican Action
I absolutely love cloudy bright days for photographing flight and action. At Fort DeSoto, we often enjoy shooting the young pelicans in flight and diving. On sunny days, it is difficult to create images that feature evenly lit underwings; the shadows will kill you nine times out of ten. On cloudy bright days, it is a snap making images that reveal perfect underwing detail. And better yet, though the light does have some direction to it, you are able to work well off light angle without encountering the problems that you would on a sunny day.
Updated Thoughts on Shutter Speeds for Flight and for Action
When I was using Fuji Velvia 50 (slide film!) pushed one stop for flight well more than two decades ago, I would usually shoot flight at 1/500 second. A recently as four years ago, I was comfortable at 1/1000 second. Today, I would not even think about photographing birds in flight and in action with shutter speeds of less than 1/2000 second, and my great preference would be 1/3200 second.
I believe that the reasons for that are two-fold:
#1: Topaz DeNoise makes working at the higher ISOs a complete pleasure.
#2: The effects of gear shake and subject movement are far greater with high megapixel (40-50 MP) camera bodies than with the older bodies with far smaller file sizes in the 10-25 MP range.
Topaz DeNoise
Be sure to click on the screen capture to see the complete elimination of noise in the after image on our right. And note that if anything, the fine details are sharper than in the original.
As regular readers know, I run DeNoise on virtually every image that I process immediately after executing the crop with the Delete Cropped Pixels box checked. For images made in sunny conditions, I used Standard. For images made in low light, I use Low Light. You can check all four methods by using the Comparison View but I rarely do that any more as I am confident as noted above.
Great Topaz News!
Folks who use the BAA Topaz link to purchase Sharpen AI, DeNoise AI, or the Utility Bundle (or any other Topaz plug-ins), will receive a 15% discount by entering the ARTHUR15 code at checkout. If the stuff is on sale (as it usually is), you save 15% off of the sale price! To get the discount you must use my link and you must enter the discount code. Be sure to start with this link.
Those who purchase Sharpen AI, DeNoise AI, or any other Topaz plug-ins using my link and then entering the ARTHUR15 code at checkout can e-mail to request a short Getting Started with Topaz e-Guide. Please include a copy of your Topaz receipt that shows the discount. Aside from the basics, the guide explains how to install the plug-ins so that they appear in the Photoshop Filter Menu.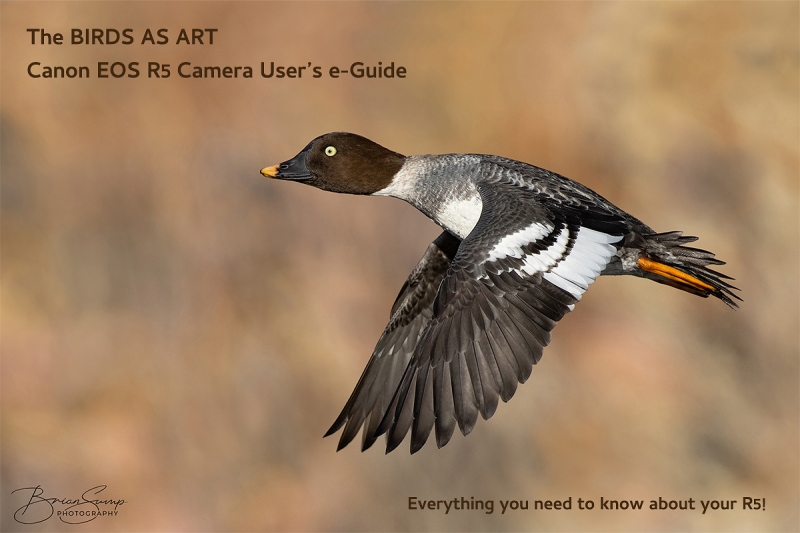 Cover Image courtesy of and Copyright 2021 Brian Sump (Sump scores!)
The BIRDS AS ART Canon EOS R5 Camera User's e-Guide: $75.00
The guide is 82 pages long: 21,458 words. It includes more than 50 DPP 4 AF system-depicting screen captures. And a 31 minute 44 second educational video. This guide took three and a half months of hard work and a ton of help from at least seventeen very helpful and generous folks.
The guide covers — in great detail — all Menu Items that are relevant to bird, nature, and wildlife photography. It does not cover video. The section on AF methods and the AF Gallery is simply superb and will allow you to get the most out of your R5/R6. This sections is one of the great strengths of this guide. I share my thoughts on what I am sure is the single best AF Method for photographing birds in flight. As most of you know, the guide includes a simple and easy way to change AF Methods that was introduced to me by Geoff Newhouse. In the AF Gallery you will see exactly how Face Detection plus Tracking AF works. In the Educational R5 Gallery video, I share my favorite R5 images along with dozens of bird photography tips and techniques.
In addition, I teach you how to get the best exposures with your R5. Detailed instructions on using the great In-camera HDR and Multiple Exposure features will be appreciated by creative folks who like to have fun. The three shutter modes are explained in detail as well. Bruce Dudek solved the can't-get-to-Auto ISO problem that had stumped everyone at Canon. This information is of course shared in the guide. You will learn how to set up your EVF (Electronic Viewfinder) and Screen toggle options. Not to mention that the mysterious performance of the Q Button is revealed and simplified. Brian Sump's images reveal how well you can do when using the R5 with EF lenses using one of the three Canon EF-EOS R Mount Adapters (as Donna did with Image #1 below). You will learn how I use Customize Dials to put either ISO or EC on the Thumb Dial and how to set up and save Custom Shooting Modes (C1-C3) that can remember both your Customize Dial and Customize Button settings! That is something that none of the SONY bodies do. 🙁 Near the end of the guide I share my all-important MY MENU items with you.
Like all BAA educational materials, the R5 guide is written in my informal, easy-to-follow style. I am quite proud of this guide and look forward to hearing your thoughts on our hard work.
You can purchase your copy of the BIRDS AS ART Canon EOS R5 Camera User's e-Guide for $75.00 here in the BAA Online Store or by calling Jim in the office weekday afternoons at 863-692-0906 with your credit card in hand.
Typos
With all blog posts, feel free to e-mail or to leave a comment regarding any typos or errors.