What's Up?
I decided at the last minute to fly up to Islip for Thanksgiving (early on Thanksgiving Day). I will stay a week in hopes of finding some early owls either on Long Island or in and around New York City.
Thanks to Derek Courtney for the insightful comment that he left on yesterday's blog post. The breadth of knowledge of the readership base of the BAA Blog never fails to amaze me. He wrote:
I think you've got it with Gadwall x Mallard, aka Brewer's Duck. Hybrid ducks can be quite variable in trait expression. Some of these show a darker bill more reminiscent of Gadwall, while give more of the yellowish male Mallard type seen in yours. Other traits like your cheek color/pattern could just be ancestral phenotypes getting displayed. You can see lots of varying expressions of this combo here.
Brewer's Duck! Who'd a thunk it?
Today is Wednesday 24 November 2021. I will spend all day packing. Wherever you are, and whatever you are doing, I hope that you too have a great day. This blog post took about 90 minutes to prepare and makes 17 consecutive days with a new one.
Please remember that you can find some great photo accessories (and necessities, like surf booties!) on Amazon by clicking on the Stuff tab on the orange/yellow menu bar above. On a related note, it would be extremely helpful if blog-folks who, like me, spend too much money on Amazon, would get in the habit of clicking on the Amazon logo link on the right side of each blog post when they shop online. As you might expect, doing so will not cost you a single penny, but would be appreciated tremendously by yours truly. And doing so works seamlessly with your Amazon Prime account.
Please remember that if an item — a Delkin flash card, or a tripod head — for example, that is available from B&H and/or Bedfords, is also available in the BAA Online Store, it would be great, and greatly appreciated, if you would opt to purchase from us. We will match any price. Please remember also to use my B&H affiliate links or to save 3% at Bedfords by using the BIRDSASART discount code at checkout for your major gear purchases. Doing either often earns you free guides and/or discounts. And always earns my great appreciation.
Brand New and As-Good-As-Ever Bedfords BAA Discount Policy
Folks who have fallen in love with Bedfords can now use the BIRDSASART coupon code at checkout to enjoy a post-purchase, 3% off-statement credit (excluding taxes and shipping charges) on orders paid with a credit card. Be sure, also, to check the box for free shipping to enjoy free Second Day Air Fed-Ex. This offer does not apply to purchases of Classes, Gift Cards, and any prior purchases.

Money Saving Reminder
Many have learned that if you need a hot photo item that is out of stock at B&H and would like to enjoy getting 3% back on your credit card along with free 2nd Day Air Fed-Ex Air shipping, your best bet is to click here, place an order with Bedfords, and enter the coupon code BIRDSASART at checkout. If an item is out of stock, contact Steve Elkins via e-mail or on his cell phone at (479) 381-2592 (Central time). Be sure to mention the BIRDSASART coupon code and check the box for Free Shipping. That will automatically upgrade to free 2nd Day Air Fed-Ex. Steve has been great at getting folks the hot items that are out of stock at B&H and everywhere else. The wait lists at the big stores can be a year or longer for the hard to get items. Steve will surely get you your gear long before that. For the past year, he has been helping BAA Blog folks get their hands on items like the SONY a 1, the SONY 200-600 G OSS lens, the Canon EOS R5, the Canon RF 100-500mm lens, and the Nikon 500mm PF. Steve is personable, helpful, and eager-to-please.
Important Note
As an Amazon Associate, I earn a small percentage when you purchase from Amazon after using any of the links on the blog (including the logo-link immediately above). My link works with Amazon Prime and using it will not cost you a single cent. Huge thanks, BTW 🙂
Please Remember Also
Please, if you enjoy and learn from the blog, remember to use one of my two affiliate programs when purchasing new gear. Doing so just might make it possible for me to avoid having to try to get a job as a Walmart greeter and will not cost you a single penny more. And if you use Bedfords and remember to enter the BIRDSASART code at checkout, you will (still!) save 3% on every order and enjoy free second-day air shipping. In these crazy times — I lost about fifty thousand dollars in income due to COVID 19 — remembering to use my B&H link or to shop at Bedfords will help me out a ton and be greatly appreciated. Overseas folks who cannot order from the US because of import fees, duties, and taxes, are invited to help out by clicking here to leave a blog thank you gift if they see fit.
Gear Questions and Advice
Too many folks attending BAA IPTs and dozens of photographers whom I see in the field and on BPN, are–out of ignorance–using the wrong gear, especially when it comes to tripods and more especially, tripod heads… Please know that I am always glad to answer your gear questions via e-mail.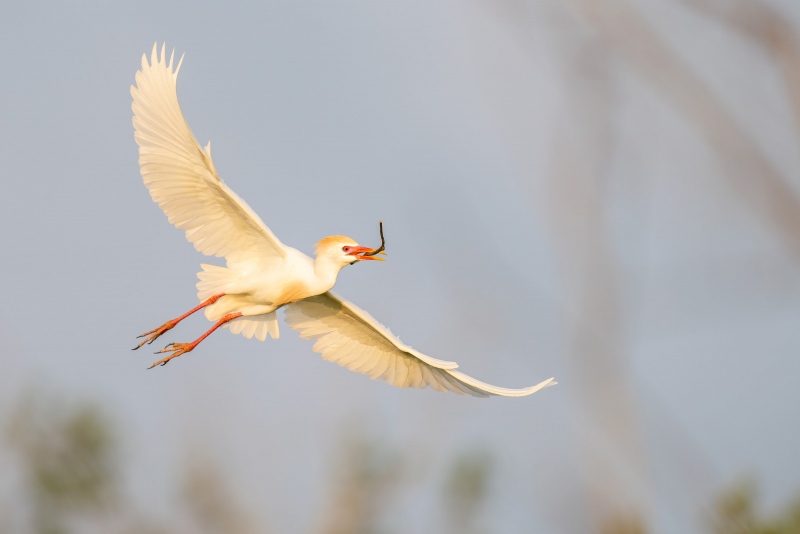 This image was created on 25 April 2021 from Clemens Van der Werf's flats boat on a lake near my home. I used the hand held Sony FE 600mm f/4 GM OSS lens and the beyond amazing Sony Alpha 1 Mirrorless Digital camera body. ISO 1600. Exposure determined via Zebras with ISO on the Thumb Wheel: RawDigger showed that the exposure was perfect: 1/3200 sec. at f/4 (wide open) in Manual mode. AWB at 7:29am on mostly clear morning with a bit of moisture in the air.
Tracking: Zone/AF-C with Bird-Eye/Face Detection produced a sharp-on-the-eye image
Be sure to click on the image to view the beautiful hi-res version.
Image 1: Cattle Egret in flight with nesting material

Your browser does not support iFrame.
Sweet Light Flight
I love the quality of the sweet early morning light in this image. And I love the evenly lit underwings with barely a shadow. I could easily have eliminated the out-of-focus vegetation along the bottom frame edge and the out-of-focus tree branches on the right frame edge. Would you have preferred this image with a perfect blue sky? Why or why not?
Flight Aperture Lesson
Notice that the bird is perfectly sharp from wingtip to wingtip even though it was created at f/4, the wide open aperture. Why? Because aperture (and this depth-of-field) is a function of distance to the subject. With most images of birds in flight that include the entire subject in the frame, the distance to the subject is great enough so that the depth-of-field will render the whole bird sharp. And with the a1, there are other advantages of shooting flight at the wide open aperture.
Note: This image was cropped a fair amount from below and from the left. The optimized version, Image #1, represents 59% of the original pixels.
Topaz Times Two
If the amazing noise reduction job done by Topaz DeNoise is not blatantly obvious when you are viewing the animated gif above, turn off the lights in the room; you will be floored.
When viewing the magnified image at 300%, it was obvious that the bird's eye and face were not razor sharp, in part due to motion blur. So I selected the bird's head and bill with the Quick Selection Tool, placed the selection on a layer, and ran Topaz AI Sharpen on that layer only. As expected, Sharpen AI on AUTO went with the Motion Blur setting. And as usual, the sharpening was overdone; I moved the Reduce Blur slider to the left from 17 to 11 and things looked much better. I applied a Contrast Mask to the same layer. That done, I did some Eye Doctor work on the pupil, and did some Clean-Up work on the lores and the neck.
Everything mentioned in the paragraph above, and tons more great Photoshop tips and techniques — along with all of my personalized Keyboard Shortcuts — are covered in detail in the BIRDS AS ART Current Workflow e-Guide (Digital Basics II), an instructional PDF that is sent via e-mail.
While I use Topaz DeNoise on virtually every image that I process, I rarely use Topaz Sharpen AI. But when you need to improve a motion-blurred image, the results with DeNoise are, as above, often spectacular.
Topaz News!
Topaz is running a huge Black Friday sale from now till 11/29. Click here to check it out, and be sure to use the ARTHUR15 code at checkout for an additional discount. Then, shoot me an e-mail to request a short Getting Started with Topaz e-Guide. Please include a copy of your Topaz receipt that shows the discount. Aside from the basics, the guide explains how to install the plug-ins so that they appear in the Photoshop Filter Menu.
SONY Alpha 1 Bodies in Stock at Bedfords!
I learned yesterday that Bedfords still has a very few SONY Alpha 1 bodies in stock. Order yours, save 3% by using the BIRDS AS ART discount code at checkout, enjoy free second day air Fed-Ex, and earn free entry into the BIRDS AS ART Sony Alpha a1 Set-up and Info Notes Group. As part of the attraction, the first e-mail that you will receive includes a .DAT file with my a1 settings and explicit directions on how to load my settings onto your a1; talk about convenience! Wherever you are, and whatever you are doing, I hope that you too have a great day. This blog post took more than two hours to prepare.
SONY Alpha a1 Set-up and Info Group
The SONY Alpha a1 Set-up and Info Group is going great guns as more and more folks chime in with thoughtful questions and experience-based answers. As the a1 is becoming more readily available, more and more folks are getting their hands on this amazing body. With another photographer joining yesterday, we are now up to an astounding 94 lucky and blessed folks. Early on, we discussed the myriad AF options. I gave my opinion as to the best one for flight and general bird photography. More recently, we have been in contact with folks at SONY sharing our thoughts, experiences, and frustrations with the EVF blackout problem.
All who purchased their Alpha a1 bodies via a BAA affiliate link will receive a free subscription to the Sony Alpha a1 Set-Up and Info Updates after shooting me their receipts via e-mail. (Note: it may take me several days to confirm B&H orders.) This same service may be purchased by anyone with an a1 body via a $150.00 PayPal sent to birdsasart@verizon.net indicating payment for Alpha a1 Info Updates. Alternatively, folks can call Jim weekdays at 1-863-692-0906 to pay via credit card. New members will receive composite e-mails that summarize all previous discussions.
Typos
In all blog posts, feel free to e-mail or to leave a comment regarding any typos or errors.