What's Up?
Saturday past, the first morning of the 2nd Homer/Kachemak Bay IPT, began with some frost, but quickly turned into another sunny summer's day with a high of 41°! The photography was excellent. The afternoon was not great, but we all got some nice head portraits of a large, block-headed female Bald Eagle. Sunday morning started off slowly and then we enjoyed some fabulous flight photography. The afternoon was our best of the trip so far. We tried a new spot and enjoyed a unique situation with a variety of incredible lighting and background opportunities that included sunlit birds set against a low bank of fog one second and jet-black rocks the next. Moi, by far the most conservative shooter on the boat, created 7335 images. After deleting 6934 photos on the first edit, I was left with 401 images that included more than a few that you will see on the blog. The photography has been so spectacular that I will be doing three Homer/Kachemak Bay Bald Eagles IPTs next season. Dates to be announced in about a week.
Speaking of IPTs, BAA-friend Paul Smith left this comment on a recent blog post:
I visited the Stick Marsh this morning. There were lots of birds and lots of activity. The construction work didn't seem to bother the spoonbills at all! They are up to their usual magic.
Please scroll down for Stick Marsh IPT details.
Apologies for last night's misfire; an unfinished post was published prematurely when I accidentally hit Publish instead of Save Draft.
Today is Monday 28 February and the forecast is calling for little wind with partly cloudy skies. Wherever you are and whatever you are doing, I hope that you too have a great day. This blog post took about an hour to prepare and makes 1 day in a row with a new one.
Please remember to use the B&H and Amazon links on this page and to use the BIRDSASART discount code at checkout when purchasing your new gear from Bedfords. And please consider joining a BAA IPT.
And Please Remember
You can find some great photo accessories (and necessities, like surf booties!) on Amazon by clicking on the Stuff tab on the orange/yellow menu bar above. On a related note, it would be extremely helpful if blog-folks who, like me, spend too much money on Amazon, would get in the habit of clicking on the Amazon logo link on the right side of each blog post when they shop online. As you might expect, doing so will not cost you a single penny, but would be appreciated tremendously by yours truly. And doing so works seamlessly with your Amazon Prime account.
Please remember that if an item — a Delkin flash card, or a tripod head — for example, that is available from B&H and/or Bedfords, is also available in the BAA Online Store, it would be great, and greatly appreciated, if you would opt to purchase from us. We will match any price. Please remember also to use my B&H affiliate links or to earn 3% cash back at Bedfords by using the BIRDSASART discount code at checkout for your major gear purchases. Doing either often earns you free guides and/or discounts. And always earns my great appreciation.
Brand New and As-Good-As-Ever Bedfords BAA Discount Policy
Folks who have fallen in love with Bedfords can now use the BIRDSASART coupon code at checkout to enjoy a post-purchase, 3% off-statement credit (excluding taxes and shipping charges) on orders paid with a credit card. The 3% credit will be refunded to the card you used for your purchase. Be sure, also, to check the box for free shipping to enjoy free Second Day Air Fed-Ex. This offer does not apply to purchases of Classes, Gift Cards, or to any prior purchases.

Money Saving Reminder
Many have learned that if you need a hot photo item that is out of stock at B&H and would like to enjoy getting 3% back on your credit card along with free 2nd Day Air Fed-Ex Air shipping, your best bet is to click here, place an order with Bedfords, and enter the coupon code BIRDSASART at checkout. If an item is out of stock, contact Steve Elkins via e-mail or on his cell phone at (479) 381-2592 (Central time). Be sure to mention the BIRDSASART coupon code and check the box for Free Shipping. That will automatically upgrade to free 2nd Day Air Fed-Ex. Steve has been great at getting folks the hot items that are out of stock at B&H and everywhere else. The waitlists at the big stores can be a year or longer for the hard-to-get items. Steve will surely get you your gear long before that. For the past year, he has been helping BAA Blog folks get their hands on items like the SONY a 1, the SONY 200-600 G OSS lens, the Canon EOS R5, the Canon RF 100-500mm lens, and the Nikon 500mm PF. Steve is personable, helpful, and eager to please.
Important Note
As an Amazon Associate, I earn a small percentage when you purchase from Amazon after using any of the Amazon links on the blog (including the logo-link immediately above). My link works with Amazon Prime and using it will not cost you a single cent. Huge thanks, BTW 🙂
Please Remember Also
Please, if you enjoy and learn from the blog, remember to use one of my two affiliate programs when purchasing new gear. Doing so just might make it possible for me to avoid having to try to get a job as a Walmart greeter and will not cost you a single penny more. And if you use Bedfords and remember to enter the BIRDSASART code at checkout, you will (still!) save 3% on every order and enjoy free second-day air shipping. In these crazy times — I lost about fifty thousand dollars in income due to COVID 19 — remembering to use my B&H link or to shop at Bedfords will help me out a ton and be greatly appreciated. Overseas folks who cannot order from the US because of import fees, duties, and taxes, are invited to help out by clicking here to leave a blog thank you gift if they see fit.
Gear Questions and Advice
Too many folks attending BAA IPTs and dozens of photographers whom I see in the field and on BPN, are–out of ignorance–using the wrong gear, especially when it comes to tripods and more especially, tripod heads… Please know that I am always glad to answer your gear questions via e-mail. If you are desperate, you can try me on my cell at 863-221-2372. Please leave a message and shoot me a text if I do not pick up.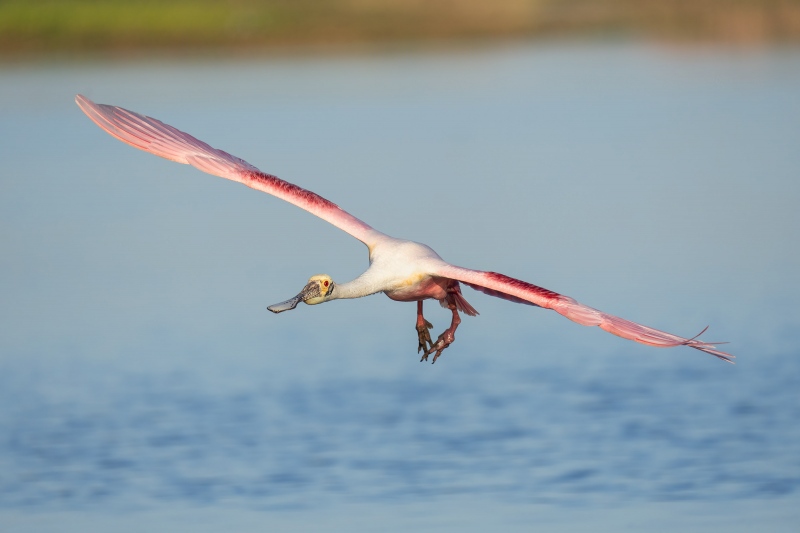 This image was created on 4 April 2021 at Stick Marsh in Fellsmere, FL. I used the hand held Sony FE 200-600mm f/5.6-6.3 G OSS lens (at 474mm), and The One, the Sony Alpha 1 Mirrorless digital camera. ) Multi-metering +2 stops: 1/3200 second at f/6.3 (wide open). AUTO ISO set ISO 1000. AWB at 7:58:59am on a sunny morning.
Tracking: Zone with Bird/Face-Eye Detection performed perfectly. Be sure to click on the image to enjoy a high-res version.
Image #2: Roseate Spoonbill landing
Your browser does not support iFrame.
No Idea What I Was Doing, But It Worked, in Pink and Blue!
I was excited when I came across this image in the APRIL 2021 folder. I loved the soft pink and the soft blue tones. Not to mention the nearly frame-filling subject with the crossed toes. When I looked at the EXIF, however, I was very confused: Multi-Metering +2 stops with Auto ISO in Shutter Priority??? I have no idea what I was thinking, but was thrilled when RawDigger showed yet another dead-solid perfect exposure.
I have no idea as to why I was not in Manual mode, but I sure am glad that things worked out as they did.
Sony mirrorless bodies are far ahead of all competitors as they offer Zebra technology when shooting stills so that the user can determine and set the correct exposure while looking through the viewfinder; there is no need to take a test exposure. On the first IPT, Canon R3 user Kevin Hice had trouble getting the right exposure in changing light conditions, and on the second IPT, multiple IPT veteran and good friend Indranil Sircar is having the same problem. Once you learn to set and use Zebras properly, you are good to go as far as setting consistently good exposures quickly and easily.
Via e-mail from Morris Herstein
I never thought that I could make in-flight photos of birds successfully. That goal was accomplished during the recent workshop at Stick Marsh only because I listened to your advice and instructions. For the first time I realized how important sun angle was, teachings that you had been communicated for a long time. The result of two days shooting produced the most satisfying images of Roseate Spoonbills I ever could have imagined.
Stay well and safe. Thank you. Morris
Via e-mail from Joe Usewicz
Wow. So many photos to go through. Stick Marsh was a great learning experience. Positioning. Wind impact. Landing zones. Working on backgrounds. I clipped too many incredible reflections. Great fun. Just amazing opportunities.
Warmest Regards, Joe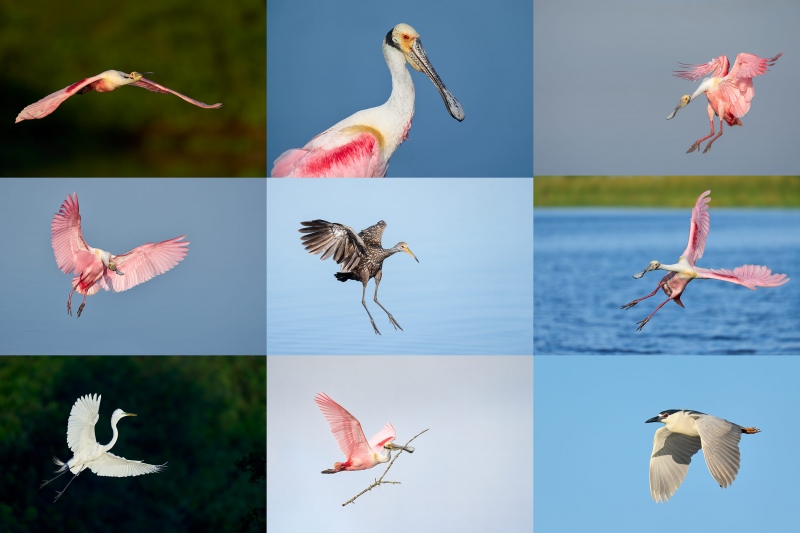 Click on the composite image to enjoy the incredible quality of the hi-res JPEG.
Clockwise from upper left back around to the center: spoonbill with mangrove background; spoonbill head and shoulders portrait; spoonbill braking to land; spoonbill dramatic landing pose; adult Black-crowned Night-Heron; spoonbill with nesting material; Great Egret returning to nest; incoming spoonbill; and Limpkin landing.
Stick Marsh IPT: #1: WED 9 March thru the morning of SUN 13 March 2022: $2,299.00. (Limit 6 photographers/Openings: 5)

Stick Marsh IPT #2: MON 14 March thru the morning of FRI 18 March 2022: $2299.00 (Limit 6 photographers)
Do both IPTs back-to-back and enjoy a $200 discount: protect your travel and time investments against bad weather by signing up for both IPTs for $4398.00.
Stick Marsh, where the living is easy. Photograph incoming Roseate Spoonbills in flight at point blank range with intermediate telephoto zoom lenses. This year I will be trying the new Sony 70-200mm f/2.8 lens, often with the 1.4X TC. Longer lenses either on a tripod or hand held are best for the green background stuff. There will be endless flight photography opportunities with a variety of species; in addition to the spoonbills, we should have some excellent chances on Limpkin, Great Egret, Cattle Egret, Great Blue Heron, Little Blue Heron, Double-created Cormorant, Anhinga, Black and Turkey Vultures, and more. Folks with 500 and 600mm f/4 lenses will have lots of opportunities to hone their skills whether they are working on a tripod or hand holding.
There will be five morning photo sessions averaging four hours. We start in the pre-dawn. The first four morning sessions will be followed by a working brunch. The cost of brunch is included. There will be two after-brunch photo sessions on sunny days (averaging about an hour) to try for bathing spoonbills, usually centered around 1:30pm. There will be one after-brunch photo critique session (probably on DAY 3). And there will be one Image Processing session after brunch.
We will be based in or near Vero Beach. There are AirBnB possibilities for folks who register early. The deposit is $599.00. Call Jim at the office any weekday at 863-692-0906 to pay by credit card. Balances must be paid by check.
What You Will Learn on a Stick Marsh IPT
1- You will learn the basics and fine points of digital exposure. Nikon and Canon folks will learn to get the right exposure every time after making a single test exposure, and SONY folks will learn to use Zebras so that they can be sure of making excellent exposures before pressing the shutter button.
2- You will learn to work in Manual exposure mode even if you fear it.
3- You will surely learn to evaluate wind and sky conditions and understand how they affect bird photography.
4- You will learn the pro secrets that will help you to become a better flight photographer.
5- You will learn to zoom out in advance (because the birds are so close!) 🙂
6- You will learn how to approach free and wild birds without disturbing them.
7- You will learn to spot the good and the great situations.
8- You will learn to understand and predict bird behavior.
9- You will learn to design pleasing images by mastering your camera's AF system.
10- You will learn to choose the best perspective.
11- You will learn to see and control your backgrounds.
12- You will learn to see and understand the light.
12- You will learn to see and create pleasing blurs in pre-dawn situations.
12- You will learn to be ready for the most likely event at all times.
And the best news is that you will be able to take everything you learn home with you so that you will be a better photographer wherever you are and whenever you photograph.
Typos
With all blog posts, feel free to e-mail or to leave a comment regarding any typos or errors.