Nikon AF-S NIKKOR 400mm f/2.8E FL ED VR Lens (with Extras)
Price Dropped $500.00 on 5 MAR 2022
BAA friend Greg Gulbransen is offering a Nikon AF-S NIKKOR 400mm f/2.8E FL ED VR lens in near-mint condition (with extras) for a very low $7996.95.00 (was $8496.95) Payment by teller's check or Long Island, NY — cash pick-up only. The sale includes the rear lens cap, the front lens cover, a RRS low foot (a $110.00 value), the original lens foot, the LensCoat (a roughly $100.00 value) that has protected the lens since Day 1, and insured ground shipping via major courier to lower-48 US addresses only. Your item will not ship until the money is in the bank.
Please contact Greg via e-mail.
The 400mm f/2.8 lenses are the fastest big lenses in production. This, the newest Nikon version available, is super-sharp. It is a very versatile lens for wildlife photographers, especially those doing Africa, big game, and birds in low light situation. It creates incredibly sharp images with the TC-E14. It is currently backordered at B&H where it sells new for $11,196.95. You can save a very handsome $2700.00 by grabbing Greg's pretty much new lens right now. artie
SONY FE 70-200mm f2.8 GM OSS Lens
BIRDS AS ART Record Low Price
Price Reduced $150.00 on 26 February 2022
Anthony Ardito is offering a SONY FE 70-200mm f2.8 GM OSS lens in like-new condition for a BAA record-low $1197.00 (was $1,347.00). Included are the original box and everything that came in it along with a RealTree MAX5 LensCoat (a $94 value) and insured ground shipping via major courier to lower-48 US addresses only. Your item will not ship until your check clears unless other arrangements are made.
Please contact Anthony e-mail.
The versatile 70-200mm f/2.8 lenses have long been big favorites of many nature photographers. They are great for landscapes. I have used this lens with Canon and Nikon and SONY. I used my Canon version to photograph granddaughter Maya's dance recitals and to create bird-scapes and pre-dawn blast-off blurs at Bosque del Apache NWR in New Mexico. They are fast and sharp and have 1,000 uses. The 70-200 f/2.8 lenses are a specialty lens for bird photographers. Like the bad little child, when they are good, they are really, really good! I've used mine mostly for flight photography at point blank range where their performance is unmatched, especially in low light. I've killed with these lenses on the gannet boat in the UK, in Homer for eagles, for pre-dawn and blizzard blastoffs at Bosque, and at Merritt Island on single birds from huge feeding sprees right next to the road.
This super-fast lens weighs only 3.26 pounds and is easily hand holdable by just about everyone. As it sells new right now for $2,298.00, you can save a cool $1001.00 by grabbing Anthony's lens ASAP. artie
ps: To see what the 70-200 zoom lenses can do, see below, and also see the images in the blog post here. artie
What's Up?
I was awarded 20,000 free miles when Alaska Airlines' "20-minute baggage guarantee" failed miserably on Friday evening. It took about an hour to get my two checked bags. Traffic on the way home was horrific; we got to ILE just before 9:00pm after landing early at 5:30!
I spent some time down by the lake on Saturday morning. The eagle chick is doing fine, and I did find a pair of 2-week-old Sandhill Crane chicks. I created 359 flight images of Purple Martins and kept just one — today's featured image. I spent most of the rest of the day listening and crying to the music of John Prine, whom I had never heard of before the eagle boat captain said "John Prine." Learn more below.
Had you ever heard of John Prine before reading today's blog post?
Today is Sunday 6 March 2022. With a perfect forecast — sunny with an east wind. I woke early and headed to Stick Marsh. Wherever you are and whatever you are doing, I hope that you too had a great day. This blog post took about 90 minutes to prepare and makes one day in a row with a new one.
Please remember to use the B&H and Amazon links on this page and to use the BIRDSASART discount code at checkout when purchasing your new gear from Bedfords. And please consider joining a BAA IPT.
John Prine
I loved almost all of the music on the eagle boat captain's playlist and recognized most of the artists. But every time I head great gravelly voice backed by wicked guitars, I'd say, "That guy's great. Who is it?" "John Prine" was always the answer. So, on Sunday, I did a lot of YouTube surfing and was totally amazed both by the music and by Prine's life story. He died recently.
The accompanying photographs in the video above are incredibly moving. Bring tissues.
I first heard Bette Middler's cover of "Hello in There" about 40 years ago when I purchased her CD album, "The Divine Miss M." The lyrics had and continue to have a huge impact on my life, especially these two stanzas:
You know that old trees just grow stronger,
and old rivers grow wilder every day,
ah, but, but old people, they just grow lonesome
waiting for someone to say,
"Hello in There. Hello."
So if you're walking down the street sometime
and you should spot some hollow ancient eyes,
don't you pass them by and stare
as if you didn't care.
Say, "Hello in there. Hello."
For four decades, I have never passed by an elderly person without thinking of those words. Nine times out of ten, I will offer a big smile or stop for a short (always appreciated) chat. When I began doing research on Prine, one of the first things I learned was that he wrote "Hello in There." When he was 25 years old. How is that possible? When I mentioned Prine to my younger daughter Alissa, she said, "Every one of the ten musical artists that I love worshipped John Prine." The Rolling Stone article here was revelatory.
Here are a few excerpts from that April 7, 2020 article:
John Prine, who for five decades wrote rich, plain-spoken songs that chronicled the struggles and stories of everyday working people and changed the face of modern American roots music, died Tuesday at Nashville's Vanderbilt University Medical Center. He was 73.
As a songwriter, Prine was admired by Bob Dylan, Kris Kristofferson, and others, known for his ability to mine seemingly ordinary experiences — he wrote many of his classics as a mailman in Maywood, Illinois — for revelatory songs that covered the full spectrum of the human experience. There's "Hello in There," about the devastating loneliness of an elderly couple; "Sam Stone," a portrait of a drug-addicted Vietnam soldier suffering from PTSD; and "Paradise," an ode to his parents' strip-mined hometown of Paradise, Kentucky, which became an environmental anthem. Prine tackled these subjects with empathy and humor, with an eye for "the in-between spaces," the moments people don't talk about, he told Rolling Stone in 2017. "Prine's stuff is pure Proustian existentialism," Bob Dylan said in 2009. "Midwestern mind-trips to the nth degree.
Prine was also an author, actor, record-label owner, two-time Grammy winner, a member of the Songwriters Hall of Fame, the Nashville Songwriters Hall of Fame, and the recipient of the 2016 PEN New England Song Lyrics of Literary Excellence Award, a honor previously given to Leonard Cohen and Chuck Berry. Prine helped shape the Americana genre that has gained popularity in recent years, with the success of Prine fans such as Jason Isbell, Amanda Shires, Brandi Carilie, to name a few. His music was covered by Bonnie Raitt (who popularized "Angel From Montgomery," his soulful ballad about a woman stuck in a hopeless marriage), George Strait, Carly Simon, Johnny Cash, Don Williams, Maura O'Connell, the Everly Brothers, Joan Baez, Todd Snider, Carl Perkins, Bette Midler, Gail Davies, and dozens of others.
How I could have been ignorant of John Prine for the last five decades is hard to understand. His sense of humor is obvious in his "In Spite of Ourselves" sung as a duet above with Iris Dement.
[Verse 1: John Prine]
She don't like her eggs all runny
She thinks crossin' her legs is funny
She looks down her nose at money
She gets it on like the Easter Bunny
She's my baby, I'm her honey
I'm never gonna let her go
[Verse 2: Iris Dement]
He ain't got laid in a month of Sundays
I caught him once and he was sniffin' my undies
He ain't too sharp, but he gets things done
Drinks his beer like it's oxygen
He's my baby and I'm his honey
I'm never gonna let him go
[Chorus: Both]
In spite of ourselves, we'll end up a-sittin' on a rainbow
Against all odds, honey, we're the big door prize
We're gonna spite our noses right off of our faces
There won't be nothin' but big old hearts dancin' in our eyes
[Verse 3: John Prine]
She thinks all my jokes are corny
Convict movies make her horny
She likes ketchup on her scrambled eggs
Swears like a sailor when she shaves her legs
She takes a lickin' and keeps on tickin'
I'm never gonna let her go
[Verse 4: Iris Dement]
He's got more balls than a big brass monkey
He's a whacked-out weirdo and a lovebug junkie
Sly as a fox and crazy as a loon
Payday comes and he's howlin' at the moon
He's my baby, I don't mean maybe
Never gonna let him go
[Chorus: Both]
In spite of ourselves, we'll end up a-sittin' on a rainbow
Against all odds, honey, we're the big door prize
We're gonna spite our noses right off of our faces
There won't be nothin' but big old hearts dancin' in our eyes
In spite of ourselves, we'll end up a-sittin' on a rainbow
Against all odds, honey, we're the big door prize
We're gonna spite our noses right off of our faces
There won't be nothin' but big old hearts dancin' in our eyes
[Outro: John Prine]
In spite of ourselves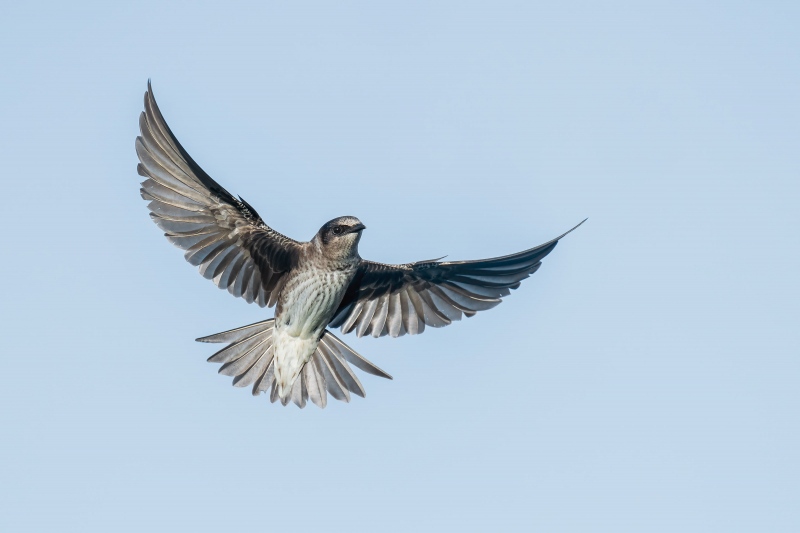 This image was created on 5 March 2022 at Indian Lake Estates, FL. I used the hand held Sony FE 70-200mm f/2.8 GM OSS II lens with the Sony FE 2x Teleconverter (at 400mm), and The One, the Sony Alpha 1 Mirrorless Digital Camera.. The exposure was determined using Zebra technology with ISO on the Thumb Dial. ISO 1600: 1/3200 second at f/5.6 (wide open). AWB at 8:07:17am on a sunny morning.
Tracking: Zone AF/C with Bird-Eye/Face Detection performed perfectly. Click on the image to enjoy a high-res version.
Image #1: Purple Martin female in flight

Your browser does not support iFrame.
Purple Martin Perfection
Folks often ask, what is your goal for today? I always respond, I am hoping to get one good one. On Saturday, that is exactly what I got. Why just one? Purple Martins are fast and erratic fliers. Even with the lightweight Sony 70-200 f/2.8 II lens, it was a huge challenge for me to get one anywhere near the center of the frame. One, however, is a lot better than none.
Image #1A: RawDigger screen capture for the Purple Martin female in flight image
Dead-Solid Perfect!
Images where the G channel gets 2/3rds of the way from the 8000 to the 16000 line are perfect exposures. Images where the G channel gets right up to the line are dead-solid perfect. With 86 OvExp pixels out of 51,000,000 this is a dead-solid perfect exposure. As seen in the screen capture above, those 86 OvExp pixels are all in the specular highlight in the catchlight in the bird's eye.
RawDigger — not for the faint of heart …
Nothing has ever helped me learn to create perfect exposures to the degree that RawDigger has. I think that many folks are reluctant to learn that most of their images are underexposed by one or more full stops and that highlight warnings in Photoshop, Lightroom, Capture One, and your in-camera histogram are completely bogus as they are based on the embedded JPEGs. Only your raw files tell the truth all the time. Heck, I resisted RawDigger for several years … Once you get over that feeling, RawDigger can become your very best exposure friend no matter what system you are using. On the recent IPTs and In-the-Field sessions, we have demonstrated that fact. Convincingly.
The RawDigger (pink) Adapted Histogram
In the RawDigger e-Guide, you will learn exactly how to set up the Adapted "pink" RawDigger Histogram and how to use it to quickly and easily evaluate the exposure or raw file brightness of images from all digital cameras currently in use. RawDigger was especially helpful to me when I struggled with R5 exposures and when learned my new camera body, the Sony Alpha a1.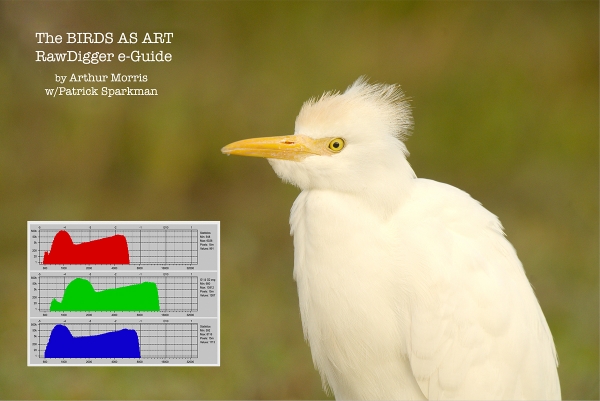 RawDigger e-Guide with Two Videos
The RawDigger e-Guide with Two Videos
by Arthur Morris with Patrick Sparkman
The RawDigger e-Guide was created only for serious photographers who wish to get the absolute most out of their raw files.
Patrick and I began work on the guide in July 2020. At first we struggled. We asked questions. We learned about Max-G values. We could not figure out why the Max G values varied by camera system. IPT veteran Bart Deamer asked lots of questions that we could not answer. We got help from RawDigger creator Iliah Borg. We learned. In December, Patrick came up with an Adapted Histogram that allows us to evaluate the exposures and raw file brightness for all images created with all digital camera bodies from the last two decades. What we learned each time prompted three complete beginning to end re-writes.
The point of the guide is to teach you to truly expose to the mega-Expose-to-the-Right so that you will minimize noise, maximize image quality, best utilize your camera's dynamic range, and attain the highest possible level of shadow detail in your RAW files in every situation. In addition, your properly exposed RAW files will contain more tonal information and feature the smoothest possible transitions between tones. And your optimized images will feature rich, accurate color.
We teach you why the GREEN channel is almost always the first to over-expose. We save you money by advising you which version of RawDigger you need. We teach you how to interpret the Max G values for your Canon, Nikon, and SONY camera bodies. It is very likely that the Shock-your-World section will shock you. And lastly — thanks to the technical and practical brilliance of Patrick Sparkman — we teach you a simple way to quickly and easily evaluate your exposures and raw file brightness using an Adapted RawDigger histogram.
The flower video takes you through a session where artie edits a folder of images in Capture One while checking the exposures and Max-G values in RawDigger. The Adapted Histogram video examines a series of recent images with the pink histograms and covers lots of fine points including and especially how to deal with specular highlights. The directions for setting up the Adapted Histogram are in the text.
If we priced this guide based on how much effort we put into it, it would sell it for $999.00. But as this guide will be purchased only by a limited number of serious photographers, we have priced it at $51.00. You can order yours here in the BAA Online Store.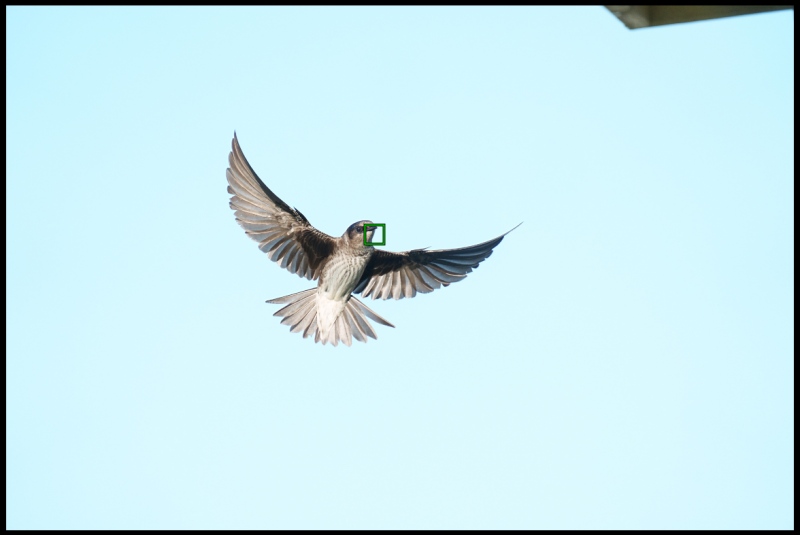 Image #1B: Sony Imaging Edge screen capture for the Purple Martin female in flight image
SONY and artie
First off, note the incredible crop-ability of sharp a1 images.
Switching to SONY, first with the a9 and the a9 II, and then to the remarkable a1, has enabled me (and others, like Mike De Rosa as seen a while ago in the blog post here), to create images of birds in flight and in action that I could not have even dreamed of when using Canon for 33 years and then Nikon for more than two. Right now I am using one of two AF methods that together, cover about 99% of the commonly-encountered bird photography situations. Learn more by joining (or by earning your way into) the group!
From Long-ago IPT veteran Keith Kennedy via e-mail
Absolutely great information. I am calling Jim in a few minutes to order a couple of Delkin 128GB UHS-II cards. Your timely email has saved me a ton of money! Many thanks
In the same vein, via e-mail from John LeClair
Well, e-mail #21 alone was worth the price of admission!
From Pamela Viale, after receiving artie's a1 settings along with detailed instructions on how to copy them to her SONY a1 via e-mail
This e-mail group has been an incredible boon to me! Thank you so much!
From Joe Barranco via e-Mail
Thanks for your great ideas on the A1 set up. I have been getting MANY more keepers doing things your way!
From Barbara White via e-Mail
Wow, I just gotta say – I learn so much from the SONY Alpha a1 Set-up and Info group! My camera is on my desk, and I'm always picking it up and changing something that I've read about in the e-mails.
Thanks, Barbara
From Janet Horton via e-Mail
Hi Artie, Mystery solved. Yes, I was able to replicate what you did. I forgot that you have to set self-timer using the upper dial. I am used to that being a MENU selection.
Thanks much, Janet
SONY Alpha a1 Set-up and Info Group
The SONY Alpha a1 Set-up and Info Group is going great guns as more and more folks chime in with thoughtful questions and experience-based answers. As the a1 is becoming more readily available, more and more folks are getting their hands on this amazing body. The group is now up to an astounding 111 lucky and blessed folks. Early on, we discussed the myriad AF options. I gave my opinion as to the best one for flight and general bird photography. The best news is that all who wish, can request an e-mail that includes a .DAT file with my a1 settings on it, and explicit directions on how to load my settings onto your a1; talk about convenience! I am now offering a .DAT file compatible with firmware update 1.20. I finally finished the consolidated Sony a1 CAMSETA2 INFO & GUIDE and distributed it yesterday. New a1 folks will now receive three e-mails instead of the previous 28! It is a lot easier on me and is an incredible resource for folks new to the a1.
All who purchased their Alpha a1 bodies via a BAA affiliate link will receive a free subscription to the Sony Alpha a1 Set-Up and Info Updates group after shooting me their receipts via e-mail. (Note: it may take me several days to confirm B&H orders.) This same service may be purchased by anyone with an a1 body via a $150.00 PayPal sent to birdsasart@verizon.net indicating payment for Alpha a1 Info & Updates. Alternatively, folks can call Jim weekdays at 1-863-692-0906 to pay via credit card. New members will receive composite e-mails that summarize all previous discussions.
Typos
With all blog posts, feel free to e-mail or to leave a comment regarding any typos or errors.