Your Fave?
Which is the stronger of today's two featured images? All are invited to leave a comment and explain why they made their choice.
What's Up?
Peter Dominowski and I greatly enjoyed our time together this weekend. And we both ate too much, especially me. Tomorrow I will get back on the wagon.
Today is Monday 14 March 2022. The forecast for this morning is for mostly sunny with a gentle northeast breeze. You know where I will be. Wherever you are and whatever you are doing, I hope that you too had a great day. This blog post took about an hour to prepare and makes five days in a row with a new one.
Please remember to use the B&H and Amazon links on most blog pages and to use the BIRDSASART discount code at checkout when purchasing your new gear from Bedfords. And please consider joining a BAA IPT. You will be amazed at how much you will learn …
March Indian Lake Estates In-the-Field Sessions
Two hours of intensive instruction: $200.00 (Add $100.00 if we are blessed with very small chicks). Add a working brunch with image review: $100.00. Sunny mornings with east winds are best. Likely subjects include ridiculously tame Sandhill Cranes and colts, a young Bald Eagle in the nest, Black and Turkey Vultures, Crested Caracara, Limpkin, Great Egret, Great Blue Heron, and more. Small crane chicks will hopefully be coming soon.
If you'd like to join me, please get in touch via e-mail or try me on my cell at 863-221-2372. Please leave a message and shoot me a text if I do not pick up.
And Please Remember
You can find some great photo accessories (and necessities, like surf booties!) on Amazon by clicking on the Stuff tab on the orange/yellow menu bar above. On a related note, it would be extremely helpful if blog-folks who, like me, spend too much money on Amazon, would get in the habit of clicking on the Amazon logo link on the right side of each blog post when they shop online. As you might expect, doing so will not cost you a single penny, but would be appreciated tremendously by yours truly. And doing so works seamlessly with your Amazon Prime account.
Please remember that if an item — a Delkin flash card, or a tripod head — for example, that is available from B&H and/or Bedfords, is also available in the BAA Online Store, it would be great, and greatly appreciated, if you would opt to purchase from us. We will match any price. Please remember also to use my B&H affiliate links or to earn 3% cash back at Bedfords by using the BIRDSASART discount code at checkout for your major gear purchases. Doing either often earns you free guides and/or discounts. And always earns my great appreciation.
Brand-New and As-Good-As-Ever Bedfords BAA Discount Policy
Folks who have fallen in love with Bedfords can now use the BIRDSASART coupon code at checkout to enjoy a post-purchase, 3% off-statement credit (excluding taxes and shipping charges) on orders paid with a credit card. The 3% credit will be refunded to the card you used for your purchase. Be sure, also, to check the box for free shipping to enjoy free Second Day Air Fed-Ex. This offer does not apply to purchases of Classes, Gift Cards, or to any prior purchases.

Money Saving Reminder
Many have learned that if you need a hot photo item that is out of stock at B&H and would like to enjoy getting 3% back on your credit card along with free 2nd Day Air Fed-Ex Air shipping, your best bet is to click here, place an order with Bedfords, and enter the coupon code BIRDSASART at checkout. If an item is out of stock, contact Steve Elkins via e-mail or on his cell phone at (479) 381-2592 (Central time). Be sure to mention the BIRDSASART coupon code and check the box for Free Shipping. That will automatically upgrade to free 2nd Day Air Fed-Ex. Steve has been great at getting folks the hot items that are out of stock at B&H and everywhere else. The waitlists at the big stores can be a year or longer for the hard-to-get items. Steve will surely get you your gear long before that. For the past year, he has been helping BAA Blog folks get their hands on items like the SONY a 1, the SONY 200-600 G OSS lens, the Canon EOS R5, the Canon RF 100-500mm lens, and the Nikon 500mm PF. Steve is personable, helpful, and eager to please.
Important Note
As an Amazon Associate, I earn a small percentage when you purchase from Amazon after using any of the Amazon links on the blog (including the logo-link immediately above). My link works with Amazon Prime and using it will not cost you a single cent. Huge thanks, BTW 🙂
Please Remember Also
Please, if you enjoy and learn from the blog, remember to use one of my two affiliate programs when purchasing new gear. Doing so just might make it possible for me to avoid having to try to get a job as a Walmart greeter and will not cost you a single penny more. And if you use Bedfords and remember to enter the BIRDSASART code at checkout, you will (still!) save 3% on every order and enjoy free second-day air shipping. In these crazy times — I lost about fifty thousand dollars in income due to COVID 19 — remembering to use my B&H link or to shop at Bedfords will help me out a ton and be greatly appreciated. Overseas folks who cannot order from the US because of import fees, duties, and taxes, are invited to help out by clicking here to leave a blog thank you gift if they see fit.
Gear Questions and Advice
Too many folks attending BAA IPTs and dozens of photographers whom I see in the field and on BPN, are–out of ignorance–using the wrong gear, especially when it comes to tripods and more especially, tripod heads… Please know that I am always glad to answer your gear questions via e-mail. If you are desperate, you can try me on my cell at 863-221-2372. Please leave a message and shoot me a text if I do not pick up.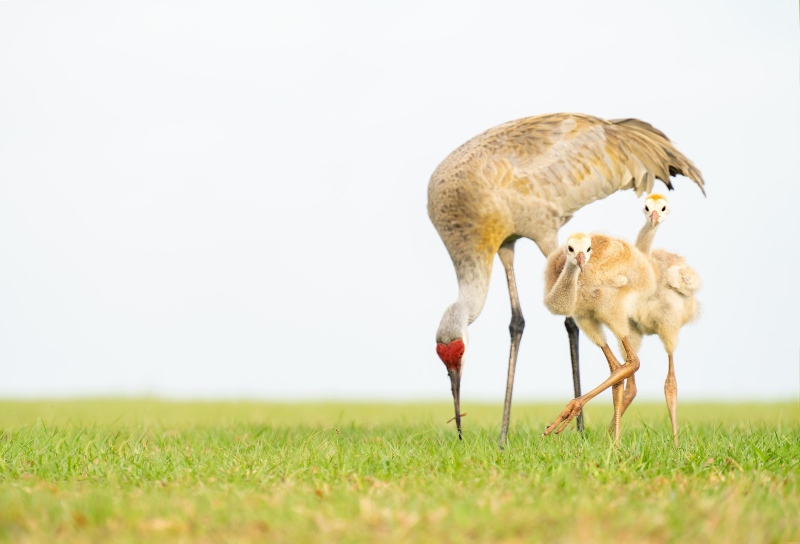 This image was created on 12 March 2022 at Indian Lake Estates, FL. I used the hand held Sony FE 70-200mm f/2.8 GM OSS II lens with the Sony FE 2x Teleconverter (at 334mm), and The One, the Sony Alpha 1 Mirrorless Digital Camera.. The exposure was determined using Zebra technology with ISO on the Thumb Dial. ISO 1000: 1/500 second at f/5.6 (wide open). AWB at 7:49:38am on a cloudy morning.
Tracking: Zone AF/C with Bird-Eye/Face Detection performed perfectly by nailing and tracking the eye of the colt in the front. Click on the image to enjoy a high-res version.
Image #1: Sandhill Crane with two small colts

Your browser does not support iFrame.
In Memoriam: Not!
On Saturday morning past, I spent a quality hour with the two-small-colt crane family. I worked from the edge of a canal. As seen in Image #1, That put me at eye level with the family as they foraged. I headed back down to the lake at about 11am to create some crane-in-the-rain images. I was not surprised when I did not see the family. When Peter Dominowski arrived, we headed down to the lake. I was thrilled to see the two adults on the peninsula to the east, ready to swim across with the small colts. I was aghast when I noted that the small colts were not present. The two adults flew across the canal and foraged their way into the marsh. We watched them from my SUV hoping that the two young ones would appear. They did not.
I was sure that the two colts had perished. It brought to mind an event from last year when two colts of similar size perished overnight. A Bobcat had been seen in the area … I decided not to share the story of the disappearance of the two colts in yesterday's blog post in hopes that Peter and I would find them on Sunday morning.
With a strong wind from the north we got down to the lake early in hopes of creating some pleasing blurs of the wading birds leaving their roost. But as is usual on cold mornings (I wore my lined jeans and wished that I had brought my heated gloves along), the birds did not take flight until well after the sun was up. We checked out the young eagle. It was huddled against the nest tree in an effort to stay out of the wind. I set up the step ladder for Peter who made some images of the adult and the eaglet.
With some trepidation, we drove to the marsh at the end of the South Peninsula. I spotted the adults. And then I spotted a single colt with each adult. I was thrilled. The parents must have bedded them down in the marsh on Saturday because of the high winds and the rain. Though the family stayed in the marsh and photographic conditions were close to impossible with the wind-against-sun conditions, it was turned out to be a great morning. And Peter was thrilled to see and photograph the colts in the marsh grasses.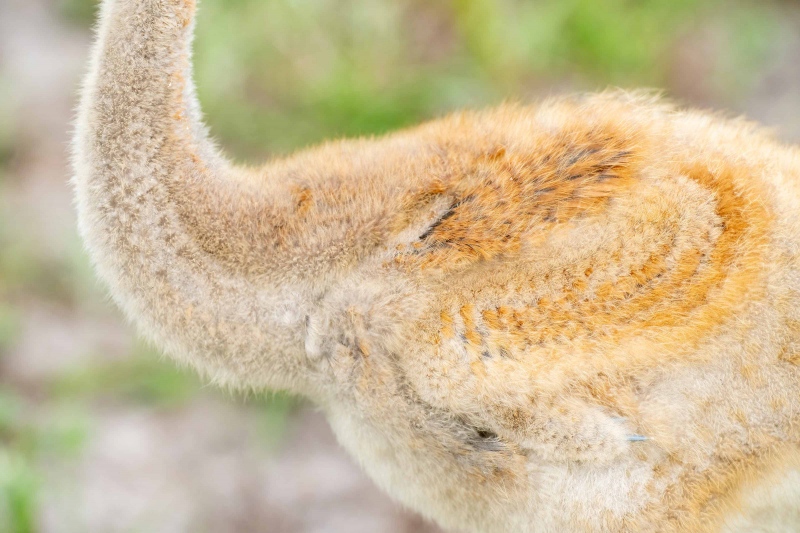 This image was also created on Saturday 12 March 2022, the morning of the day that the colts had vanished. Again I used the hand held Sony FE 70-200mm f/2.8 GM OSS II lens with the Sony FE 2x Teleconverter (at 400mm), and The One, the Sony Alpha 1 Mirrorless Digital Camera.. The exposure was determined using Zebra technology with ISO on the Thumb Dial. ISO 1000: 1/250 second at f/8 (stopped down one stop). AWB at 8:04:45am on a cloudy morning.
Tracking: Zone AF/C with Bird-Eye/Face Detection performed perfectly. Click on the image to enjoy a high-res version.
Image #2: Sandhill Crane colt: folded wing detail

Your browser does not support iFrame.
Sony FE 70-200mm f/2.8 GM OSS II Lens
The hand held Sony FE 70-200mm f/2.8 GM OSS II was my most valuable lens with the eagles in Homer, most often with the 1.4X TC in place. With the 2X TC in place it has proven to be very valuable here at ILE as well. As I explained in detail in the New Kid on the Block: Versatile, & Deadlier Than Ever blog post here, the new version of the 70-200 GM has obsoleted the Sony 100-400 GM lens.
Aside from lightning fast and accurate AF, its incredibly light weight, the amazingly smooth and fast zoom mechanism, the lens, with the 2X TC at 400mm, focuses to less than 34 inches — substantially closer than the closest-focusing of the 100-400 lenses. That makes it ideal for all manner of medium-sized and large flowers, butterflies, dragonflies, frogs, and just about all subjects about 2 inches or larger. And for really tight work with tame subjects. As in Image #2.
When to Stop Down
As stated here often, the only time that I even think of stopping down is when working close to a lens's minimum focusing distance. At a given aperture, the closer you are to the subject, the shallower the depth of field. As the young crane fed on the slope right in front of me, I decided to try for the folded-wing-shot, so I stopped down one full stop. I was worried that working at f/8 would bring up unwanted background detail, but I was so close to the bird that the grasses on the slope were rendered pleasingly out of focus. That as discussed in detail in the hugely educational My Thoughts on Background Softness (Bokeh?) Simplified blog post here.
I had tried to make this image many times over the years; this was my most successful attempt.
70-200 Versatility
In today's blog post we again see the incredible versatility of the 70-200 lenses, more specifically today, the brand-new Sony 70-200 f/2.8 GM II, a huge improvement in virtually all areas from the previous version. Both of today's totally different featured images were created in a 15-minute period. If you are inspired by what you read above, please purchase your copy using either my B&H affiliate link or from Bedfords, using the BIRDS AS ART code at checkout. Doing so will not cost you a penny more and helps me to keep all the great educational stuff coming. And please consider selling your Sony 100-400 and/or your version one Sony 70-200 via the Used Gear Page. Click here to learn how to do that.
Typos
With all blog posts, feel free to e-mail or to leave a comment regarding any typos or errors.