Photoshop Question
If you see any evidence of significant Photoshop clean-up work, please leave a comment and state your case clearly. All are invited to share their thoughts on today's featured image, be they good or bad.
What's Up?
Keep reading to learn about my Gatorland morning. On Saturday afternoon, Peter Dominowski returned to ILE for some Sony A1 lessons. He recently purchased two a1 bodies, the 200-600, the 70-200 f/2.8 II, and the 1.4X TC — all from Bedfords — God bless him, and wants to learn to use his new gear before heading to Africa this summer. I taught him the basics that afternoon even though we did not have any really good situations. Sunday morning dawned cloudy with a breeze from the NW and the sun came out at about 8:15am. We did well with the crane colts and Peter quickly got the hang of my super-simple a1 AF set-up, the hang of getting the right exposure (even in changing light) using Zebra technology, and the hang of working with a 200-600 zoom lens.
When we got back to my house at about 9:15am, I noticed that my glasses were missing. For a change. I searched the whole car using the light from my cell phone. No luck. We took a ride back to our last location — we had been sitting while photographing two adult cranes in a field of yellow tickseed blossoms. I thought that I had dropped them very close to the road, so we parked so as to avoid running over the glasses. We walked slowly north for two or three minutes. I gave up. Peter said, "I am gonna go on for just a bit." A moment later he said, "I got em!"
That was a great moment, but not as great as seeing the young eagle fly around for the first time, that in the low light of early morning. First it flew from the nest tree to the next tree just to the south. I felt like a proud poppa. I marveled as it flew around the nest tree in the wind and landed safely. And when it flew across the canal and landed atop a small palm, I kvelled. I said to Peter, "I feel like a dad watching their child ride a bike for the first time without falling."
Kvell (verb): to experience pride and satisfaction from seeing others (particularly one's children and grandchildren) excel. From Yiddish, and most often used by American Jews.
Today is Sunday 20 March 2022. I will be doing some more work on my first GNPA keynote and watching first and second round Men's March Madness (NCAA basketball) games on TIVO. I have already watched nine first round games and have seven more of those to watch along with the eight second round games from Saturday. Eight more second round games are set to record today. In addition, I am taping all the Women's NCAA tournament games as well!
The highlight so far has been the incredible 15th-seeded St. Peter's stunning upset of number-2 ranked Kentucky. To give you an idea of the immensity of this upset, consider these two facts: St. Peter's men's basketball coach Shaheen Holloway made $266,344 in 2019; Kentucky head coach John Calipari's base salary is $8.5 million. St. Peter's basketball revenue was $1.6 million in 2019-20, while Kentucky's was $29.3 million. I give Calipari credit for being a gracious loser; he gave lots of credit to the scrappy St. Peter's team.
Wherever you are and whatever you are doing, I hope that you too have a great day. This blog post took about two hours to prepare and makes ten days in a row with a new one.
Please remember to use the B&H and Amazon links on most blog pages and always in the right column or to use the BIRDSASART discount code at checkout when purchasing your new gear from Bedfords. And please consider joining a BAA IPT. You will be amazed at how much you will learn …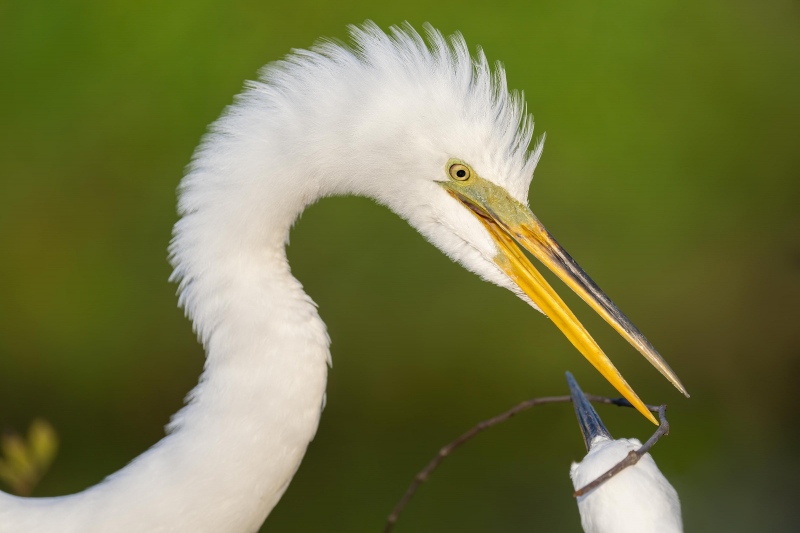 This image was created on 19 March 2022 at Gatorland. I used the hand held Sony FE 200-600mm f/5.6-6.3 G OSS lens (at 456mm), and The One, the Sony Alpha 1 Mirrorless digital camera. ) The exposure was determined using Zebra technology with ISO on the Thumb Dial. ISO 500: 1/1000 second at f/6.3 (wide open). AWB at 8:20:22Am on a mostly sunny morning.
Tracking: Zone with Bird/Face-Eye Detection performed perfectly. Be sure to click on the image to enjoy a high-res version.
Image #1: Great Egret — Male passing twig to female
Your browser does not support iFrame.
Sony 200-600 Gatorland Versatility
As it is on the cliffs of La Jolla, the Sony 200-600mm G lens is very effective at Gatorland. It is great for flight on sunny mornings, and its less than 8-foot MFD (minimum Focusing Distance) makes it deadly on nests that are close to the boardwalk, all the while yielding plenty of much-needed magnification. As the gate opened promptly at 7am, as sunrise was not until 7:29, and as the day began completely overcast and foggy, I spent the first half hour trying to create some nice pleasing blurs with the 200-600. I failed. There was lots of action, mostly with Great Egrets, and I created more than 200 images. But only two — of a Snowy Egret flying right at me with a green background were kept. And neither of those is very good … Creating excellent pleasing blurs is a lot like playing the lottery!
Gatorland Update
There are probably ten times as many Great Egret nests this year as there were last season. As always, photographing from boardwalks at the gator rookeries is extremely challenging and difficult. Here is an excerpt from The BAA Middle of Florida Site Guide:
Many photographers who know anything about Gatorland would say, "Who needs a guide or photographic instruction at an alligator farm tourist zoo rookery? The birds are right there; all you need to do is push the button. "My answer – based on many, many visits – would be, "Just about everybody." Rookeries are great places to make hundreds of really lousy images in short order. They are busy places with zillions of branches, cluttered backgrounds, other nests, other birds, whitewash, and blocking vegetation, all of which make it difficult to create artistically pleasing images. To get you on the right track I will start by commenting on the various locations along and above the boardwalk and then offering some general tips …
My Gatorland visit yesterday was no exception. At about 9am, I counted more than 60 photographers. There was a busload of folks (about 35) from The Villages, a large active adult retirement community located in Lake and Marion counties northwest of Orlando. They were 100% beginners. Of the other 30 or so folks, most had zero clue as to how to photograph birds. None, zero, nada. There were perhaps half a dozen folks with decent gear, and I doubt that any of them made a decent image. At least not while I was looking.
Though there are more than a half dozen Great Egret nests close to the boardwalk, there was exactly one decent situation. The male in today's featured image was very active, bringing in sticks every minute or so — sounds like a piece of cake, no? Actually "No." When the bird landed, its head was in the shade. When he leaned down to pass the twig to his mate, the heads of both birds were fully lit by the sun, but only for a moment. After it handed off the stick, it would turn to the north, to my left, and take flight almost instantaneously. As I said, not easy. I was the only one who worked that bird. There were lots of folks very close to me trying to make photographs in an impossible situation — there were two tiny Great Egret chicks in a higher nest that was completely blocked by twigs. Despite of that, many folks persisted.
When it clouded over briefly at about 9:15am, I switched to the Sony 70-200mm f/2.8 II with the 2X TC to gain even closer focus along with an extra 1/3 stop of light. I kept one image of the female egret tending the eggs and several others of a gator head. All with perfect exposures, thanks to Sony's Zebra technology.
Folks who own The BAA Middle of Florida Site Guide are invited to e-mail proof-of-purchase and the words "Gatorland 19 March 2022 Short Update Please" cut and pasted into the subject line.
The Lesson
When working the gator wading bird rookeries, do not settle for cluttered shots. Keep searching for at least one good situation. And then hammer it.
Gatorland In-the-Field Sessions
I will be at Gatorland on the next two Photographer's Pass mornings, Sunday 27 March and Saturday 2 April. If you are interested in learning to make good photographs in difficult situations, please shoot me an e-mail. Remember that you will need — as noted below — to purchase you pass or passes well in advance.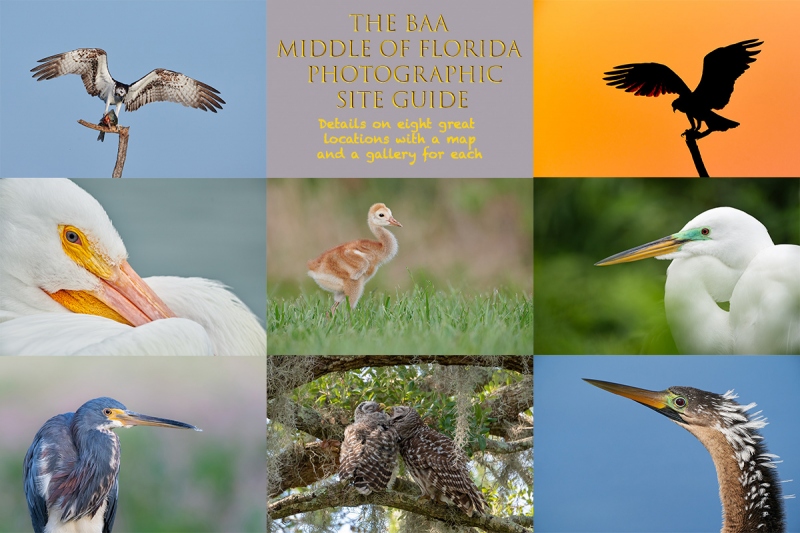 The BAA Middle of Florida Photographic Site Guide
You can purchase your copy here in the BAA Online Store.
The BAA Middle of Florida Photographic Site Guide
126 pages, 87 photographs by Joe Przybyla and Arthur Morris.
The PDF for this e-Guide is an electronic download sent via e-mail.
Purchase your copy here in the BAA Online Store.
I had thought about doing a guide to some of the great but little-known photo hotspots around central Florida for about a decade, but those plans never came to fruition. I met Joe online in the Avian Forum at BirdPhotographer's.Net about two years ago. Joe's photography has improved tremendously over the past few years; he credits the BAA blog, my books and PDFs, and his participation on BPN. The one thing that I learned right from the get-go about Joe is that he is a hard and tenacious worker, always striving to improve his skills and to grow his knowledge base. As he knew of more than a few good spots in central Florida, I broached the idea of us doing a photographic site guide that covered many of the little-known photographic hotspots from Brandon to Lakeland to Joe Overstreet Road to Indian Lake Estates (my Florida home for the past 20 years or so). After more than many, many dozens of hours of effort, The BIRDS AS ART Middle of Florida Photographic Site Guide is now a reality. Thanks to Joe's wife Dottie for her review of our writing. We all learned once again that writing is a process, a back-and-forth process. All thanks to the white pelicans of Lakeland. Here are the locations that are detailed in this e-Guide:
Indian Lake Estates: Sandhills Cranes with chicks and colts, lots of vultures, and Ospreys up the kazoo!
Gatorland, Kissimmee: Learn to make great images of wading birds in a cluttered rookery.
The Brandon Rookery: Great for nesting Wood Storks, Great Egrets, and more.
Circle Bar B Reserve, Lakeland: Here you will find a great variety of avian subjects in a great variety of habitats.
Lake Morton, Lakeland: There are lots of silly tame birds here including and especially American White Pelican during the colder months.
Lake Mirror, Lakeland: Tame Anhingas, Limpkins, and a zillion White Ibises at times.
West Lake Parker, Lakeland: Here you will have a chance for two difficult birds, Snail Kite, and Purple Gallinule.
Joe Overstreet Road, Kenansville: Crested Caracara, meadowlarks, Loggerhead Shrike, and much more on the fenceposts and barbed wire.
Each location includes a map, a detailed description of the best spots, best season, light and time of day instructions, the expected species, and an educational and inspirational gallery that is designed to open your eyes as to the possibilities.
You can purchase a copy here in the BAA Online Store.
30 Good Reasons to Visit Gatorland
In this short (3:48) video, you can check out the variety of wading bird species that can be easily photographed at Gatorland in Kissimmee, FL in most years. Keep reading for info on the 2022 Gatorland Photographer's Pass Program.
2022 Gatorland Photographer's Pass Program
Though the 2022 Gatorland Photographer's Pass Program (GPPP) is much improved from last year's program, it falls well short of the great program that was in effect BC (Before Covid). I am hoping that the program will be restored to its former greatness next year. This year's program includes ten scheduled days. The first is on 19 March, and the last is 21 May 2022. And it gives photographers the opportunity to get into the park at 7:00 am instead of the normal 10:00 am entry time.
Reservations are required two days before your visit. For example, if you wish to visit on 27 March, you need to make your reservation on March 25th. You can make reservations here on the Gatorland website, or by calling 407-855-5496 ext. 226 during business hours with your credit card in hand. There is no late stay option this year. The price is $25.00 + tax per visit and includes early entry at 7:00 AM at the SOUTH ENTRANCE. All tickets are date specific and non-transferable. You will not be able to leave until 10:00am when Gatorland opens.
Choose from the following 2022 dates:
March 27, 2022
April 2, 2022
April 10, 2022
April 17, 2022
April 22, 2022
April 30, 2022
May 8, 2022
May 13, 2022
May 21, 2022
A far better deal for folks who live in the area is the Birding Seasonal pass for $125.00 per person. That includes visits on all ten dates. And best of all, you can never be shut out. If, like me, you are on the list for the Birding Seasonal pass, you can show up on any of the GPPP days, have your name checked off the list, and enjoy a great morning of photography.
If you have a party of 15 or more folks and would like to book a Private Group early entry, Gatorland is able to offer additional dates of your choice (subject to availability and pending approval). Please contact: JoIndomenico@gatorland.com.
The famous Gatorland Bird Rookery was created in 1991 as an alligator breeding marsh. While the birds lose an occasional chick to the gators, they gain pretty much complete protection from ground predators. This unique habitat has grown into one of the largest and most accessible wading bird rookeries in Florida. Today, this area provides protected nesting, foraging, and roosting area to more than 20 different species of birds, many of which are listed as Endangered or Species of Special Concern. Gatorland's boardwalks provide birders and photographers with access to these incredible birds, their nests, and their young, allowing people to safely observe them while capturing stunning photographs.
You can learn exactly how to make the best possible photographs at Gatorland in here ; details on that above.
Typos
With all blog posts, feel free to e-mail or to leave a comment regarding any typos or errors.