What's Up?
The fever and exhaustion of Wednesday afternoon are long gone. My breathing is fine despite nasal and throat congestion and my pulse ox remains relatively constant at about 94-95. I spent all day yesterday with the dry, stickily cough experienced by many with COVID. And I have a slight eyeball headache (for the lack of a better term). I have been in contact with my family doctor and with several highly skilled personal health advisors. I am following the I-Mask+ Protocol from the Front Line COVID Critical Care Alliance. Learn more at the links here. Thanks to all for their get-well wishes.
Today is Friday 15 April 2022. Again, I will be taking it easy. Wherever you are and whatever you are doing, I hope that you too have a great day. This blog post took about 45 minutes to prepare and makes thirty-five days in a row with a new one.
Please remember to use the B&H and Amazon links that are found on most blog pages and to use the BIRDSASART discount code at checkout when purchasing your new gear from Bedfords. Please, also, consider joining a BAA IPT. You will be amazed at how much you will learn!
BIRDS AS ART Image Optimization Service (BAA IOS)
Send a PayPal for $62.00 to birdsasart@verizon.net or call Jim at 863-692-0906 and put $62.00 on your credit card. Then use a large file sending service link Hightail or DropBox and send me the raw file for one of you very best (preferably sharp) images. I will download and save the file, evaluative the exposure and sharpness, and optimize the image as if it were my own after converting the raw file in Adobe Camera Raw. Best of all, I will make a screen recording of the whole process and send you a link to the file.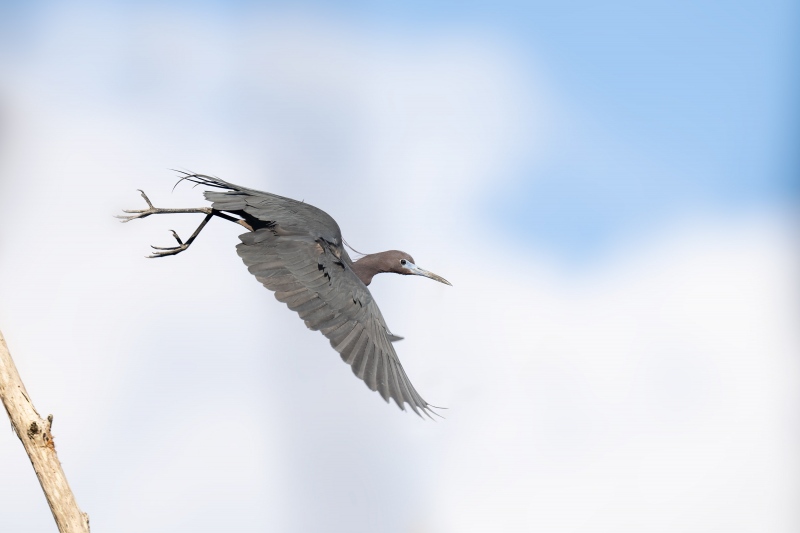 This image was created on 12 April 2022 from a tour boat at Okefenokee Swamp NWR, GA. I used the hand held Sony FE 600mm f/4 GM OSS lens and The One, the Sony Alpha 1 Mirrorless Digital Camera. Multi Metering +1.7 stops. Auto ISO set ISO 160. The exposure was determined via Zebras with Exposure Compensation on the rear wheel: 1/1000 sec. at f/4 (wide open) in Shutter Priority (S or Tv) mode. AWB at 8:23:14am on a sunny morning.
Tracking: Zone with Bird Face/Eye detection enabled produced a sharp-on-the-eye image despite that fact that active AF point was on the sky behind the bird! Be sure to click on the image to enjoy a high-res version.
Image #1: Little Blue Heron taking flight
Your browser does not support iFrame.
Screwing Up and Getting Lucky!
So, why was I in Shutter Priority mode? We had some subjects in deep shade and others in bright sun. We had light sky and dark green vegetations backgrounds. Experienced folks can do well by dialing in the correct Exposure Compensation (EC) while letting the camera determine the ISO automatically. Note: this approach is recommended in similar situations only for experienced photographers who have mastered Exposure Theory (as detailed in the original The Art of Bird Photography).
I was using the best mode for the situation and set the EC correctly to +1.7 stops. So how exactly did I screw up? The shutter speed that I set was far less than ideal for a flight shot. Notice the ISO, a ridiculously low 160. Has I gone to a shutter speed of 1/4000 second, the camera would have set the ISO to 640. A faster shutter speed would have been much better for several reasons:
1- The boat was moving.
2- I was shooting flight.
3- I was hand holding a large, heavy lens, the 600mm f/4 GM OSS.
I screwed up because I was excited to be in a boat tooling by a wading bird rookery where Little Blue Heron was the predominate species and because there were lots of very different photo opportunities. In short, I was excited that I was not thinking clearly.
Today's featured image, one of a series of eleven, was the sharpest of the lot. In addition, it had the best wing position along with a head turn toward me. Lucky indeed!
Does Anything Bug You?
If yes, please do share.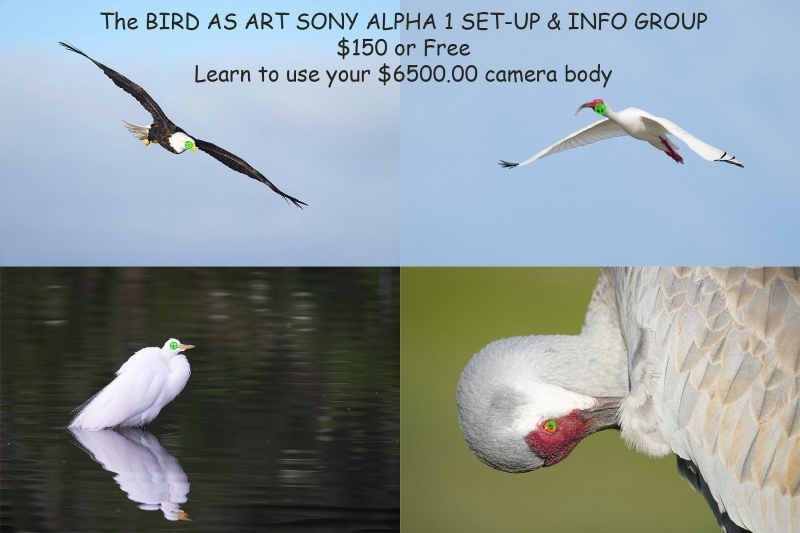 Click on the image to better see the green eye-AF boxes in action.
Sony Alpha 1 Flight Photography AF Points!
The SONY Alpha a1 Set-up Guide and Info Group: $150.00 (or Free)
The SONY Alpha a1 Set-up Guide and Info Group is going great guns as more and more folks chime in with thoughtful questions and experience-based answers. As the a1 is becoming more readily available, more and more folks are getting their hands on this amazing body. By early April, the group was up to an astounding 113 lucky and blessed folks. Early on, we discussed the myriad AF options. I gave my opinion as to the best one for flight and general bird photography. The best news is that everyone in the group receives an e-mail that includes a .DAT file with my a1 settings on it, and explicit directions on how to load my settings onto your a1; talk about convenience! I am now offering a .DAT file compatible with firmware update 1.20. Your entry into the group includes a consolidated Sony a1 CAMSETA2 INFO & GUIDE. New a1 folks will now receive three e-mails instead of the previous 28! You will see new e-mails as they are published. Simply put, this e-mail guide is an incredible resource for anyone with an a1.
All who purchased their Alpha 1 bodies via a BAA affiliate link — B&H or Bedfords — will receive a free Sony Alpha a1 Set-Up Guide and free entry into the Info Updates group after shooting me their receipts via e-mail. (Note: it may take me several days to confirm B&H orders.). Others can purchase their guide here in the BAA Online Store.
Typos
With all blog posts, feel free to e-mail or to leave a comment regarding any typos or errors.