Your Favorite Image?
Which of today's two featured images do you like best? All are invited to leave a comment and let us know why they made their choice.
What's Up?
I woke early without the alarm and checked the weather forecast for Fellsmere. It was much improved from what they were saying the night before so I headed to Stick Marsh for only the second time this year. I was very glad that I went. I created 2230 images and kept 112 after the first edit! In the afternoon I napped, did my bursts, and swam. Then I watched the two NBA playoff games and took a walk.
Today is Monday 2 May 2022. The forecast for ILE for the morning is for partly cloudy with a very gentle east breeze. Flowers anyone? Wherever you are and whatever you are doing, I hope that you too have a great day. This blog post took about 90 minutes to prepare and makes fifty-two days in a row with a new one.
Please remember to use the B&H and Amazon links that are found on most blog pages and to use the BIRDSASART discount code at checkout when purchasing your new gear from Bedfords. Please, also, consider joining a BAA IPT. You will be amazed at how much you will learn!
Gatorland Update
Though there are far fewer birds nesting this season than in recent memory, photography was quite good on my Saturday 30 April visit. And best of all, there were very few photographers present. Photographing at rookeries is always a big challenge. Consider spending two hours with me on Sunday 8 May and learning to see the shot. Note that both of today's featured images were created with the Sony 70-200mm f/2.8 GM II lens with a 2X TC. This combination is deadly in tight quarters.
Gatorland In-the-Field Session
Sunday 8 May 2022. 7:00 to 9:00am: $200.00/person
Two hours of intensive instruction. Cheap! You need to have a season photo pass or purchase one for that date to enter. If you are interested, please contact me ASAP via e-mail.
2022 Gatorland Photographer's Pass Program
Though the 2022 Gatorland Photographer's Pass Program (GPPP) is much improved from last year's program, it falls well short of the great program that was in effect BC (Before Covid). I am hoping that the program will be restored to its former greatness next year. This year's program includes ten scheduled days. The first is on 19 March, and the last is 21 May 2022. And it gives photographers the opportunity to get into the park at 7:00 am instead of the normal 10:00 am entry time.
Reservations are required two days before your visit. For example, if you wish to visit on 27 March, you need to make your reservation on March 25th. You can make reservations here on the Gatorland website, or by calling 407-855-5496 ext. 226 during business hours with your credit card in hand. There is no late stay option this year. The price is $25.00 + tax per visit and includes early entry at 7:00 AM at the SOUTH ENTRANCE. All tickets are date specific and non-transferable. You will not be able to leave until 10:00am when Gatorland opens.
Choose from the remaining 2022 dates:
May 8, 2022
May 14, 2022
May 21, 2022
A far better deal for folks who live in the area was the Birding Seasonal pass for $125.00 per person. That included visits on all ten dates. And best of all, you can never be shut out. If like me, you are on the list for the Birding Seasonal pass, you can show up on any of the GPPP days, have your name checked off the list, and enjoy a great morning of photography.
If you have a party of 15 or more folks and would like to book a Private Group early entry, Gatorland is able to offer additional dates of your choice (subject to availability and pending approval). Please contact: JoIndomenico@gatorland.com.
The famous Gatorland Bird Rookery was created in 1991 as an alligator breeding marsh. While the birds lose an occasional chick to the gators, they gain protection from ground predators. This unique habitat has grown into one of the largest and most accessible wading bird rookeries in Florida. Today, this area provides protected nesting, foraging, and roosting area to more than 20 different species of birds, many of which are listed as Endangered or Species of Special Concern. Gatorland's boardwalks provide birders and photographers with access to these incredible birds, their nests, and their young, allowing people to safely observe them while capturing stunning photographs.
You can learn exactly how to make the best possible photographs at Gatorland in here ; details on that below.
BIRDS AS ART Image Optimization Service (BAA IOS)
Send a PayPal for $62.00 to birdsasart@verizon.net or call Jim at 863-692-0906 and put $62.00 on your credit card. Pick one of your best images and upload the raw file using a large file sending service like Hightail or DropBox and then send me the link via e-mail. I will download and save your raw file, evaluate the exposure and sharpness, and optimize the image as if it were my own after converting the raw file in Adobe Camera Raw. Best of all, I will make a screen recording of the entire process and send you a link to the video to download, save and study.
Just for the Record
If you are not using a Sony a1 for bird photography, you are making your life far more difficult than it needs to be. Period. If you would like to receive a short but frank e-mail explaining why the Sony a1 is so much better than the best Nikon and Canon mirrorless camera bodies, please click here.
And Please Remember
You can find some great photo accessories (and necessities, like surf booties!) on Amazon by clicking on the Stuff tab on the orange/yellow menu bar above. On a related note, it would be extremely helpful if blog-folks who, like me, spend too much money on Amazon, would get in the habit of clicking on the Amazon logo link on the right side of each blog post when they shop online. As you might expect, doing so will not cost you a single penny, but would be appreciated tremendously by yours truly. And doing so works seamlessly with your Amazon Prime account.
Please remember that if an item — a Delkin flash card, or a tripod head — for example, that is available from B&H and/or Bedfords, is also available in the BAA Online Store, it would be great, and greatly appreciated, if you would opt to purchase from us. We will match any price. Please remember also to use my B&H affiliate links or to earn 3% cash back at Bedfords by using the BIRDSASART discount code at checkout for your major gear purchases. Doing either often earns you free guides and/or discounts. And always earns my great appreciation.
Brand-New and As-Good-As-Ever Bedfords BAA Discount Policy
Folks who have fallen in love with Bedfords can now use the BIRDSASART coupon code at checkout to enjoy a post-purchase, 3% off-statement credit (excluding taxes and shipping charges) on orders paid with a credit card. The 3% credit will be refunded to the card you used for your purchase. Be sure, also, to check the box for free shipping to enjoy free Second Day Air Fed-Ex. This offer does not apply to purchases of Classes, Gift Cards, or to any prior purchases.

Money Saving Reminder
Many have learned that if you need a hot photo item that is out of stock at B&H and would like to enjoy getting 3% back on your credit card along with free 2nd Day Air Fed-Ex Air shipping, your best bet is to click here, place an order with Bedfords, and enter the coupon code BIRDSASART at checkout. If an item is out of stock, contact Steve Elkins via e-mail or on his cell phone at (479) 381-2592 (Central time). Be sure to mention the BIRDSASART coupon code and check the box for Free Shipping. That will automatically upgrade to free 2nd Day Air Fed-Ex. Steve has been great at getting folks the hot items that are out of stock at B&H and everywhere else. The waitlists at the big stores can be a year or longer for the hard-to-get items. Steve will surely get you your gear long before that. For the past year, he has been helping BAA Blog folks get their hands on items like the SONY a 1, the SONY 200-600 G OSS lens, the Canon EOS R5, the Canon RF 100-500mm lens, and the Nikon 500mm PF. Steve is personable, helpful, and eager to please.
Important Note
As an Amazon Associate, I earn a small percentage when you purchase from Amazon after using any of the Amazon links on the blog (including the logo-link immediately above). My link works with Amazon Prime and using it will not cost you a single cent. Huge thanks, BTW 🙂
Please Remember Also
Please, if you enjoy and learn from the blog, remember to use one of my two affiliate programs when purchasing new gear. Doing so just might make it possible for me to avoid having to try to get a job as a Walmart greeter and will not cost you a single penny more. And if you use Bedfords and remember to enter the BIRDSASART code at checkout, you will (still!) save 3% on every order and enjoy free second-day air shipping. In these crazy times — I lost about fifty thousand dollars in income due to COVID 19 — remembering to use my B&H link or to shop at Bedfords will help me out a ton and be greatly appreciated. Overseas folks who cannot order from the US because of import fees, duties, and taxes, are invited to help out by clicking here to leave a blog thank you gift if they see fit.
Gear Questions and Advice
Too many folks attending BAA IPTs and dozens of photographers whom I see in the field and on BPN, are–out of ignorance–using the wrong gear, especially when it comes to tripods and more especially, tripod heads… Please know that I am always glad to answer your gear questions via e-mail. If you are desperate, you can try me on my cell at 863-221-2372. Please leave a message and shoot me a text if I do not pick up.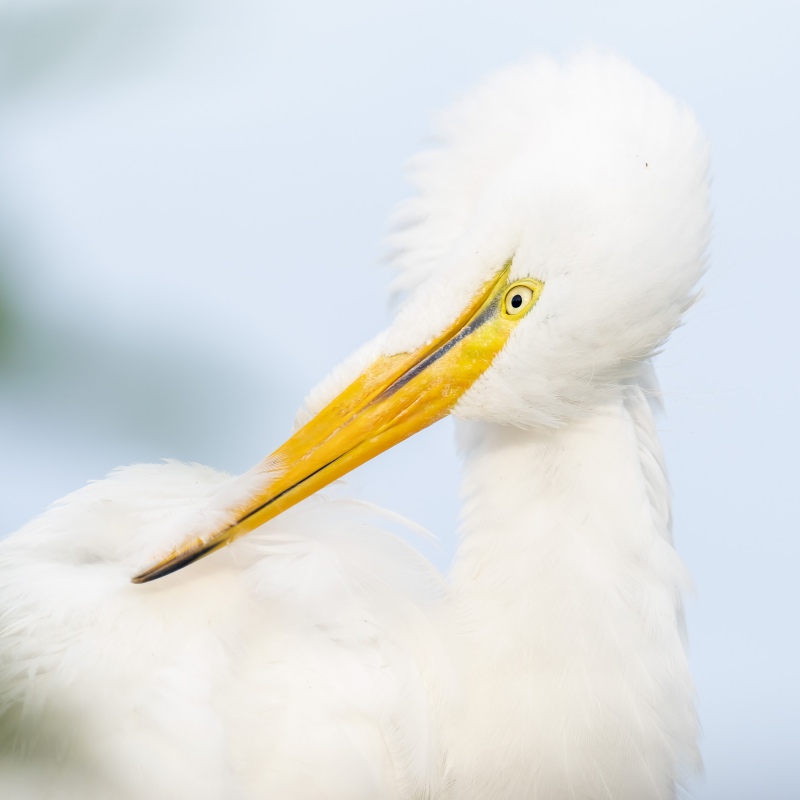 This image was created on 30 April 2022 at Gatorland in Kissimmee, FL. I used the hand held Sony FE 70-200mm f/2.8 GM OSS II lens with the Sony FE 2x Teleconverter (at 400mm) and The One, the Sony Alpha 1 Mirrorless Digital Camera.. The exposure was determined via Zebras with ISO on the thumb dial. ISO 640: 1/640 sec. at f/5.6 (wide open) in Manual mode. AWB at 8:02:45am on a then mostly cloudy morning.
Tracking: Zone AF/C with Bird-Eye/Face Detection performed perfectly. Click on the image to enjoy a high-res version.
Image #1: Great Egret, very large chick preening

Your browser does not support iFrame.
One of the Oldest, Simplest Tricks in the Book
I could not have made this image without using one of the oldest, simplest tricks in the book. The trick is in the Gatorland section of the BAA Middle of Florida Photographic Site Guide. This one trick alone is worth the price of admission, yet I have never seen anyone else use the trick. Except for folks doing an In-the-Field session with me …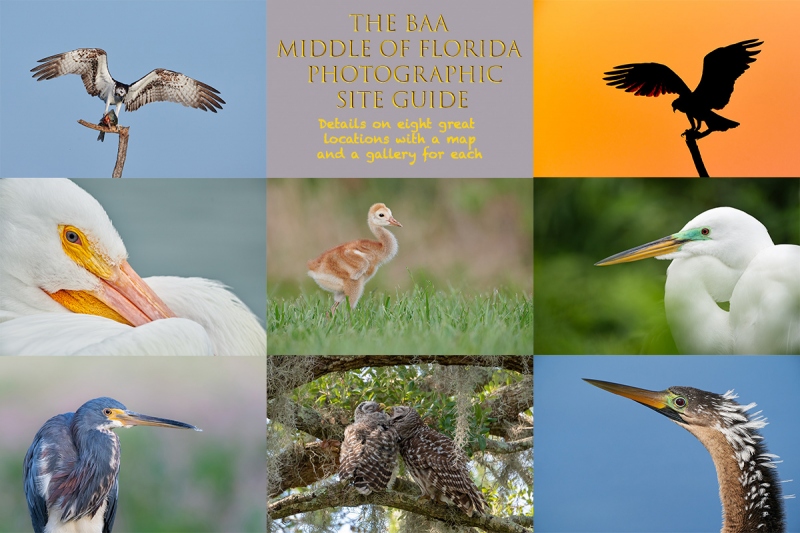 The BAA Middle of Florida Photographic Site Guide
You can purchase your copy here in the BAA Online Store.
The BAA Middle of Florida Photographic Site Guide
126 pages, 87 photographs by Joe Przybyla and Arthur Morris.
The PDF for this e-Guide is an electronic download sent via e-mail.
Purchase your copy here in the BAA Online Store.
I had thought about doing a guide to some of the great but little-known photo hotspots around central Florida for about a decade, but those plans never came to fruition. I met Joe Przybyla online in the Avian Forum at BirdPhotographer's.Net about two years ago. Joe's photography has improved tremendously over the past few years; he credits the BAA blog, my books and PDFs, and his participation on BPN. The one thing that I learned right from the get-go about Joe is that he is a hard and tenacious worker, always striving to improve his skills and to grow his knowledge base. As he knew of more than a few good spots in central Florida, I broached the idea of us doing a photographic site guide that covered many of the little-known photographic hotspots from Brandon to Lakeland to Joe Overstreet Road to Indian Lake Estates (my Florida home for the past 20 years or so). After more than many, many dozens of hours of effort, The BIRDS AS ART Middle of Florida Photographic Site Guide is now a reality. Thanks to Joe's wife Dottie for her review of our writing. We all learned once again that writing is a process, a back-and-forth process. All thanks to the white pelicans of Lakeland. Here are the locations that are detailed in this e-Guide:
Indian Lake Estates: Sandhills Cranes with chicks and colts, lots of vultures, and Ospreys up the kazoo!
Gatorland, Kissimmee: Learn to make great images of wading birds in a cluttered rookery.
The Brandon Rookery: Great for nesting Wood Storks, Great Egrets, and more.
Circle Bar B Reserve, Lakeland: Here you will find a great variety of avian subjects in a great variety of habitats.
Lake Morton, Lakeland: There are lots of silly tame birds here including and especially American White Pelican during the colder months.
Lake Mirror, Lakeland: Tame Anhingas, Limpkins, and a zillion White Ibises at times.
West Lake Parker, Lakeland: Here you will have a chance for two difficult birds, Snail Kite, and Purple Gallinule.
Joe Overstreet Road, Kenansville: Crested Caracara, meadowlarks, Loggerhead Shrike, and much more on the fenceposts and barbed wire.
Each location includes a map, a detailed description of the best spots, best season, light and time of day instructions, the expected species, and an educational and inspirational gallery that is designed to open your eyes as to the possibilities.
You can purchase a copy here in the BAA Online Store.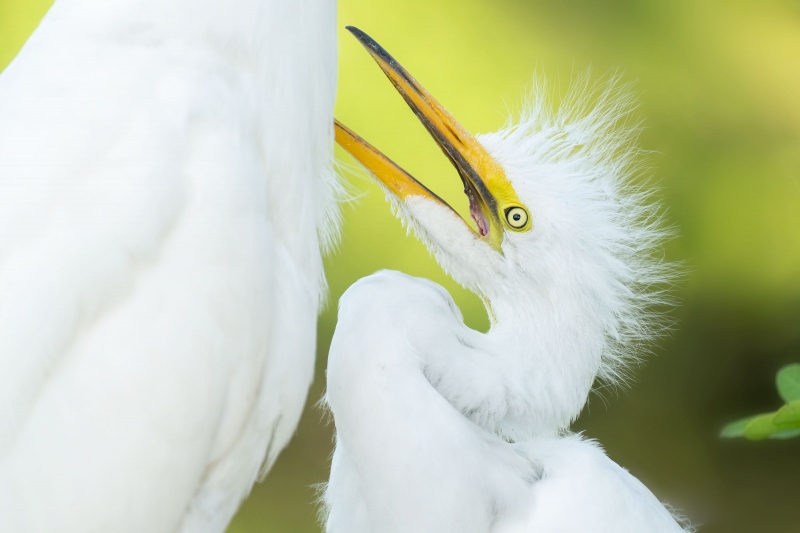 This image was also created on 30 April 2022 at Gatorland in Kissimmee, FL. Again, I used the hand held Sony FE 70-200mm f/2.8 GM OSS II lens with the Sony FE 2x Teleconverter (at 400mm) and The One, the Sony Alpha 1 Mirrorless Digital Camera.. The exposure was determined via Zebras with ISO on the thumb dial. ISO 1600: 1/1000 sec. at f/5.6 (wide open) in Manual mode. AWB at 8:47:17am in the shade on a then party sunny morning.
Tracking: Spot S AF-C with Bird-Eye/Face Detection performed perfectly. Click on the image to enjoy a high-res version.
Image #2: Great Egret, large chick begging

Your browser does not support iFrame.
Dealing With Mayhem
When an adult Great Egret lands at the nest with a bellyful of fish for its large chicks, the ensuing scene can only be described as mayhem. The chicks peck at the adult's neck and breast as she points her bill to the sky further encouraging the chaos. When the adult lowers her head just a bit, one of the chicks grabs the bill and yanks on it with all of its might. This encourages the adult bird to regurgitate some partially digested fish either directly into the mouth of the chick or onto the floor of the nest. This scene is repeated two or three more times until the parent bird flies off in search of more fish.
In low light situations, photographing the feeding/beggin mayhem is difficult; you find yourself wishing for high shutter speeds along with extra depth of field. But to get there, you would need a ridiculously high ISO. With image #2, I raised the ISO to get to 1/1000 second, went from Tracking: Zone to Tracking Spot S, and looked for lulls in the action. That strategy worked fairly well as I kept eight image created in a very challenging situation.
Typos
With all blog posts, feel free to e-mail or to leave a comment regarding any typos or errors.