The One Big Secret to Making Great Bird Photographs
With Arthur Morris/BIRDS AS ART — Free NANPA Webinar
Yes, boys and girls. There really is just one big secret. It will be revealed at the very end of the webinar. Join me on July 13 from 4:00 to 5:00 pm EDT to learn a ton. Click here to register. This program is free and open to all. Covered topics will include seeing the shot, finding the best perspective, getting close to free and wild birds, the importance of wind direction in bird photography, understanding the direction and qualities of natural light, flight photography tips, getting the right exposure, image composition and design, and lots more.
This Just In
If you are interested in the first DeSoto IPT, 3 1/2 Days, Tuesday 27 September through the morning session on Friday 30 September 2022, I just reserved a three bedroom AirBnB in Gulfport. Share it for four nights with many multiple IPT veteran Monte Brown and me and save a ton on lodging: $83.69/night/person for a whole home. Photos available upon request.
What's Up?
I enjoyed a bit of action on the pier on a gorgeous Saturday morning. Best was a side-lit juvenile Green Heron that landed on the railing not far from me just as the sun came up. Story and mono-podded photo soon.
I have been working hard on the webinar and will be putting the finishing touches on it today.
Speaking of that, today is Sunday 10 July — can you believe it? It goes without saying that I will head down to the lake early. Wherever you are and whatever you are doing, I hope that you too have a great day. This blog post took about 90 minutes to prepare and makes one hundred twelve days in a row with a new one.
Please remember to use the B&H and Amazon links that are found on most blog pages and to use the BIRDSASART discount code at checkout when purchasing your new gear from Bedfords to get 3% back on your credit card and enjoy free second-day air FedEx. Please, also, consider joining a BAA IPT. You will be amazed at how much you will learn!
JAX
If you would like to join me for the July 15-19 Jacksonville IPT, or for some In-the-Field sessions there on those dates, please get in touch via e-mail.
Instagram
Follow me on Instagram here. I am trying to feature both new and old images, especially images that have not appeared recently on the blog. Or search for birds_as_art.
BIRDS AS ART Image Optimization Service (BAA IOS)
Send a PayPal for $62.00 to birdsasart@verizon.net or call Jim at 863-692-0906 and put $62.00 on your credit card. Pick one of your best images and upload the raw file using a large file sending service like Hightail or DropBox and then send me the link via e-mail. I will download and save your raw file, evaluate the exposure and sharpness, and optimize the image as if it were my own after converting the raw file in Adobe Camera Raw. Best of all, I will make a screen recording of the entire process and send you a link to the video to download, save and study.
Induro GIT 304L Price Drop
Amazingly, we have two, brand-new-in-the-box Induro GIT 304L tripods in stock. They are $699.00 each (were $799.00) and the price now includes insured ground shipping to the lower 48 states. Weekday phone orders only: 863-692-0906.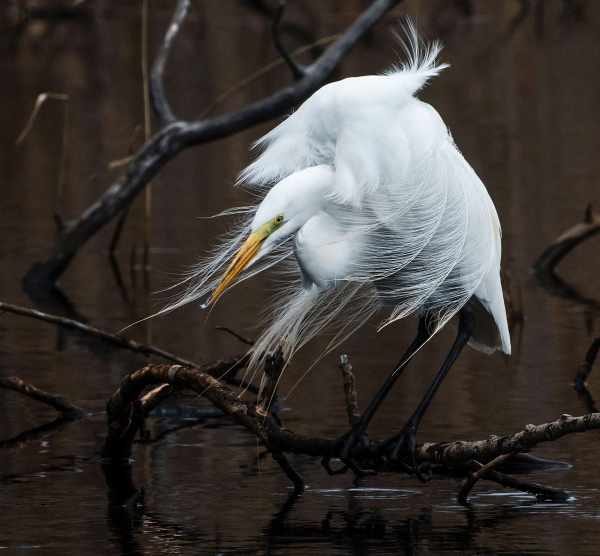 Great Egret, Big John's Pond, Jamaica Bay Wildlife Refuge, Queens, New York
Photo copyright and courtesy of Johann Schumacher Design
Words and Photography by Johann Schumacher
Dazzling white egrets
On a wind-still April morning, the birch in our backyard illumined in a halo of gently falling snow, I hurry to the refuge, envisioning newly arrived breeding-plumaged egrets in a landscape of snow flurries. I find the pristine vista I imagine — the pond transfigured — but not one egret, nor it seems, any other living creature. But what a morning. Drawn into the palpable silence and great peace of the pond, I stay for a long time, quietly watching the magic of falling snow.
A day later, the front passes, and the egrets show — a flock of them, no less — many exquisitely plumed. More than two dozen birds: Greats and Snowies mostly, several night-herons, ibis, and a trio of little blues — one adult and two piebald juveniles. It appears they chose the pond as a roosting site, a first for Big John's.
Though the event proves short-lived, the occasion presents a unique opportunity to chronicle another chapter in the life of the pond. I am well pleased by intimate photos made during that time. In one of these, photographed under a brooding sky and strong northwest winds, a powerful gust has swept up an egret's plumes, embracing the solitary, dazzling white bird in an exquisite filigreed silver shawl. On a whim, I entered just this one image in Audubon's 2018 photo contest. Chosen from over 8,000 photographs, it was included in the Top 100. It is worth noting that 2018 happened to be the centennial of the historic Migratory Bird Treaty Act that halted the senseless, brutal slaughter of egrets and other plumed species.
Getting in Touch with Old Friends
I cannot remember who told me recently that dear old friend Johann Schumacher had an accident at Big John's Pond at Jamaica Bay Wildlife Refuge (JBWR) in Queens New York. Johann and I met at the refuge in the early 1980s and spent hundreds of hours photographing together. Shooting film, of course. My late-wife Elaine and I spent many and evening enjoying a fine meal prepared by Johnann's wife Liesel. And then looking at slides. I was always amazed by Johann's wide view's of JBWR and his skillful use of various types of light. Though we both photographed at the same place our images were totally different. He inspired me in both of those areas.
Having not spoken to Johann for probably close to a decade, I did an online search for his name, and wound up here. The link will take you to the online version of BirdWatching, the reincarnation of Birder's World Magazine. The magazine, photo editor Gordon VanWoerkom, and founding publisher and editor Eldon Greij played an important role in my early career. Elaine and I had the pleasure of meeting Gordon and Eldon on a visit to Holland, Michigan on our sabbatical trip across North America.
Reading Johann's article on Big John's Pond at JBWR brought me back four decades and reminded me of what a splendid writer Johann is. And how he helped me develop as a writer.
Johann and I, Kevin Karlson, Robert Villani, and the late Tom Vero were good friends in the mid-1980s. We had many slide parties either at my home or Tom's home in Babylon, NY. Each of us went on to become nationally published bird photographers. Johann had a ton of stuff published in the now-defunct WildBird magazine.
Anyhoo, I had an old phone number for Johann but it did not work. I tried various methods of getting in touch without success, but after several days received an e-mail from him:
Hello Arthur,
What a pleasant surprise! Our phone numbers are below. Look forward to hearing from you.
Best, Johann
I called, and we spoke for more than an hour; the decades melted away. I e-mailed him links to two blog posts about my Dad. He wrote back:
Hi Arthur,
What amazing tributes to your father told with insight, grace, affection, and startling detail. The service, sacrifice and horrific experiences that your dad and so many young men (and women) of that generation shared and endured must never be forgotten. I was quite moved – thanks for sharing the links.
Thought I'd share this poem that comes to mind:
Those Winter Sundays
By ROBERT HAYDEN
Sundays too my father got up early
and put his clothes on in the blueblack cold,
then with cracked hands that ached
from labor in the weekday weather made
banked fires blaze. No one ever thanked him.
I'd wake and hear the cold splintering, breaking.
When the rooms were warm, he'd call,
and slowly I would rise and dress,
fearing the chronic angers of that house,
Speaking indifferently to him,
who had driven out the cold
and polished my good shoes as well.
What did I know, what did I know
of love's austere and lonely offices?
Be well.
Johann
Wow, that poem really struck a chord with me, brought tears to my eyes. My Dad would rise early on Sunday mornings to make me French toast lightly done, just the way I liked it. I can see him now gently swaying a small frying pan above the flame with is left hand, the only one he had. That to keep the butter from burning. I didn't appreciate that then, but I sure do now.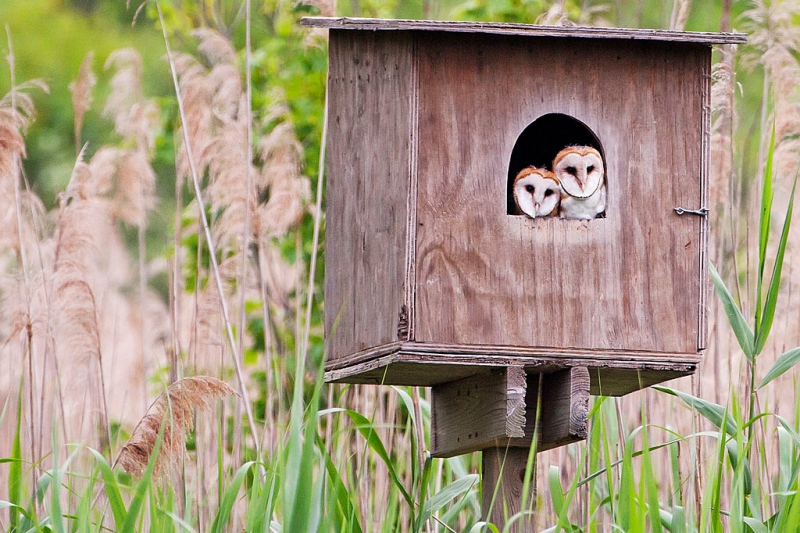 Barn Owl young in nest box, Big John's Pond, Jamaica Bay Wildlife Refuge, Queens, New York
Photo copyright and courtesy of Johann Schumacher Design
An Excerpt from Birding at Big John's Pond in New York City by Johann Schumacher
Leaving the city behind
I stumbled onto Big John's Pond about 30 years ago. I was freelancing, doing graphic design, and keeping an eye on Micah, our 5-year-old. When work was slow, we'd scamper off to the Jamaica Bay Wildlife Refuge, a half-hour drive from our home in Queens, New York. Too much of a mouthful for Micah, who called it "the Life Preserve." Understandably, Micah wanted to play, not to walk, so he feigned bouts of ambulophobia, pretending he had lost the use of his legs, collapsing to the ground. We settled on a compromise — the blind at Big John's Pond. Miraculously healed, he happily settled down to dispatch a peanut butter and jelly sandwich, chat with his imaginary friend "Marshee," and fight the forces of evil with help from his collection of tiny action figures, casting fanciful shadows on the sunlit boardwalk.
A blip on the refuge map, the pond is easily overlooked; it's a mere quarter-acre ditch collecting rainwater within earshot of Cross Bay Boulevard, the roadway slicing through Jamaica Bay Wildlife Refuge, a renowned birding hotspot in Queens with a bird list of more than 330 species. (The refuge is BirdWatching's Hotspot Near You No. 233.) The story goes that an amicable bulldozer operator with time on his hands, approached by refuge brass, agreed to excavate a small freshwater pond several hundred yards east of the boulevard. "Big John" completed his task in just two days. Grateful rangers named the pond in his honor.
Originally intended to host native amphibians and reptiles, the pond attracts an impressive diversity of birds, located as it is within a world-class urban wildlife refuge at the confluence of the Atlantic and Hudsonian flyways. In my tenure at the pond, I have recorded well over 100 different avian species.
A Barn Owl nest box at the north end of the pond more often than not produces a healthy brace of owl fledglings. Particularly compelling is the pond's intimate scale and relative seclusion; it is sheltered by an impenetrable maze of phragmites, poison ivy, sumac, maple, and birch woods. The fortuitous placement of a plywood blind accessible by a short wooden boardwalk is the icing on the cake. Built by a troop of Eagle Scouts, the blind has endured fire, flood, and the ravages of superstorm Sandy that devastated much of the refuge and the adjoining communities of Broad Channel, Breezy Point, and the Rockaways.
This is my "go-to-place" for photography. Here I leave behind the clamor, hustle, and hubbub of the city. Casting off the commotion of my own thoughts, I put on the cloak of invisibility that the blind affords, ready to savor the serendipity of unscripted experience.
A heads-up and some common wisdom: Patience is a must, local knowledge indispensable. Attend instruction of winds and weather, the rhythms of the changing seasons, the habits of herons, hawks, waterfowl, and warblers; the songs of spring peepers, gray tree frogs; the summer chorus of cicadas. Ponder the ways of predator and prey; pay attention to language of light, to autumn reflections; contemplate the haunting calls of migrating shorebirds, the patterns wind weaves on the surface of the water, the silences of winter. Refuse to impose your agenda. Return repeatedly.
The Lesson
When an old friend visits your thoughts, give them a call. Do not wait until you hear that they have been injured or that they are ill. Or until you hear of their death.
Typos
With all blog posts, feel free to e-mail or to leave a comment regarding any typos or errors.