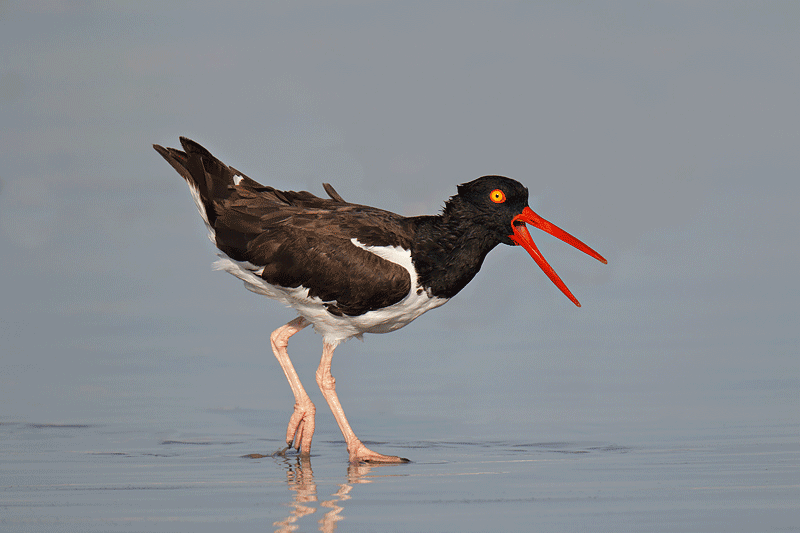 The animated GIF above shows both the original capture and the optimized image. See the technical details and my final crop in the image below.
Screaming American Oystercatcher
Nickerson Beach, Long Island, NY. Standing on the edge of the surf at 8:03am on August 24, I was removing my TC–I had my camera in one hand and the 1.4X III teleconverter in the other–when a pair of oystercatchers landed near the pair that I had been photographing. All four birds began screaming right in front of me. Each was in the clear. I frantically got the teleconverter mounted and the camera back in place but by the time I was ready to go three of the four birds have calmed down. One was still displaying and in the clear. As I acquired focus and fired a small group of Sanderlings ran by behind my subject. Bummer.
Bill and beach clean-up was done using the Patch Tool and the Spot Healing Brush as detailed in Digital Basics (a PDF sent via e-mail that includes my complete digital workflow and dozens and dozens of great Photoshop tips and tricks. In the past I would have used Protect and Defend cloning to get rid of the offending background shorebirds but on my recent Long Island trip Denise Ippolito taught me an improved method based on the same principles. Let's call it "Protect and Defend Cloning with Layers." Read on to learn more.
[Not a valid template]
This image was created as I stood behind my tripod-mounted Canon 800mm f/5.6L IS lens with the 1.4X III TC and the EOS-1D Mark IV. ISO 400. Evaluative metering at zero: 1/1250 sec. at f/9 in Manual mode. Central sensor/rear-focus AI Servo AF.
Improved Protect & Defend Cloning
Note that the optimized image (above) was cropped from above, from below, and from the rear to effectively move the bird back in the frame.
"Protect and Defend Cloning with Layers" involves putting the whole image on one layer and then making a selection of the area that you wish to protect and placing it on its own layer. Though I am not quite sure why it works, I can assure that it worked quite well with this image and I plan on adding the technique to my workflow. If you would like a complete, detailed tutorial please e-mail Denise with the words "Protect and Defend Cloning with Layers Tutorial Please" cut and pasted into the Subject line. It's free.
Shopper's Guide
Below is a list of he gear used to make the three mages in this post. Thanks a stack to all who have used the Shopper's Guide links to purchase their gear as a thank you for all the free information that we bring you on the Blog and in the Bulletins. Before you purchase anything be sure to check out the advice in our Shopper's Guide.
Support both the Bulletins and the Blog by making all your B & H purchases here.
Remember: you can earn free contest entries with your B & H purchases. Eleven great categories, 34 winning and honored images, and prize pools valued in excess of $20,000. Click here for details.
Canon 800mm f/5.L IS lens. Right now this is my all time favorite super-telephoto lens.
Canon 1.4X III Teleconverter. The new 1.4X TC is designed to work best with the newer Series II super-telephoto lenses but it works just fine with the current lenses.
Canon EOS-1D Mark IV professional digital camera body. My two Mark IVs are my workhorse digital camera bodies.
And from the BAA On-line Store:
LensCoats. I have a LensCoat on each of my big lenses to protect them from nicks and thus increase their re-sale value. All my big lens LensCoat stuff is in Hardwood Snow pattern.
LegCoat Tripod Leg Covers. I have four tripods active and each has a Hardwood Snow LegCoat on it to help prevent further damage to my tender shoulders 🙂
Gitzo GT3530LS Tripod. This one will last you a lifetime.
Mongoose M3.6 Tripod Head. Right now this is the best tripod head around for use with lenses that weigh less than 9 pounds. For heavier lenses, check out the Wimberley V2 head. (Note: Denise prefers the Wimberley head to the Mongoose.
CR-80 Replacement Foot for Canon 800. When using the 800 on a Mongoose as I do, replacing the lens foot with this accessory lets the lens sit like a dog whether pointed up or down and prevents wind-blown spinning of your lens on breezy days by centering the lens directly over the tripod.
Double Bubble Level. You will find one in my camera's hot shoe whenever I am not using flash.
Be sure to check out our camera body User's Guides here.
The Lens Align Mark II. I use the Lens Align Mark II pretty much religiously to micro-adjust all of my gear an average of once a month and always before a major trip. Enjoy our free comprehensive tutorial here.
BIRDS AS ART Camera Body User's Guides. Why spend $2-5 grand on a camera and not learn to use it properly and efficiently?