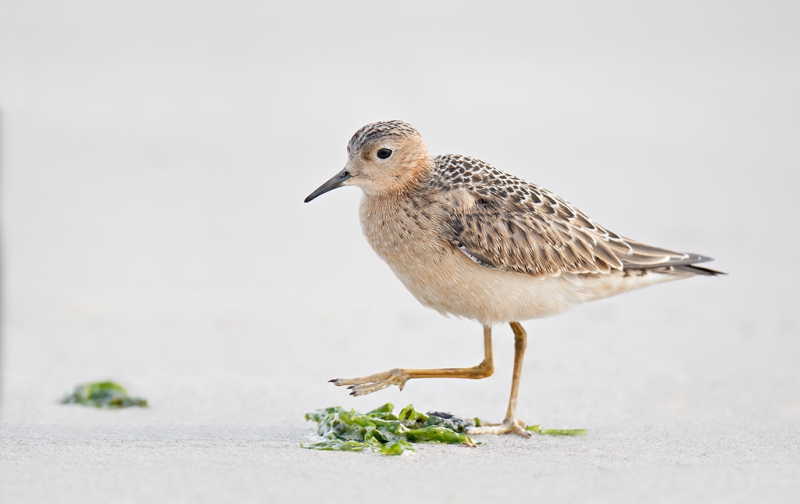 This image was created at Nickerson Beach, Long Island, NY with the tripod-mounted (I was kneeling) Canon 800mm f/5.6L IS lens, a 25mm Extension tube, and the EOS-1D Mark IV. ISO 800. Evaluative metering +2 stops: 1/1000 sec. at f/5.6
Lens micro-adjustment: -4. Central sensor/AI Servo/Rear Focus AF (with AF active at the moment of exposure).
The extension tube increased magnification about 3% and allowed me–if need be–to focus about 2 1/2 feet closer than with the prime lens alone. Lots of beach clean-up and seaweed re-arrangement. See the original below.
For a greater appreciation of the image, click on the photo. Then click on the enlarged version to close it.
Preparing JPEGs for the WEB
When questioned about poor image quality more than a few folks on Bird Photographers.Net complain about the 200kb file size limit. I am always baffled by these comments and I never have a clue as to what folks are doing that causes their image quality problems.
Here is what I am am currently doing: I start with my master file and crop horizontals 1024 px wide at 96 dpi. I know that that the word on the street is to save web JPEGs at 72dpi but I have been saving at 96 dpi since forever: if it ain't broke, done't fix it. (With most of my avian images I selectively sharpen the bird only in my master files using a contrast mask and a hide-all mask.) I sharpen my JPEGs to taste using Unsharp Mask with the Amount between 130 and 225 (to taste) and the Radius always at .3. The average Amount would be about 180. Then I Save for Web with the image optimized to <195 kb. If you convert to sRGB you need to make sure that the Embed Color Profile box is checked when you save for web. If you are not right on the money with all of the above you can find everything detailed in our Digital Basics File, an easy-to-follow PDF that is sent via e-mail. DB includes my complete Digital Workflow, dozens of great Photoshop tips, and free updates for as long as I am still pushing the shutter button.
I have been preparing my JPEGs for web presentation this way (albeit with smaller sized images and smaller KB allowances) for more than ten years and all that I have ever heard is "Your JPEGs look great!" I have never once had image quality problems by having to save at <200kb and never even in the old days when saving at 800 or 600 pixles wide and <80 kbs. Ever. So when I see comments like those above I am always mystified.... Do note that many of the images posted to the web are not optimized to less than 200kb but if I downsize them for BPN they look just as good!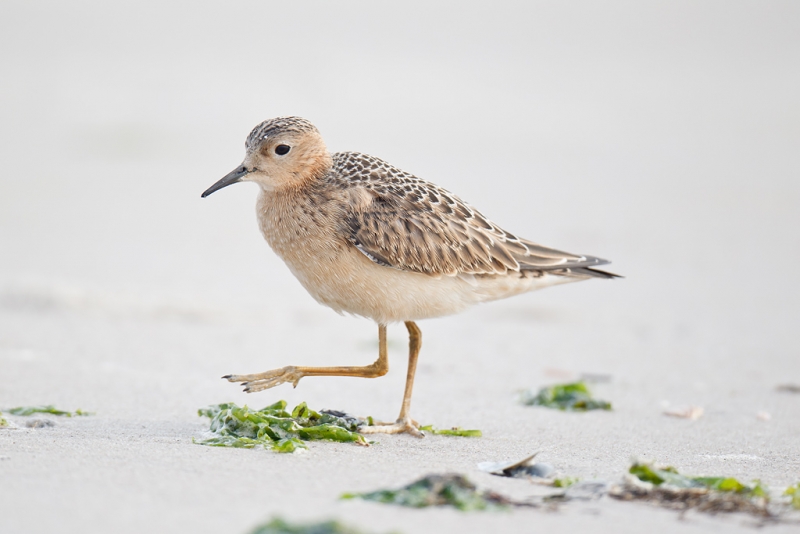 This is the original image from which the image above was created.
Note: the image above is unsharpened. Here's what I did to get from A to B (my master file saved as a TIFF at 300 dpi): Leveled the image with the Ruler Tool based on the foot. Expanded canvas with the Crop Tool Added beach with a flopped Quick Mask. Filled in open spots with the Clone Stamp Tool. Cleaned up the seaweed with a series of Quick Masks and moved a small pile of the green stuff from behind the bird to in front of it. Additional beach clean-up with the Patch Tool, the Clone Stamp Tool, and the Spot Healing Brush. Used those same tools to clean the large sands specks from the birds head. Eliminated the dark area behind the leg with the raised foot using Denise Ippolito's great new Improved Protect and Defend Cloning on a Layer. Click here for more info or to get the free tutorial. Selectively sharpened the bird only using a contrast mask and a hide-all mask. Lightened the iris. The usual contrast and Selective Color work. Flattened, converted to 8-bit, and saved at full resolution as a TIF.
Editing Your Comments
Many folks have noticed that it is no longer possible to edit a comment using traditional methods. We are aware of the problem; it was caused by the recent update to the latest version of Word Press. Do note however that you can correct your errors by using the backspace key to navigate. Peter Kes is working diligently to find a solution.
Shopper's Guide
Below is a list of the gear used to create the image in today's blog post. Thanks a stack to all who have used the Shopper's Guide links to purchase their gear as a thank you for all the free information that we bring you on the Blog and in the Bulletins. Before you purchase anything be sure to check out the advice in our Shopper's Guide.
Support both the Bulletins and the Blog by making all your B & H purchases here.
Remember: you can earn free contest entries with your B & H purchases. Eleven great categories, 34 winning and honored images, and prize pools valued in excess of $20,000. Click here for details.
Canon 800mm f/5.L IS lens. Right now this is my all time favorite super-telephoto lens.
Canon EF 25mm Extension tube. I am never out without one of these in my vest; it allows for closer focus in a variety of situations.
Canon EOS-1D Mark IV professional digital camera body. My two Mark IVs are my workhorse digital camera bodies.
And from the BAA On-line Store:
LensCoats. I have a LensCoat on each of my big lenses to protect them from nicks and thus increase their re-sales value. All my big lens LensCoat stuff is in Hardwood Snow pattern.
LegCoat Tripod Leg Covers. I have four tripods active and each has a Hardwood Snow LegCoat on it to help prevent further damage to my tender shoulders 🙂
Gitzo GT3530LS Tripod. This one will last you a lifetime.
Mongoose M3.6 Tripod Head. Right now this is the best tripod head around for use with lenses that weigh less than 9 pounds. For heavier lenses, check out the Wimberley V2 head.
CR-80 Replacement Foot for Canon 800. When using the 800 on a Mongoose as I do, replacing the lens foot with this accessory lets the lens sit like a dog whether pointed up or down and prevents wind-blown spinning of your lens on breezy days by centering the lens directly over the tripod.
Double Bubble Level. You will find one in my camera's hot shoe whenever I am not using flash.
Be sure to check out our camera body User's Guides here.
The Lens Align Mark II. I use the Lens Align Mark II pretty much religiously to micro-adjust all of my gear an average of once a month and always before a major trip. Enjoy our free comprehensive tutorial here.
Canon EOS-1D Mark IV User's Guide. Learn to use your Mark IV the way that I use mine.