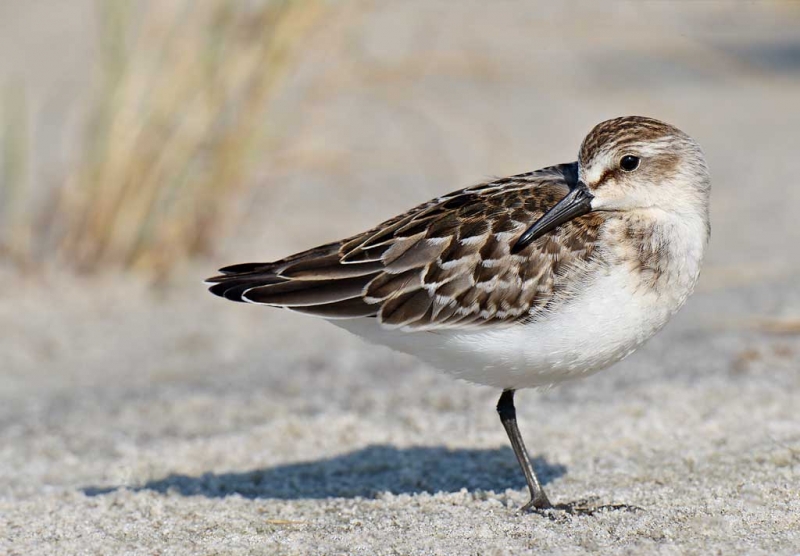 This image was created at Nickerson Beach, Long Island, NY with the tripod-mounted (I was kneeling) Canon 800mm f/5.6L IS lens, a 25mm Extension tube, and the EOS-1D Mark IV. ISO 400. Evaluative metering +2/3 stop: 1/1000 sec. at f/13.
Lens micro-adjustment: -4. Central sensor/AI Servo/Rear Focus AF and re-compose.
The extension tube allowed me to focus closer than the minimum focusing distance of the prime lens alone. This young Semipalmated Sandpiper was sleeping but woke up just for a second to throw this lovely pose. Note that by working very close to sun angle that the negative effects of the harsh light (9:20am) on the image have been minimized.
For a greater appreciation of the image, click on the photo. Then click on the enlarged version to close it.
September 20, 2011 Update: B&H is once again back-ordered on Mark IV bodies.
Please enjoy the image above. 🙂 One blog subscriber was lucky enough to grab one.
Mark IV Alert
Mark IV bodies have been in short supply ever since the earthquake tragedy in Japan. If you are looking for one, be advised that B&H just received a small shipment. To purchase, please use this link: Canon EOS-1D Mark IV. I have been using Mark IV bodies exclusively for almost two years. Get yours right now to avoid disappointment and you can earn three free entries into the BIRDS AS ART 1st International Bird Photography Competition.
Shopper's Guide
Below is a list of the gear used to create the image in today's blog post. Thanks a stack to all who have used the Shopper's Guide links to purchase their gear as a thank you for all the free information that we bring you on the Blog and in the Bulletins. Before you purchase anything be sure to check out the advice in our Shopper's Guide.
Support both the Bulletins and the Blog by making all your B & H purchases here.
Remember: you can earn free contest entries with your B & H purchases. Eleven great categories, 34 winning and honored images, and prize pools valued in excess of $20,000. Click here for details.
Canon 800mm f/5.L IS lens. Right now this is my all time favorite super-telephoto lens.
Canon EF 25mm Extension tube. I am never out without one of these in my vest; it allows for closer focus in a variety of situations.
Canon EOS-1D Mark IV professional digital camera body. My two Mark IVs are my workhorse digital camera bodies.
And from the BAA On-line Store:
LensCoats. I have a LensCoat on each of my big lenses to protect them from nicks and thus increase their re-sales value. All my big lens LensCoat stuff is in Hardwood Snow pattern.
LegCoat Tripod Leg Covers. I have four tripods active and each has a Hardwood Snow LegCoat on it to help prevent further damage to my tender shoulders 🙂
Gitzo GT3530LS Tripod. This one will last you a lifetime.
Mongoose M3.6 Tripod Head. Right now this is the best tripod head around for use with lenses that weigh less than 9 pounds. For heavier lenses, check out the Wimberley V2 head.
CR-80 Replacement Foot for Canon 800. When using the 800 on a Mongoose as I do, replacing the lens foot with this accessory lets the lens sit like a dog whether pointed up or down and prevents wind-blown spinning of your lens on breezy days by centering the lens directly over the tripod.
Double Bubble Level. You will find one in my camera's hot shoe whenever I am not using flash.
Be sure to check out our camera body User's Guides here.
The Lens Align Mark II. I use the Lens Align Mark II pretty much religiously to micro-adjust all of my gear an average of once a month and always before a major trip. Enjoy our free comprehensive tutorial here.
Canon EOS-1D Mark IV User's Guide. Learn to use your Mark IV the way that I use mine.