I Finally Got in the Water…
I've been thinking about getting into Lake Walk-in-Water (it is only four minutes from my home) for about a week after seeing lots of great water lily images on Bird Photographers.Net (It Ain't Just Birds!) in both the Macro Forum and the Out-of-the-Box Forum. Well, I finally finished my 2010 Federal income taxes on Thursday–well, almost, so when it dawned clear and calm this morning I made the short drive down to the lake, photographed some Black and Turkey Vultures from the car, and finally got up enough courage to wade into the lake with my gear.
There are lots of big gators in the lake…. The aquatic vegetation was so thick that it was difficult to make my way into the relatively open lily pool without becoming hopelessly trapped and possibly falling into the lake with my gear. But with all the rain, the water was delightfully cool. This was pretty much my only keeper; surely my best. While setting up for this shot and being a bit careless for a moment, I noticed that the bottom of my Mark IV was actually in the lake about 1/4 inch below the surface. Ooops but no problema; and I did want to get real low.
The 7-frame HDR was assembled in Photomatix Pro 4.1 with the following settings: . Tone mapping. STR: 73, Col Sat: 78, Lum: 8.3, Det. Contr: 10, Natural +, Sm. High: 0, White Pt: 0.010%, Black Pt: 0.044&, Gamma: 1.00, Temp: 0, Micro-smoothing: 18.1, Sat. High: 0, Sat Sh: -2.5, Shad. Smooth: 0, Sh. Clip: 0. It was the high Micro Smoothing setting the made the whites pop and gave me the look I was after. Do check out the before and after image clean-up animated GIF below.
To purchase Photomatix and save 15% click here and be sure to enter birdsasart as the coupon code. You can download and use a trial copy of Photomatix before you buy. (It is fully operational; the processed images will have a visible watermark on them.) I was intimidated by both HDR and HDR Grunge for several years but once I tried each I quickly got the hang of it. And it is great fun. I am hoping that the HDR/Grunge Guide that Denise and I are working on will be finished soon.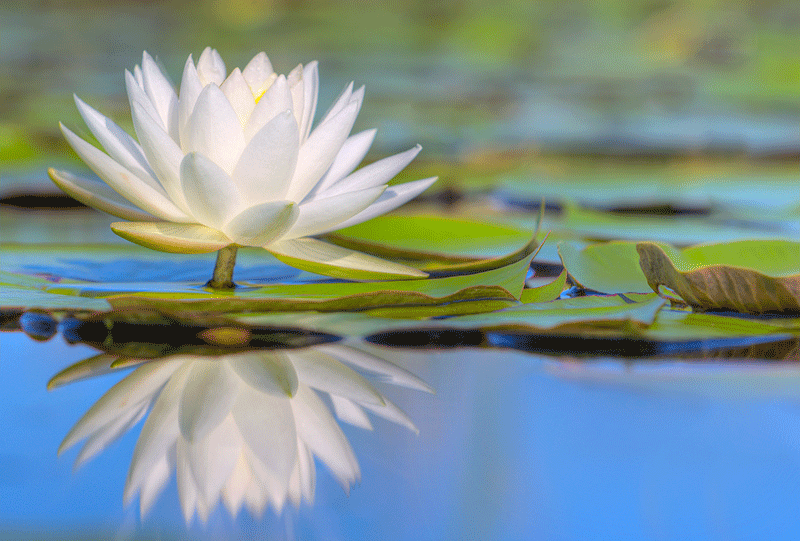 I cleaned up most of the specular highlights with the Patch Tool and a 20-40% Opacity Clone Stamp Tool. After 30 minutes of work I noticed that there was a great deal of posterization in the lower right corner from the HDR processing. I tried several things and none of them worked. Then I painted a large Quick Mask of the whole corner, ran a 230% Gaussian Blur on the Layer, and used a regular Layer Mask to paint away the spots where the massive blur had affected the lily pads. Bottom line was that it looked great. All of the above plus my complete Digital Workflow and dozens of great Photoshop tips are detailed in Digital Basics.
Do let us know what you think of the image. You can see what they thought of it in Macro by clicking here.
Shopper's Guide
Below is a list of the gear used to create the image in today's blog post. Thanks a stack to all who have used the Shopper's Guide links to purchase their gear as a thank you for all the free information that we bring you on the Blog and in the Bulletins. Before you purchase anything be sure to check out the advice in our Shopper's Guide.
Support both the Bulletins and the Blog by making all your B & H purchases here.
Remember: you can earn free contest entries with your B & H purchases. Eleven great categories, 34 winning and honored images, and prize pools valued in excess of $20,000. Click here for details. In the past few days several folks have earned multiple contest entries by e-mailing us there B&H receipts: two Mark IV bodies and one 300 f/2.8L IS II! Congrats and good luck on all counts.
Canon 70-200mm f/2.8L IS II lens. Man, I am loving this lens on my shoulder with the 2X III teleconverter. I also use it a lot with the 1.4X III TC.
Canon 1.4X III Teleconverter. Designed to work best with the new Series II super-telephoto lenses.
Canon EOS-1D Mark IV professional digital camera body. My two Mark IVs are my workhorse digital camera bodies.
And from the BAA On-line Store:
LensCoats. I have a LensCoat on each of my big lenses to protect them from nicks and thus increase their re-sales value. All my big lens LensCoat stuff is in Hardwood Snow pattern.
LegCoat Tripod Leg Covers. I have four tripods active and each has a Hardwood Snow LegCoat on it to help prevent further damage to my tender shoulders 🙂
Gitzo GT3530LS Tripod. This one will last you a lifetime.
Mongoose M3.6 Tripod Head. Right now this is the best tripod head around for use with lenses that weigh less than 9 pounds. For heavier lenses, check out the Wimberley V2 head.
CR-80 Replacement Foot for Canon 800. When using the 800 on a Mongoose as I do, replacing the lens foot with this accessory lets the lens sit like a dog whether pointed up or down and prevents wind-blown spinning of your lens on breezy days by centering the lens directly over the tripod.
Double Bubble Level. You will find one in my camera's hot shoe whenever I am not using flash.
Be sure to check out our camera body User's Guides here.
The Lens Align Mark II. I use the Lens Align Mark II pretty much religiously to micro-adjust all of my gear an average of once a month and always before a major trip. Enjoy our free comprehensive tutorial here.
Canon EOS-1D Mark IV User's Guide. Learn to use your Mark IV the way that I use mine.