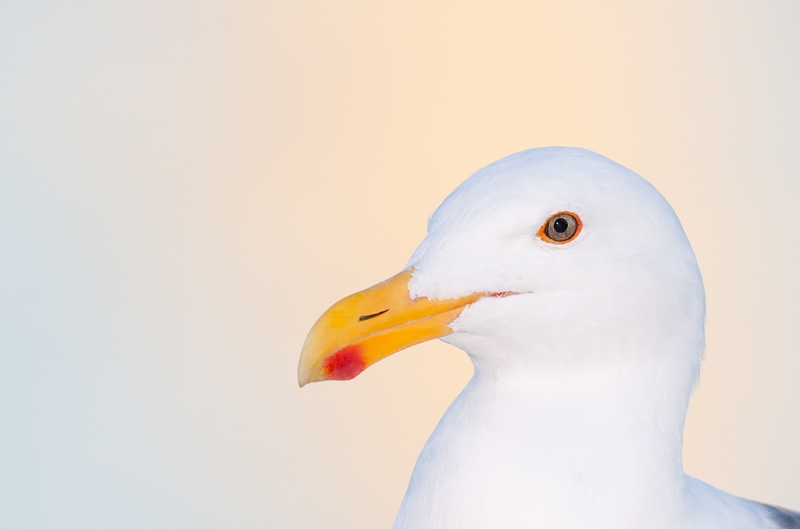 Western Gull, adult head portrait. Image created with the tripod-mounted Canon 800mm f/5.6L IS lens and the EOS-50D. ISO 400. Evaluative metering +1 1/3 stops: 1/250 sec. at f/8 in Manual mode. Fill flash at -2 stops with the Canon 580 EX flash on the 4th Generation Design Integrated Flash Arm with the Better Beamer.
For a greater appreciation of the image, click on the photo. Then click on the enlarged version to close it.
Sweet Situation
I was going through the collection looking for images to promote the first ever Morro Bay IPT (early April, 2012) when I came across this rather nice unprocessed image and went to work. As you will see below, the bill was somewhat of a mess but I loved the bird in bright breeding plumage and loved the glowing background colors. The combination of subject in shadow/background in sun is one of my faves. Here, the gull was in the shadow of Morro Rock while the inlet was lit by late afternoon sun. I positioned myself so that the creamy yellow swath in the water was right behind the gull's head that was flanked by the light blue water. Flash was not a necessity but here it really made the WHITEs glow. I remember making a test image at +2 and then cutting back to lose the few blinkies in the background. Then it was a just a matter of waiting for the perfect head angle.
Bill Clean-up
As you can see by viewing the animated GIF above, the bird's plumage was gorgeous but the bill needed some work. I used the Patch Tool (P), the Spot Healing Brush (J), and a few small Quick Masks (Q,B,Q, Control J) to accomplish that task. It took me about 15 minutes, a bit longer than I expected. I ran a 10% Linear Burn on the bird's brightest WHITEs. All of course as described in Digital Basics, an e-mailable PDF (only $20!)that includes my complete digital workflow, dozens of great Photoshop tips, and all of my personalized Keyboard shortcuts (with detailed instructions on how to create them). When I posted this image on BPN (here) someone mentioned that they liked the Nike swoosh…. 🙂
Earn Free Contest Entries and Support both the Bulletins and the Blog by making all your B & H purchases here.
More and more folks are earning multiple contest entries with their B & H purchases. See here for details on that. Eleven great categories, 34 winning and honored images, and prize pools valued in excess of $20,000. Click here to visit the competition home page.
Shopper's Guide
Below is a list of the gear used to create the image in today's blog post. Thanks a stack to all who have used the Shopper's Guide links to purchase their gear as a thank you for all the free information that we bring you on the Blog and in the Bulletins. Before you purchase anything be sure to check out the advice in our Shopper's Guide.
Canon 800mm f/5.L IS lens. Right now this is my all time favorite super-telephoto lens.
Canon EOS-7D. This great lightweight body replaced the 50D.
Canon 580 EX flash. Canon's top of the line professional flash.
And from the BAA On-line Store:
LensCoats. I have a LensCoat on each of my big lenses to protect them from nicks and thus increase their re-sales value. All my big lens LensCoat stuff is in Hardwood Snow pattern.
LegCoat Tripod Leg Covers. I have four tripods active and each has a Hardwood Snow LegCoat on it to help prevent further damage to my tender shoulders 🙂
Gitzo GT3530LS Tripod. This one will last you a lifetime.
Mongoose M3.6 Tripod Head. Right now this is the best tripod head around for use with lenses that weigh less than 9 pounds. For heavier lenses, check out the Wimberley V2 head.
CR-80 Replacement Foot for Canon 800. When using the 800 on a Mongoose as I do, replacing the lens foot with this accessory lets the lens sit like a dog whether pointed up or down and prevents wind-blown spinning of your lens on breezy days by centering the lens directly over the tripod.
Integrated Flash Arm. This lightweight flash bracket prevents red-eye, purple-eye, flash-eye, and silver eye in most situations and it allows you to go vertical without the hassles you would have with the flash on the camera body.
Better Beamer. Increase your flash output three times. Save battery power. Work at greater distances and smaller apertures when you need to.
The Lens Align Mark II. I use the Lens Align Mark II pretty much religiously to micro-adjust all of my gear an average of once a month and always before a major trip. Enjoy our free comprehensive tutorial here.
Canon EOS-1D Mark IV User's Guide. Learn to use your Mark IV the way that I use mine. Also available for the 7D and the Mark III here.