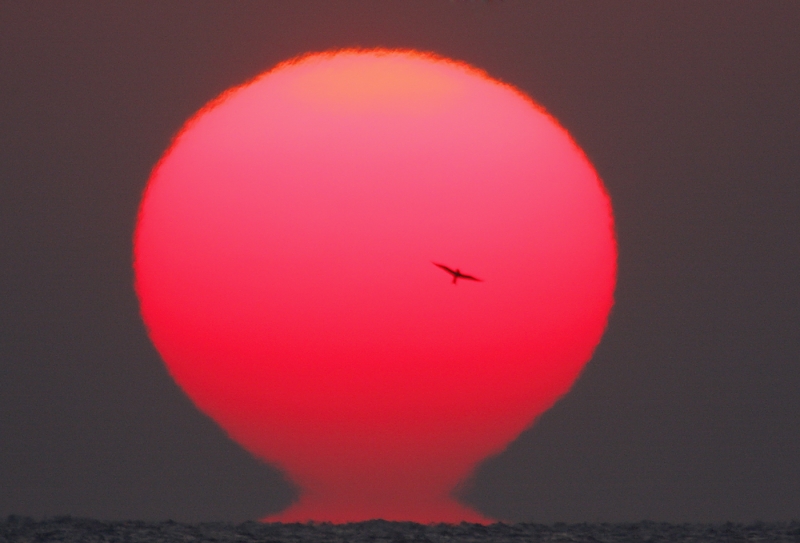 Tern Sunrise, Little St. Simon's, GA. This image was created with the tripod mounted Canon 500mm f/4 L IS lens, the 2X II TC (now replaced by the 2X III teleconverter) and the Canon EOS-40D (now replaced by the Canon EOS-7D). ISO 800. Evaluative metering +2/3 stop: 1/500 sec. at 8. Focused manually by necessity.
Many folks who see this image congratulate me on creating this image in Photoshop. It is, however, straight out of camera :).
For a greater appreciation of the image, click on the photo. Then click on the enlarged version to close it.
For Your Critique: Image #11
The image above is presented for your critique; feel free to praise it or rip it to shreds. All suggestions are welcome. Would you keep it or delete it? Let us know why either way, what you like or what you hate. What would you have done differently?
Over the course of the next month or so, I will present nine additional images in this series for a total of twenty in all. The last will be followed by several revelations including two major ones.
Earn Free Contest Entries and Support both the Bulletins and the Blog by making all your B & H purchases here.
More and more folks are earning multiple contest entries with their B & H purchases. See here for details on that. Eleven great categories, 34 winning and honored images, and prize pools valued in excess of $20,000. Click here to visit the competition home page.
Shopper's Guide
Below is a list of the gear used to create the image in today's blog post. Thanks a stack to all who have used the Shopper's Guide links to purchase their gear as a thank you for all the free information that we bring you on the Blog and in the Bulletins. Before you purchase anything be sure to check out the advice in our Shopper's Guide.
Canon 500mm f/4 L IS lens. Surely the world's most popular super-telephoto lens. And for good reason. And the 500 f/4L IS II promises to be a lot better!
2X III teleconverter. This new 2X TC is considerably sharper than the 2X II model.
Canon EOS-7D). Possibly the best value ever digital camera body….
And from the BAA On-line Store:
LensCoats. I have a LensCoat on each of my big lenses to protect them from nicks and thus increase their re-sales value. All my big lens LensCoat stuff is in Hardwood Snow pattern.
LegCoat Tripod Leg Covers. I have four tripods active and each has a Hardwood Snow LegCoat on it to help prevent further damage to my tender shoulders 🙂
Gitzo GT3530LS Tripod. This one will last you a lifetime.
Mongoose M3.6 Tripod Head. Right now this is the best tripod head around for use with lenses that weigh less than 9 pounds. For heavier lenses, check out the Wimberley V2 head.
CR-80 Replacement Foot for Canon 800. When using the 800 on a Mongoose as I do, replacing the lens foot with this accessory lets the lens sit like a dog whether pointed up or down and prevents wind-blown spinning of your lens on breezy days by centering the lens directly over the tripod.
Double Bubble Level. You will find one in my camera's hot shoe whenever I am not using flash.
Be sure to check out our camera body User's Guides here.
The Lens Align Mark II. I use the Lens Align Mark II pretty much religiously to micro-adjust all of my gear an average of once a month and always before a major trip. Enjoy our free comprehensive tutorial here.
Canon EOS-1D Mark IV User's Guide. Learn to use your Mark IV the way that I use mine. Also available for the 7D and the Mark III here.