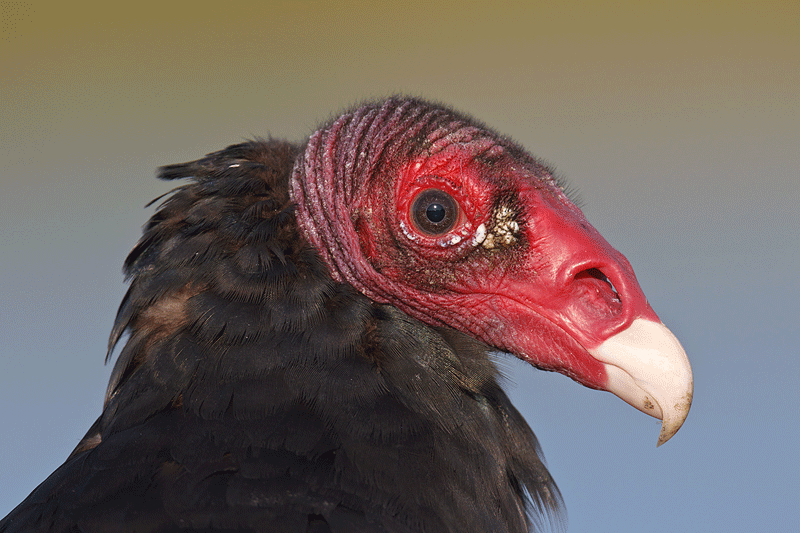 Take a minute to study the bill and plumage clean-up by giving the animated GIF a few moments to play. Do note that though the optimized image is a bit lighter than the original capture that the exposure of the original image was dead solid perfect: during conversion in ACR I could not move either the Exposure slider or the Black slider even a smidge to the right without getting either an over- (red) or under-exposure (blue) warning (respectively). Learn to convert your RAW files properly in Digital Basics.
Ugly Lessons I
Opportunities for bird photography here at Indian Lake Estates can be good on some days, excellent on a very few. The most dependable subjects are Sandhill Crane and the two vulture species, Turkey and Black. I wanted to do some more fairly tight, sweet light stuff (see Since It Quit Raining) with the cranes yesterday morning, Friday, October 15th but they simply kept walking and walking, never stopping to preen. And I could not will the Limpkin back into the new pond again. So I got in the car ready to give up when I noticed some vultures sitting on some posts by a small boat dock. (More on that in Ugly Lessons II coming soon.)
As you can see by viewing the animated GIF above, the one Turkey Vulture that let me let close had a bright red head with a hint of breeding plumage purple on the back of the head. But the tip of the bill was even uglier than vultures are thought to be. (I think that in the right light–as here–that they are both handsome and beautiful.) I used the Patch Tool and the Spot Healing Brush (along with the Clone Stamp Tool sparingly) to clean the ugly specks from both the bill and the plumage. But the end of the bill was such a mess, surely from the bird's last meal, that I needed to created several warped Quick Masks to cover the dirty area on that lovely ivory beak. (Did you know that the bare, featherless heads of carrion eaters evolved to lessen the chance of their picking up diseases that might result from constantly having to deal with matted, bloody head feathers?)
Learn the basics of Quick Masking and how to use the Patch Tool, the Spot Healing Brush, and the Clone Stamp Tool in Digital Basics. This e-mailable PDF includes my complete Digital Workflow, my time-saving Keyboard Shortcuts, and dozens and dozens of great Photoshop tips. And Digital Basics includes free updates for as long as I continue to press the shutter button. Advanced Quick Masking Techniques are detailed in Robert O'Toole's amazing APTATS I (Advanced Photoshop Tips and Techniques Simplified I). Heck, that's where I learned Quick Masking.
no images were found
Turkey Vulture head portrait. Indian Lake Estates, FL. This image was created with the Canon 800mm f/5.6L IS lens, the 1.4X III TC, and the EOS-1D Mark IV. ISO 400. Evaluative metering -1/3 stop (as framed): 1/500 sec. at f/11 set manually. I needed to underexpose to save the ivory white bill tip from over-exposure.
Central Sensor (by necessity) Rear Focus/AI Servo AF (active at the moment of exposure). Click here if you missed the Rear Focus Tutorial.
The lens was supported by the BAA-designed Big Lens Ultimate Beanbag (BLUBB) that was resting firmly on the mostly lowered window of my SUV. You can check out this bird's running mate in my BPN post "The Young and The Ugly" here.
For a greater appreciation of the image, click on the photo. Then click on the enlarged version to close it.
Your Two Cents
Take a few seconds to leave a comment and let us know your thoughts on Turkey Vulture: ugly or beautiful. And why. And if you like, you can let us know whether you think that bill and plumage clean-up is right or wrong. And why on that too. 🙂
Do know that such clean-up is welcome in the BIRDS AS ART 1st International Bird Photography Competition.
Earn Free Contest Entries and Support both the Bulletins and the Blog by making all your B & H purchases here.
More and more folks are earning multiple contest entries with their B & H purchases. See here for details on that. Eleven great categories, 34 winning and honored images, and prize pools valued in excess of $20,000. Click here to visit the competition home page.
Shopper's Guide
Below is a list of the gear used to create the images in today's blog post. Thanks a stack to all who have used the Shopper's Guide links to purchase their gear as a thank you for all the free information that we bring you on the Blog and in the Bulletins. Before you purchase anything be sure to check out the advice in our Shopper's Guide.
Canon 800mm f/5.L IS lens. Right now this is my all time favorite super-telephoto lens.
Canon 1.4X III Teleconverter. The new 1.4X TC is designed to work best with the newer Series II super-telephoto lenses but it works just fine with the current lenses.
Canon EOS-1D Mark IV professional digital camera body. My two Mark IVs are my workhorse digital camera bodies.
And from the BAA On-line Store:
BLUBB I designed this one myself. Beware of cheap knock-offs; they cost half as much as the BLUBB but …
LensCoats. I have a LensCoat on each of my big lenses to protect them from nicks and thus increase their re-sales value. All my big lens LensCoat stuff is in Hardwood Snow pattern.
Double Bubble Level. You will find one in my camera's hot shoe whenever I am not using flash.
Be sure to check out our camera body User's Guides here.
The Lens Align Mark II. I use the Lens Align Mark II pretty much religiously to micro-adjust all of my gear an average of once a month and always before a major trip. Enjoy our free comprehensive tutorial here.
Canon EOS-1D Mark IV User's Guide. Learn to use your Mark IV the way that I use mine. Also available for the 7D and the Mark III here.