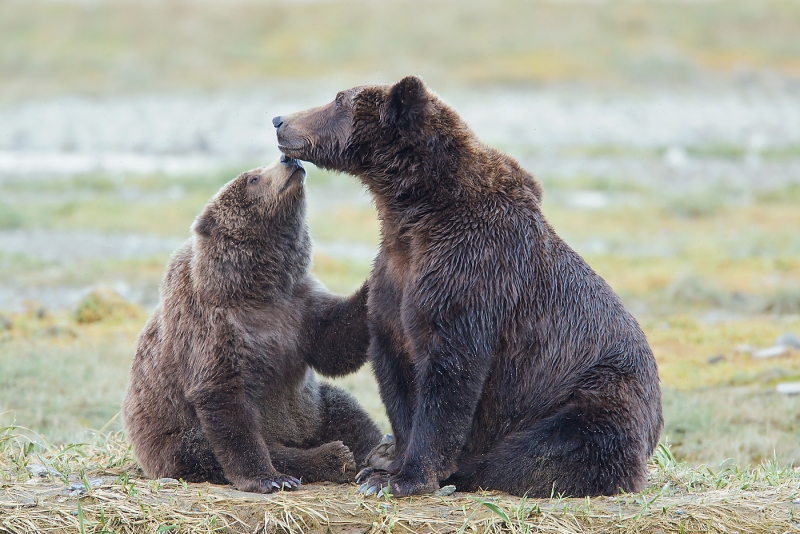 This image was created with the tripod-mounted Canon 800mm f/5.6L IS lens, the 1.4X III TC, and the EOS-1D Mark IV. ISO 800. Evaluative metering +2/3 stop: 1/60 sec. at f/8 in Av mode.
Central Sensor (by necessity) Rear Focus/AI Servo AF on the cub's face and recompose. Click here if you missed the Rear Focus Tutorial.
For a greater appreciation of the image, click on the photo. Then click on the enlarged version to close it.
For Your Critique: Image #16
The image above of a Coastal Brown Bear cub kissing mom was created at Katmai National Park, AK on a Bear Boat IPT. It is presented for your critique; feel free to praise it or rip it to shreds. Would you keep it or delete it? Let us know why either way, what you like or what you hate. What would you have done differently?
Over the course of the next few weeks I will present four additional images in this series for a total of twenty in all. The last will be followed by several revelations including two major ones.
One of the very best ways to grow as a photographer is to look at as many good images as possible. I do that often in books, by checking out contest result web sites, by critiquing images on Bird Photographers.Net (BPN), by visiting the web sites of the world's best photographers, and during image critiques and by encouraging image sharing on our BAA Instructional Photo-Tours (IPTs).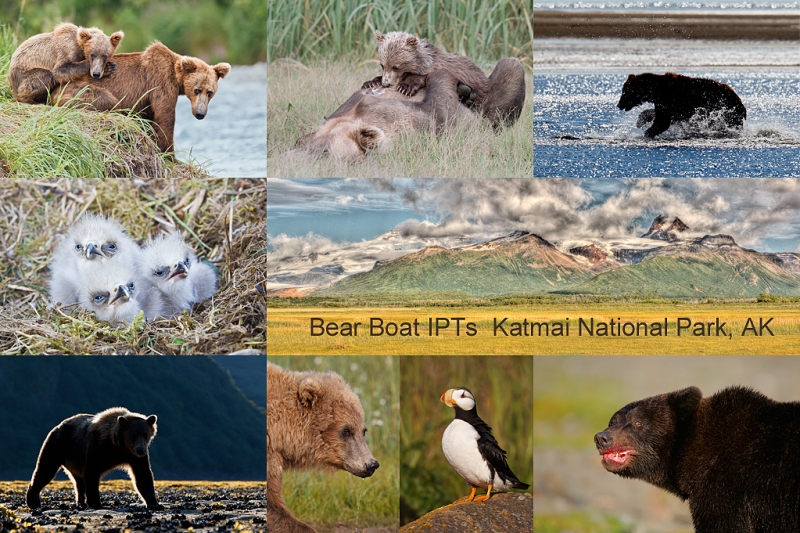 For a greater appreciation of this composite image, simply click on the image. Then click on the image or hit the X to close the larger version.
The KATMAI BEAR BOAT IPT: July 24-31, 2012 from Kodiak, AK: $6499. Limit 8/Openings 5. Coastal Brown Bears (Grizzlies) Galore!
Do consider joining me next summer for a surreal experience: creating intimate photographs of these incredible bears. Coastal Brown Bears at point blank range foraging & clamming with a good chance of copulations; cubs nursing and playing. Likely additional subjects include Horned and Tufted Puffins, nesting Bald Eagle and Black-legged Kittiwake, Steller's Sea Lion, rafts of Sea Otters and more. Halibut fishing optional.
Click here for complete details on this amazing trip.
Earn Free Contest Entries and Support both the Bulletins and the Blog by making all your B & H purchases here.
More and more folks are earning multiple contest entries with their B & H purchases. See here for details on that. Eleven great categories, 34 winning and honored images, and prize pools valued in excess of $20,000. Click here to visit the competition home page.
Shopper's Guide
Below is a list of the gear used to create the images in today's blog post. Thanks a stack to all who have used the Shopper's Guide links to purchase their gear as a thank you for all the free information that we bring you on the Blog and in the Bulletins. Before you purchase anything be sure to check out the advice in our Shopper's Guide.
Canon 800mm f/5.L IS lens. Right now this is my all time favorite super-telephoto lens.
Canon 1.4X III Teleconverter. Designed to work best with the new Series II super-telephoto lenses.
Canon EOS-1D Mark IV professional digital camera body. My two Mark IVs are my workhorse digital camera bodies.
And from the BAA On-line Store:
LensCoats. I have a LensCoat on each of my big lenses to protect them from nicks and thus increase their re-sales value. All my big lens LensCoat stuff is in Hardwood Snow pattern.
LegCoat Tripod Leg Covers. I have four tripods active and each has a Hardwood Snow LegCoat on it to help prevent further damage to my tender shoulders 🙂
Gitzo GT3530LS Tripod. This one will last you a lifetime.
Mongoose M3.6 Tripod Head. Right now this is the best tripod head around for use with lenses that weigh less than 9 pounds. For heavier lenses, check out the Wimberley V2 head.
CR-80 Replacement Foot for Canon 800. When using the 800 on a Mongoose as I do, replacing the lens foot with this accessory lets the lens sit like a dog whether pointed up or down and prevents wind-blown spinning of your lens on breezy days by centering the lens directly over the tripod.
Double Bubble Level. You will find one in my camera's hot shoe whenever I am not using flash.
Be sure to check out our camera body User's Guides here.
The Lens Align Mark II. I use the Lens Align Mark II pretty much religiously to micro-adjust all of my gear an average of once a month and always before a major trip. Enjoy our free comprehensive tutorial here.
Canon EOS-1D Mark IV User's Guide. Learn to use your Mark IV the way that I use mine. Also available for the 7D and the Mark III here.