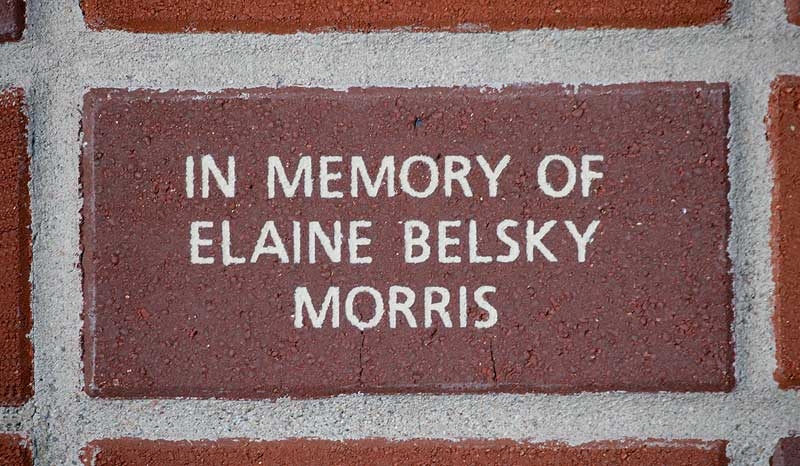 You can visit my late wife Elaine Belsky Morris as you walk into the Visitor's Center at Bosque. Her brick is located about three or four up and in from the lower left corner of the memorial wall on your left.
REMEMBERING
Many years the anniversary of Elaine's death goes by with me even realizing it. But not this year. It is hard to believe that it has been 17 years since her passing on November 20, 1994. She was my best friend and my biggest supported. Sometimes it seems that her smile was here just last week. But most often it seems several lifetimes ago. My second ever visit to Bosque and the very first Bosque IPT began only tens days after Elaine's funeral. Within the week I created both "Blizzard in Blue," my first BBC-honored image, and Fire in the Mist which wound up on the cover of "Life in the Earth." This beautiful book is a compilation of twenty years of the best winning and commended images in the BBC Wildlife Photographer of the Year competition. I have always felt that Elaine had a lot to do with the creation of both of those images.
And this morning she helped out with the image below as well.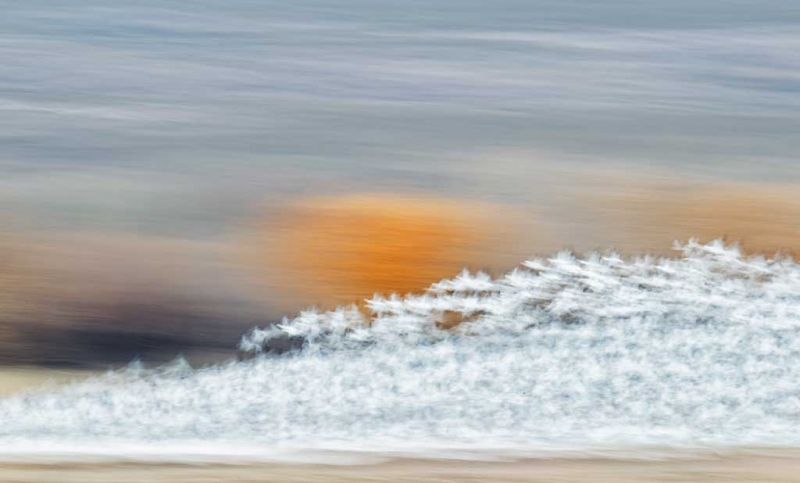 Snow Geese cottonwood blast-off, Bosque del Apache NWR, San Antonio, NW. This image was created on the morning of 11/20/2011 with the tripod-mounted Canon 800mm f/5.6L IS lens and the EOS-1D Mark IV. ISO 100. Evaluative metering +1 1/3 stops as framed: 1/2 sec. at f/22 set manually. I panned with the birds. Histogram check via Live View.
Central Sensor/AI Servo Rear Focus active at the moment of exposure. Click here if you missed the Rear Focus Tutorial. Lens/camera body Micro-adjustment: +2.
For a greater appreciation of the image, click on the photo. Then click on the enlarged version to close it.
After converting the RAW file in ACR I ran Details Extractor and Tonal Contrast from NIK's Color Efex Pro 4.1 each on it's own layer. I added a Hide-all Mask and painted in the effects only on the birds. Please remember that you can save 15% on all NIK products by clicking here and entering BAA in the Promo Code box at check-out. Then hit Apply to see your savings.
Whaddya think?
Feel free to leave a comment and let me know what you think of this image.
Earn Free Contest Entries and Support both the Bulletins and the Blog by making all your B & H purchases here.
More and more folks are earning multiple contest entries with their B & H purchases. See here for details on that. Eleven great categories, 34 winning and honored images, and prize pools valued in excess of $20,000. Click here to visit the competition home page.
Shopper's Guide
Below is a list of the gear used to create the images in today's blog post. Thanks a stack to all who have used the Shopper's Guide links to purchase their gear as a thank you for all the free information that we bring you on the Blog and in the Bulletins. Before you purchase anything be sure to check out the advice in our Shopper's Guide.
Canon 800mm f/5.L IS lens. Right now this is my all time favorite super-telephoto lens.
Canon EOS-1D Mark IV professional digital camera body. My two Mark IVs are my workhorse digital camera bodies.
And from the BAA On-line Store:
LensCoats. I have a LensCoat on each of my big lenses to protect them from nicks and thus increase their re-sales value. All my big lens LensCoat stuff is in Hardwood Snow pattern.
LegCoat Tripod Leg Covers. I have four tripods active and each has a Hardwood Snow LegCoat on it to help prevent further damage to my tender shoulders 🙂
Gitzo GT3530LS Tripod. This one will last you a lifetime.
Mongoose M3.6 Tripod Head. Right now this is the best tripod head around for use with lenses that weigh less than 9 pounds. For heavier lenses, check out the Wimberley V2 head.
CR-80 Replacement Foot for Canon 800. When using the 800 on a Mongoose as I do, replacing the lens foot with this accessory lets the lens sit like a dog whether pointed up or down and prevents wind-blown spinning of your lens on breezy days by centering the lens directly over the tripod.
Double Bubble Level. You will find one in my camera's hot shoe whenever I am not using flash.
Be sure to check out our camera body User's Guides here.
The Lens Align Mark II. I use the Lens Align Mark II pretty much religiously to micro-adjust all of my gear an average of once a month and always before a major trip. Enjoy our free comprehensive tutorial here.
Canon EOS-1D Mark IV User's Guide. Learn to use your Mark IV the way that I use mine. Also available for the 7D and the Mark III here.