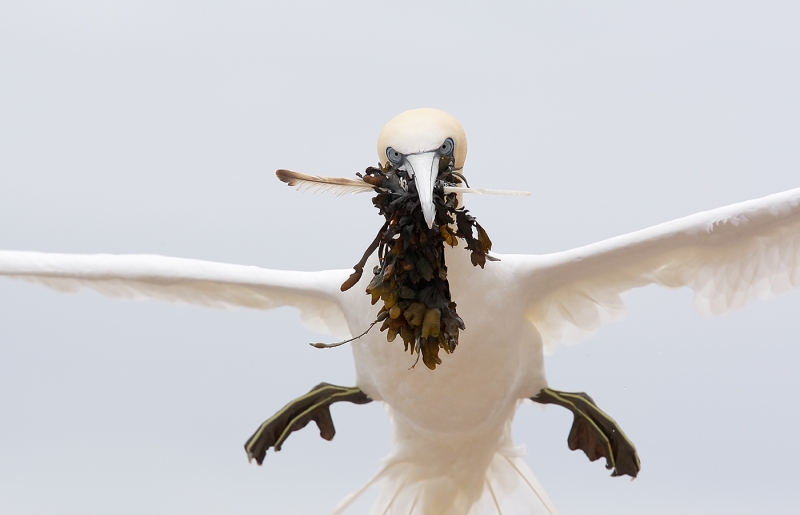 Northern Gannet landing with nesting material, Quebec, Canada. Created with the handheld Canon 400mm f/4 IS DO lens and the EOS-1D Mark III (since replaced by the EOS-1D Mark IV). ISO 400. Evaluative metering +2 1/3 stops off the grey sky: 1/1600 sec. at f/8 set manually.
Central Sensor AI Servo AF on the shutter button; this image was made before I switched to rear focus full time. Click here if you missed the Rear Focus Tutorial. Lens/TC/camera body Micro-adjustment: +4. For a greater appreciation of the image, click on the photo. Then click on the enlarged version to close it.
For Your Critique: Image #20
The image is presented for your critique; feel free to praise it or rip it to shreds. Would you keep it or delete it? Is the clipped tail a deal breaker for you? Let us know why either way, what you like or what you hate. What would you have done differently?
This is the last in the 20-image series. In a few days I will post the two major revelations.
One of the very best ways to grow as a photographer is to look at as many good images as possible. I do that often in books, by checking out contest result web sites, by critiquing images on Bird Photographers.Net (BPN), by visiting the web sites of the world's best photographers, and during image critiques and by encouraging image sharing on our BAA Instructional Photo-Tours (IPTs). More on this subject soon.
Earn Free Contest Entries and Support both the Bulletins and the Blog by making all your B & H purchases here.
More and more folks are earning multiple contest entries with their B & H purchases. See here for details on that. Eleven great categories, 34 winning and honored images, and prize pools valued in excess of $20,000. Click here to visit the competition home page.
Shopper's Guide
Below is a list of the gear that James used to create the images in today's blog post. Thanks a stack to all who have used the Shopper's Guide links to purchase their gear as a thank you for all the free information that we bring you on the Blog and in the Bulletins. Before you purchase anything be sure to check out the advice in our Shopper's Guide.
Canon 400mm f/4 IS DO lens. This fantastic, relatively light 400mm f/4 lens that can be hand held is ideal for birds in flight and when photographing from all types of water craft.
Canon EOS-1D Mark IV professional digital camera body. My two Mark IVs are my workhorse digital camera bodies.
And from the BAA On-line Store:
LensCoats. I have a LensCoat on each of my big lenses to protect them from nicks and thus increase their re-sales value. All my big lens LensCoat stuff is in Hardwood Snow pattern.
The Lens Align Mark II. I use the Lens Align Mark II pretty much religiously to micro-adjust all of my gear an average of once a month and always before a major trip. Enjoy our free comprehensive tutorial here.
Canon EOS-1D Mark IV User's Guide. Learn to use your Mark IV the way that I use mine. Also available for the 7D and the Mark III here.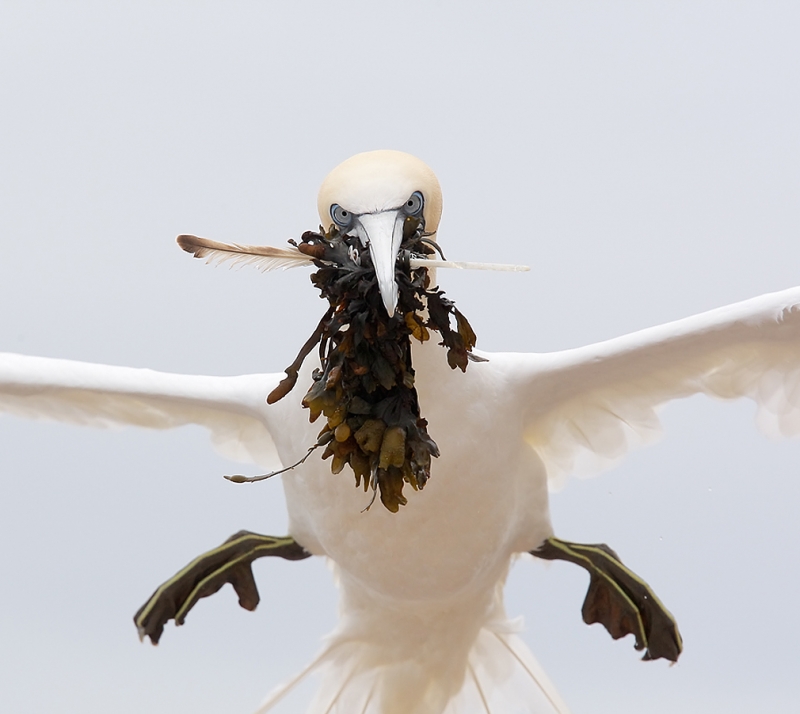 Cropped to a square as suggested in various comments. I believe that the image is stronger this way. Thanks Patty et al.