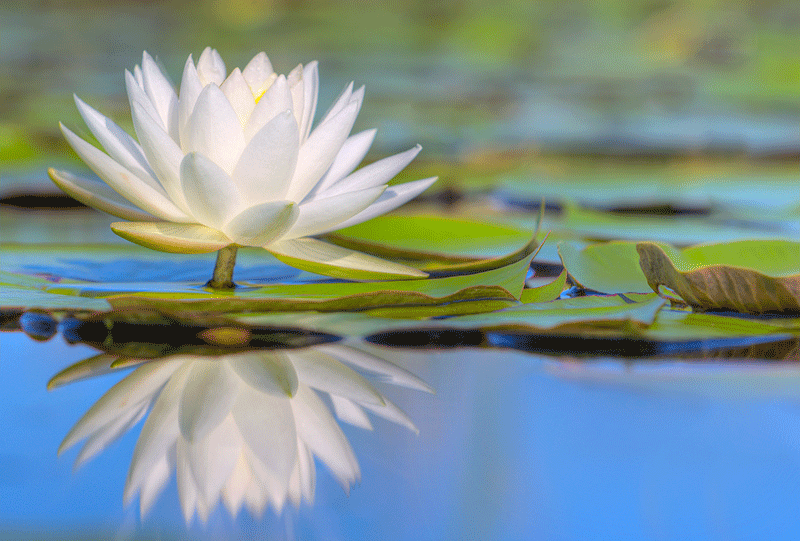 If you give the animated GIF above a moment to play you will note that in the course of optimizing the image I did a fair amount of digital clean-up. See more below. This image was at Indian Lake Estates, FL with the tripod-mounted Canon 70-200mm f/2.8L IS II lens with the 1.4X III TC and the Canon EOS-1D Mark IV ISO 200. This is a 7-frame AEB HDR: +/- one stop around Evaluative metering at zero: 1/800 sec. at f/8. Central sensor/rear-focus AI Servo AF.
Digital Manipulation and Nature Photography Competitions
I did not have to look far to find an image that would be disqualified from most international nature photography competitions; it is an HDR image that has obviously been cleaned up). As far as the ethics of nature photography are concerned my stance is a simple one: the before image is an image of a lily in a pond and the after image is an image of a lily in a pond. No lies have been told at least from where I sit.
Recently, while searching the web for information on my friend, the late Fritz Pölking, an iconic German nature photographer, I came across a link to an interesting article entitled "Manipulated Images in Nature Photography Competitions; Pure Nature or Pixel Pushing? You can find the entire article here. It is an interesting article that would be well worth reading for all serious nature photographers especially those concerned with the ethics of nature photography (like me) or those (like me) who enjoy entering (and especially having images honored by) one or more of the prestigious international competitions. The article was credited to the "GDT board of management" but at the very end included this "by Thomas Block" and this "German to English translations by Alexandra Korte" so I am a bit confused as to how to credit the authorship.
The GDT
The GDT (Gesellschaft Deutscher Tierfotografen) is based in Germany. Rather than try to explain exactly what they do I offer this from their website:
What does the GDT want?
The GDT set itself the task, to produce photographical appealing, convincing and biologically irrefutable nature photos under the compliance with the prevailling laws and to distribute them to the public by exhibitions, books, photo magazines, catalogues and lectures. That way the GDT wants to contribute to a better understanding of the nature and to advertise for her protection. For GDT members the respect for nature is the most important rule at their photographical work.
What does the GDT do?
Every year the GDT organizes the huge "International Nature Photography Festival" with slide shows by photographers from all over the world, with photo exhibitions and seminars on latest subjects of the nature photography. During the festival a unique photo market presents innovations of the film and equipment market, customized designs, numerous accessories, books and travels about nature photography. Above that, every year the GDT organizes an internal photo contest "GDT – Nature Photographer of the Year" as well as an open contest "European Wildlife Photographer of the Year".
(I have been meaning to join the GDT ever since I visited to speak about six years ago….)
My Comments
Note: the bold italics in the "What does the GDT want?" paragraph above are mine. The choice of using "biologically irrefutable" to qualify nature photos is an interesting one that clearly implies that little or no digital manipulation (I far prefer the term optimization) is permitted. As you read the article above that implication becomes very clear. And I am fine with their stance. For the contest and for their exhibits. If I do join (I am planning to do that soon) and I enter the contest (as I also plan to do) I will of course abide by the rules.
At the end of the article they included "Statements of some (actually 3) of the members of the jury (for the 2009 European Wildlife Photographer of the Year competition.) The first two judges towed the party line. Here is a typical remark by made by judge Theo Bosboom (Netherlands):
The second day was still pleasant, but brought also a lot of frustration. After viewing the raw-files, we had to eliminate many selected pictures, because the competition rules had been breached by the photographers. Sometimes this decision was easy, for example when all kind of objects had been removed from a picture, or when the picture turned out to be only a small crop of the original (while only 30 % cropping is allowed). In other cases, the decision was less obvious and required extensive discussions between the jury members. It is for example hard to determine whether the contrast and colour temperature of a picture have been changed so much that also "the message of the photograph" has been changed.
We could spend days discussing that single paragraph alone so I will limit myself to a single comment: It is very hard indeed to determine if an image has been "juiced up" too much especially since the judges were not there and in view of the following facts:
1-Digital images are inherently unsharp and low in contrast as they come out of the camera as compared to film images.
2-Properly exposing digital images to the right to ensure that a file of the highest quality will often result in a RAW file that looks dull and washed out.
When I read the comments of the third judge–Dr. Siegmar Bergfeld (Germany) I was, however, stunned. Here they are:
While judging this competition I was once again struck how the intensity of the images had amplified through the use of digital photography. There were a lot of great eyecatchers which were in many cases later identified as a breach of the competition rules. It was a painful task to exclude otherwise great photographs because of undue manipulations. I came to ask myself the following: should we make the creators of these photographs the centre of our criticism or our competition rules?
Back in the analogue era of photography we – as genuine wildlife photographers – accepted the numerous feeding places that we consciously did not incorporate into the photograph, the "manipulations" using graduated filters, ultra zoom lenses, flashes, blurring, a little twig removed and much more…not to
mention the work in the dark room. Now with digital photography at our hands our possibilities to improve images have been increasing magnificently. It is my opinion that we should utilize this (sic: technology) openly rather than making it a taboo (a much straighter approach would be for example to hang a small copy of the original raw file with the corresponding photograph). To avoid any misunderstanding: copying additional objects into an image, distorting the essential meaning and also any kind of composing if not stated, turns wildlife photography into an untrustworthy and interchangeable matter. But great photographs are often not created by adding something but by the art of reduction.
Wow! Stunned is an understatement. Blown away. Shocked. Though the translation (or possibly just the intended meaning) is a bit less than crystal clear here is the judge of a prestigious international competition suggesting that nature photography contests might be better off allowing things like background clean-up so long as the natural history of the situation is preserved.
I am hoping that Dr. Bergfeld proves to be a man ahead of his time….
Do note that the relaxed digital restrictions (see below) in The 1st BIRDS AS ART International Bird Photography Competition accurately reflect Dr. Bergfeld's suggestions.
From the Rules page:
Digital Restrictions: Entrants are permitted to remove both major and minor distracting elements from an image so long as the natural history of the scene at the moment of capture is preserved. You may add canvas, a wing-tip, or a tail-tip. Compositional elements that were not present at the moment of capture may not be added. Dust-spotting is of course permitted as are adjustments to color, contrast, and tonality. You may crop your images. Cropping shall not exceed more than 50% of the width and/or the height of the original RAW image.
RAW files for all winning and honored images (except for those entered in the Digital Creations category) will be requested via e-mail after the close of the contest. They must be submitted in a timely fashion. Instructions for submitting the required files will be sent via e-mail. Failure to submit the requested RAW files will result in the image being eliminated from the competition.
Rejoinder
Nothing above including my comments should be construed as being critical of the GDT. Most prestigious international nature photography competitions have similar digital restrictions. I am hoping of course that in the future things may change drastically.
Your comments on any of the issues raised above are of course welcome.
B&H Specials
B&H has two great specials that run till the end of December.
Canon EOS-5D Mark II Package
You can get a Canon EOS-5D Mark II package that includes a 16GB CompactFlash Card, a Lowepro Adventura 170 Shoulder Bag, and the Red Giant B&H Video Production Software Bundle (a $719.85 value) for only $1,999.95 with free USA shipping by clicking here. The 5D Mark II is everyone's favorite landscape camera body; see the lead image here. I took one to Bosque to create some very wide images and will be taking one to Antarctica along with the circle lens. Not to mention that it is a killer video camera…. (No questions on video please!)
Canon EF-S 17-55mm f/2.8 IS USM Zoom Lens
If you own a 7D, a 60D, or a 50D, and you like to do landscape and/or side angle photography this would be the Canon EF-S 17-55mm f/2.8 IS zoom lens will thrill you. (Note: this lens will not fit on an EOS-1D Mark IV or other 1D series bodies and it will not on the EOS-5D Mark II.) The $41 instant rebate is good only till the end of the month; you can purchase this lens here.
Earn Free Contest Entries and Support both the Bulletins and the Blog by making all your B & H purchases here.
More and more folks are earning multiple contest entries with their B & H purchases. See here for details on that. Eleven great categories, 34 winning and honored images, and prize pools valued in excess of $20,000. Click here to visit the competition home page.
Shopper's Guide
Below is a list of the gear used to create the image in today's blog post. Thanks a stack to all who have used the Shopper's Guide links to purchase their gear as a thank you for all the free information that we bring you on the Blog and in the Bulletins. Before you purchase anything be sure to check out the advice in our Shopper's Guide.
Canon 70-200mm f/2.8L IS II lens. Man, I am loving this lens on my shoulder with the 2X III teleconverter. I also use it a lot with the 1.4X III TC.
Canon 1.4X III Teleconverter. Designed to work best with the new Series II super-telephoto lenses.
Canon EOS-1D Mark IV professional digital camera body. My two Mark IVs are my workhorse digital camera bodies.
And from the BAA On-line Store:
LensCoats. I have a LensCoat on each of my big lenses to protect them from nicks and thus increase their re-sales value. All my big lens LensCoat stuff is in Hardwood Snow pattern.
LegCoat Tripod Leg Covers. I have four tripods active and each has a Hardwood Snow LegCoat on it to help prevent further damage to my tender shoulders 🙂
Gitzo GT3530LS Tripod. This one will last you a lifetime.
Mongoose M3.6 Tripod Head. Right now this is the best tripod head around for use with lenses that weigh less than 9 pounds. For heavier lenses, check out the Wimberley V2 head.
CR-80 Replacement Foot for Canon 800. When using the 800 on a Mongoose as I do, replacing the lens foot with this accessory lets the lens sit like a dog whether pointed up or down and prevents wind-blown spinning of your lens on breezy days by centering the lens directly over the tripod.
Double Bubble Level. You will find one in my camera's hot shoe whenever I am not using flash.
Be sure to check out our camera body User's Guides here.
The Lens Align Mark II. I use the Lens Align Mark II pretty much religiously to micro-adjust all of my gear an average of once a month and always before a major trip. Enjoy our free comprehensive tutorial here.
Canon EOS-1D Mark IV User's Guide. Learn to use your Mark IV the way that I use mine. Also available for the 7D and the Mark III here.