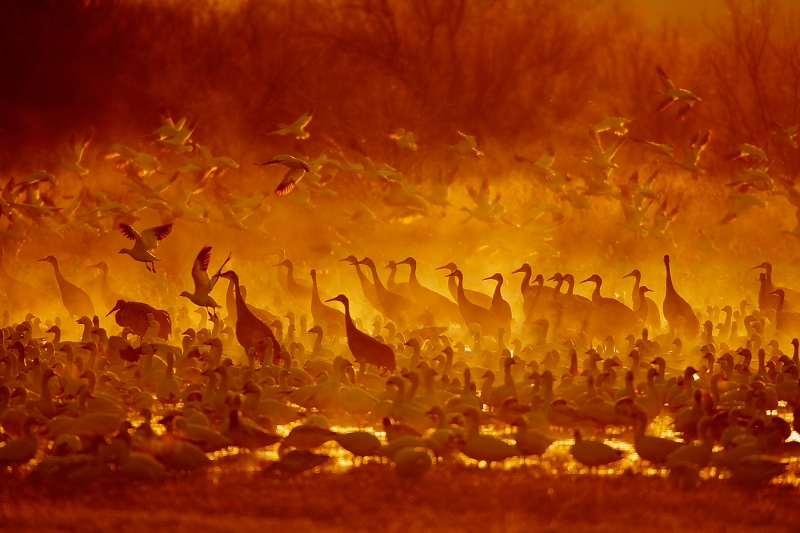 This image was created with the with the tripod-mounted Canon 800mm f/5.6L IS lens and the EOS-1D Mark IV. ISO 400. Evaluative metering +1 1/3 stops: 1/640 sec. at f/5.6 in Av mode. Lens/Camera Body Micro-Adjustment: +2. Central Sensor/Rear Focus/AI Servo AF and re-compose. Click here if you missed the Rear Focus Tutorial. To enjoy viewing a larger sized image, click on the photo. Then click on the enlarged version to close it.
Finding fire in the mist at Bosque is always a thrilling experience. To learn everything that I know about Bosque del Apache NWR before you first visit, be sure to purchase and study a copy of our Bosque Site Guide. After 17 years of visiting I have learned a bit about the place and am eager to share it with you.
My Comments on: For Your Critique: Image #3
On July 8, 2011, I posted For Your Critique: Image #3. It was entered in the WPOTY category: Animals in Their Environment. The post inspired 24 comments. Every single comment was a positive one filled with praise for the light, the scene, and the photographer. Two folks mentioned toning down the several bright spots of water in the lower right. I agree of course but I believed that doing so might have put the image in jeopardy of being disqualified from the WPOTY competition; the submission of the RAW file is required for all images that make the final round of judging. There was a single suggestion to crop the image to a panoramic but for me this would have destroyed the depth and in addition, there simply is no place to execute such a crop without clipping birds.
Someone suggested that this image was even better than the original Fire in the Mist, the one that graces the cover of Light on the Earth. For me it is no contest with the original being far stronger.
My problems with Image #3:
With the wind from the northeast, all of the birds are looking and flying away…
The out-of-focus geese in front of the row of sharply focused (by necessity) cranes is mildly distracting.
The three sharpest geese are on the left side of the frame; having them on the right would have been preferred as then they would have at least been flying through part of the frame rather than leaving.
Some of the geese in the front row are showing us their butts.
Wildlife Photographer of the Year: Portfolio 21
I must say that this year's Portfolio is the most stunning edition ever. Though they are understandably out of stock, you can order a copy here from Amazon. You will be helping support the Blog and the Bulletins to the tune of a few pennies and will be getting to see some amazing photographs a lot larger and more dramatically than on the web where they are pretty much presented tiny…. Once the book is back in stock I will be discussing various images on the blog (as promised previously).
B&H Specials
B&H has two great specials that run till the end of December.
Canon EOS-5D Mark II Package
You can get a Canon EOS-5D Mark II package that includes a 16GB CompactFlash Card, a Lowepro Adventura 170 Shoulder Bag, and the Red Giant B&H Video Production Software Bundle (a $719.85 value) for only $1,999.95 with free USA shipping by clicking here. The 5D Mark II is everyone's favorite landscape camera body; see the lead image here. I took one to Bosque to create some very wide images and will be taking one to Antarctica along with the circle lens. Not to mention that it is a killer video camera…. (No questions on video please!)
Canon EF-S 17-55mm f/2.8 IS USM Zoom Lens
If you own a 7D, a 60D, or a 50D, and you like to do landscape and/or side angle photography this would be the Canon EF-S 17-55mm f/2.8 IS zoom lens will thrill you. (Note: this lens will not fit on an EOS-1D Mark IV or other 1D series bodies and it will not on the EOS-5D Mark II.) The $41 instant rebate is good only till the end of the month; you can purchase this lens here.
Earn Free Contest Entries and Support both the Bulletins and the Blog by making all your B & H purchases here.
More and more folks are earning multiple contest entries with their B & H purchases. See here for details on that. Eleven great categories, 34 winning and honored images, and prize pools valued in excess of $20,000. Click here to visit the competition home page.
Shopper's Guide
Below is a list of the gear used to create the image above. Thanks a stack to all who have used the Shopper's Guide links to purchase their gear as a thank you for all the free information that we bring you on the Blog and in the Bulletins. Before you purchase anything be sure to check out the advice in our Shopper's Guide.
Canon 800mm f/5.L IS lens. Right now this is my all time favorite super-telephoto lens.
Canon EOS-1D Mark IV professional digital camera body. My two Mark IVs are my workhorse digital camera bodies.
And from the BAA On-line Store:
LensCoats. I have a LensCoat on each of my big lenses to protect them from nicks and thus increase their re-sales value. All my big lens LensCoat stuff is in Hardwood Snow pattern.
LegCoat Tripod Leg Covers. I have four tripods active and each has a Hardwood Snow LegCoat on it to help prevent further damage to my tender shoulders 🙂
Gitzo GT3530LS Tripod. This one will last you a lifetime.
Mongoose M3.6 Tripod Head. Right now this is the best tripod head around for use with lenses that weigh less than 9 pounds. For heavier lenses, check out the Wimberley V2 head.
CR-80 Replacement Foot for Canon 800. When using the 800 on a Mongoose as I do, replacing the lens foot with this accessory lets the lens sit like a dog whether pointed up or down and prevents wind-blown spinning of your lens on breezy days by centering the lens directly over the tripod.
Double Bubble Level. You will find one in my camera's hot shoe whenever I am not using flash.
Be sure to check out our camera body User's Guides here.
The Lens Align Mark II. I use the Lens Align Mark II pretty much religiously to micro-adjust all of my gear an average of once a month and always before a major trip. Enjoy our free comprehensive tutorial here.
Canon EOS-1D Mark IV User's Guide. Learn to use your Mark IV the way that I use mine. Also available for the 7D and the Mark III here.