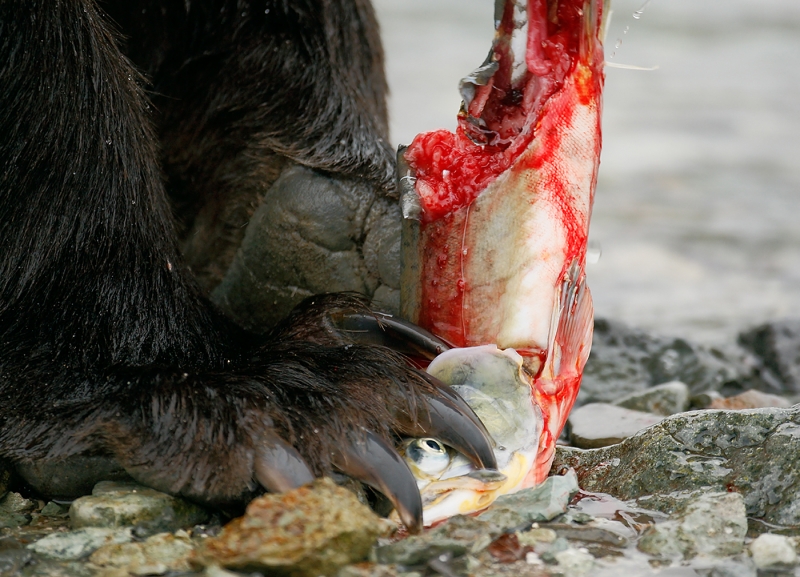 This image was created with the with the tripod-mounted Canon 500mm f/4L IS lens and the EOS_1D Mark III (since replaced by the EOS-1D Mark IV). ISO 800. Evaluative metering at zero: 1/320 sec. at f/4 in Manual mode.
In the old days before I went to rear focus full time I probably used central sensor/One-Shot AF to focus on the fish's eye but it is possible that I was in AI Servo and focused on the fish just beyond the claws and the eye of the fish…. Click here if you missed the Rear Focus Tutorial. Lens/TC/camera body Micro-adjustment: +4. For a greater appreciation of the image, click on the photo. Then click on the enlarged version to close it.
My Comments on "For Your Critique: Image #4"
On August 1, 2011 I posted For Your Critique: Image #4. It was entered in the WPOTY category: Behavior: Mammals. When this bear caught a salmon and walked right towards me I was a bit frazzled as it stopped to dine only 20 feet away. At first I was confused as to what type of image to create. I did not have an intermediate zoom lens on my shoulder. I knew that I needed to remove the 1.4X TC. That done I looked through the viewfinder, saw the eye of the fish between those big claws, and visualized the image that I wanted to create. I have always loved this image and thought that it might do well in a contest or two. It has not.
Several folks inferred that the subject matter was inappropriate mentioning the "poor salmon getting its guts ripped out." Gore sells. Gore wins contests. Bears gotta eat…. As for me, I am always rooting for the predator. One poster mentioned that images like this had (pun intended) been done to death. Though I have seen lots of close-ups of bears eating fresh-caught salmon I have never seen one even remotely similar to this. Mary Stamper as she almost always does, saw things exactly as I did when she wrote: "I like the image as it is. To me, it is mostly about the eye between the claws. I like the way my eye first grabs the red flesh and then slides down the fish body to meet up with the eye between the claw. Then you realize that it's a bear. That's just about a perfect visual manipulation to me. A very engaging and arresting, not to mention startling, image."
Earn Free Contest Entries and Support both the Bulletins and the Blog by making all your B & H purchases here.
More and more folks are earning multiple contest entries with their B & H purchases. See here for details on that. Eleven great categories, 34 winning and honored images, and prize pools valued in excess of $20,000. Click here to visit the competition home page.
Shopper's Guide
Below is a list of the gear used to create the image in this blog post. Thanks a stack to all who have used the Shopper's Guide links to purchase their gear as a thank you for all the free information that we bring you on the Blog and in the Bulletins. Before you purchase anything be sure to check out the advice in our Shopper's Guide.
Support both the Bulletins and the Blog by making all your B & H purchases here.
Canon 500mm f/4L IS lens. 500mm is the most popular telephoto focal length with a wonderful blend of reach, ease of handling, and relatively light weight. I owned two of these at one time and loved them to death. This focal length will soon be replaced with a Series II model that will be smaller and lighter and feature 4-stop IS. I can't wait 🙂 To learn more about the news lenses start here.
Canon EOS-1D Mark IV professional digital camera body. My two Mark IVs are my workhorse digital camera bodies.
And from the BAA On-line Store:
LensCoats. I have a LensCoat on each of my big lenses to protect them from nicks and thus increase their re-sales value. All my big lens LensCoat stuff is in Hardwood Snow pattern.
LegCoat Tripod Leg Covers. I have four tripods active and each has a Hardwood Snow LegCoat on it to help prevent further damage to my tender shoulders 🙂
Gitzo GT3530LS Tripod. This one will last you a lifetime.
Mongoose M3.6 Tripod Head. Right now this is the best tripod head around for use with lenses that weigh less than 9 pounds. For heavier lenses, check out the Wimberley V2 head.
CR-80 Replacement Foot for Canon 800. When using the 800 on a Mongoose as I do, replacing the lens foot with this accessory lets the lens sit like a dog whether pointed up or down and prevents wind-blown spinning of your lens on breezy days by centering the lens directly over the tripod.
Double Bubble Level. You will find one in my camera's hot shoe whenever I am not using flash.
Be sure to check out our camera body User's Guides here.
The Lens Align Mark II. I use the Lens Align Mark II pretty much religiously to micro-adjust all of my gear an average of once a month and always before a major trip. Enjoy our free comprehensive tutorial here.