St. Andrews Bay, South Georgia, Southern Ocean Voyage; Best Day Ever?
January 11, 2012 dawned dark and somewhat foreboding, but small patches of slightly brighter sky left me confident that my 17-year streak of photographic good-weather-Karma would continue. We would be visiting the world's largest King Penguin colony at St. Andrews Bay where more than 320,000 pairs breed. The winds were light but the sky still dark and stormy as we exited the Zodiacs and unpacked our gear. When I was about halfway to the ridge that served as a vantage point above the vast plain of penguins it began to sprinkle. The sprinkle quickly turned to a heavy drizzle and in another minute it was de ja vu all over again as a heavy rain began to pelt down….
Three days before at the glorious and slightly smaller King Penguin colony at Salisbury Plain those who had stayed out all day had been drenched by a pouring rain that left my two EOS-1D MIV professional camera bodies completely dead. Hours inside a pillowcase with a hair dryer set on medium heat had revived them slightly. For the rest of the trip I was unable to see the large LCD on the back of each camera but otherwise they each functioned.
Within minutes and much to my relief, however, the rain at St. Andrews Bay quit.
Soon I was set up on the ridge and making images in the muted light. A quick-flowing stream ran along the edge of an almost endless plain of King Penguins. Each adult stood protecting the single egg that rested atop its feet enveloped in a brood patch. Long lines of fluffy, brown oakum boys, last year's young, zigzagged through the colony. Staff ornithologist Jim Danzenbaker explained that the young birds are relegated to the lower portions of the plain while the nesting adults chose the higher drier ground; thus, the lovely patterns.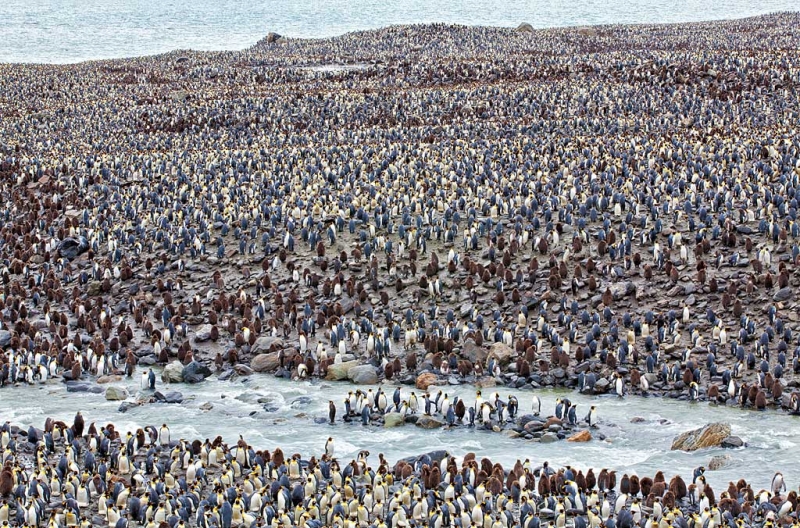 The King Penguin colony was photographed in the morning with the tripod-mounted Canon 70-200mm f/2.8L IS II lens (at 110mm) with the EOS-5D Mark II. ISO 400. Evaluative metering +1/3 stop: 1/20 sec. at f/32 in Av Mode. Rear Focus Central Sensor AF and recompose. Click here if you missed the Rear Focus Tutorial.
For a greater appreciation of this image, click on the photo. Then click on the enlarged version to close it. To see a really cool quasi-HDR grunge version of this image click here.
The upper reaches of the distant mountains in the background were covered by fog. Mesmerized by the beauty of the scene before me time flew by as I changed lenses and changed perspective often. Before I knew it, it was 11:00am and the sun peeked through here and there revealing the snow-covered peaks. But by the time that I switched to a wide angle lens they were once again shrouded in fog. A bit after noon the sun broke through with a vengeance and just like that it was too bright to photograph. I took a break, sat down on a rock, and enjoyed the lunch that I had scavenged at breakfast: ham and Swiss roll-ups with mayonnaise and a bit of low-sugar ketchup that I had brought from home. Stuffed into a zip-lock plastic bag it was quite the messy meal but it really hit the spot; you can could call it an astronaut style lunch.
I napped for a bit dreaming of how great conditions would be when the light got sweet later in the afternoon. When I awoke I noticed that the wind had come up a bit. Then it roared. The words "katabatic winds" were on everyone's lips and at times it was difficult to stand. Whitecaps filled the bay around our anchored ship. We soon received word to head back to the landing site and await further instructions…. I packed up my gear and—a bit disappointed–headed back to the beached Zodiacs.
By the time I arrived the winds had pretty much abated but the ½ mile up and down hike turned out to be a blessing in disguise: I drank a ton of water and refilled the three bottles that I had drained in the morning. The light was getting nice and there were penguins entering the water, penguins feeding in the surf, and penguins so stuffed with lantern fish that they could not stand when leaving the water. Had it not been for the wind warning I would have missed some great chances as the wet King Penguins set against the deep blue water and breaking surf made a great combination.
After an hour of the "surf" photography I hiked back up to the ridge and made hundreds of images of the sea of nesting penguins on the plain below–in the sweet light that I had dreamed of. On the way back to the landing several of us had great chances with adult kings feeding chicks in the sweetest light of the afternoon. In all respects the ten hours at St. Andrews Bay turned out to be one of the great days of my 28 years of bird photography.
Your Favorite?
Leave a comment and let us know which of the four images above is your favorite (and why).
Cheesemans' Ecology Safaris
I traveled with Cheesemans' Ecology Safaris; find out what I thought about them here. You can learn more about CES by clicking here. If you have any questions you can shoot them an e-mail or call them at 800.527.5330.
My Comments
With a bit of free time I had a chance to respond comments posted to the December 28, 2011 blog post here.
Support both the Bulletins and the Blog by making all your B & H purchases here.
Remember: you can earn free contest entries with your B & H purchases. Eleven great categories, 34 winning and honored images, and prize pools valued in excess of $20,000. Click here for details.
Shopper's Guide
Below is a list of the gear used to create the image in today's blog post. Thanks a stack to all who have used the Shopper's Guide links to purchase their gear as a thank you for all the free information that we bring you on the Blog and in the Bulletins. Before you purchase anything be sure to check out the advice in our Shopper's Guide.
Canon EF 16-35mm f/2.8L II USM Autofocus Lens. This is Canon's top of the line wide angle zoom lens.
Canon 70-200mm f/2.8L IS II lens. Man, I am loving this lens on my shoulder with the 2X III teleconverter. I also use it a lot–as I did for the image of the eagle with fish–with the 1.4X III TC.
Canon 300mm f/2.8 L IS II lens. This lens proved to be ideal on a tripod for both birds and wildlife with both the 1.4X and 2X III TCs. All images were super-sharp and the lens was light enough for hand-holding both in the zodiacs and when doing flight photograph from the ship.
Canon EOS-1D Mark IV professional digital camera body. My two Mark IVs are my workhorse digital camera bodies.
Canon EOS 5D Mark II Digital Camera. Canon's lightweight full frame body is perfect for serious landscape photography.
And from the BAA On-line Store:
LegCoat Tripod Leg Covers. I have four tripods active and each has a Hardwood Snow LegCoat on it to help prevent further damage to my tender shoulders :). And you will love them in mega-cold weather….
Gitzo GT3530LS Tripod. This one will last you a lifetime.
Giottos MH 1302-655 (Tiny) BallHead. I spin off my Mongoose M3.6 Tripod Head and mount the tiny ballhead whenever I need to use a short lens on the tripod. The camera goes in the clamp via the Wimberley P-5 camera body plate.
Double Bubble Level. You will find one in my camera's hot shoe whenever I am not using flash.