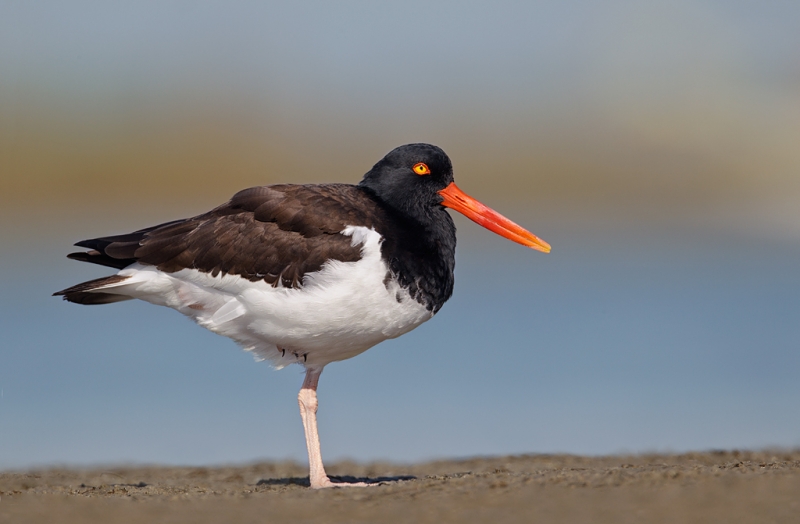 American Oystercatcher, adult, Little Estero Lagoon, Fort Myers Beach, FL. Created with the tripod-mounted Canon 800mm f/5.6L IS lens, the 1.4X III TC, and the EOS-1D Mark IV. ISO 200. Evaluative metering +1/3 stop: 1/500 sec. at f/11 in Av Mode.
Central Sensor (by necessity) Rear Focus/AI Servo AF and recompose. Click here if you missed the Rear Focus Tutorial. For a greater appreciation of the image, click on the photo. Then click on the enlarged version to close it.
Was It Worth It?
It was a bit after 10am on a clear day. We had had a great morning on the SW FLA IPT with lots of egrets and Brown Pelicans in flight, lots of tame Wilson's Plovers, and an Osprey that flew by with a small tree for its nest. We were thinking about heading back to the motel when a family group of 3 American Oystercatchers landed in front of us. I guided everyone on approaching with care so as not to flush these sometimes shy birds.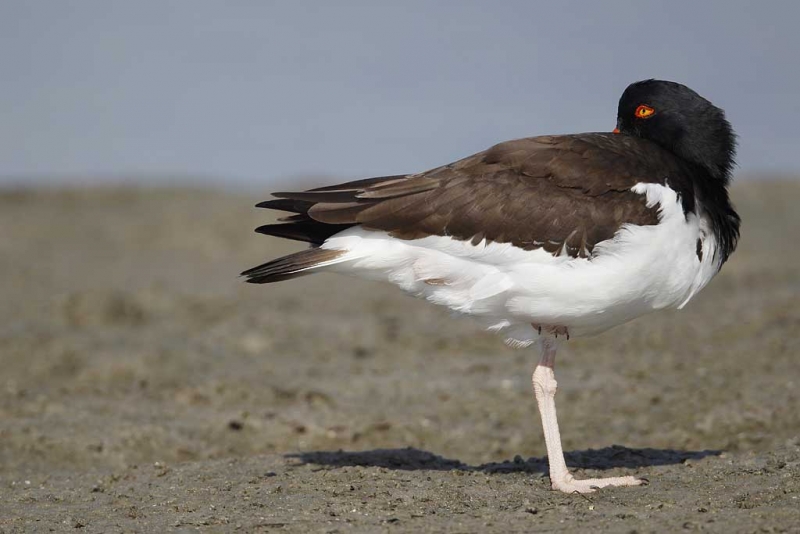 Same bird, same gear…
I created the image above while standing behind my tripod, knowing that with the shoreline dissecting the bird's neck and upper back that it would not be a good image. And I half expected that the birds would take flight at any moment. But at least the image served as a good exposure check. And I did realize that I was a bit too close; remember: it is generally best that the bird not take up more than 75% of the longest dimension of the frame.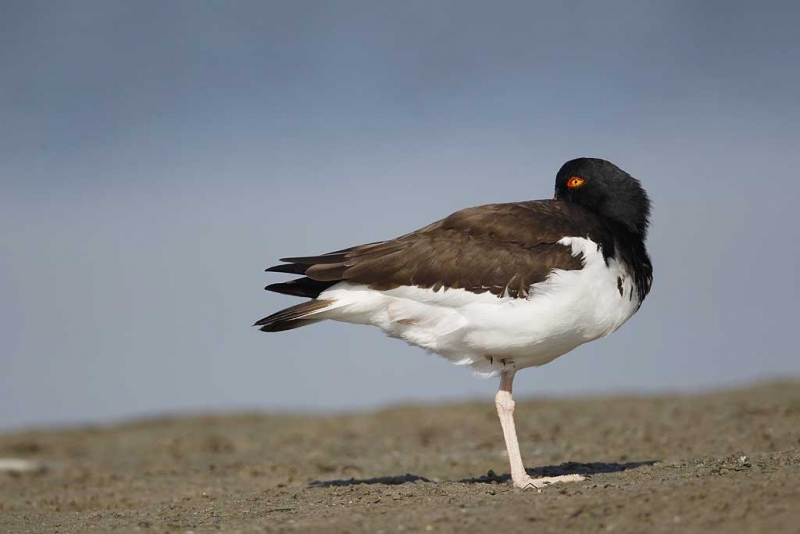 Again, same bird, same gear…
I took a few steps back, lowered the tripod legs, and got down on one knee, knowing that with the shoreline cutting the bird's leg just above the ankle that I would not be happy with the image, all the while realizing that if I got down flat on my belly that I would have a lovely, diffused strip of green background right behind the oystercatcher's head. But, and this was a very big but, to get down flat I would need to go belly down in wet mud on a somewhat chilly morning. I was not looking forward to it, but I knew that it was the way to go…. So I went.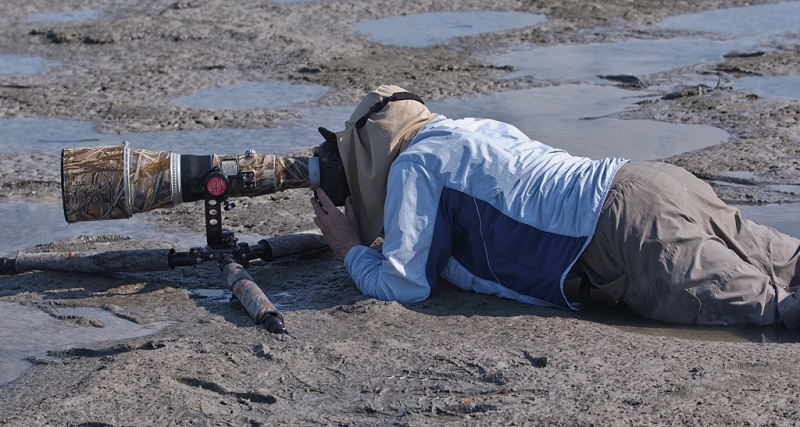 Image courtesy of and copyright 2012 Tim Kaufman.
Yup, that's me in the wet muck. Not much fun but I like the final image. Note that as I did not have my panning ground pod in my vest–I did not expect many shorebirds–that I simply splayed the legs of the tripod in order to get low fast. Thanks Tim for the image.
The Questions…
There are lots of questions here. Was it worth it? Would you have done it? Of the folks in the group, only Clemens van der Werf got down on his belly but he kept his mid-section out of the water :). I tried that and it worked for a while but I finally succumbed and would up with wet mud-belly.
Support both the Bulletins and the Blog by making all your B & H purchases here.
Remember: you can earn free contest entries with your B & H purchases. Eleven great categories, 34 winning and honored images, and prize pools valued in excess of $20,000. Click here for details.
Comments on Comments
I commented extensively on your comments in the January 6, 2012 post, "My Comments on: For Your Critique/Image #6." Amazingly, only a single person who commented agreed with me :). Different strokes…
In addition, I did the same on the comments at the January 8, 2012 12 post, "Antarctic Inspiration from Paul Mckenzie."
Shopper's Guide
Below is a list of the gear used to create the images talked about in this blog post. Thanks a stack to all who have used the Shopper's Guide links to purchase their gear as a thank you for all the free information that we bring you on the Blog and in the Bulletins. Before you purchase anything be sure to check out the advice in our Shopper's Guide.
Canon 800mm f/5.L IS lens. Right now this is my all time favorite super-telephoto lens.
Canon 1.4X III Teleconverter. Designed to work best with the new Series II super-telephoto lenses.
Canon EOS-1D Mark IV professional digital camera body. My two Mark IVs are my workhorse digital camera bodies.
And from the BAA On-line Store:
LensCoats. I have a LensCoat on each of my big lenses to protect them from nicks and thus increase their re-sales value. All my big lens LensCoat stuff is in Hardwood Snow pattern.
LegCoat Tripod Leg Covers. I have four tripods active and each has a Hardwood Snow LegCoat on it to help prevent further damage to my tender shoulders 🙂
Gitzo GT3530LS Tripod. This one will last you a lifetime.
Mongoose M3.6 Tripod Head. Right now this is the best tripod head around for use with lenses that weigh less than 9 pounds. For heavier lenses, check out the Wimberley V2 head.
CR-80 Replacement Foot for Canon 800. When using the 800 on a Mongoose as I do, replacing the lens foot with this accessory lets the lens sit like a dog whether pointed up or down and prevents wind-blown spinning of your lens on breezy days by centering the lens directly over the tripod.
Double Bubble Level. You will find one in my camera's hot shoe whenever I am not using flash.
The Lens Align Mark II. I use the Lens Align Mark II pretty much religiously to micro-adjust all of my gear an average of once a month and always before a major trip. Enjoy our free comprehensive tutorial here.
Canon EOS-1D Mark IV User's Guide. Learn to use your Mark IV the way that I use mine. Also available for the 7D and the Mark III here.
BreezeBrowser. I do not see how any digital photographer can exist without this program.