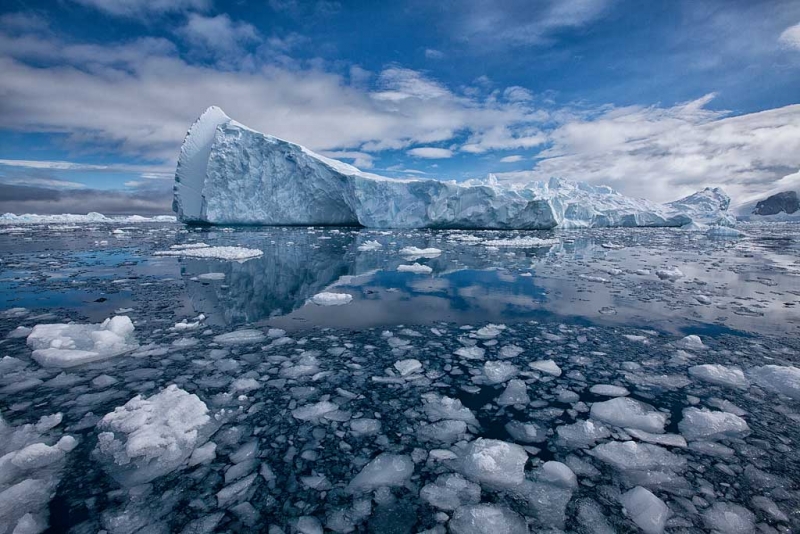 Brash ice & iceberg, Cierva Cove, Antarctica. This image was created from a zodiac with the hand held Canon 16-35mm L lens and the Canon EOS 5D Mark II. ISO 400. Evaluative metering -1 stop: 1/800 sec. at f/16 in Av Mode. AI Servo/lowest central sensor/Rear Focus AF active at the moment of exposure. Click here if you missed the Rear Focus Tutorial.
For a much greater appreciation of this image, click on the photo.
Been Dreaming of Antarctica?
Cheesemans' Antarctic Peninsula In-depth Expedition to the White Continent/December 30, 2012 to January 17, 2013
This in-depth exploration of the Antarctic Peninsula will spend 16 days onboard the Ortelius during the peak Antarctic season featuring active penguin chicks and frequent "chick chases," greater access to ice-sensitive areas, penguins and seals on sea ice, and large numbers of Humpback and other whales. Our ship, the comfortable Ortelius, has the highest ice-class notation and is very suitable to navigate in solid one-year sea ice and loose multi-year pack ice. On our early 2102 voyage to the Southern Oceans, my roommate Pablo Fernicola and I both found the Ortelius to be a great ship, roomy and stable. It is strong, fast, and safe, the perfect vessel for travel to Antarctica. And the charter is an exclusive one; Cheesemans' charters the entire ship to ensure a cohesive group experience and allow for maximum flexibility.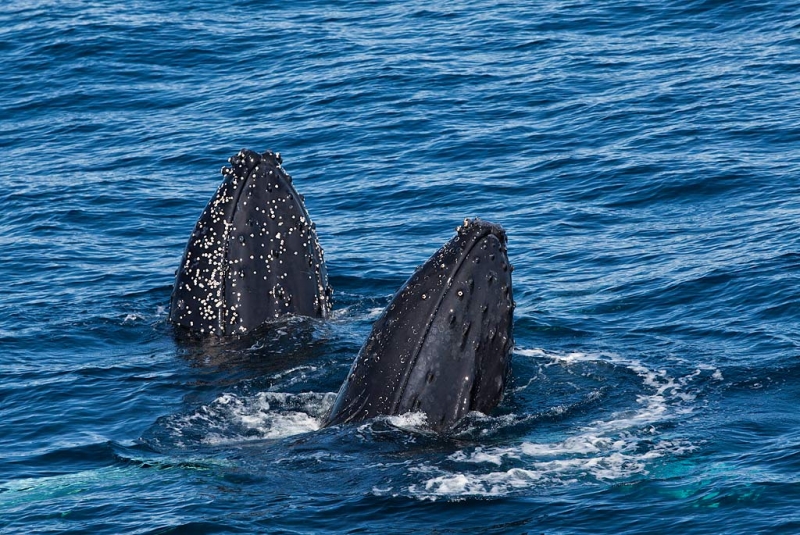 This image was created with the hand held Canon 300mm f/2.8 L IS II lens, 1.4X III TC, and the Canon EOS 5D Mark II. ISO 400. Evaluative metering -1/3 stop: 1/1250 sec. at f/7.1 in Av mode.
Close encounters with Humpback Whales will be likely on the Cheesemans' In-depth Expedition to the White Continent. These two were photographed in the Weddell Sea.
With an incredible ten to eleven days (depending on sea conditions) set aside for landings along the Antarctic Peninsula, you will enjoy far more depth to this itinerary than the typical Antarctic tour. These landings will–weather permitting of course–include extended visits to must-see places such as Paulet Island, the spectacular Baily Head on Deception Island, and several rarely visited sites. This voyage will venture farther south than others to the Weddell Sea and to the Antarctic Circle along the Western Peninsula. Workshops, photo critiques and personal time with seasoned instructors including Patrick Endres and my friends Rod and Marlene Planck will make this an incredible photography experience. Rod's presentations on my voyage inspired me tremendously and tips from Rod and Tom Murphy allowed me to maximize my ample time on shore; each told me where to go and how to get their quickly. This tour will allow you to truly bask in the magnificence of the Antarctic Peninsula.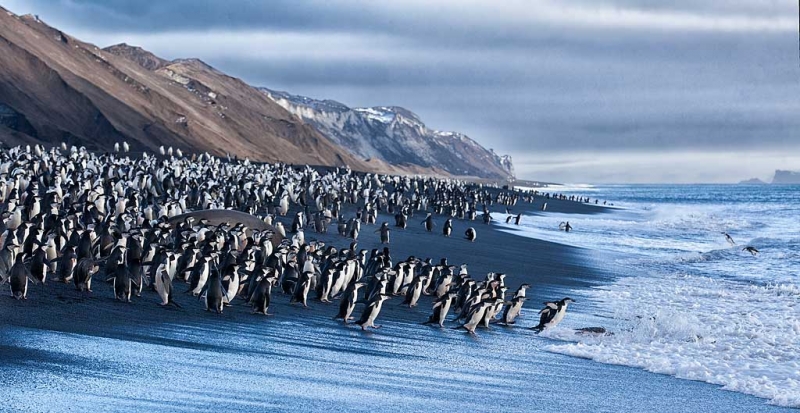 This image was created with the tripod-mounted Canon 70-200mm f/2.8L IS II lens, the 1.4X III TC (at 175mm), and the Canon EOS 5D Mark II. ISO 400. Evaluative metering +1/3 stop: 1/125 sec. at f/8 in Av mode.
The landing at Bailey Head, Deception Island was one of my two favorites on the whole trip. The Chinstrap Penguin colony seemed to go on forever…. See more Bailey Head images here.
There will be tons of time on shore and for zodiac cruising so that you can enjoy photography, wildlife observation, and soaking up the landscapes of the great Antarctic. Cheesemans' priorities are to assure the most in-depth wildlife experience in the Antarctic and your utter and complete safety all made possible by the comprehensive itinerary and their large expedition staff of Antarctic veterans led by expedition leader Hugh Rose. With a total of 13 diverse leaders with a great variety of expertise you will be able to take part in photography seminars, drawing classes, bird and nature walks, plus lectures on geology, history, ecology, and more. This voyage offers a tremendous value with a lower cost per day than other Antarctica only tour while offering an unmatched participant to leader ratio of 7:1. Since 1994 Cheesemans' Ecology Safaris has operated the longest, most in-depth expeditions to the Antarctic region, a destination of unmatched splendor that deserves no less. If you've dreamed of visiting Antarctica to photograph the penguins and mind boggling ice-scapes, you will want to register for this trip asap. Click here for complete details and an itinerary.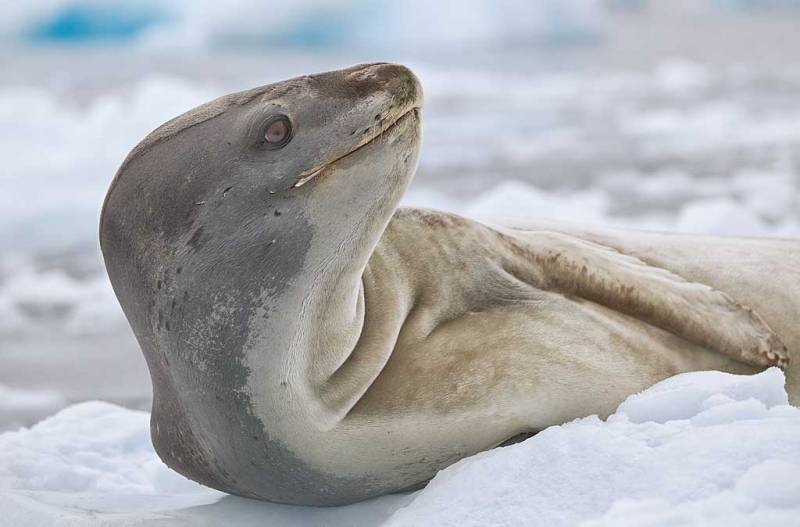 This Leopard Seal image was created from a zodiac with the hand held tripod-mounted Canon 70-200mm f/2.8L IS II lens, 2X III teleconverter (at 245mm), and the Canon EOS 5D Mark II. ISO 400. Evaluative metering +2/3 stop: 1/500 sec. at f/5.6 in Av mode.
I cruised the brash ice and icebergs at Cierva Cove for about 8 hours and opted to head back to the ship at about 4pm. Others opted to stay out an additional 3 hours…. .
Here is a pertinent comment from shipmate and IPT veteran Mark Van Bergh: "It was indeed a great trip and I have to echo your comments that every "change of plans" call that Ted made worked out for the best (which I think was just about every day we were in the peninsula)."
Cheesemans' Ecology Safaris
A great safari is more than remote destinations and remarkable wildlife – it is a journey woven through foreign lands and seas leading to experiences made possible through inspiration, organization, and leadership. For over thirty years, Cheesemans' Ecology Safaris has provided these unforgettable experiences during in-depth tours to the world's richest ecosystems. Their itineraries are unique and preparation is thorough, but most importantly, the leadership is exceptional. With broad backgrounds in nature and wildlife, their leaders desire to deepen your understanding of each destination so you can take-away the photographs and memories that allow you to become nature's ambassador.
Gail and Doug Cheeseman have been leading wildlife safaris to their favorite destinations since 1978. Inspired by his parent's passion, Ted joined them in leading safaris over 15 years ago. Now the three work together with their staff to offer you superlative nature tours to destinations such as Antarctica, Tanzania, Kenya, Bhutan, Brazil, India, Galapagos, and many more. Doug is a professor emeritus of Ecology and Zoology, Ted holds a Masters in Tropical Conservation Biology, and Gail is a naturalist of the best kind – self-taught through a lifetime in the field. Together, they are a family of truly remarkable ecologists who seek to inspire travelers to enjoy and conserve the Earth's wild landscapes.
Find out more about Cheesemans' Ecology Safaris, including a complete tour listing, by clicking here. If you have any questions you can ask them here, shoot them an e-mail or call them at 800.527.5330.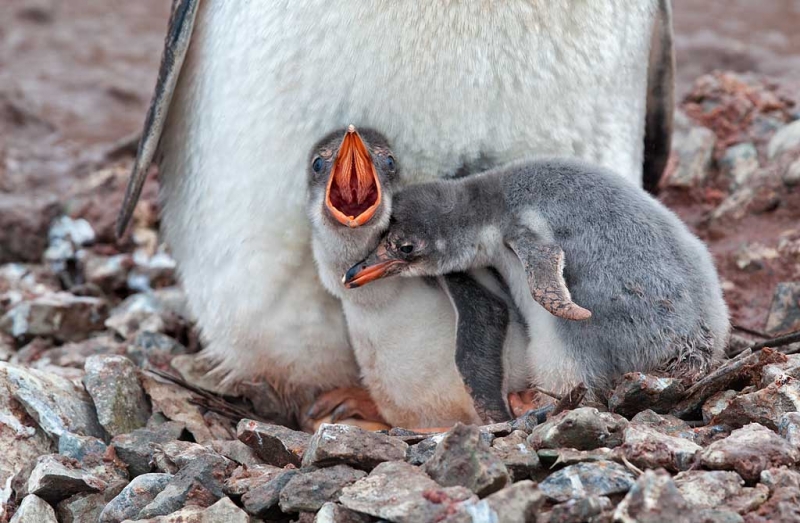 This Gentoo Penguin chick in the nest was photographed at Cuverville Island, Antarctica with the tripod-mounted Canon 300mm f/2.8 L IS II lens, the 2X III teleconverter, and the EOS-1D Mark IV. ISO 400. Evaluative metering +2/3 stop: 1/500 sec. at f/10 in Manual mode.
You will have many opportunities to photograph Gentoo chicks on the Cheesemans' Antarctic Peninsula In-depth Expedition to the White Continent
Support both the Bulletins and the Blog by making all your B & H purchases here.
Remember: you can earn free contest entries with your B & H purchases. Eleven great categories, 34 winning and honored images, and prize pools valued in excess of $20,000. Click here for details.
Shopper's Guide
Below is a list of the gear used to create the images talked about in this blog post. Thanks a stack to all who have used the Shopper's Guide links to purchase their gear as a thank you for all the free information that we bring you on the Blog and in the Bulletins. Before you purchase anything be sure to check out the advice in our Shopper's Guide.
Canon EF 16-35mm f/2.8L II USM Autofocus Lens. This is Canon's top of the line wide angle zoom lens.
Canon 70-200mm f/2.8L IS II lens. Man, I am loving this lens on my shoulder with the 2X III teleconverter. I also use it a lot–as I did for the image of the eagle with fish–with the 1.4X III TC.
Canon 300mm f/2.8 L IS II lens. This lens proved to be ideal on a tripod for both birds and wildlife with both the 1.4X and 2X III TCs. All images were super-sharp and the lens was light enough for hand-holding both in the zodiacs and when doing flight photograph from the ship.
Canon EOS-1D Mark IV professional digital camera body. My two Mark IVs are my workhorse digital camera bodies.
Canon EOS 5D Mark II Digital Camera. Canon's lightweight full frame body is perfect for serious landscape photography and worked out great for wildlife on my Southern Oceans voyage.
And from the BAA On-line Store:
LensCoats. I have a LensCoat on each of my big lenses to protect them from nicks and thus increase their re-sales value. All my big lens LensCoat stuff is in Hardwood Snow pattern.
LegCoat Tripod Leg Covers. I have four tripods active and each has a Hardwood Snow LegCoat on it to help prevent further damage to my tender shoulders 🙂 And you will love them in mega-cold weather….
Gitzo GT3530LS Tripod. This one will last you a lifetime.
Mongoose M3.6 Tripod Head. Right now this is the best tripod head around for use with lenses that weigh less than 9 pounds. For heavier lenses, check out the Wimberley V2 head.
Double Bubble Level. You will find one in my camera's hot shoe whenever I am not using flash.
The Lens Align Mark II. I use the Lens Align Mark II pretty much religiously to micro-adjust all of my gear an average of once a month and always before a major trip. Enjoy our free comprehensive tutorial here.
Canon EOS-1D Mark IV User's Guide. Learn to use your Mark IV the way that I use mine. Also available for the 7D and the Mark III here.
BreezeBrowser. I do not see how any digital photographer can exist without this program.