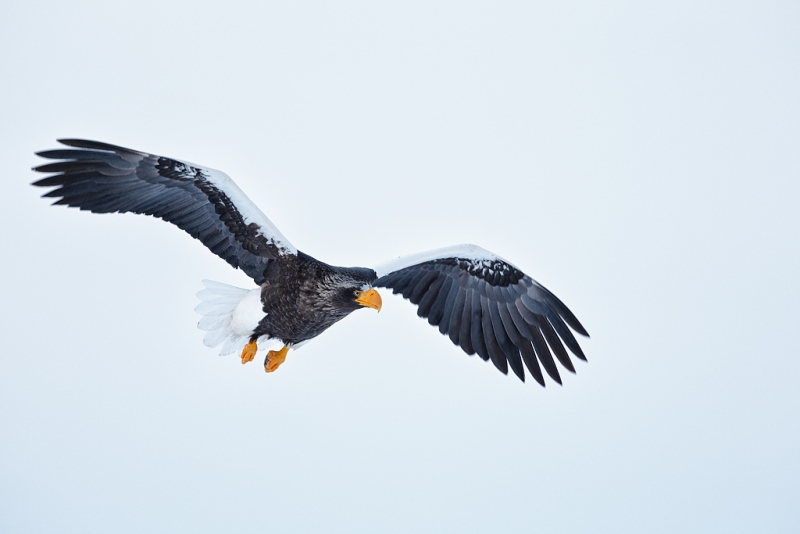 This image was created with the hand held Canon 300mm f/2.8 L IS II lens, 1.4X III TC, and the Canon EOS-1D Mark IV. ISO 800. Evaluative metering +2 2/3 stops off the grey sky: 1/800 sec. at f/4 in Manual mode.
Central Sensor/AI Servo Rear Focus active at the moment of exposure. Click here if you missed the Rear Focus Tutorial. Click on the image to enjoy a larger version.
Ten Degrees of Flight Photography…
It was -12 degrees Celius, about ten degrees Fahrenheit when we arrived at the dock in the harbor at Rausu, Hokkaido, Japen at 5:30 am in the dark today, Sunday, February 26, 2012. Though the sun broke through at about ten am it got colder as the morning progressed. We were fortunate to start with some clouds as for the most part, it would have been wind against sun. The clouds allowed to photograph the birds flying and landing toward us.
It was pretty much a flying circus with hundreds of gulls and Long-billed Crows along with our target species, White-tailed and the stellar Steller's Sea Eagles surrounding each of the nearly half dozen tour boats that feed the eagles daily during the long winters. Even with every type of glove and hand warmer known to man kind the cold brutalized the fingers of my right hand. My core was warm, my left hand was toasty, and my feet were even fine, but oh that right hand. Every ten minutes of so I needed to take a warming break so that I could feel those fingers again. Then it was back to the fray.
The scary part is that weather-wise it was a rather benign morning. Most of the rest of the group did better than I did with the cold. I am not sure if my problems are related to my diabetes–control of my blood sugar levels has been excellent for more than two years now–or if I have simply turned into a Florida wimp.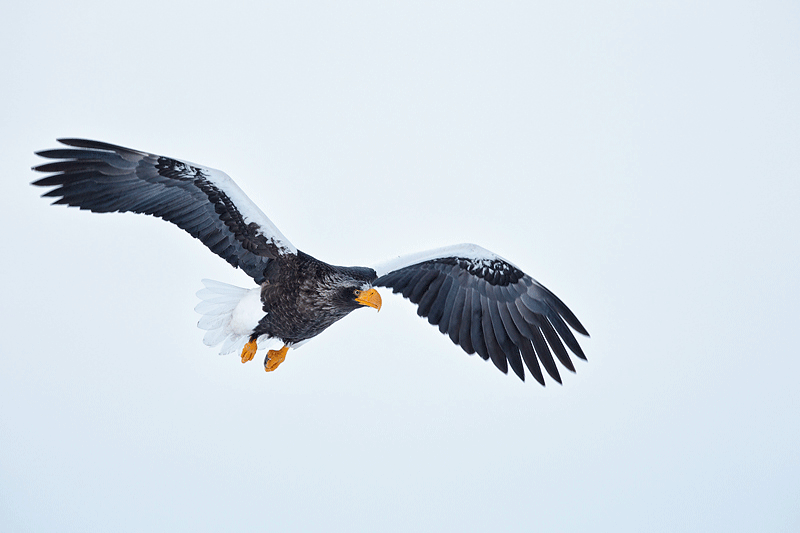 Regular readers here know that I have been raving about the manner in which NIK's Color Efex Pro 4 has completely revamped my workflow. The animated GIF above will give you a good idea of why. Learning when to use Details Extractor (and at what opacity), when to use Tonal Contrast (and at what opacity), and when to use a combination of both requires some practice and experimentation. After converting the RAW file in ACR I figured that Details Extractor would be a no-no with this image but that Tonal Contrast would make it sing. I was correct to the tune of 100%. I ran the Tonal Contrast filter at 100% and did not even bother to see what it looked like with the opacity reduced.
I just peeked out the window of our hotel and see that things bode well for the morning: it is snowing.
Take a Moment
Take a moment to let us know what factors went in to making this a successful image. Note: with a shutter speed of only 1/800 second I am fine with the small amount of blurring of the near wingtip.
NIK
Color Efex Pro 4 is now an integral part of my workflow. Each of the three images above had a 25% White Neutralizer and a 25% Tonal Contrast filter applied immediately after I finished my background clean-up. You can save 15% on all NIK products by clicking here and entering BAA in the Promo Code box at check-out. Then hit Apply to see your savings. You can download a trial copy that will work for 15 days and allow you to create full sized images.
NIK Creative Efex Collection
NIK recently announced the availability of a special limited production bundle of 3 of their most popular products, Color Efex Pro 4, Silver Efex Pro 2, and HDR Efex Pro. You can save more than $200 on the bundle which is available only through NIK affiliates. If you would like additional info, please e-mail with the words "Creative Efex Collection" in the Subject line. If you have been on the fence about purchasing the plug-ins mentioned above this is a great chance to save some significant bucks.
B&H Specials
Learn about the Canon Instant Double Rebates on a variety lenses and Speedlites when bundled with one of several Canon dSLR bodies including two of my favorites–the EOS-7D and the EOS-5D MII–and earn free contest entries by clicking here. Offers expire March 3, 2012.
Save up to $350 on Canon lens and camera body bundles (including two of my favorites–the EOS-7D and the EOS-5D MII) and earn free contest entries by clicking here. This offer also expire March 3, 2012.
Support both the Bulletins and the Blog by making all your B & H purchases here.
Remember: you can earn free contest entries with your B & H purchases. Eleven great categories, 34 winning and honored images, and prize pools valued in excess of $20,000. Click here for details.
Shopper's Guide
Below is a list of the gear used to create the images talked about in this blog post. Thanks a stack to all who have used the Shopper's Guide links to purchase their gear as a thank you for all the free information that we bring you on the Blog and in the Bulletins. Before you purchase anything be sure to check out the advice in our Shopper's Guide.
Canon 300mm f/2.8 L IS II lens. The 300 f/2.8 L IS II with the 1.4X III TC is a killer flight combination.
1.4X III TC. The new Series III 1.4X was designed to work best with the new Series II super-telephoto lenses.
Canon EOS-1D Mark IV professional digital camera body. My two Mark IVs are my workhorse digital camera bodies.
And from the BAA On-line Store:
LensCoats. I have a LensCoat on each of my big lenses to protect them from nicks and thus increase their re-sales value. All my big lens LensCoat stuff is in Hardwood Snow pattern.
Double Bubble Level. You will find one in my camera's hot shoe whenever I am not using flash.
Black Rapid RS-7 Strap. The Black Rapid RS-& strap allows me easy access to the lens on my shoulder while working behind my big lens on a tripod. And for flight photography from a boat or a zodiac it gives me security knowing that my rig will not wind up in the drink.
The Lens Align Mark II. I use the Lens Align Mark II pretty much religiously to micro-adjust all of my gear an average of once a month and always before a major trip. Enjoy our free comprehensive tutorial here.
Canon EOS-1D Mark IV User's Guide. Learn to set up your Mark IV for flight photography the way that I do. User's Guides are also available for the 7D and the Mark III here.
BreezeBrowser. I do not see how any digital photographer can exist without this program.