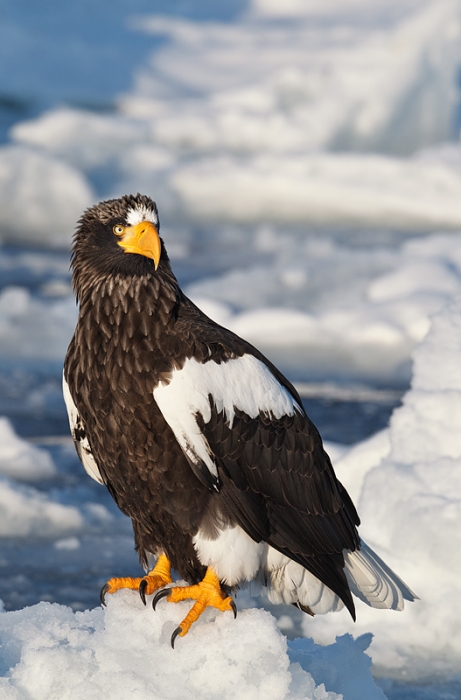 This Steller's Sea Eagle was photographed from the tourist boat at Rausu, Japan this morning–baited with smelly, frozen fish. It was our first clear sunrise and our first chance with the eagles in sweet, early morning light. I used the tripod-mounted Canon 800mm f/5.6L IS lens and the EOS-1D Mark IV. ISO 400. Evaluative metering +1/3 stop: 1/500 sec. at f/11 in Manual mode.
Central Sensor (by necessity) Rear Focus/AI Servo AF and recompose. Click here if you missed the Rear Focus Tutorial. A Double Bubble Level in the camera's hot shoe ensured that the bird would be square to the world. (The captain puts the boat up on the sea ice for stability so there is no rocking and rolling to deal with.)
For a greater appreciation of the image, click on the photo.
Got a Good One?
As I processed this image this afternoon in the lobby of the traditional Japanese hotel in Rausu, Japan, I recalled a conversation that I had recently with Robert O'Toole and some IPT participants. Robert mentioned that he had checked out the websites of many photographers honored in the most recently concluded BBC contest and was amazed that the images that he saw were in many cases overall poor. I agreed. You do not need to be among the world's greatest photographers to have an image honored in the world's most prestigious photography competition.
Got a good one? Do consider entering it in the BIRDS AS ART 1st International Bird Photography Competition; read on for the bad news and the good news.
The Contest: Bad News and Good
First, the bad news. The number of entries is running far behind what we expected. Many categories are crying out for winning entries. Now for the good news. The prize pool still totals more than of $22,000 US. And the list of prizes is still incredible. It includes $2450 worth of B&H gift certificates, a multitude of Delkin 16 and 32 gb UDMA Compact Flash Card, a Wimberley V-2 head and a variety of Wimberley plates, a Mongoose M3-6 head, $1,100 worth of Lens Coat gift certificates, a Giotto's tiny ballhead, two Kwik-Camon blind, two Lens Align Mark II kits, a Magnum Xtrahand Vest, a Think Tank International Airport V2 rolling bag, $1,000 in gift certificates from Canvas on Demand, 20+ licences for Breezebrowser and Downloader Pro, a variety of Lens Pen kits, Better Beamers and accessories, more than 30 subscriptions to Nature Photographer magazine, and dozens of other great prizes. You can see the complete prize listing here.
Click here and follow the various links to learn everything about the contest that you need to know. Read the organizer's message here. To register, click here. To learn about payment options including earning free entries with your B&H purchases, click here. To peruse the rules, the categories, and our relaxed digital guidelines, click here.
The deadline is March 31, 2012 so now is a great time to enter. Best of luck.
Support both the Bulletins and the Blog by making all your B & H purchases here.
Remember: you can earn free contest entries with your B & H purchases. Eleven great categories, 34 winning and honored images, and prize pools valued in excess of $20,000. Click here for details.
My Comments on Your Comments.
Still catching up. Responded to numerous questions and comments at the "Home From the Southern Oceans Trip" post and the few at the "China Poot" post.
Shopper's Guide
Below is a list of the gear used to create the image above. Thanks a stack to all who have used the Shopper's Guide links to purchase their gear as a thank you for all the free information that we bring you on the Blog and in the Bulletins. Before you purchase anything be sure to check out the advice in our Shopper's Guide.
Canon 800mm f/5.L IS lens. Right now this is my all time favorite super-telephoto lens.
Canon EOS-1D Mark IV professional digital camera body. My two Mark IVs are my workhorse digital camera bodies.
And from the BAA On-line Store:
LensCoats. I have a LensCoat on each of my big lenses to protect them from nicks and thus increase their re-sales value. All my big lens LensCoat stuff is in Hardwood Snow pattern.
LegCoat Tripod Leg Covers. I have four tripods active and each has a Hardwood Snow LegCoat on it to help prevent further damage to my tender shoulders 🙂
Gitzo GT3530LS Tripod. This one will last you a lifetime.
Mongoose M3.6 Tripod Head. Right now this is the best tripod head around for use with lenses that weigh less than 9 pounds. For heavier lenses, check out the Wimberley V2 head.
CR-80 Replacement Foot for Canon 800. When using the 800 on a Mongoose as I do, replacing the lens foot with this accessory lets the lens sit like a dog whether pointed up or down and prevents wind-blown spinning of your lens on breezy days by centering the lens directly over the tripod.
Double Bubble Level. You will find one in my camera's hot shoe whenever I am not using flash.
The Lens Align Mark II. I use the Lens Align Mark II pretty much religiously to micro-adjust all of my gear an average of once a month and always before a major trip. Enjoy our free comprehensive tutorial here.
Canon EOS-1D Mark IV User's Guide. Learn to use your Mark IV the way that I use mine. Also available for the 7D and the Mark III here.
BreezeBrowser. I do not see how any digital photographer can exist without this program.