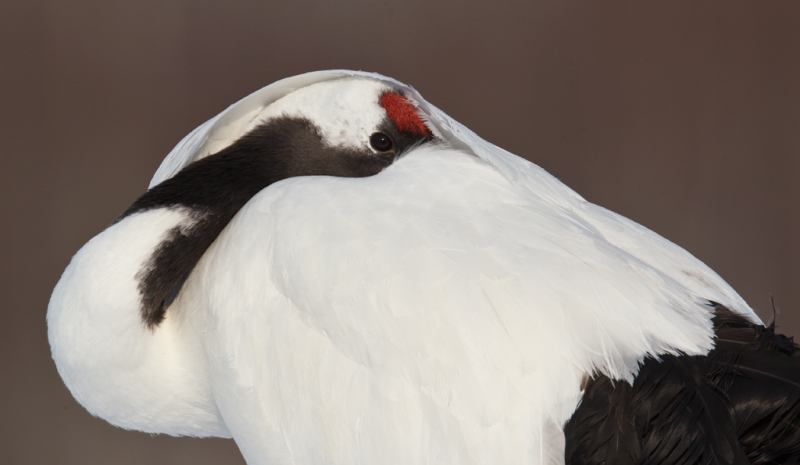 This sleeping Red-crowned Crane was photographed at the Akan Crane Center with the with the tripod-mounted Canon 800mm f/5.6L IS lens, the 1.4X III TC, and the Canon EOS-1D Mark IV. ISO 400. Evaluative metering +1 stop off the snow: 1/800 sec. at f/11 in Manual mode.
Central Sensor/AI Servo Rear Focus on the bird's eye and recompose. Click here if you missed the Rear Focus Tutorial. Click on the image to enjoy a larger, more spectacular version.
This image, made in sweet, late afternoon sunlight, was one of the last that I created on my incredibly wonderful trip to Japan.
Blessed
I worked on this blog post at 37,000 feet en route from Tokyo to Dallas's DFW. As I sat so comfortably in my lie-flat first class seat on American Airlines flight 176, I have been thinking at length about how blessed I have been and am. Yes, blessed to be able to be sitting up front for sure, but blessed in so many other more important ways. I have been thinking about how privileged I have been to have made two amazingly wonderful trips already this year, the Southern Oceans trip with the Cheesemans' and the Japan trip with Robert O'Toole and a small IPT group. Thinking About the wonderful weather, birds, and animals that I have enjoyed so much. About my safe travels in good health. About all the great food, the fine meals on the Ortelius and the yakatori meals and the curry dishes here in Japan. About all the great photographic opportunities that I and the folks whom I have traveled with have experienced. And about my two wonderful daughters and their wonderful husbands, about my four super grandkids, and about my 89 year-old Mom whom is waiting anxiously for my call after I clear customs in Dallas. About my relationship with Canon and about all the great folks who have joined me over the years on IPTs, and about the many who have become dear friends. Blessed by my involvement with BPN including and especially with founding partner James Shadle and all the great members and participants there. Blessed by friendships past and present with so many great photography folks: Linda Robbins, Joanne Williams, Denise Ippolito, Ellen Anon, my web-man Peter Kes, Jim Neiger, Robert Amoruso, and Robert O'Toole among others. And doctor, doctor, Cliff Oliver; had I not met him on the Bosque IPT so many years ago I it is not likely that I would still be alive. And thinking about my pool. And getting in it :).
With apologies to the many that I have inadvertently omitted here I have to say that I have been one lucky guy.
Sayonara Japan. It's been great.
My right-hand man Jim Litzenberg (another blessing) is picking me up at about 3pm in Orlando. My plan is to publish this from my car on the way home after getting online with my Droid. Lord, what amazingly wonderful times we live in. So if you see this blog post it means that I made it safely at least to MCO and should be home soon.
So much for plans. We got into Dallas early so I am publishing this early :). Enjoy. ps: Mom is doing fine. pps: Home safely at 5:05pm but beat :).
What A Way To Finish!
When I saw that the beautiful bird featured in the opening image here had decided to take a nap not too far from the walkway at Akan, I about jumped out of my lined dungarees. Whatever is draped over the bird's head adds a ton to the beauty of the image. I think that it was the bird's far wing; if anyone knows otherwise for sure please let me know. My very first instinct was to go for the traditional super-tight head and folded neck portrait (see image-last below) with the bird's eye placed on or very close to the upper right rule of thirds spot. But my 2X III TC was already packed for the trip home, to save time…. So I went with what I had, a maximum effective focal length of (only) 800 X 1.4 X the 1.3 crop factor of my camera: 1456 mm, or just under 30X magnification. Poor boy. I lowered my tripod to ensure as evenly-toned a distant, out of focus woods background as possible.
Getting the right exposure was easy. With the soft, late afternoon light I took a meter reading off the sunlit snow and opened up one stop. Then I stopped down a bit to ensure sharp feather detail as I was relatively close to the minimum focusing distance of the lens, 6 meters and I made a series of images framed as you see in the original capture immediately below. I knew all the while that I would need to figure out the best possible crop while working with a somewhat awkward image design. Whatever I did, the bird's eye would wind up somewhere near the middle of the frame. I experimented with various crops and finally decided on the one that you see above.
If you'd like to see what others thought of the image above, check out my BPN post: Last Japan Keeper.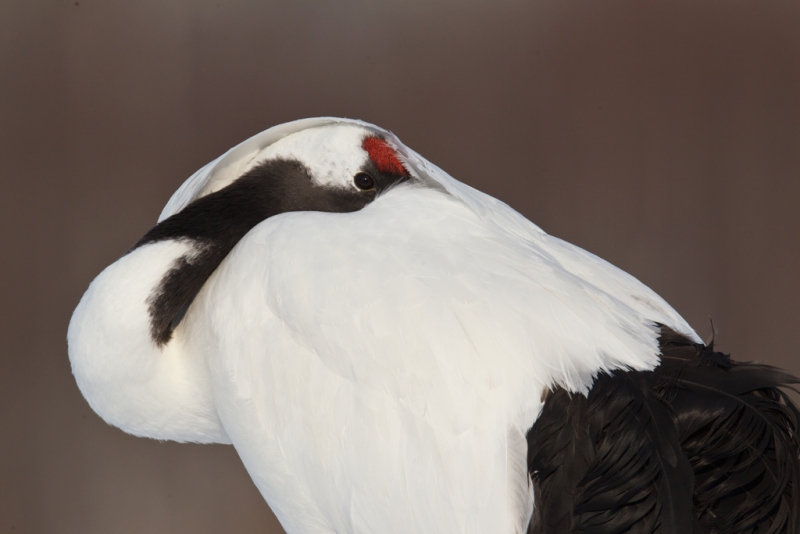 This is the original full frame capture.
How'd You Like My Crop?
Now that you've seen the full frame original image (immediately above), feel free to leave a comment and let me know what you think of my original crop, the one in the lead image here.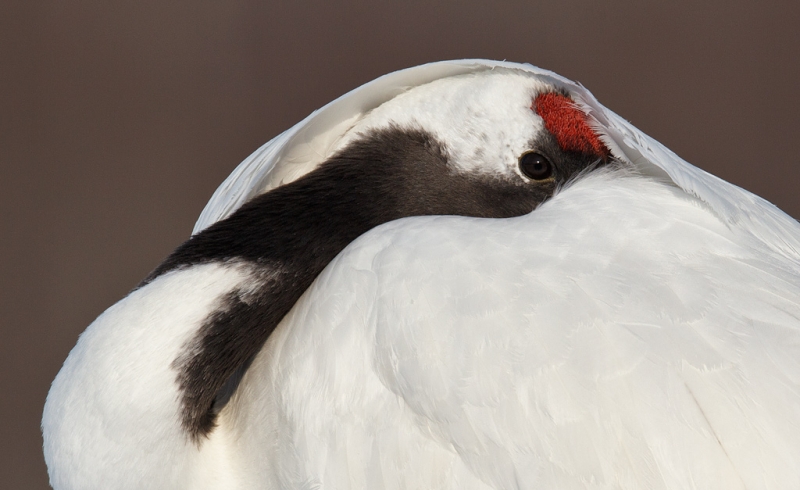 This is the traditional "sleeping pelican, super-tight head and folded neck composition" that I had in mind until I realized that I did not have my 2X III TC with me. If I'd had the 2X with me I would have focused in Live View with Live Mode AF as described in detail in the Mark IV User's Guide; accurate focus is attained via contrast on the imaging sensor. The TIFF file of this more tightly cropped version still has enough pixels for the image to run large in a magazine or for at least a sharp 8 X 12″ print.
Which Do You Like Best?
Please take a moment to let us know which you like best, the quasi-pano crop in the opening image or the tighter 3X2 crop (immediately above). And do let us know why. If you liked the middle image best–the full frame original capture–then you need to go back to image design school and study the principles outlined in the Advanced Composition and Image Design section of ABP II.
NIK 15% Discount
You can save 15% on all NIK products (including and especially Color Efex Pro 4) by clicking here and entering BAA in the Promo Code box at check-out. Then hit Apply to see your savings. You can download a trial copy that will work for 15 days and allow you to create full sized images.
NIK Creative Efex Collection
NIK recently announced the availability of a special limited production bundle of 3 of their most popular products, Color Efex Pro 4, Silver Efex Pro 2, and HDR Efex Pro. You can save more than $200 on the bundle which is available only through NIK affiliates. If you would like additional info, please e-mail with the words "Creative Efex Collection" in the Subject line. If you have been on the fence about purchasing the plug-ins mentioned above this is a great chance to save some significant bucks. I love both Color Efex Pro and Silver Efex and plan on learning to use Viveza soon.
Earn Free Contest Entries and Support both the Bulletins and the Blog by making all your B & H purchases here.
More and more folks are earning multiple contest entries with their B & H purchases. See here for details on that. Eleven great categories, 34 winning and honored images, and prize pools valued in excess of $20,000. Click here to visit the competition home page.
Shopper's Guide
Below is a list of gear that I used to create the image in this blog post. Thanks a stack to all who have used the Shopper's Guide links to purchase their gear as a thank you for all the free information that we bring you on the Blog and in the Bulletins. Before you purchase anything be sure to check out the advice in our Shopper's Guide.
Canon 800mm f/5.L IS lens. Right now this is my all time favorite super-telephoto lens.
Canon EF 1.4X III TC. This new TC is designed to work best with the new Series II super-telephoto lenses.
Canon EOS-1D Mark IV professional digital camera body. My two Mark IVs are my workhorse digital camera bodies.
And from the BAA On-line Store:
LensCoats. I have a LensCoat on each of my big lenses to protect them from nicks and thus increase their re-sales value. All my big lens LensCoat stuff is in Hardwood Snow pattern.
LegCoat Tripod Leg Covers. I have four tripods active and each has a Hardwood Snow LegCoat on it to help prevent further damage to my tender shoulders 🙂 And you will love them in mega-cold weather….
Gitzo GT3530LS Tripod. This one will last you a lifetime.
Mongoose M3.6 Tripod Head. Right now this is the best tripod head around for use with lenses that weigh less than 9 pounds. For heavier lenses, check out the Wimberley V2 head.
CR-80 Replacement Foot for Canon 800. When using the 800 on a Mongoose as I do, replacing the lens foot with this accessory lets the lens sit like a dog whether pointed up or down and prevents wind-blown spinning of your lens on breezy days by centering the lens directly over the tripod.
Double Bubble Level. You will find one in my camera's hot shoe whenever I am not using flash.
The Lens Align Mark II. I use the Lens Align Mark II pretty much religiously to micro-adjust all of my gear an average of once a month and always before a major trip. Enjoy our free comprehensive tutorial here.
Canon EOS-1D Mark IV User's Guide. Learn to use your Mark IV the way that I use mine. Also available for the 7D and the Mark III here.
BreezeBrowser. I do not see how any digital photographer can exist without this program.