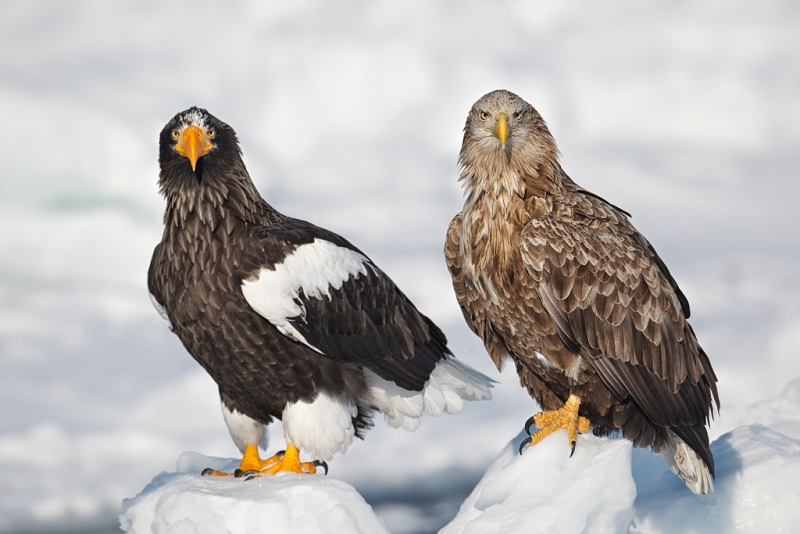 These two sea eagles–Steller's on our left, White-tailed on our right–were photographed on the sea ice from the boat at Rausu, Hokkaido, Japan with the tripod-mounted Canon 800mm f/5.6L IS lens and the Canon EOS-1D Mark IV. ISO 400. Evaluative metering +1 1/3 stops off the snow: 1/2000 sec. at f/8 in Manual mode.
Central Sensor/AI Servo Rear Focus on an eye of the White-tailed Sea-Eagle and recompose. Click here if you missed the Rear Focus Tutorial. Click on the image to enjoy a larger, more spectacular version.
There are two important lessons that we can learn from this image:
Even though I stopped down only one stop, from f.5.6 to f/8, there was sufficient depth-of-field to cover the Steller's. Why? Because these are large birds that were a good distance from the camera. In this situation, at 36 meters, you have 14 1/2 inches of depth-of-field behind the point of focus. Contrast that with less than 1/2 inch of depth-of-field had the birds been at the minimum focus distance of 6 meters. Depth-of-field increases dramatically as subject to camera distance increases. You can learn a ton by visiting one of the many on line depth-of-field calculators. I use DOFMaster.
With the larger Steller's only a few inches behind the smaller white-tailed the birds look roughly the same size. In fact Steller's averages about 20% larger and heavier than White-tailed with the females of both species being well larger than the males.
BOYS AND GIRLS AND CHILDREN OF ALL AGES
Many of you are trying to help us but are screwing up unintentionally. Please read on for the whole story….
In July 2010, less than two years ago, BIRDS AS ART became a B&H affiliate. We asked folks to consider making their lens, camera, and photographic accessory purchases through B&H using either our main link or specific links to various products. We suggested that doing so would be a great way to thank us for the free information that we have been providing on the blog and in Bulletins for many years. And to thanks me for the hundreds of gear-related, photo-related questions that I answer personally via e-mail every year. It is my firm belief that the topics, tutorials, and information in the blog and Bulletins–all dealing with nature photography, and all free–are unmatched anywhere. I quite literally put in at least twenty hours a week on the blog, and most Bulletins, in addition, takes 8-16 hours to create.
I will admit at times to feel overwhelmed by my desire to create new and exciting blog posts and Bulletin features on a near-daily basis, and to feeling crushed at times by the number of folks writing to request information or have their questions answered. Though I am sure that I miss an e-mail on occasion, such instances are very rare. We do ask that folks write only with new questions that have not been answered previously on the blog, in Bulletins, or in ABP, in ABP II, or in Digital Basics, and that they try a quick search before writing.
At times I have considered going to a pay as you ask system for those wishing e-mail answers, or a shareware payment for the blog and the Bulletins–pay something if you wish–all donations accepted. But I have always resisted, preferring instead to keep everything totally free.
Many folks have kindly used our B&H links. We thank them for the patronage and greatly appreciate the 3% that we receive from B&H. Our commissions have ranged from pennies on small accessories (21 cents on a AA battery case) to $416.97 on the purchase of a Canon 800mm f/5.6L IS lens for $13,899.00 less than a week ago–thanks you very much for that one! Wow, the price on that lens has gone way up. No matter the size of our commissions all BAA B&H purchases are greatly appreciated at this end. And you will simply not find better prices or more reliable service anywhere: order by 4pm for same day shipment and an easy 30-day return policy. In business since 1973 B&H is simply the world's leading retailer of imaging products. As for those low prices, when I order an item through the Explorers of Light program I get it for 10% off low dealer price. The low dealer price is the B&H price. That should tell you something.
Now here is what we have discovered recently: many folks, wishing to earn free entries into the BAA 1st International Bird Photography Competition, are sending us B&H receipts and asking for their free contest entries. The only problem is that they have not begun their searches with our track-able BAA/B&H affiliate link. And they have not use one of the track-able specific product links that grave most every Bulletin and blog post. Folks send us the B&H receipt that they received via e-mail. Jim checks the transaction reports and is unable to match the purchase. Then he e-mails back letting folks know of their error. Then the folks write back and say, "Sorry–my bad."
If you wish to thank us by making your B&H purchases via a BAA/B&H affiliate link, you can click here to ensure that your purchases are tracked to BAA.
Or you can use this link:
Or you can click on any one of the B&H logo links that are found all over the web site and the blog. They look like this:
If you have a specific product in mind, you can use one of the product specific links that can be found on the blog or in Bulletins both in our legendary educational captions or in the Shopper's Guide features near or at the bottom of each blog post or Bulletin. Note: to check and make sure that you are using a valid BAA/B&H link hold your cursor over the link and check out the URL in the bottom left of your browser window. It should always end in 7226, our B&H affiliate code number. If you make a purchase from a link without the 7226 appendage, you are not making a BAA/B&H purchase. Not to worry: once you get to the B&H web site you will no longer see the 7226 code. The order is tracked to BAA invisibly.
Lastly you can e-mail me and let me know which product you will be buying. I will shoot you back the correct link asap.
Best of all, you still have two weeks to earn free entries into the contest with your major purchases. See here for payment options and here for complete details.
Much appreciated.
ps: If you purchase a new lens or camera body from B&H using a BAA/B&H link you can further help us out by ordering the additional stuff that you need from us at BIRDS AS ART. These items might include the right Gitzo Tripod for you, a Mongoose M3.6 or a Wimberley V2 head, LensCoats or LegCoats, camera plates or lens plates and replacement feet, flash brackets, flash cards, and lots more. Your BAA Online Store purchases are always appreciate.
Earn Free Contest Entries and Support both the Bulletins and the Blog by making all your B & H purchases here.
More and more folks are earning multiple contest entries with their B & H purchases. See here for details on that. Eleven great categories, 34 winning and honored images, and prize pools valued in excess of $20,000. Click here to visit the competition home page.
Shopper's Guide
Below is a list of gear that I used to create the image in this blog post. Thanks a stack to all who have used the Shopper's Guide links to purchase their gear as a thank you for all the free information that we bring you on the Blog and in the Bulletins. Before you purchase anything be sure to check out the advice in our Shopper's Guide.
Canon 800mm f/5.L IS lens. Right now this is my all time favorite super-telephoto lens.
Canon EOS-1D Mark IV professional digital camera body. My two Mark IVs are my workhorse digital camera bodies.
And from the BAA On-line Store:
LensCoats. I have a LensCoat on each of my big lenses to protect them from nicks and thus increase their re-sales value. All my big lens LensCoat stuff is in Hardwood Snow pattern.
LegCoat Tripod Leg Covers. I have four tripods active and each has a Hardwood Snow LegCoat on it to help prevent further damage to my tender shoulders 🙂 And you will love them in mega-cold weather….
Gitzo GT3530LS Tripod. This one will last you a lifetime.
Mongoose M3.6 Tripod Head. Right now this is the best tripod head around for use with lenses that weigh less than 9 pounds. For heavier lenses, check out the Wimberley V2 head.
CR-80 Replacement Foot for Canon 800. When using the 800 on a Mongoose as I do, replacing the lens foot with this accessory lets the lens sit like a dog whether pointed up or down and prevents wind-blown spinning of your lens on breezy days by centering the lens directly over the tripod.
Double Bubble Level. You will find one in my camera's hot shoe whenever I am not using flash.
The Lens Align Mark II. I use the Lens Align Mark II pretty much religiously to micro-adjust all of my gear an average of once a month and always before a major trip. Enjoy our free comprehensive tutorial here.
Canon EOS-1D Mark IV User's Guide. Learn to use your Mark IV the way that I use mine. Also available for the 7D and the Mark III here.
BreezeBrowser. I do not see how any digital photographer can exist without this program.