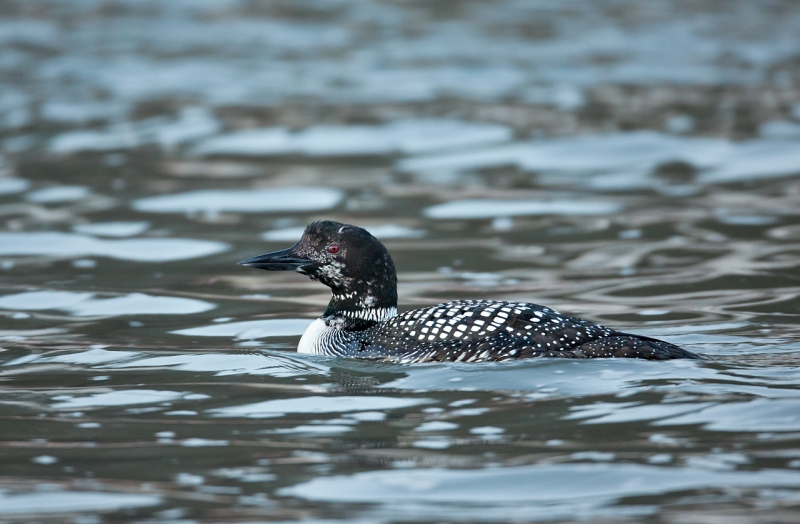 This Common Loon molting to breeding plumage was photographed well after the sun had gone behind the hills in Morro Bay CA with the tripod-mounted Canon 800mm f/5.L IS lens and the Canon EOS-5D Mark III. ISO 3200. Evaluative metering +1 1/3 stops: 1/80 sec. at f/5.6 in Av mode.
Lower Central Sensor–Expand AF area/AI Servo Rear Focus AF active at the moment of exposure. Click here if you missed the Rear Focus Tutorial. Click on the image for a larger version.
ISO 3200
I had a chance to create some high ISO images on the recently concluded Morro Bay IPT. I started this blog post with the ISO 3200 image above as it contains lots of black and dark tones where noise is often a serious problem for many. The very best way to minimize noise with any camera body is to expose well to the right as I did here; see the histogram lower right in the BreezeBrowser Main View page screen capture below. I exposed so far to the right that I actually had some blinkies on the breast. They can be seen below (slightly enhanced) as solid black. I made sure to click "Show Flashing Highlights" on the Breezebrowser Main View page under View. The not really "blown" highlights were easily recovered by moving the Recovery Slider to the right during the RAW conversion in ACR as described in detail in Digital Basics (along with my complete digital workflow and dozens of great Photoshop tips).
For this image I ran Noise Reduction during the ACR conversion after first enlarging the image to 100%. On the Detail tab (the third tab from left to right) I set the following under Noise Reduction by trial and error while clicking preview on and off:
Luminance: 25
Luminanace Detail: 50
Luminance Contrast: 50
Color: 25
Color Detail: 50
Please understand that I am in no way expert in this area. I simply experimented and went with what looked good at 100%.
Be sure to click on the image to see the 1280 wide version and let me know what you think of the noise levels for ISO 3200.
BTW, I went with ISO 3200 as the 1/80 sec. shutter speed is pretty much close to an absolute minimum with a slowly swimming loon…. I am often asked, "What's the highest ISO you will use?" I always answer, "The one that gets me the shutter speed that I need."
[Not a valid template]
As above, this screen capture of a BreezeBrowser main view page shows how far to the right I pushed the exposure in an effort to minimize noise. You can learn the basics of digital exposure and histograms in the "Exposure Simplified" section of ABP II. And you can learn why I use BreezeBrowser every day for sorting, editing (selecting the keepers), and storing my images by clicking here.
ISO 1600
The next image was created earlier in the trip than the loon image above at ISO 1600.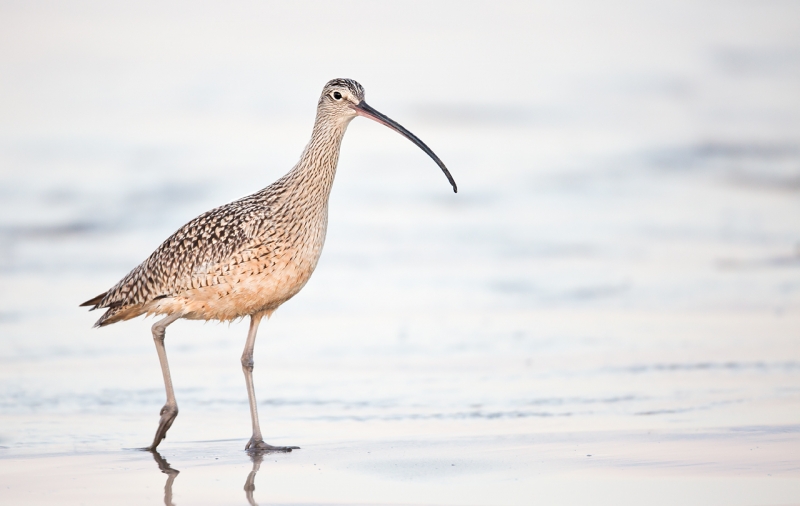 This Long-billed Curlew image was created with the tripod-mounted Canon 800mm f/5.L IS lens and the Canon EOS-5D Mark III. ISO 400. Evaluative metering +2 1/3 stops: 1/500 sec. at f/5.6 in Manual mode.
Left Central Sensor–Expand AF area/AI Servo Rear Focus AF active at the moment of exposure. Click here if you missed the Rear Focus Tutorial. Click on the image for a larger version.
[Not a valid template]
This is the histogram for the image above. Note the bulk of the data all the way to the right….
Noise with overall light-toned images is generally less problematic than in images with dark tones. None-the-less many of the Morro Bay IPT folks were totally amazed by the lack of noise when they viewed the original image file at 100%. Only my default Noise Reduction setting (Color: 25) was applied during conversion. Click on the image to see a larger size and let us know what you think for the noise levels. Remember, the best way to reduce noise levels is to expose to the right.
Important Contest News/Deadline Extended
While you may upload images until 11:59pm eastern time on April 30, 2012, the very last day for registering for the contest and for making eligible B&H purchases will be Monday, April 23, 2012. This will give us time to process your registrations and verify your B&H purchases and will give you time to upload your images successfully. Good luck to all.
Do save your e-mail receipts for eligible B&H purchases made after Monday, April 23 as you will be able to use them for entry into the BIRDS AS ART 2nd International Bird Photography Competition; details will be announced in several months. Please remember, only B&H purchases made using the product-specific BAA B&H affiliate links in the Bulletins or on the blog or the more general link here qualify. See additional details by scrolling down to item 2 here. If in doubt, simply start your B&H searches by clicking here:
BAA Bulletin #405
BAA Bulletin #405 is on line and may be accessed in dramatic black and white format here. Be sure to scroll down and check out the two spectacular Judge's Favorite images.
MIDWAY 2013
CONTEST UPDATE
THE BLOG IS THE BOMB
POSSE NEWS/ROBERT AMORUSO
IPT UPDATES
Earn Free Contest Entries and Support both the Bulletins and the Blog by making all your B & H purchases here.
More and more folks are earning multiple contest entries with their B & H purchases. See here for details on that. Eleven great categories, 34 winning and honored images, and prize pools valued in excess of $20,000. Click here to visit the competition home page.
Shopper's Guide
Below is a list of the gear used to create the images in today's post. Thanks a stack to all who have used the Shopper's Guide links to purchase their gear as a thank you for all the free information that we bring you on the Blog and in the Bulletins. Before you purchase anything be sure to check out the advice in our Shopper's Guide.
Canon 800mm f/5.6L IS lens. Right now this is my all time favorite super-telephoto lens.
Canon EOS-5D Mark III. Except when I need extreme focal length, I have been using my 5D III on the 800 a ton. And loving it.
And from the BAA On-line Store:
LensCoats. I have a LensCoat on each of my big lenses to protect them from nicks and thus increase their re-sales value. All my big lens LensCoat stuff is in Hardwood Snow pattern.
LegCoat Tripod Leg Covers. I have four tripods active and each has a Hardwood Snow LegCoat on it to help prevent further damage to my tender shoulders 🙂 And you will love them in mega-cold weather….
Gitzo GT3530LS Tripod. This one will last you a lifetime.
Mongoose M3.6 Tripod Head. Right now this is the best tripod head around for use with lenses that weigh less than 9 pounds. For heavier lenses, check out the Wimberley V2 head.
CR-80 Replacement Foot for Canon 800. When using the 800 on a Mongoose as I do, replacing the lens foot with this accessory lets the lens sit like a dog whether pointed up or down and prevents wind-blown spinning of your lens on breezy days by centering the lens directly over the tripod.
Double Bubble Level. You will find one in my camera's hot shoe whenever I am not using flash.
The Lens Align Mark II. I use the Lens Align Mark II pretty much religiously to micro-adjust all of my gear an average of once a month and always before a major trip. Enjoy our free comprehensive tutorial here.
BreezeBrowser. I do not see how any digital photographer can exist without this program.