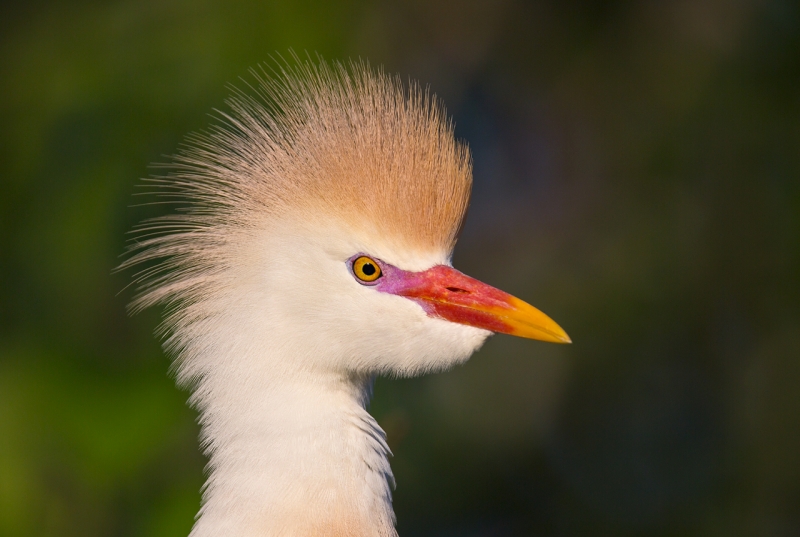 Cattle Egret, mega-breeding plumage. This image was created with the tripod-mounted Canon 800mm f/5.L IS lens, the 2XIII teleconverter, and the Canon EOS-5D Mark III. ISO 400. Evaluative metering at zero confirmed by histogram check: 1/640 sec. at f/11 in Manual mode–early morning light at 7:56 am.
I love the soft light, the exquisite sharpness, the multi-colored background, and the bright colors of the soft parts. The soft parts include the lores–the skin in front of the eye, the bill, and the feet (that are of course not seen here). These bright colors are the result of increased hormonal flow during the breeding season. Lores, bill, and additional clean-up work was done; see below for details.
See immediately below for AF info. Wait: autofocus with an f/5.6 lens and a 2X TC with a camera that focuses only to f/5.6…. How can that be??? As I said, read on for the AF info 🙂
Pushing the Limits with the Canon EOS-5D Mark III–2X III Teleconverter–800mm f/5.6L IS Combination
Many folks are asking, "Won't you miss the 1.3 crop factor of your Mark IV body and its ability to focus to f/8?" The answer, as detailed in part in Gear Strategy here, is yes, at times. But…. Whenever I can get close with the 5D III I wind up with a lot more pixels on the bird. With tame birds that works out to a 22.3 megapixel to 16.1 megapixel advantage for the 5D III. If my math is correct that works out to a 38 1/2 per cent increase in pixels on the subject. Not to mention that I love the 5D III files and that those files exhibit at least a half stop better high ISO noise control than Mark IV files. When working with skittish or otherwise unapproachable subjects the MIV has a small advantage. Throw in a teleconverter and that becomes a large advantage. Again, see the Gear Strategy post here.
However, by knowing your gear inside and out you can push the limits of your lens/camera set-up. When I saw the drop-dead gorgeous Cattle Egret in mege-breeding plumage I knew that I wanted to capture a full frame head portrait. And I wanted it with everyone of my newly available 22.3 megapixels. Do understand that you need a qualifying situation…. This bird was one of a pair that sat for a few minutes at a time so rather than go to the Mark IV with the 1.4X TC on the 800 I went for the whole nine yards. I mounted the 2X III TC on the 800 in front of the 5D Mark III. I made sure that AF Mode was set to Live Mode. Then I framed the image through the viewfinder and pre-focused. Then I turned on Live View, pressed the * button for Rear Focus AF, and made a series of images. Additional important details on this technique will be included in the 5D Mark III User's Guide and the update of the EOS-1D Mark IV User's Guide. (It will take me a while to get to the latter.)
If the bird changes its position or moves to a new perch, you need to start from scratch. Live Mode/Live View AF works only with static subject. BTW, the image above was not a result of luck; I created 4-7 sharp keepers of this and several other pose/background combinations.
Have you ever seen a more beautiful individual of this species?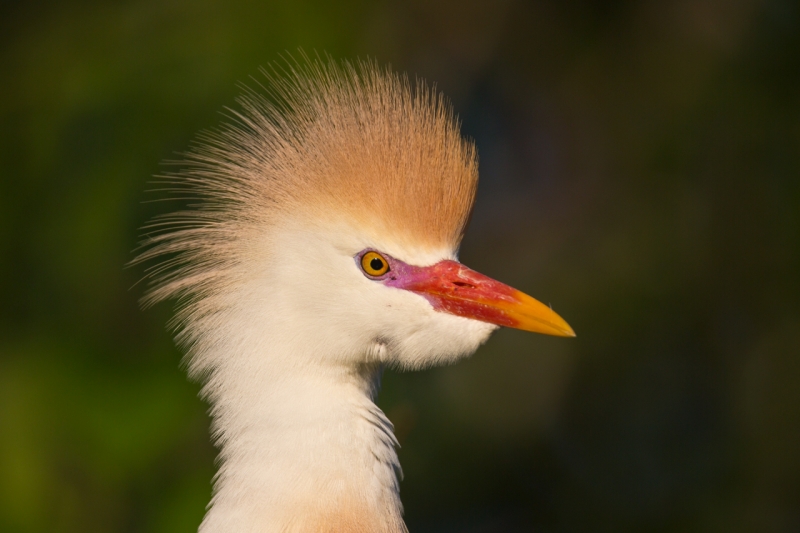 This JPEG represents the original capture from which the image above was created.
Bill clean-up was done with the Patch Tool, the Clone Stamp Tool, and the Spot Healing Brush, all as described in detail in Digital Basics. The old wound on the chin was covered with a warped Quick Mask as described in detail in APTATS I.
Important Contest News
Only Two Days Left to Enter the Competition!
Only Two Days Left to Make Your Qualifying B&H Purchases!
Only Nine Days Left to Upload Your Photos!
While you may upload images until 11:59pm eastern time on April 30, 2012, the very last day for registering for the contest and for making eligible B&H purchases will be Monday, April 23, 2012. This will give us time to process your registrations and verify your B&H purchases and will give you time to upload your images successfully. Good luck to all.
The BIRDS AS ART 1st International Bird Photography Competition has been going great guns. Additional folks are getting in on the fun each day. And many folks who had previously finished their entries have been taking advantage of the extension by uploading even stronger images. Thanks to those who responded to my Hand of Man pleas; it is now one of our strongest categories. While each of the following categories has some very strong images there is still room for improvement: Small in the Frame/Environmental, Pleasing Blurs, Youth, and especially Captive (photographs of captive, zoo, pet, or rehab birds).
Those of you who have been in the dark can learn more about the BIRDS AS ART 1st International Bird Photography Competition here or by visiting the main contest page here.
Save Your B&H Receipts
Do save your e-mail receipts for eligible B&H purchases made after Monday, April 23 as you will be able to use them for entry into the BIRDS AS ART 2nd International Bird Photography Competition; details will be announced in several months. Please remember, only B&H purchases made using the product-specific BAA B&H affiliate links in the Bulletins or on the blog or the more general link here qualify. See additional details by scrolling down to item 2 here. If in doubt, simply start your B&H searches by clicking here:
Earn Free Contest Entries and Support both the Bulletins and the Blog by making all your B & H purchases here.
More and more folks are earning multiple contest entries with their B & H purchases. See here for details on that. Eleven great categories, 34 winning and honored images, and prize pools valued in excess of $20,000. Click here to visit the competition home page.
Shopper's Guide
Below is a list of the gear used to create the images in today's post. Thanks a stack to all who have used the Shopper's Guide links to purchase their gear as a thank you for all the free information that we bring you on the Blog and in the Bulletins. Before you purchase anything be sure to check out the advice in our Shopper's Guide.
Canon 800mm f/5.6L IS lens. Right now this is my all time favorite super-telephoto lens.
2XIII teleconverter. This TC is noticeably sharper and is designed to work best with the new Series II teleconverters.
Canon EOS-5D Mark III. Man, I am in love with this camera body. Both the files and the AF system are superb.
And from the BAA On-line Store:
LensCoats. I have a LensCoat on each of my big lenses to protect them from nicks and thus increase their re-sales value. All my big lens LensCoat stuff is in Hardwood Snow pattern.
LegCoat Tripod Leg Covers. I have four tripods active and each has a Hardwood Snow LegCoat on it to help prevent further damage to my tender shoulders 🙂 And you will love them in mega-cold weather….
Gitzo GT3530LS Tripod. This one will last you a lifetime.
Mongoose M3.6 Tripod Head. Right now this is the best tripod head around for use with lenses that weigh less than 9 pounds. For heavier lenses, check out the Wimberley V2 head.
CR-80 Replacement Foot for Canon 800. When using the 800 on a Mongoose as I do, replacing the lens foot with this accessory lets the lens sit like a dog whether pointed up or down and prevents wind-blown spinning of your lens on breezy days by centering the lens directly over the tripod.
Double Bubble Level. You will find one in my camera's hot shoe whenever I am not using flash.
The Lens Align Mark II. I use the Lens Align Mark II pretty much religiously to micro-adjust all of my gear an average of once a month and always before a major trip. Enjoy our free comprehensive tutorial here.
BreezeBrowser. I do not see how any digital photographer can exist without this program.