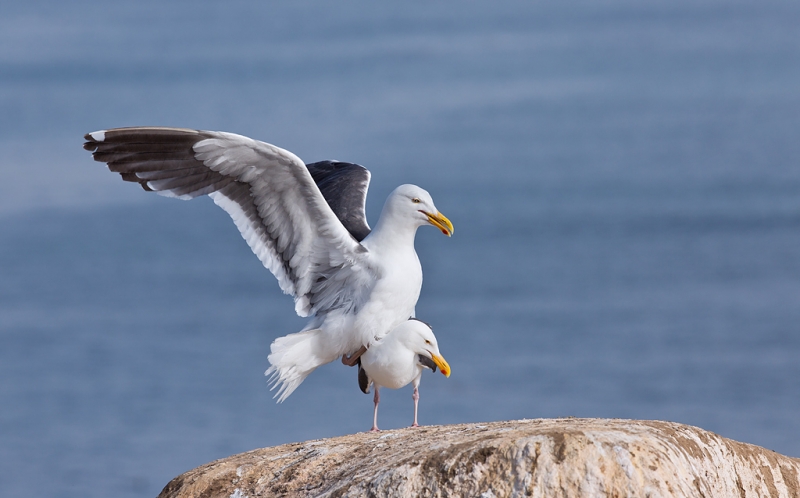 These copulating Western Gulls were photographed with the hand held Canon 300mm f/2.8 L IS II lens and the Canon EOS-5D Mark III. ISO 400. Evaluative metering +1/3 stop: 1/1250 sec. at f/8 in Manual mode.
One sensor below the Central Sensor/Surround/AI Servo Rear Focus active at the moment of exposure. Click here if you missed the Rear Focus Tutorial. Click on the image to enjoy a larger version.
With RGB values as high as 252 my WHITEs were a bit brighter than I would have liked with my 5D Mark III so I needed to run a Linear Burn on them and followed that up with a good dose of Detail Extractor from NIK Color Efex Pro–the latter on the top of the bird's head only revealed with an Inverse or Hide-All Layer Mask. Some fancy Digital Eye Doctor work brought the image to life. Detail on all but Detail Extractor may be found in our Digital Basics File . Digital Basics is a PDF that is sent via e-mail. It contains my complete digital workflow as well as dozens of great Photoshop tips. Most folks feel that it is the best $20 that they ever spent on photography.
NIK Color Efex Pro and More
As regular readers know NIK's Color Efex Pro 4 is now an integral part of my workflow. You can save 15% on all NIK products by clicking here and entering BAA in the Promo Code box at check-out. Then hit Apply to see your savings. You can download a trial copy that will work for 15 days and allow you to create full sized images.
Delkin's New 64GB 700X CompactFlash Pro UDMA Enabled Cards
"Darn. I left my new cards on the desk in the motel room. Bummer. But I have some of my older Delkin 32gb 450X cards, the red, white, and blue ones, the ones with the paint completely worn off them" I said to Denise Ippolito as we gathered our gear and prepared to head down the hills to the cliffs where we had photographed several Western Gulls on nests when arrived in San Diego almost a week ago.
We were just getting ready to leave for Torrey Pines State Reserve to try for Peregrine Falcons in flight when Denise called softly to me, "Artie." I glanced to my right and saw that the two adult gulls at the end of the cliff were getting ready to mate. I hustled over and we both began to make images rapidly as the pre-copulatory stand turned into the real thing. Though I rarely hold the hammer down this situation called for making lots of images in a short time. It would be better to try and make as many images as possible than to pick and choose so I held the shutter button down. Problem. The buffer filled quickly and I kept having to wait for it to clear. Denise on the other hand kept blasting away nonstop…. It was then that I realized that I had one of the older 450X Delkin cards in my camera while she had one of Delkin's new 64GB 700X CompactFlash Pro UDMA enabled cards in her 5D Mark III.
When I first got my 5DIII I had had lots of problems with the buffer filling even when I was not rapid-firing. Until I got my hands on one of Delkin's 700 cards. Since then it had been smooth sailing even when I held the shutter button down. When the dust cleared Denise told me that she was amazed that she had not filled the buffer even though she had taken more than 200 images in just a few minutes. And with the new cards downloading the images with Downloader Pro and Delkin's Express Card 54 reader in the PCMCIA slot was super-fast as well.
Right after I got my two 64GB 700X CompactFlash Pro UDMA enabled cards I became confused when I saw that Delkin had released a series of new 1000X CompactFlash UDMA 7 enabled cards that were roughly $60 to $90 more expensive than the 700X cards. A quick call to Alan Parry, my main man at Delkin, revealed that the 1000X cards were overkill for even the fastest digital cameras with the largest image files; the 1000X cards are designed for folks shooting serious video.
As you can see below Delkin flash cards are dependable! I look forward to wearing the paint off my two new 64GB 700X CompactFlash Pro cards. If you own or will be purchasing a Canon EOS-5D Mark III, will be the first on your block with a 1DX, or own one of the newer faster cameras with large image files you can get yourself some of the new Delkin700X CompactFlash Pro UDMA enabled cards here. We carry them in the 16, 32, and 64MB sizes. If you are doing serious video we can have the 1000X cards on their way to you same day. They come in 16, 32, 64, and 128MB sizes. As for the "I don't want to put all my eggs in one basket" way of thinking, most flash cards are lost when you are changing cards. It is a lot easier to keep track of one card than to keep track of multiple cards. And in 11 years of digital photography all with Delkin flash cards I have never lost a single image to card failure.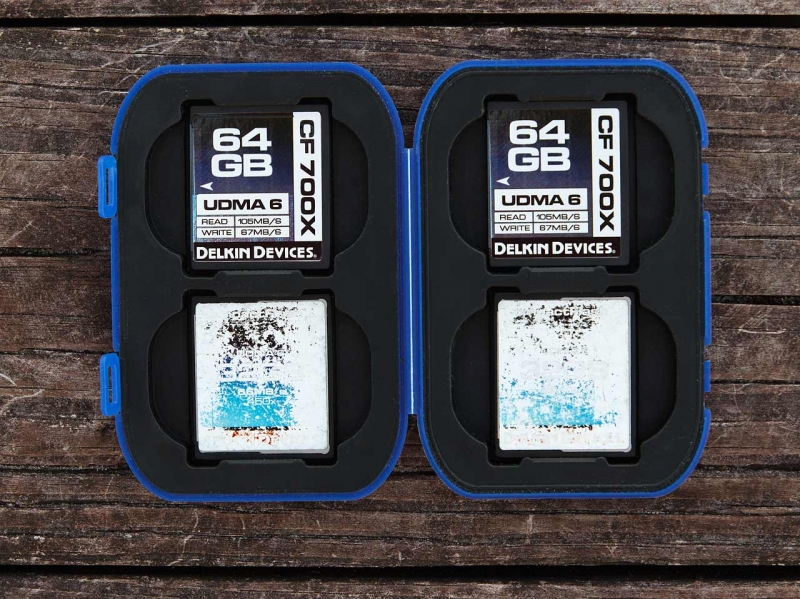 After several years of hard use I wore the paint off both of my 32GB 450X cards. They still function perfectly so I keep them around as back-ups or to loan to folks who run out of storage in the field. But after losing some great chances to a filled buffer yesterday I will make sure to have a 700X card in my 5D Mark III 100% of the time.
Canon EOS-1DX
B&H is now accepting pre-orders for the long awaited Canon EOS-1DX professional digital camera body. As much as I love my 5D III I cannot–like many of you–wait to get my hands on the new camera. If you would like to get one in your hands as soon as possible please use this and only this link: Canon EOS-1DX. As soon as you get your receipt from B&H forward it to me via e-mail so that I can pass it along to my contact at B&H who will expedite your order. As there will be huge demand for the 1DX there is no way to tell how long it will be till you get yours but I and Yechiel Orgel will do our best to get one to you asap. If you are able to get one from another source it is easy to cancel your B&H order; your credit card is not charged until your order is shipped.
Shopper's Guide
Below is a list of the gear used to create the images in today's post. Thanks a stack to all who have used the Shopper's Guide links to purchase their gear as a thank you for all the free information that we bring you on the Blog and in the Bulletins. Before you purchase anything be sure to check out the advice in our Shopper's Guide.
Canon 300mm f/2.8 L IS II lensI finally broke down and purchased my own copy of this great flight photography and general purpose lens.
Canon EOS-5D Mark III. Except when I need extreme focal length, I have been using my 5D III on the 800 a ton. And loving it.
And from the BAA On-line Store:
LensCoats. I have a LensCoat on each of my big lenses to protect them from nicks and thus increase their re-sales value. All my big lens LensCoat stuff is in Hardwood Snow pattern.
LegCoat Tripod Leg Covers. I have four tripods active and each has a Hardwood Snow LegCoat on it to help prevent further damage to my tender shoulders 🙂 And you will love them in mega-cold weather….
GT3532 LS. This one replaces the GT3530LS Tripod and will last you a lifetime. I'll be commenting on this new model soon. In short, I like it.
Mongoose M3.6 Tripod Head. Right now this is the best tripod head around for use with lenses that weigh less than 9 pounds. For heavier lenses, check out the Wimberley V2 head.
CR-80 Replacement Foot for Canon 800. When using the 800 on a Mongoose as I do, replacing the lens foot with this accessory lets the lens sit like a dog whether pointed up or down and prevents wind-blown spinning of your lens on breezy days by centering the lens directly over the tripod.
Double Bubble Level. You will find one in my camera's hot shoe whenever I am not using flash.
The Lens Align Mark II. I use the Lens Align Mark II pretty much religiously to micro-adjust all of my gear an average of once a month and always before a major trip. Enjoy our free comprehensive tutorial here.
BreezeBrowser. I do not see how any digital photographer can exist without this program.