5D Mark III Guide Pre-publication Version Still Discounted
Click here for details. When the guide is complete it will sell for $50. Folks who purchase now will receive the final version and any updates for no additional charge so ordering now is a win-win proposition.
New York City Weekend Nature Photography Seminar December 8-9, 2012
Detail for this great weekend seminar are available here. Do consider joining Denise Ippolito and me for a great learning experience. Do click on the link to see many of Denise's incredible tree and flower images. Camera club discounts available; see the details at the link.
Nickerson Beach/JBWR Photo-Tour August 15-17, 2012: Only 2 slots left!
Nickerson Beach/JBWR Photo-Tour August 15-17, 2012: $999. Co-leader: Denise Ippolito. Introductory slide program: Tuesday August 14 at 7pm. Limit 8/Openings:2.
For more info and a collection of images click here.
You Be the Judge: Behavior
Voting in the Behavior category of the BIRDS AS ART 1st International Bird Photography Competition will be closed at 8am on Monday morning, June 25 so you still have time to pick your five favorites from a field of 20 incredibly strong images. You can partake here.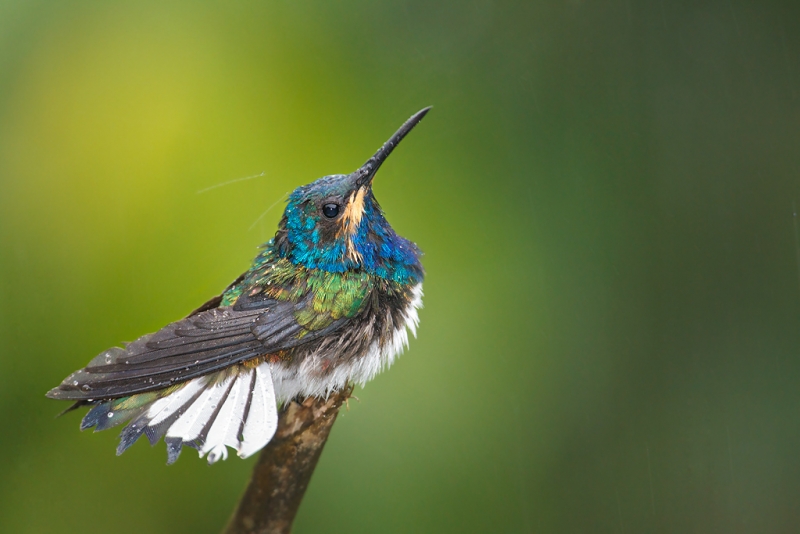 This rain bathing immature male White-necked Jacobin was photographed off the veranda at Asa Wright Nature Center with the tripod-mounted Canon 800mm f/5.L IS lens, the 1.4X III TC, and the Canon EOS-1D Mark IV. ISO 1600. Evaluative metering at +1/3 stop: 1/50 sec. at f/8 in Manual mode. Fill-flash at -2 stops with the Canon Speedlite 600EX-RT with the Better Beamer.
Central sensor (by necessity) AI Servo/Rear Focus AF and recompose. Click here if you missed the Rear Focus Tutorial. Click on the image for a larger version.
Rain Bathing Gem
We enjoyed ideal cloudy bright conditions for much of our Trinidad visit but when it rained, the porch provided much-needed shelter. And the hummingbirds kept coming. Several White-necked Jacobins perched to enjoy a quick shower. I counseled management on setting up more pleasing perches in the vicinity of the feeders and they were all ears. Though I mentioned that the staff, the rooms, and particularly, the food at Asa Wright were all superb it bears repeating. And they were eager to help with my protein and veggie diet by preparing my food without sugar or flour but with delicious Trinidadian spices. And I got to enjoy eggplant in one form or another at most every meal.
To see more Trinidad images see the manakin post here and the Caroni Swamp adventure here.
Image Optimization
With a significant amount of noise as expected in the background I found that Denise Ippolito's Filter/Blur Surface Blur trick out-performed Photoshop's Noise Reduction by miles. Details of her settings are just one of many dozens of great Photoshop tips in our Digital Basics File. I ran a 50% layer of the Tonal Contrast Filter from NIK Color Efex Pro on the bird only and a 40% layer of Detail Extractor on the white tail only.
NIK
Though I am no Control Point expert I used Viveza to successfully lighten the dark upper right corner of the hummingbird image above.
As regular readers know NIK's Color Efex Pro 4 is now an integral part of my workflow; I use it on 85% of my images. You can save 15% on all NIK products by clicking here and entering BAA in the Promo Code box at check-out. Then hit Apply to see your savings. You can download a trial copy that will work for 15 days and allow you to create full sized images.
Caligo Ventures
If you would like to stay at the avian-rich Asa Wright Nature Centre or visit Trinidad and Tobago you need to get in touch with the great folks at Caligo Ventures. They handle all North American bookings for the charming and legendary lodge located on a 2,000 acre tract of rainforest high in the Arima Valley of the Trinidad's Northern Range. You can contact them here.
B&H Rebates
Click here to enjoy double rebates of up to $550 by selecting one of four Canon dSLR camera bodies (including the killer EOS-5D Mark III) and then adding a lens from a large selection. The lenses included many of the intermediate telephoto lenses that I use and recommend. This offer expires in less than ten days on June 30, 2012.
Shopper's Guide.
Support both the Bulletins and the Blog by making all your B & H purchases here.
Below is a list of the gear talked about in this blog post. Thanks a stack to all who have used the Shopper's Guide links to purchase their gear as a thank you for all the free information that we bring you on the Blog and in the Bulletins. Before you purchase anything be sure to check out the advice in our Shopper's Guide.
Canon 800mm f/5.6L IS lens. Right now this is my all time favorite super-telephoto lens.
Canon EF 1.4X III TC. This new TC is designed to work best with the new Series II super-telephoto lenses.
Canon EOS-1D Mark IV professional digital camera body. The very best professional digital camera body that I have ever used.
Canon Speedlite 600EX-RT Canon's latest/greatest most powerful-ever professional flash.
And from the BAA On-line Store:
LensCoats. I have a LensCoat on each of my big lenses to protect them from nicks and thus increase their re-sales value. All my big lens LensCoat stuff is in Hardwood Snow pattern.
LegCoat Tripod Leg Covers. I have four tripods active and each has a Hardwood Snow LegCoat on it to help prevent further damage to my tender shoulders 🙂 And you will love them in mega-cold weather….
GT3532 LS. This one replaces the GT3530LS Tripod and will last you a lifetime. I'll be commenting on this new model soon. In short, I like it.
Mongoose M3.6 Tripod Head. Right now this is the best tripod head around for use with lenses that weigh less than 9 pounds. For heavier lenses, check out the Wimberley V2 head.
CR-80 Replacement Foot for Canon 800. When using the 800 on a Mongoose as I do, replacing the lens foot with this accessory lets the lens sit like a dog whether pointed up or down and prevents wind-blown spinning of your lens on breezy days by centering the lens directly over the tripod.
Double Bubble Level. You will find one in my camera's hot shoe whenever I am not using flash.
The Lens Align Mark II. I use the Lens Align Mark II pretty much religiously to micro-adjust all of my gear an average of once a month and always before a major trip. Enjoy our free comprehensive tutorial here.
BreezeBrowser. I do not see how any digital photographer can exist without this program.