5D Mark III Guide Pre-publication Version Still Discounted
Click here for details. When the guide is complete it will sell for $50. Folks who purchase now will receive the final version and any updates for no additional charge so ordering now is a win-win proposition.
I spent the better part of today working on the 5D III UG; when I am done, the price goes to $50. Buy now to save! The more I study this camera the more I learn how complex it is.
New York City Weekend Nature Photography Seminar December 8-9, 2012
Detail for this great weekend seminar are available here. Do consider joining Denise Ippolito and me for a great learning experience. Do click on the link to see many of Denise's incredible tree and flower images. Camera club discounts available; see the details at the link.
Nickerson Beach/JBWR Photo-Tour August 15-17, 2012: Only 2 slots left!
Nickerson Beach/JBWR Photo-Tour August 15-17, 2012: $999. Co-leader: Denise Ippolito. Introductory slide program: Tuesday August 14 at 7pm. Limit 8/Openings:2.
This photo-tour is filling faster than anticipated. But with two great leaders with tons of experience at this site and the promise to learn a ton of great Photoshop stuff it does make a lot of sense.
For more info and a collection of images click here.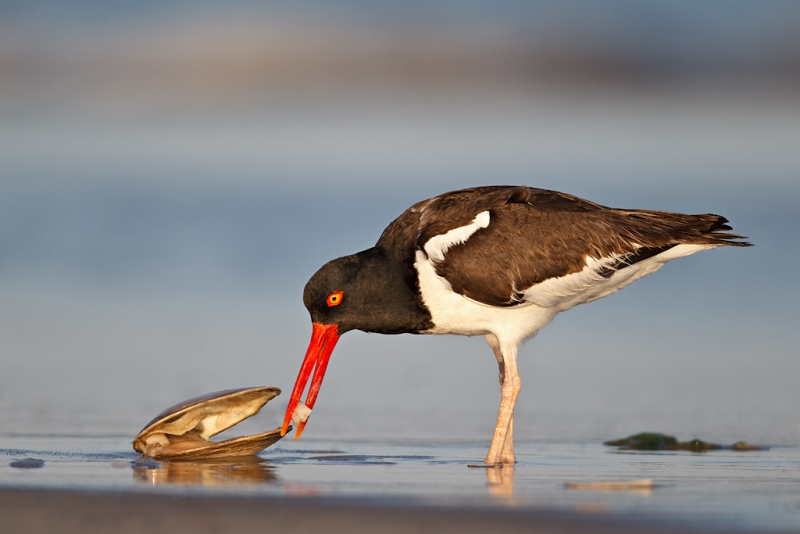 This image of an adult American Oystercatcher dining on a surf clam was created at Nickerson Beach, Long Island, NY with the tripod-mounted Canon 800mm f/5.L IS lens, the 1.4X III TC, and the Canon EOS-1D Mark IV. ISO 400. Evaluative metering +1/3 stop: 1/800 sec. at f/8 in Manual mode.
Central sensor (by necessity) on the bird's neck/AI Servo/Rear Focus AF active at the moment of exposure. Click here if you missed the Rear Focus Tutorial. Click on the image for a larger version.
With the long effective focal length being seated behind my lowered tripod made it seem as if I were right on the ground.
Same Old Same Old…
I'd never seen an Oystercatcher open a live surf clam until I witnessed this bird do just that. There main food on the open beaches are sand crabs. See the animated GIF below for the before and after comparison.
As the afternoon light was gorgeous and the situation was an excellent one I wound up creating a series of about 25 images. The challenge was watching the breaking waves and timing the shutter release so that they would not detract from the image. I wound up keeping only the four best from the series. I plan on sharing the other three with you here at some point.
This could be used to teach the Image Clean-up 101 class. Patch Tool, Spot Healing Brush, Clone Stamp Tool, and several small Quick Masks all as detailed in Digital Basics. Even with something as seemingly simple as the Clone Stamp Tool there are lots of tricks and tips for refining your technique and improving you results. Digital Basics includes my complete digital workflow, dozens and dozens of great Photoshop tips, and free updates. I need to get to work on the next update….
Shopper's Guide.
Support both the Bulletins and the Blog by making all your B & H purchases here.
Below is a list of the gear talked about in this blog post. Thanks a stack to all who have used the Shopper's Guide links to purchase their gear as a thank you for all the free information that we bring you on the Blog and in the Bulletins. Before you purchase anything be sure to check out the advice in our Shopper's Guide.
Canon 800mm f/5.6L IS lens. Right now this is my all time favorite super-telephoto lens.
Canon EF 1.4X III TC. This new TC is designed to work best with the new Series II super-telephoto lenses.
Canon EOS-1D Mark IV professional digital camera body. The very best professional digital camera body that I have ever used.
And from the BAA On-line Store:
LensCoats. I have a LensCoat on each of my big lenses to protect them from nicks and thus increase their re-sales value. All my big lens LensCoat stuff is in Hardwood Snow pattern.
LegCoat Tripod Leg Covers. I have four tripods active and each has a Hardwood Snow LegCoat on it to help prevent further damage to my tender shoulders 🙂 And you will love them in mega-cold weather….
GT3532 LS. This one replaces the GT3530LS Tripod and will last you a lifetime. I'll be commenting on this new model soon. In short, I like it.
Mongoose M3.6 Tripod Head. Right now this is the best tripod head around for use with lenses that weigh less than 9 pounds. For heavier lenses, check out the Wimberley V2 head.
CR-80 Replacement Foot for Canon 800. When using the 800 on a Mongoose as I do, replacing the lens foot with this accessory lets the lens sit like a dog whether pointed up or down and prevents wind-blown spinning of your lens on breezy days by centering the lens directly over the tripod.
Double Bubble Level. You will find one in my camera's hot shoe whenever I am not using flash.
The Lens Align Mark II. I use the Lens Align Mark II pretty much religiously to micro-adjust all of my gear an average of once a month and always before a major trip. Enjoy our free comprehensive tutorial here.
BreezeBrowser. I do not see how any digital photographer can exist without this program.