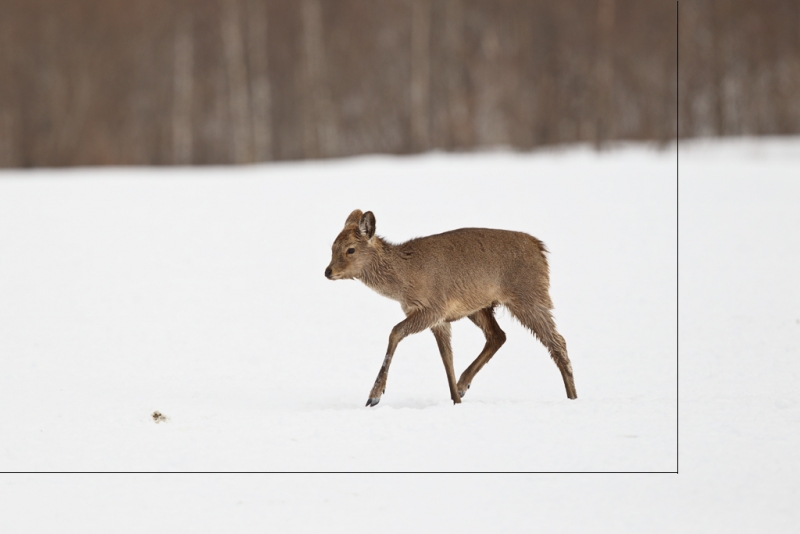 Sika Deer, Akan Crane Center, Hokkaido, Japan. This is the original capture made with the hand held Canon 300mm f/2.8 L IS II lens, 1.4X III TC, and the Canon EOS-1D Mark IV. ISO 400. Evaluative metering +1 1/3 stops as framed: 1/2500 sec. at f/4.5 in Manual mode.
Central Sensor/AI Servo Rear Focus active at the moment of exposure. Click here if you missed the Rear Focus Tutorial.
Read on to see how I screwed up the initial capture. Note my approximate crop marks and the dirty area of snow.
Standard Operating Procedure: The Central Sensor Crop
I was photographing Red-crowned Cranes in flight when I noticed this doe Sika Deer walk onto a clear stretch of snow between two big groups of cranes. No time to switch to the tripod-mounted 800mm, not even enough time (or brains or forethought???) to manually select a right hand sensor. The latter would have allowed me to move the animal back in the frame.
I often wind up with similar results when using the 800 f/5.6L IS, the 1.4X III TC, and the EOS-1D Mark IV. In those cases I am limited to the central sensor only because it is the only one active. That's what I call, "Central Sensor by necessity." In any case, I wind up with the subject dead-center in the frame.
That is when I rely on what I call "the central sensor crop." Simply execute a healthy crop from below and from behind the subject so that the subject winds up back and down in the frame, usually somewhere near one of the rule of thirds power points. As it did here. With the tens of millions of quality pixels available with both my Mark IV and 5D III bodies the images stand up quite well to moderate crops.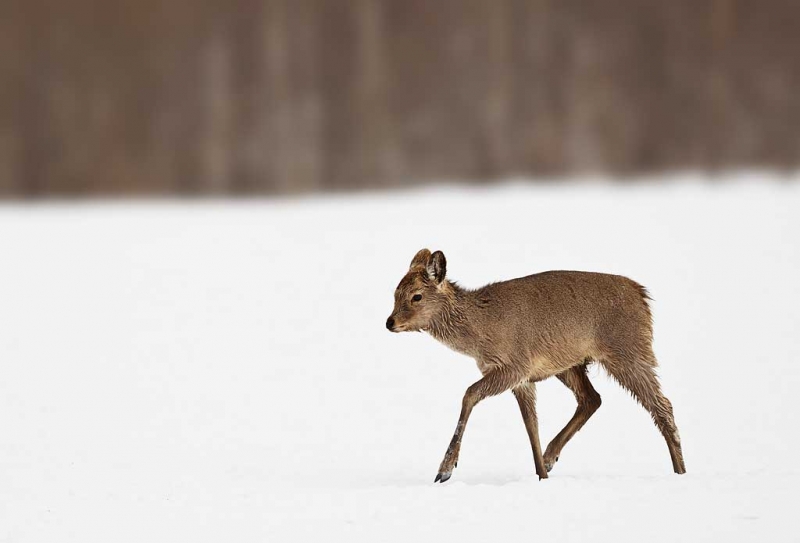 This is the final image. With the subject now well off-center the image design is far more pleasing.
Post-Processing
In addition to the crop, note the snow clean-up. Also, I painted a Quick Mask of the background trees, put the selection on its own layer, and ran a 30 pixel Gaussian blur on the layer to soften up the look of the trees. All as described in Digital Basics along with my complete digital workflow and dozens of other great Photoshop Tips.
B&H Event Space Event of Note
Denise Ippolito and I will be doing a program on Creating Pleasing Blurs at the B&H super-store in Manhattan on Tuesday, August 21, 2012 from 1:00 PM – 3:00 PM. Best news: it's free. Worst news: only 80 folks can attend and you must register in advance. Learn more or register by clicking here.
New York City Weekend Nature Photography Seminar December 8-9, 2012; denise and artie
Details for this great weekend seminar are available here. Do consider joining Denise Ippolito and me for a great learning experience. Do click on the link to see many of Denise's incredible tree and flower images. Camera club discounts available; see the details at the link.
Camera Club Discounts
You can save $20 per person on the seminar registration if your photo club promotes the event. If you are interested, please send an e-mail to Jim and ask him to forward the Sponsoring Club note.
5D Mark III Guide Pre-publication Version Still Discounted
Click here for details. When the guide is complete it will sell for $50. Folks who purchase now will receive the final version and any updates for no additional charge so ordering now is a win-win proposition. If you click on the link above you will see that the list of items not yet covered is continues to shrink….
I spent the better part of Tuesday and today working on the 5D III UG; when I am done, the price goes to $50. Buy now to save! The more I study this camera the more I learn how complex it is. Rudy Winston at Canon has been a huge help and so as Denise who helped me with the section on Multiple Exposures today. I still have some work to do.
Shopper's Guide
Below is a list of the gear used to create the image above. Thanks a stack to all who have used the Shopper's Guide links to purchase their gear as a thank you for all the free information that we bring you on the Blog and in the Bulletins. Before you purchase anything be sure to check out the advice in our Shopper's Guide.
Canon 300mm f/2.8 L IS II lens. The 300 f/2.8 L IS II with the 1.4X III TC is a killer flight combination.
1.4X III TC. The new Series III 1.4X was designed to work best with the new Series II super-telephoto lenses.
Canon EOS-1D Mark IV professional digital camera body. My two Mark IVs are my workhorse digital camera bodies.
And from the BAA On-line Store:
LensCoats. I have a LensCoat on each of my big lenses to protect them from nicks and thus increase their re-sales value. All my big lens LensCoat stuff is in Hardwood Snow pattern.
The Lens Align Mark II. I use the Lens Align Mark II pretty much religiously to micro-adjust all of my gear an average of once a month and always before a major trip. Enjoy our free comprehensive tutorial here.
Canon EOS-1D Mark IV User's Guide. Learn to use your Mark IV the way that I use mine. Also available for the 7D and the Mark III here.
BreezeBrowser. I do not see how any digital photographer can exist without this program.