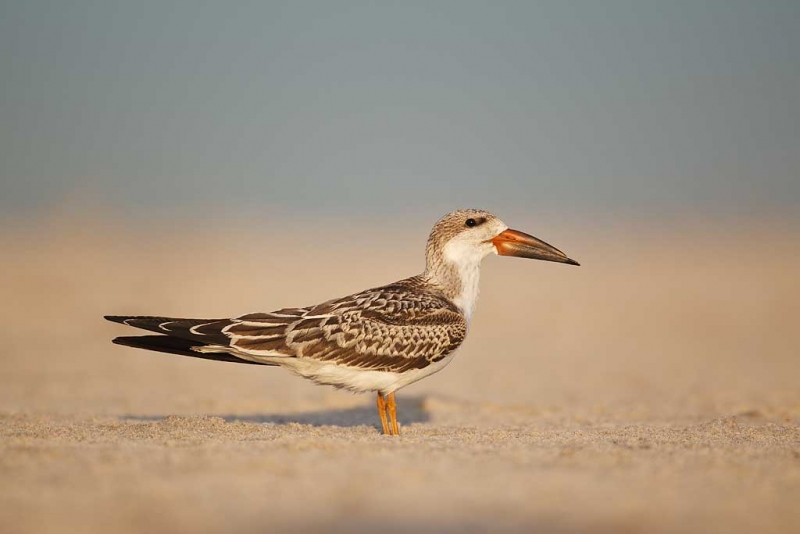 This image of a young Black Skimmer resting on the beach was created at ground level with the tripod-mounted Canon 800mm f/5.L IS lens and the discontinued Canon EOS-1D Mark IV. ISO 400. Evaluative metering +1 stop: 1/800 sec. at f/5.6 in Manual mode.
Central Sensor on the bird's eye/AI Servo Rear Focus and recompose. Click here if you missed the Rear Focus Tutorial. Be sure to click on the image to enjoy a larger version.
So Simple, So Sweet
With a north by slightly northwest wind at Nickerson Beach on Sunday morning things were quite tough; for the most part the birds were flying and facing away from the sun. To compound matters, there were four Japanese photographers who had no clue as to proper field etiquette. Several times denise and Matthew Bologna, a new friend whom we met that morning, had belly-crawled up to some beautiful juvie Common Terns only to have one of the group of four walk right by the birds at full speed and flush them. After the third time I approached one of the four and explained as politely as I could that they needed to walk slowly in such situations and/or give the folks on the ground a wider berth. I asked him to share that information with his buddies. Apparently he did not. Look forward to my publishing an updated article on field etiquette soon.
In any case, I was very happy with the image above. The young Black Skimmer is in fresh juvenal plumage. If you agree, leave a comment and let us know what factors you think contribute to the success of the image. If not, let us know why you do not like it. In either case, please be specific. And let us know if you have any suggestions that would improve the master file above.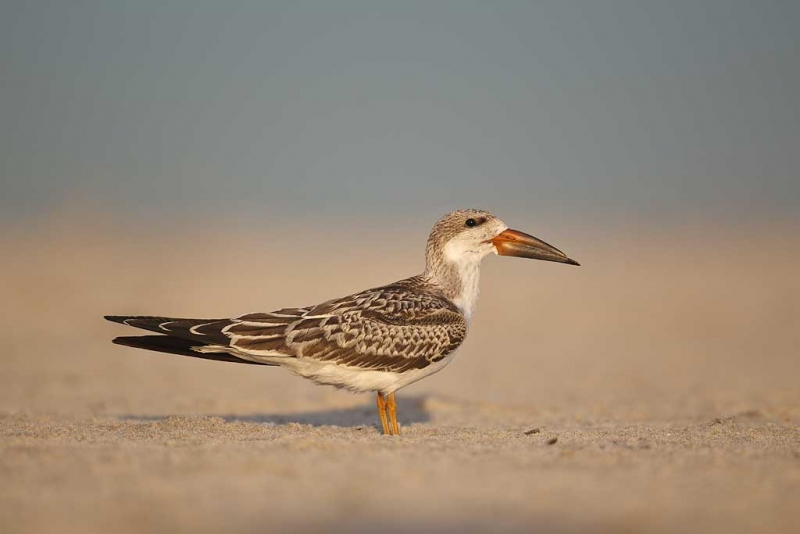 Compare the original image immediately above with the JPEG that represents the master file at the head of this blog post and note the differences.
As you can see in the image above that represents the original RAW capture, I did just a bit of beach, face, and neck cleanup. As always, I used the Patch Tool, the Spot Healing Brush, and a Quick Mask or two. All as described in detail in our Digital Basics File, a PDF that is sent by e-mail. DB includes dozens of great Photoshop tips, my complete digital workflow, and free updates. I must complete the next update in September when I will be home for five weeks. 🙂
Shopper's Guide.
Support both the Bulletins and the Blog by making all your B & H purchases here.
Below is a list of the gear talked about in this blog post. Thanks a stack to all who have used the Shopper's Guide links to purchase their gear as a thank you for all the free information that we bring you on the Blog and in the Bulletins. Before you purchase anything be sure to check out the advice in our Shopper's Guide.
Canon 800mm f/5.6L IS lens. Right now this is my all time favorite super-telephoto lens.
The Canon EOS-1D Mark IV professional digital camera body has been discontinued. With the new professional body, the full frame EOS-1DX, focusing only to f/8, it is my belief that discontinuing the Mark IV is quite unfortunate for a variety of reasons.
And from the BAA On-line Store:
LensCoats. I have a LensCoat on each of my big lenses to protect them from nicks and thus increase their re-sales value. All my big lens LensCoat stuff is in Hardwood Snow pattern.
LegCoat Tripod Leg Covers. I have four tripods active and each has a Hardwood Snow LegCoat on it to help prevent further damage to my tender shoulders 🙂 And you will love them in mega-cold weather….
GT3532 LS. This one replaces the GT3530LS Tripod and will last you a lifetime. I'll be commenting on this new model soon. In short, I like it.
Mongoose M3.6 Tripod Head. Right now this is the best tripod head around for use with lenses that weigh less than 9 pounds. For heavier lenses, check out the Wimberley V2 head.
CR-80 Replacement Foot for Canon 800. When using the 800 on a Mongoose as I do, replacing the lens foot with this accessory lets the lens sit like a dog whether pointed up or down and prevents wind-blown spinning of your lens on breezy days by centering the lens directly over the tripod.
Double Bubble Level. You will find one in my camera's hot shoe whenever I am not using flash.
The Lens Align Mark II. I use the Lens Align Mark II pretty much religiously to micro-adjust all of my gear an average of once a month and always before a major trip. Enjoy our free comprehensive tutorial here.
BreezeBrowser. I do not see how any digital photographer can exist without this program.