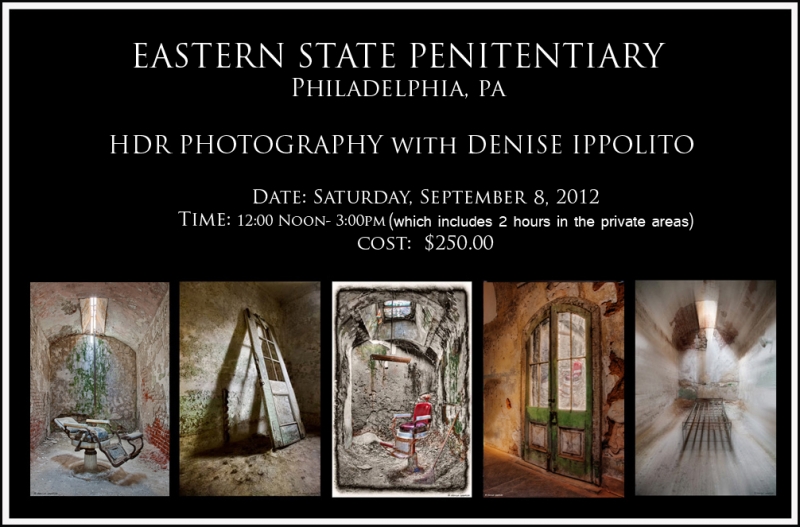 Learn more about this workshop here.
ESP: Extrasensory perception? Nope: Eastern State Penitentiary. From the ESP website: Eastern State Penitentiary was once the most famous and expensive prison in the world, but stands today in ruin, a haunting world of crumbling cellblocks and empty guard towers. Known for its grand architecture and strict discipline, this was the world's first true "penitentiary," a prison designed to inspire penitence, or true regret, in the hearts of the convicts. Its vaulted, sky-lit cells once held many of America's most notorious criminals, including bank robber "Slick Willie" Sutton and Al Capone.
Denise Ippolito has led several A Creative Adventure Workshops to the derelict prison and has another scheduled for September 8, 2012, less than two weeks from now. And the best news? She still has a few openings. You can learn more and see a selection of her evocative images here.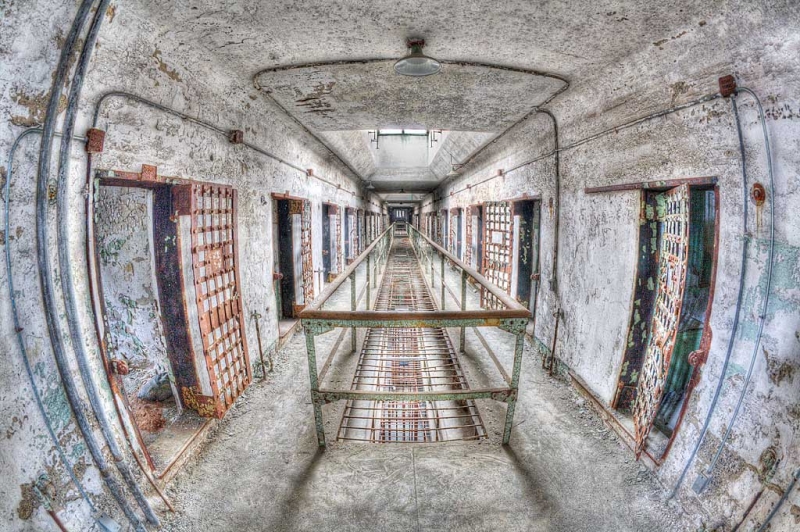 Submarine Cell Block From an 8-frame (manually) bracketed sequence with the Canon EOS-5D (that I borrowed from Denise Ippolito) and the 15mm fisheye lens. (Be sure to change only the shutter speed while keeping the aperture constant.) I had great fun on Denise's Eastern State Penitentiary workshop last September. Giotto's tiny ballhead, Wimberley P-5 camera body plate, and Gitzo 3530 LS tripod.
This quasi-HDR Grunge was created in Photomatix. To purchase Photomatix and save 15% click here and be sure to enter birdsasart as the coupon code. You can download and use a trial copy of Photomatix before you buy. (It is fully operational; the processed images will have a visible watermark on them.) I was intimidated by both HDR and HDR Grunge for several years but once I tried each I quickly got the hang of it. And it is great fun. For a greater appreciation of the image, click on the photo. Then click on the enlarged version to close it.
5D Mark III
I wish that I could stay for this year's ESP workshop as I would love to use the 5D Mark III's great in-camera HDR feature…. In the pre-publication version of my 5D Mark III User's Guide I share everything that I know about this great camera including complete details on both the HDR and Multiple Exposure features. And you can still save $10 by clicking here. For those who learn best in person do know that Denise will have her 5D III along and will be glad to teach you how to use the HDR feature; she prefers Natural and I prefer Art Vivid.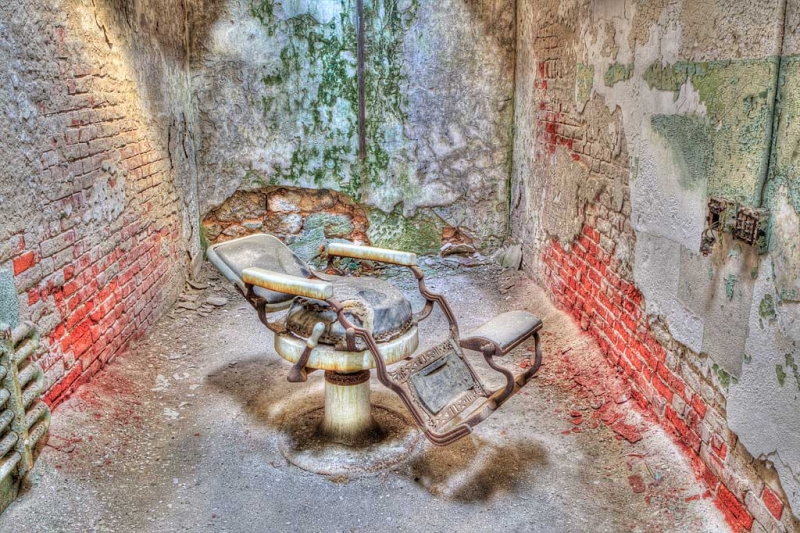 This image was also created on Denise Ippolito's Creative Photography workshop last year at the now derelict Eastern State Penitentiary in Philadelphia, PA with the Canon 24-105mm L IS lens at 24mm and the EOS-1D Mark IV. ISO 200. Evaluative metering: 7-frame AEB +/- 1 stop around -1 stop: 1.6 seconds at f/16. 2 sec. self timer. Live View (for Mirror Lock).
Gitzo 3530 LS CF tripod, Giottos MH 1302-655 BallHead, Wimberley P-5 camera body plate.
For a greater appreciation of the image, click on the photo. Then click on the enlarged version to close it. Learn about Denise's next ESP workshop (October 15, 2011) here.
NYC Seminar
Do consider joining Denise and me for a great weekend nature photography seminar in Staten Island, NY in mid-December. For complete details including registration and discount info, click here.
Shopper's Guide
Support both the Bulletins and the Blog by making all your B & H purchases here. Below is a list of the gear used to create the images in today's blog post. Thanks a stack to all who have used the Shopper's Guide links to purchase their gear as a thank you for all the free information that we bring you on the Blog and in the Bulletins. Before you purchase anything be sure to check out the advice in our Shopper's Guide.
15mm fisheye lens. Takes time to learn you use this little one but when you do it is too much fun.
Canon 24-105mm L IS lens. I never head into the field without this versatile B-roll lens in my X-trahand vest.
Canon EOS 5D Mark II Digital Camera. This full-frame body with killer video replaces the old 5D; great for landscapes and wide angle lenses.
Canon EOS-1D Mark IV professional digital camera body. Unfortunately discontinued.
And from the BAA On-line Store:
LensCoats. I have a LensCoat on each of my big lenses to protect them from nicks and thus increase their re-sales value. All my big lens LensCoat stuff is in Hardwood Snow pattern.
LegCoat Tripod Leg Covers. I have four tripods active and each has a Hardwood Snow LegCoat on it to help prevent further damage to my tender shoulders 🙂
Double Bubble Level. You will find one in my camera's hot shoe whenever I am not using flash.
Be sure to check out our camera body User's Guides here.
The Lens Align Mark II. I use the Lens Align Mark II pretty much religiously to micro-adjust all of my gear an average of once a month and always before a major trip. Enjoy our free comprehensive tutorial here.
Canon EOS-1D Mark IV User's Guide. Learn to use your Mark IV the way that I use mine.