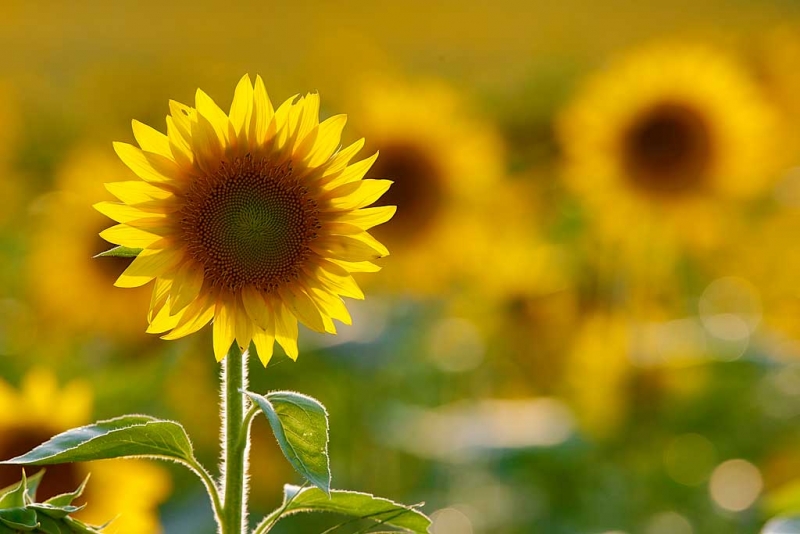 This backlit sunflower image was created the afternoon before Denise Ippolito's A Creative Adventure sunflower workshop in Newton, NJ in early August. I used my favorite new macro rig, the 500 f/4L IS II: Canon 500mm f/4L IS II lens and the Canon EOS-5D Mark III. ISO 400. Evaluative metering +1/3 stop: 1/13 sec. at f/16 in Av mode.
Central sensor/AI Servo Surround/Rear Focus AF on the flower center and recompose. Click here if you missed the Rear Focus Tutorial. Click on the image for a larger version.
Leaf Too Long? Confessions of an Edge-Freak
I loved the backlight here and made several images moving a bit to the left or right. This was my favorite frame because it had the nicest background and because it had the strongest backlight. But. I clipped the leaf on the edge of the frame. For me, that is a cardinal sin. I tried bringing in the tip of the leaf from one of the properly framed images, but nothing worked despite repeated attempts. So I gave up.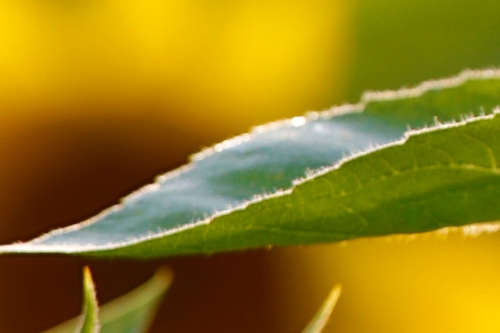 Here is a close-up view of my crime.
In the Art of Bird Photography II in the chapter on Advanced Composition and Image Design I (think that I wrote) "If an object is worth including in the frame be sure to include the whole thing with at least a small border." If I did not write that there, I have said is a thousand times here, at seminars, and on IPTs. Become an Edge-Freak. It is much easier to deal with objects that merge with the frame edge in the field than it is in post processing.
In Digital Basics I wrote something to this effect: "We have taught you how to use lots of tools and we have taught you many techniques, but sometimes you need to put your thinking cap on, get creative, and come up with something new.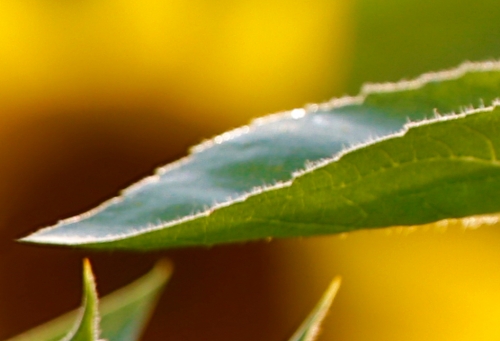 Here is a close-up view of of the repaired leaf.
I came across this image yesterday and suddenly a plan to repair the leaf came to mind. I made a Quick Mask of the upper edge of the leaf and put it on its own layer. I moved it to my right a bit, re-positioned it, and warped it. I left the layer intact, went back to the background layer, painted a Quick Mask of the lower edge of the lead, and repeated the additional steps above. Then I added a Layer Mask to each of the two edge layers and painted away as needed to give the now shortened leaf a nice point. All that was left was to paint a third Quick Mask with some brown center of the sunflower behind the formerly offending leaf, move it into place, add a Layer Mask, and paint away as needed to reveal the pointy tip of the new leaf below. It sounds like a lot of work but actually took about four minutes. That compared to the 40 minutes that I spent on my misguided efforts.
Most everything above is covered in detail in Digital Basics. Advanced Quick Masking Techniques including warping and re-positioning are covered in APTATS I.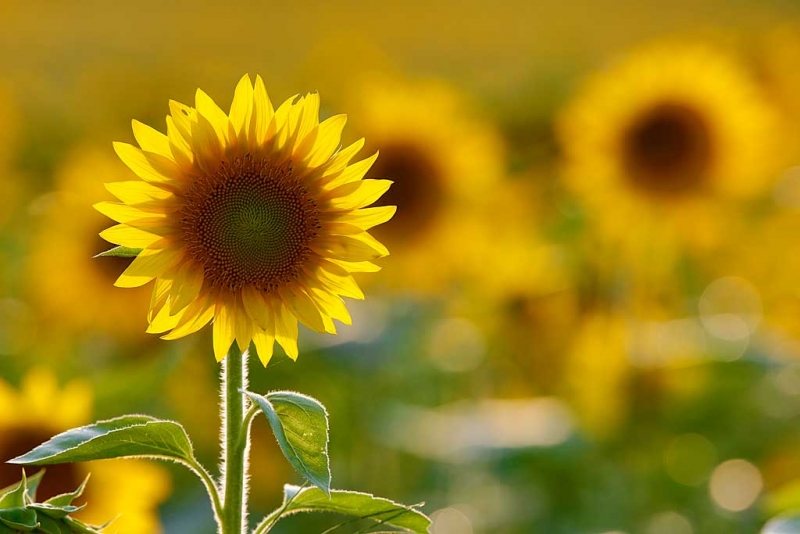 This is the optimized image; note that the leaf is not longer clipped. Let's call this Image A.
I was not sure that I liked all the specular highlights in the optimized image so I went back to work using the Clone Stamp Tool at reduced opacity, varying between 40 and 70%.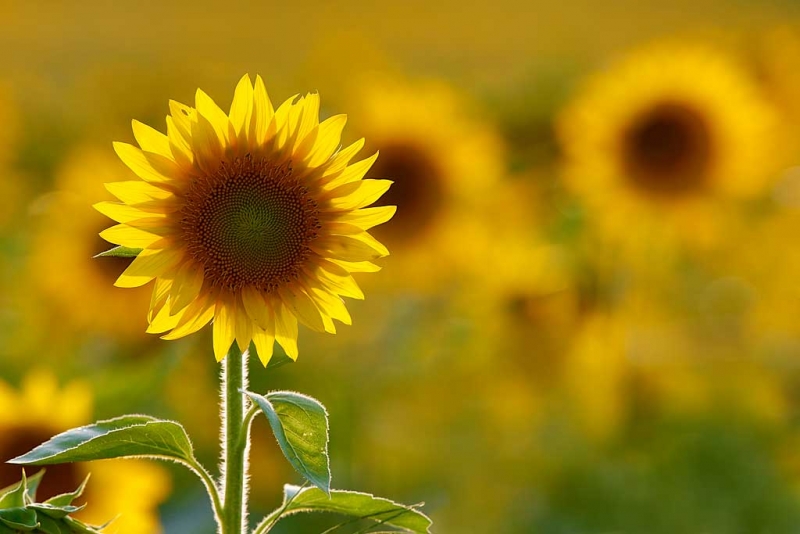 This is the image after I dealt with the specular highlights. Let's call this Image B.
Do understand that our the image directly above, Image B, is what our eyes would see. The specular highlights are caused by points of light being reflected (if that is the right word) off internal lens elements.
Which Do You Like Better?
Take a moment to let us know which image you like better, Image A or Image B. And be sure to let us know why.
Delkin 700X CompactFlash Pro UDMA Enabled Cards
You can learn more about Delkin's new 700X CompactFlash Pro UDMA Enabled Cards by clicking here and learn why the 1000X cards are overkill for still photographers. These cards are as important to my 5DIII as the batteries in the vertical battery grip!
Shopper's Guide
Below is a list of the gear used to create the images in today's post. Thanks a stack to all who have used the Shopper's Guide links to purchase their gear as a thank you for all the free information that we bring you on the Blog and in the Bulletins. Before you purchase anything be sure to check out the advice in our Shopper's Guide.
Your browser does not support iFrame.
Canon 500mm f/4L IS II lensI decided to leave the 800 at home for the bear boat trip and quickly fell in love with the 500 II for its light weight, great versatility, and four-stop IS. A complete review will be coming soon.
Canon EOS-5D Mark III. Man, I am in love with this camera body. Both the files and the AF system are superb.
And from the BAA On-line Store:
LensCoats. I have a LensCoat on each of my big lenses to protect them from nicks and thus increase their re-sales value. All my big lens LensCoat stuff is in Hardwood Snow pattern.
LegCoat Tripod Leg Covers. I have four tripods active and each has a Hardwood Snow LegCoat on it to help prevent further damage to my tender shoulders 🙂 And you will love them in mega-cold weather….
Gizo GT3532 LS CF Tripod. This one replaces the GT3530LS Tripod and will last you a lifetime. I'll be commenting on this new model soon. In short, I like it.
Mongoose M3.6 Tripod Head. Right now this is the best tripod head around for use with lenses that weigh less than 9 pounds. For heavier lenses, check out the Wimberley V2 head.
Double Bubble Level. You will find one in my camera's hot shoe whenever I am not using flash.
The Lens Align Mark II. I use the Lens Align Mark II pretty much religiously to micro-adjust all of my gear an average of once a month and always before a major trip. Enjoy our free comprehensive tutorial here.
BreezeBrowser. I do not see how any digital photographer can exist without this program.