The GT3532 LS Carbon Fiber tripod is the latest in Gitzo's long line of "best-ever," "one-size fits all–except for the really tall folks," "will last you a lifetime-as long as you keep it out of saltwater" tripods. As usual, the accolades are well-deserved. I grabbed one out of stock about six months ago (BTW, that means that I paid for it) and have loved using it.
Here is the party line: "All Systematic tripods have been refined with significant improvements in strength, stability and rigidity; safety and security; set-up speed, ease of use and ergonomics. New construction and bonding techniques have almost doubled maximum payloads by distributing weight more efficiently to the 6X carbon fiber legs, which also feature the G-Lock system for greater power and ease of leg section locking. In addition, design details on the distinctive new triangular top casting make changing center components even faster and safer."
Here is my translation: the new 3532LS (that replaces the 3530 LS) is very strong, very stable, and very rigid. I use it with the Mongoose M3.6 atop it with both my Canon 500mm f/4L EF IS II USM Lens and with my Canon EF 800mm f/5.6L IS USM Autofocus Lens and routinely make sharp images at shutter speeds down to as low as 1/20 sec. Even 1/6 sec. is possible if the subject remains stock still.
The vastly improved (triangular) design of what I call the tripod platform prevents it from ever coming lose and causing your big expensive lens to go crashing to the ground. For 3530 and older 35 series tripods the addition of the Gitzo Safety Plate prevents such accidents at the cost of a few additional ounces. I never had that problem but know of other who did. The previously introduced G-locks continue to make lengthening and shortening the legs far easier than in the old days. I never add a center post (geared or otherwise), a video half-ball adapter, or the leveling base so the ease of changing center components does not help me at all. Though I do not use or recommend the Gitzo GS5121LVL Leveling Base it is one of the very few items that I do not use that we carry as a convenience to those who see things differently.
Here's the best part, none of my competitors, all of whom will be glad to sell you cheap junk, have ever mentioned the very best feature of the GT3532 LS Carbon Fiber tripod. Back to that in a minute. Why do my competitors want to sell you cheap junk? Because they carry nearly 100 different types of tripods of all brands; they do not care if you wind up with the best gear as long as they make some money. Heck, the mark-up on the off-brand tripods is usually much greater than on the Gitzo stuff. At BAA we carry exactly five tripods, all from Gitzo and all of the highest quality. We will not sell you junk. Before you plunk your money down on an off-brand tripod take a look at what professional nature photographers are using: 99% Gitzo all the way. And believe me, I have gotten my hands on many of the off brand models and found all of them lacking.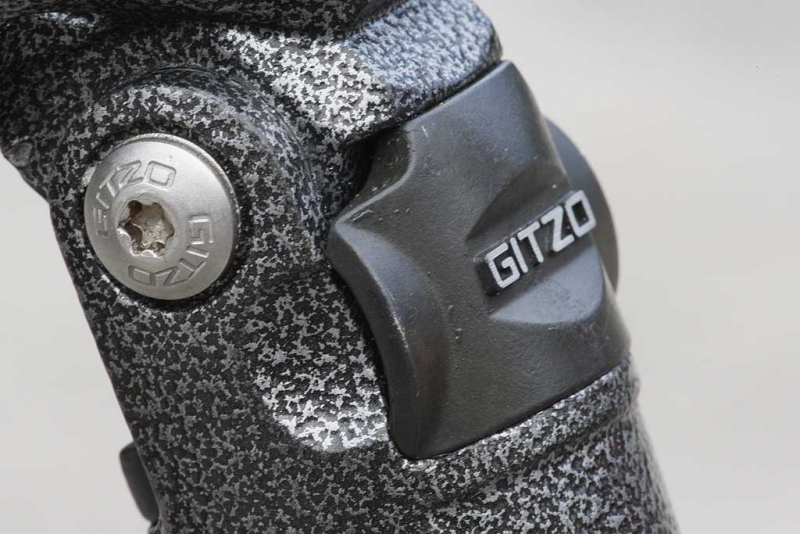 Note the curved flange on the side of the leg tab and the adjacent beveling that makes tripod handling far more efficient than it was with the 3530 LS.
Best Feature?
So what is the very best new feature on the GT3532 LS Carbon Fiber tripod? The re-designed leg tabs. Each of the three leg-tabs has a curved flange that makes it easier to pull them out, something that a good photographer does dozens of times each day when they are in the field. In addition to these great new flanges, the leg-mount on the side of each flange is beveled; this makes it even easier to pull the leg tabs out. You can even do it while wearing heavy winter gloves. If you never have the need to pull the leg tabs out you will surely not want to miss "Tripod Tips" coming soon right here on the BAA Blog.
Saltwater and Vest
And yes, as you can see above, I routinely use my GT3532 LS Carbon Fiber tripod in salt water, often a lot deeper than in the image above, often up to about three feet deep. I make sure to rinse it well with fresh water after each use and then, when I get home, I have Jim take it apart, give it a good bath, grease the threads with lithium grease, and re-assemble it.
My Xtrahand Vest from Vested Interest makes carrying extra gear, extra clothing, water, and a snack an easy chore as the weight is well-distributed. It will be a Godsend on my upcoming Southern Oceans trip with Cheesemans' Ecology Safaris.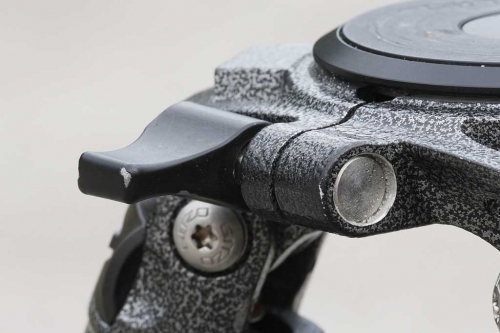 Note the lever on the left side of the image.
Two Very, Very Insignificant Negatives
The lever that you see above is another new feature on the GT3532 LS Carbon Fiber tripod and on the other new Systematic tripods. For those who use one of the other center-post options, the new lever makes it easy to remove and replace the platform. Everyone should try to remember to tighten it a bit every month or so. At times, the new lever gets in the way of my Mongoose M3.6 so I try to remember to twist it downwards to prevent that.
My only complaint about the GT3532 LS Carbon Fiber tripod is a very minor one. The new rubber feet are not as stable on wet boardwalks as the rubber feet on the 3530 LS; when I used the new tripod at Gatorland on a drizzly morning I had to place each leg in a crack on the boardwalk to keep from skating all over the place. As I said, a very minor complaint.
NYC Weekend Nature Photography Seminar
Presented by Denise Ippolito/A Creative Adventure and Arthur Morris/BIRDS AS ART
Hilton Garden Inn, Staten Island, New York. December 8-9, 2012 from 9am-4:30pm.
Weekend: $169. SAT or SUN: $99. Lodging available for out of town guests.
Saturday: Image Capture Sunday: Image Evaluation and Processing
Click here for complete details including the Saturday and Sunday schedules, club and group discount info, and registration incentives and for more info on the In-the-Field Seminar Follow-up Workshop.
Artie, the grizzled veteran, is widely noted as one of the premier bird photographers, tour leaders, and educators on the planet. Denise, who specializes in flowers, is the mega-creative up-and-comer, a popular lecturer, a skilled field instructor, and an amazing Photoshop wizard who will share her tips and tricks with you. Both artie and denise are full time professional nature photographers.
BIRDS AS ART Instructional Photo-Tours
Click here for complete IPT information including the current schedule and links to general IPT info, deposit and cancellation policies. and the required registration and release forms.
Shop B&H
Shop B&H. Support the BAA Blog. Support the BAA Bulletins. Show your appreciation by making your purchases immediately after clicking on any of the links above or below. We want and need to keep providing you with the latest free information, photography and Photoshop lessons, and all manner of related information. Remember, B&H ain't just photography!