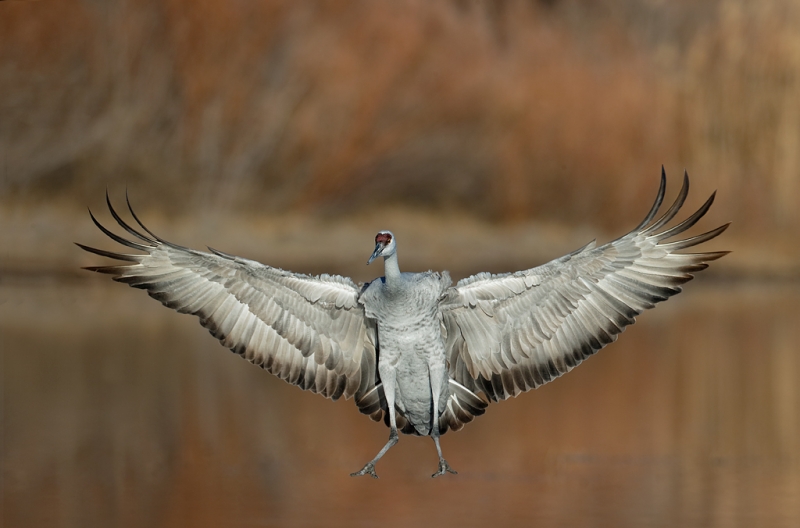 This image was created with the tripod-mounted Canon EF 800mm f/5.6L IS USM Autofocus lens and the Canon EOS-1D X digital SLR . ISO 400. Evaluative metering +1 stop off the low sky: 1/1250 sec. at f/7.1 in Manual mode. Central sensor/AI Servo Surround/Rear Focus AF active at the moment of exposure. Click here if you missed the Rear Focus Tutorial. Click on the image to see a larger version.
The image created at 3:51pm was my very favorite.
Your browser does not support iFrame.
Catching Up/Working in reverse order
Is the Lethal Canon EOS-1D X Unfair to Flying Cranes?
With regards to "Is the Lethal Canon EOS-1D X Unfair to Flying Cranes?": My favorites Sandhill Crane flight images, with my top pick first, were the dramatic 3:51, the small against the mountains 7:40, the landing pano-crop 4:01, and the moody 7:34am. Thanks to all who commented. As of 7:20pm eastern time on Tuesday I have responded to all of the comments.
Thanks Gaurav for sharing the very fine image above with us. I like it as much as any of mine. Gaurav is a serious student who travels regularly from India to join IPTs and study with me. He was quite skilled when he showed up for the Morro Bay IPT but he has worked hard, is very determined, and keeps on getting better and better. All that after a big name pro saw one of his images and told him to give up bird photograph! He took that and used it as motivation.
Image Transformation Questions
With regards to "Image Transformation Questions:"
1- I liked the sliver of tree that I left on left frame edge; I felt that it balanced the dark area of bushes on the right nicely.
2- In my humble opinion, the large dark area of mud on the lower right was ugly. That is why I eliminated it. Several folks referred to it as "dreck." I agree.
From the Free Dictionary: dreck: Slang chiefly US for rubbish, trash. [From the Yiddish: drek = filth, dregs]
3-As far as the chevron pattern in the right corner, I am not sure if anyone would have commented had they not seen the original. Note, however, that there are some similar patterns on the right side of the image in the original….
4-A far as the "over-punched colors" I gotta say that in both the original and the optimized version that the colors look pretty accurate to me. It was a spectacular sunrise.
5-Yes to leveling the image and cleaning up birds that intersected with the frame edge.
6-Yes to a small crop and to a small increase in contrast (via NIK Tonal Contrast at about 33%).
7-As for the two birds top center that I removed, for me, they wrecked the compositional balance by being in the middle.
8: Good on Julian for realizing that I blackened the blacks–with a simple Levels adjustment.
9-You are all welcome and yes, good on me for getting you all to think.
Dressed to Kill
In "Dressed to Kill," thanks to Doug Schurman for suggesting with regards to the who has more hair question that "Rick has more coverage but Artie has more volume." I am of course bald up front like my late Dad was but there is a lot of hair in that big pony tail. I was 66 last June.
Lucky Thirteen: Finally Blasting at 1/13 Sec.
In the "Lucky Thirteen: Finally Blasting at 1/13 Sec." post, my favorite image was #4, above because of the swirling look of the flock.
Holiday Shopping Suggestions & Options
With many of the B&H items below the prices are so low that they cannot be advertised; you need to add the item to your shopping cart in order to see the super-low holiday sale price.
Canon 70-200mm f/2.8L IS lens
My favorite intermediate telephoto lens: fast and versatile. I use it often with either the 1.4X III and the 2X III tele-converter. Right now for the first time ever less than $2,000 in your B&H shopping cart. You will only see the super-low price when you add the item to your cart.
Canon Powershot S-100 Point and Shoot
An amazingly low price on this popular point and shoot camera: $249 in your cart!
Canon EF 16-35mm f/2.8L II USM Autofocus lens
The premier wide-angle zoom lens for landscape and wildlife: an amazingly low $1399 in your cart!
Sigma 50-500mm f/4.5-6.3 DG OS HSM APO Autofocus lenses
Killer deals on both Sigma 50-500s. Save a ton: in the cart for only $1299. This is an amazing value for one of the most versatile lenses on the planet.

As regular readers know the Sigma 50-500mm f/4.5-6.3 DG OS HSM APO Autofocus lenses for both Canon and Nikon mounts offer amazing focal length coverage and are razor sharp when used at f/8. Clemens van der Werf used the Canon mount model with fabulous results on the Cheesemans' Ecology Safaris Southern Ocean expedition this past October and Robert O'Toole and Robert Amoruso have has been using the Nikon and Canon mount models (repectively) with great great success for years. Be sure to pick the proper mount lens for your system.
Suggested Stocking Stuffers
Shop Amazon
Consider doing all of your Amazon.com shopping using the search link below. You'll be getting the same low prices and great service that you are accustomed to and at the same time, supporting my efforts in the Bulletins and on the Blog to bring you great images, timely product news and info, and tons of free educational articles on an almost daily (and sometimes almost back-breaking) basis 🙂 Just type your search in the little white box and hit Go.

Tim Laman's Amazing Birds of Paradise book
Lens Clens
Great for your all your gear cleaning needs from the front elements of your lenses, filter, the surfaces of your lenses and camera body, and even your laptop and computers screens
"The Photographer's Guide to Attracting Birds"
Alan Murphy taught the world to create killer images at backyard set-ups in his 106 page eBook, "Guide to Songbird Set-Up Photography." In his latest effort, "The Photographer's Guide to Attracting Birds," he has out-done himself. As I proofread this new e-Book for readability, I was amazed not only by the images, but by Alan's innovative and creative techniques. Heck, in many cases, I was stunned by his cleverness. Click on the logo-link below to get your copy. (PayPal payments accepted.)