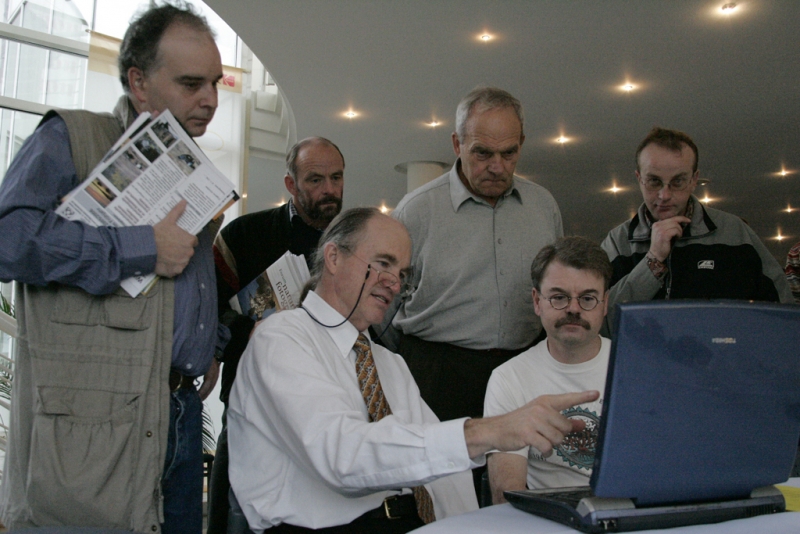 This image was created when I visited Lunen, Germany as the keynote speaker at the 2004 GDT International Nature Photography Festival. Man, does time fly or what? You can learn more about the GDT here. As fate would have it, the most memorable thing about my visit is that I had to jump off the train with my suitcase and my Think Tank rolling bag at the airport train station. I landed poorly and put the final touches on a left knee injury. In a scene right out of a movie I had to chase down the train in order to grab my laptop bag from the guy I was sitting next to. My passport and my plane tickets were in the bag…. The injury required arthroscopic knee surgery soon aferwards.
This image was created with the hand held Canon 24-105mm f/4L IS EF USM AF lens
and the old Canon EOS-Mark II.
Image courtesy of and copyright 2004 in the name of the creating photographer. If you are that photographer please get in touch so that I can properly credit you. Your contact info is not in the EXIF. BreezeBrowswer Pro automatically includes my name and all contact and copyright info with each downloaded RAW file. Details on setting that up Downloader Pro (and BreezeBrowser Pro) are contained in Digital Basics along with my complete digital workflow, all of my time-saving Keyboard Shortcuts, Quick Masking, Layer Masking, and NIK Color Efex Pro basics, and dozens of great Photoshop tips. To learn more about the fabulous BreezeBrowser Pro/Downloader Pro Combo click here.
Your browser does not support iFrame.
The Canon 24-105mm f/4L IS zoom lens is my never-leave-home-without-it, all purpose, B-roll lens. On the rare occasion that I fail to put it in one of the large pockets of my Xtrahand Vest, I usually come to regret it very quickly.
My Laptop and Me
Three things are evident in the image above. I don't go anywhere without my laptop. I love to teach–can't help myself in fact. I am a big show-off. Heck, it's good for business.
What might very well be evident to some but possibly not so obvious to others is the fact that whether I am home or on the road, I spend many hours each day at the computer, actually, on my laptop where I optimize all of my favorite images. Right-hand man Jim Litzenberg optimizes many of my second favorite images on one of our two office computers. Each blog post, even seemingly short ones like this, takes about three hours–the longer ones may take five to eight hours. Each Bulletin takes about five to eight or more hours. And I spend at least an hour or two each day answering your e-mails, setting up IPT logistics, and simply taking care of business.
Pain Free
I first became aware of the term "living in the box" in Pete Egoscue's great book, "Pain Free: A Revolutionary Method for Stopping Chronic Pain
." Following his advice enabled me to rid myself of the severe pain in my left hip that had plagued me for more than 20 years. It took three months of doing the positions every day but the time was well spent as the pain simply vanished and has never returned. You gotta love that. There are chapters on back, knee, hip, shoulders, and more. Oftentimes reading and living Pain Free can help you avoid surgery….
Living in the Box
Living in the box refers to much of the stuff that modern man does on a daily basis: working on a computer; watching TV with the clicker in hand; and driving a car. All with our shoulders rounded and our heads much too far forward. Many days at home I am up working by 4 or 5am. And working means working on the laptop. Many days I sit working without taking a break for two hours. When I stand up I feel very old. It takes me halfway to the kitchen to be able to stand up straight. It's ugly, perhaps a reminder or our mortality.
Living in the Box Remedy
About a month ago while surfing the web in my free time, I came across this great video but I do not remember how. Yes, you will need to sit through the obligatory advertisement. The video is somewhat poorly titled "Exercises for Posture–Pull Shoulders Back." There are three simple exercises that anyone can do. They are free. I do them every day. The first one, Cross/Crawl, is absolutely miraculous. I do it once in the morning stand up straight right off the bat for the whole day no matter how long I am sitting. Most days I do this one twice. I do Backwards Circles twice a day and External Rotations once a day. On the latter I only get to about 45 degrees while Dr. Neil King who is demonstrating these simple exercises, easily gets to 90 degrees…. Tight, tight shoulders. Dr. King does a great job of simplifying things in the video. Click on the "Videos by This Expert" button for more great stuff by him. Not to worry, I have never met the guy; his practice is located in Maryland.
If you live in the box, you gotta give this a go. Don't forget to contract your stomach muscles during each of the exercises and down forget to belly breathe. I just did an extra set and feel great!
Image Optimization Revelations Part II
In the "How are Your Eagle Eyes?" blog post here, I presented three images including the one above and asked if anyone could detect any Photoshop hanky panky. In the "Image Optimization Revelations Part I" post here, I revealed that I did lots of work on the face and eye of the spoonbill image and that the high key pelican flight image was as is, pretty much right out of the camera except for a bit the usual NIK Color Efex Pro magic.
As expected, pretty much everyone failed miserably. Good Photoshop work should be pretty much undetectable.
After reading the very popular "Best Hand Holding Tip Ever" blog post here, the Photoshop hanky panky used to create this image became fairly obvious. I painted a Quick Mask of the sharp face and head of the bird in the far wing stretch image, put it on its own layer, moved it (V) onto the original for the image above, the one with the very soft face and out-of-focus eye, reduced the Opacity to 50%, used the left and right arrow keys to position it perfectly, hit Control T for the Transform Tool, rotated, sized, and warped the layer as needed, hit Enter, added a Regular Layer Mask, and fine-tuned the layer to perfection. And left no trace.
All of the above is detailed in our amazing Digital Basics File that includes my complete digital workflow, all of my time-saving Keyboard Shortcuts, Quick Masking, Layer Masking, and NIK Color Efex Pro basics, and dozens of great Photoshop tips. You can learn the advanced Quick Masking techniques that I used here in APTATS I and learn advanced Layer Masking in APTATS II.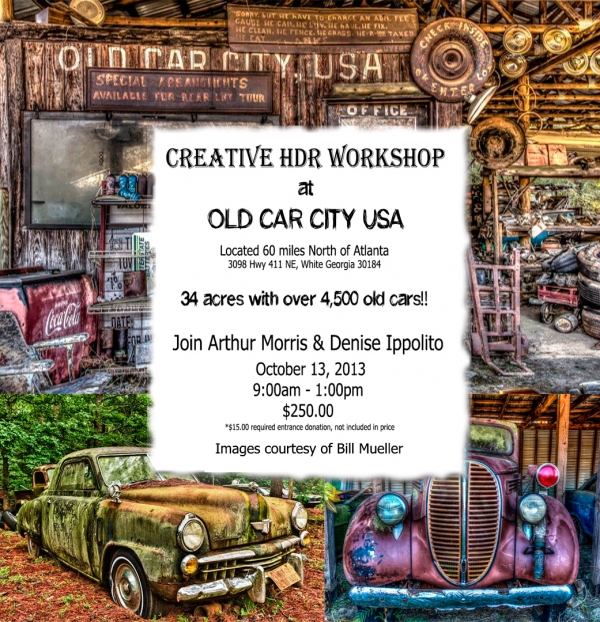 Images courtesy of and copyright 2012: Bill Mueller. Card design by Denise Ippolito.
Old Car City Creative Photography In-the-Field HDR Workshop: Sunday, October 13, 2013/ 9am till 1pm. White, Georgia: $250 plus a $15 entrance fee donation (cash only on the day of the event) that will go to charity. Limit: 16 photographers/Openings: 13.
On October 13, 2013, Arthur Morris/BIRDS AS ART and Denise Ippolito/A Creative Adventure will be conducting an In-the-Field HDR Workshop at Old Car City in White, Georgia. Old Car City is about an hour north of Atlanta, GA and an hour south of Chattanooga, TN where they will, as noted above, be doing a full day seminar for the Photographic Society of Chattanooga on Saturday, October 12th. Click here for complete details.
Fort Desoto/Hooptie Deux–Roseate Spoonbill Short Notice IPT
The 2nd New Concept IPT: the Fort Desoto/Hooptie Deux–Roseate Spoonbill Short Notice IPT/April 3-7, 2013/5 DAYS: $2399. Strict limit: six photographers/ openings 5. Early April can be superb at Alafia Banks. Early April is almost always superb at Fort DeSoto. Click here for complete details.

With only a single registrant, this one is shaping up to be a practically private affair and represents an amazing opportunity for you to grow as a photographer.
Typos
On all blog posts, feel free to e-mail or leave a comment regarding any typos, wrong words, misspellings, omissions, or grammatical errors. Just be right. 🙂
Support the BAA Blog. Support the BAA Bulletins: Shop B&H here!
We want and need to keep providing you with the latest free information, photography and Photoshop lessons, and all manner of related information. Show your appreciation by making your purchases immediately after clicking on any of our B&H or Amazon Affiliate links in this blog post. Remember, B&H ain't just photography!
If you are considering an item for purchase or comparison shopping be sure to place an item in your cart to see the too-low-to show the actual price. In many cases the prices are so low that B&H is forbidden from publicizing them!
Support the BAA Blog. Support the BAA Bulletins: Shop Amazon here!
Consider doing all of your Amazon.com shopping using the search link below. You'll be getting the same low prices and great service that you are accustomed to and at the same time, supporting my efforts in the Bulletins and on the Blog to bring you great images, timely product news and info, and tons of free educational articles on an almost daily (and sometimes almost back-breaking) basis 🙂 Just type your search in the little white box and hit Go.