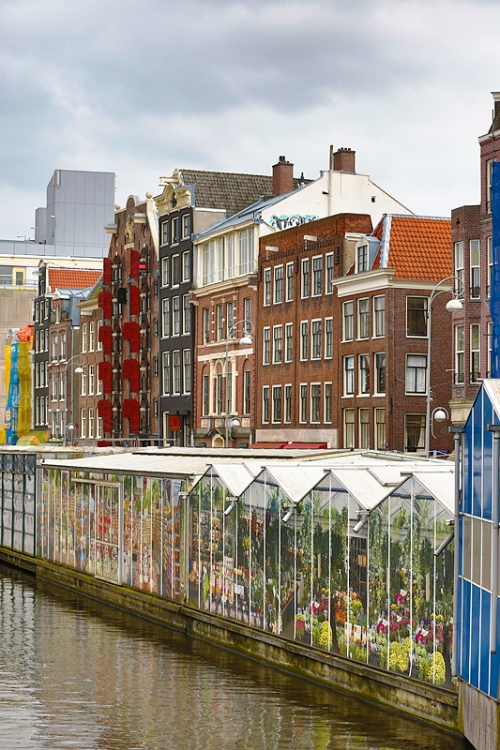 This three-frame in-camera Art Vivid HDR of the flower district along a canal in Amsterdam, Holland was created with the Canon 24-105mm f/4L IS EF USM AF Lens hand held at 70mm and the Canon EOS 5D Mark III Digital camera body ISO 400. Evaluative metering +1/3 stop yielded a base exposure of 1/250 sec. at f/5 in Av mode.
Central sensor/AI Servo Rear Focus AF on the building with the orange tile roof and recompose. Click here if you missed the Rear Focus Tutorial. Be sure to click on the image to enjoy a larger version.
I loved my 5D III for scenic, street, and flower photography ever since I first got my hands on it. The release of the new firmware brings the 5D III into serious consideration as an everyday bird and wildlife body. See below for details. We did a good deal of street photography on the Holland Tulip IPT.
The main reason that I love the 5D III's in-camera HDR feature so much is that I am lazy. I have a zillion HDR series that I will never have time to process. I absolutely love the immediacy of the process and the rich colors that I get from Art Vivid thrill me. I have even inspired Denise Ippolito to try and to like Art Vivid on occasion. To learn how I set up my 5D Mark III for in-camera HDR check out the 5D Mark III User's Guide.
Your browser does not support iFrame.
Finally: Canon EOS-5D Mark III Firmware Update 1.2.1
Finally, Canon USA has released the long-awaited firmware update for the EOS-5D Mark III, 1.2.1. The new firmware will enable this already great camera to autofocus down to f/8.
Downloading the 5D Mark III Firmware 1.2.1 Update
You can download the new firmware by clicking here, clicking on Drivers and Software, selecting your Operating System and Operating System Version from the dropdown menus, clicking on Firmware, clicking on EOS 5D Mark III Firmware Version 1.2.1 [Windows], and finally by clicking on I Agree-Begin Download.
Once the file (5D300121.FIR) is saved to your computer–I put it on my desktop–copy it to a compact flash card, put the card in your 5D III, go to the 4th Yellow (Wrench symbol) menu, click on Firmware Ver. at the bottom of the menu, and follow the prompts.
Ramifications for Still Photographers
Folks who use a variety of telephoto lenses will be able to use a cross-type AF sensor at f/8. Obvious off-the-top-of-my head combinations would include the 500 and 600mm f/4 lenses with any of the 2X TCs and the 800mm f/5.6L IS and my old "toy lens", the 400mm f/5.6L, both with any 1.4X TC. Click here for a complete list, actually a table, that includes all of the lens that "Support Cross-Type Autofocus with Firmware Update for EOS 5D Mark III." Note: some of the listings do not make a lot of sense to me.
Here's what the Canon Press Release had to say: "If AF point expansion is selected with an f/8 maximum aperture lens/extender combination, the four AF points surrounding the center point will act as AF Assist points. This option effectively expands the size of the AF detection area to enhance autofocus performance with subjects that appear small in the viewfinder and difficult to track, such as small animals and birds in flight. AF points above and below the center will be sensitive to vertical contrast, while points to the left and right will be sensitive to horizontal contrast."
Ramifications for Videographers
Again, from the Canon Press Release here, "To benefit DSLR cinematographers, the EOS 5D Mark III will now be able to record clean, uncompressed digital video with embedded time code over HDMI output while simultaneously displaying the video on the rear LCD display and recording to internal CF or SD cards. Combined with an improved color sampling of YCbCr 4:2:2 8-bit video, this firmware update adds efficiency to video editing, improves color grading options, and enhances on-set monitoring."
My Thoughts
As much as I love my 5D Mark III, it's great AF system, the large, high quality files, the great in-camera HDR feature, and, to a lesser degree, the in-camera Multiple Exposure feature, the new firmware update makes it a much more formidable weapon for bird photography. While I will always use one of my two EOS-1D X bodies in flight photography situations, I will be going to my 5D III much more with both my 500II and my 600II super-telephoto lenses far more often than I used to. I will begin using it often as my primary digital camera body. Why? The larger files (21.1-megapixels) and the lighter weight of the 5D III (3 pounds, 2 ounces with the highely recommended Canon BG-E11 Battery Grip both as compared to the 1D X (18.1 megapixels, 3.65 pounds).
Images Soon
If the sun ever comes out here in the morning–it has been cloudy dark at 8am every morning since I got home from Holland, I will head down to the lake and try to create some images with the 600II, the 2X III TC, and my EOS-5D Mark III to share with you here.
Questions
I will do my very best to answer any questions that you have. Please leave a comment below. Please check the press release before you start typing. 🙂
Next Year In Holland
Despite a 100-year record cold spring with very few tulip fields in bloom this trip has been a spectacular success. The colors and variety of tulips at Keukenhof simply stun the mind and the senses. Denise and I are planning our Holland trip for next year: the Keukenhof Creative Tulip Photography IPT with a Touch of Holland. If you are a Happy Camper who is interested in joining us, please shoot me an e-mail.
EOS-5D Mark III
For more on this great camera check out "It Ain't Just Birds; Why I Love My EOS-5D Mark III." To learn how I set up my 5D Mark III for in-camera HDR check out the 5D Mark III User's Guide. Learn more about this great camera in "A Dozen Fun and Funky Reasons."
Typos
On all blog posts, feel free to e-mail or leave a comment regarding any typos, wrong words, misspellings, omissions, or grammatical errors. Just be right. 🙂
Support the BAA Blog. Support the BAA Bulletins: Shop B&H here!
We want and need to keep providing you with the latest free information, photography and Photoshop lessons, and all manner of related information. Show your appreciation by making your purchases immediately after clicking on any of our B&H or Amazon Affiliate links in this blog post. Remember, B&H ain't just photography!
If you are considering an item for purchase or comparison shopping be sure to place an item in your cart to see the too-low-to show the actual price. In many cases the prices are so low that B&H is forbidden from publicizing them!
If you are considering an item for purchase or comparison shopping be sure to place an item in your cart to see the too-low-to show the actual price. In many cases the prices are so low that B&H is forbidden from publicizing them!