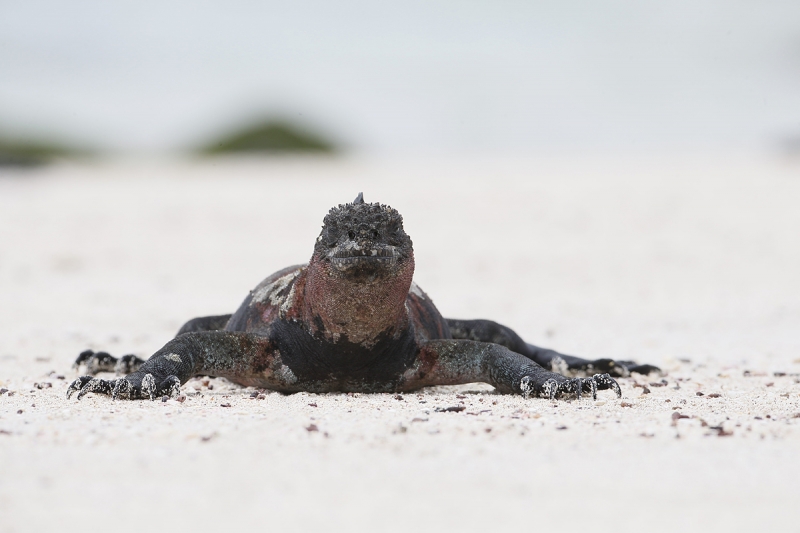 This image, the original from which yesterday's featured image (see same here) was created, was made with the hand held Canon EF 200-400mm f/4L IS USM Lens with Internal 1.4x Extender (with the internal TC in place at 490mm) and the Canon EOS-1D X. ISO 1600. Evaluative metering +1 1/3 stops: 1/500 sec. at f/9 in Av mode.
One sensor to the left of the central sensor/AI Servo Rear Focus AF on the nose of the iguana active at the moment of exposure. Click here if you missed the Rear Focus Tutorial. Click on the image to see a larger version.
Your browser does not support iFrame.
Why the Eyes Had It
Note that the original capture above was too dark, and note that the Marine Iguana blinked just as I depressed the shutter button. See the 4-second animated GIF below for the before and after images.
In yesterday's blog post here, I asked:
Do you see anything Photoshop fishy about the image above?
Why +1 1/3 stops of plus compensation?
With the active AF sensor on the tip of the reptile's nose, why are the eyes sharp?
Kudos to Tom Roper who commented as follows:
The only 'fishy' thing I notice is the dust spot near the green triangle on the upper right side.
q: why add +1 1/3 exposure compensation?
a: because the sand averages lighter than middle exposure so you need to add light to expose the iguana.
q: why are the eyes sharp if the AF sensor was on the tip of the nose?
a: as subject distance increases so does depth of field
Tom has eagle eyes. The small dust bunny that he noted was removed from the optimized TIF file. He was of course correct on the exposure but the original capture above shows that I did not add nearly enough light; + 2 would have been much better. He did a good job on the last question also but should have added that I had stopped down from wide open (f/5.6) to f/9.
The Image Optimization
I lightened the image one-half stop during conversion in DPP by moving the Brightness slider to the right to 0.50. See the DPP Raw Conversion Guide to learn why I convert in Canon Digital Photo Professional. Next I painted a Quick Mask of the green triangle over the iguana's head, put it on its own layer, and moved it to the right side of the frame. Then I painted another Quick Mask, this one of the clean sand, put that on its own layer, and used it to cover the offending green triangle.
After doing some Eye Doctor work on it, I painted a Quick Mask of the creature's open left eye, placed that on its own layer, and flopped it. Then I reduced the opacity of the layer to make it easier to position it on top of the closed right eye. Next I transformed and warped the layer to match the size and orientation of the closed eye before raising the opacity back to 100%. Adding a Layer Mask allowed me to paint away everything but the new eye. Clicking the eyeball on and off revealed a perfect job.
Learn advanced Quick Masking in APTATS I and learn Advanced Layer Masking techniques in APTATS II. Call Jim and tell him and point him here if you wish to purchase both and save $10.
Beach clean-up was done with the Patch Tool and the Spot Healing Brush. After selecting the iguana with the Quick Selection Tool I applied a layer of my favorite 50/50 NIK filter (50% Detail Extractor plus 50% Tonal Contast). Note the spectacular improvement afforded by the Detail Extractor portion of the filter. A nice crop from the bottom was the finishing touch.
Everything above and tons more is covered in detail in my Digital Basics File. Digital Basics is an instructional PDF that is sent via e-mail. It includes my complete digital workflow, dozens of great Photoshop tips including Digital Eye Doctor techniques, several different ways of expanding canvas, all of my time-saving Keyboard Shortcuts, Quick Masking, Layer Masking and NIK Color Efex Pro basics, creating and using time-saving Actions, and tons more.
Great 200-400 News from B&H
B&H now has a limited number of my favorite new lens, the Canon EF 200-400mm f/4L IS USM Lens with Internal 1.4x Extender in stock. Use the preceding link to earn free entries into the 2nd Annual BAA International Bird Photography Competition and thank me for sharing all I know about the 2-4. If you order online using our link and e-mail me your B&H receipt I will do my very best to have your order expedited.
Bosque IPTs/Late Registration Discount
For information on both the 7-Day and the recently announced short version of the 2013 Bosque IPTs please click here and scroll down. Please e-mail me for late registration discount info.
Coastal Carolina Camera Club Meeting: A Bird Photographer's Story
I will be presenting " A Bird Photographer's Story" on Tuesday, October 8, 2103 from 7:00-9:00pm for the Coastal Carolina Camera Club. This event, which will be held in the Fellowship Hall, Shallotte Presbyterian Church, 5070 M H Rourk Drive, Shallotte, NC 28470, is being sponsored by Canon USA/Explorers of Light and will be free and open to the public. Click here for more information.
Huntington Beach State Park In-the-Field Workshop: Tuesday, October 8, 2013: $250
In conjunction with the program above, I will be conducting an In-the-Field Workshop at Huntington Beach State Park, Murrells Inlet, SC from 7-11am.
Bird photography enthusiasts will be able to take advantage of Morris' expertise in a hands-on, in-the-field workshop at one of the most popular locations for viewing birds, Huntington Beach State Park. Class size is limited to 12 so that everyone will receive lots of personal attention. In the workshop, you will learn: how to get the right exposure every time with digital, how to get closer to your subjects without scaring them, how to choose the best perspective, flight photography tips and techniques, gear handling and tripod tips and techniques, and how to see, understand, and use the light effectively.
Register now by calling Jim at the office on Monday at 863-692-0906 with your credit card in hand.
Support the BAA Blog. Support the BAA Bulletins: Shop B&H here!
We want and need to keep providing you with the latest free information, photography and Photoshop lessons, and all manner of related information. Show your appreciation by making your purchases immediately after clicking on any of our B&H or Amazon Affiliate links in this blog post. Remember, B&H ain't just photography!
Amazon
Everyone buys something from Amazon, be it a big lens or deodorant. Support the blog by starting your search by starting your search by clicking on the logo-link below. No purchase is too small to be appreciated; they all add up. Why make it a habit? Because I make it a habit of bringing you new images and information on an almost daily basis.
Typos
On all blog posts, feel free to e-mail or leave a comment regarding any typos, wrong words, misspellings, omissions, or grammatical errors. Just be right. 🙂