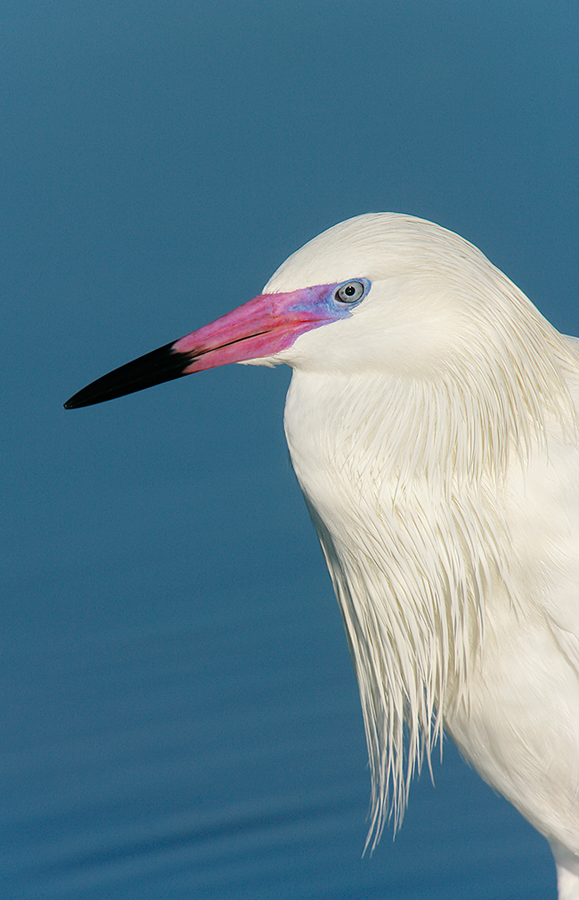 This mega-breeding plumage white morph Reddish Egret was photographed on a Southwest Florida IPT in 2006 with the with the predecessor of the Gitzo 3532 LS carbon fiber tripod, the Mongoose M3.6 head, the 600mm f/4L IS lens) now replaced by the Canon EF 600mm f/4L IS II USM lens), the 2X II TC) now replaced by the Canon 2x EF Extender III (Teleconverter)), and the EOS-1Ds Mark II (now replaced by the Canon EOS-1D X). ISO 250. Evaluative metering at zero: 1/640 sec. at f/13 in Manual. Color temperature: AWB.
Central sensor/Rear Focus AF on the bird's eye and re-compose. Click here to see the latest version of the Rear Focus Tutorial. Click on the image to see a larger version.
Your browser does not support iFrame.
You Should Be So Lucky
On the first morning of the first day of the 2006 "President's Week Southwest Florida IPT this bird flew in and landed nearby on a foggy bright morning. I helped the group get into position. A few of us got to make a frame or two. And then the drop-dead gorgeous bird flew off and disappeared over the condos bound for who knows where?
Someone said, "We scared it away." Nope I said, the birds here are all tame; but Reddish Egrets can be finicky.
Same time, same place, one day later. The same bird flew in at about 7:45 am on a clear morning, landed right in front of the entire group, and posed for about one solid hour. I urged folks to add and subtract their TCs. to use different lenses, to do some human zoomin', and to change their perspective. The bright pink and ultramarine soft parts' colors of white morph Reddish Egrets last for only a few days. And they only occur when the birds are actively involved with breeding. You can see the best of the several hundred images that I created of this most beautiful bird in The Art of Bird Photography II. ABP II, 916 pages, 900+ images, makes a great stocking stuffer.
If you live long enough and get lucky, you will get to photograph a bird just like this at least once before they nail the box shut.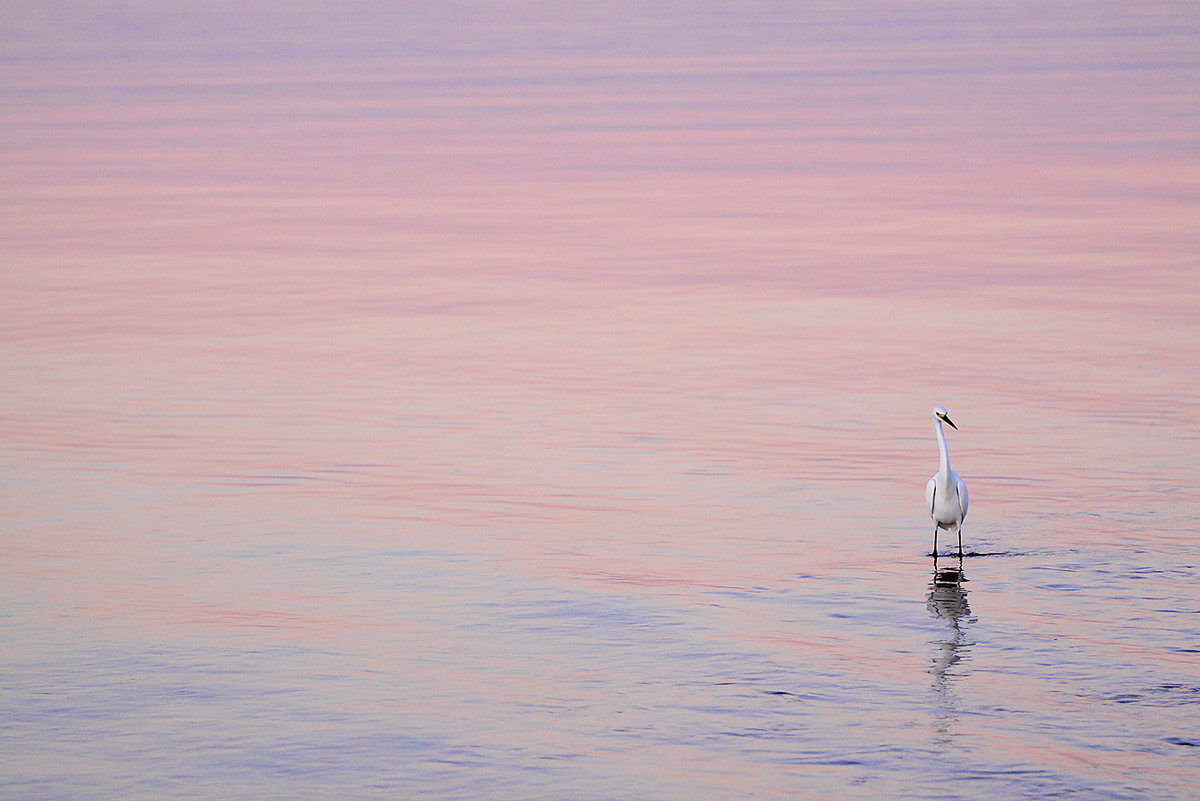 This Snowy Egret was photographed in pre-dawn light at Little Estero Lagoon with the hand held Canon EF 70-200mm f/2.8L IS II USM lens (at 100mm) and the EOS-50D (now replaced for me by the Canon EOS 5D Mark III Digital camera body ISO 800. Evaluative metering +1 stop as framed: 1/500 sec. at f/5.6 in Av mode.
One-shot AF and re-compose. Talk about the old days–no rear focus…. Be sure to click on the image to enjoy a larger version.
Your browser does not support iFrame.
Bird Photography Hotspot: Little Estero Lagoon, Fort Myers Beach, FL
The first time that I tried to find Little Estero Lagoon I had no luck at all. I drove to Fort Myers Beach in a ton of traffic and when I arrived all that I saw were hundreds of young kids walking around in bathing suits with a beer in one hand and a frisbee in the other. Those with a free hand were hauling coolers with more brews. I paid way, way too much to park, walked down to the beach, and saw a very few Laughing Gulls and about 10,000 folks getting sunburned.
Well more than two decades later, I know the ropes at Little Estero as well as anyone. Every year folks tell me, "There's not much at Estero." I go the next day and fill every flash card that I have. It's all a matter of knowing where to be when. It is not uncommon to photograph all of the following species in a single day: Great Egret, Snowy Egret, Tricolored Heron, Reddish Egret (both color morphs), Great Blue Heron, Little Blue Heron, Ring-billed Gull, Laughing Gull, Royal Tern, Forster's Tern, Black-bellied Plover,Ruddy Turnstone, Semipalmated Plover, Wilson's Plover, Piping Plover, American Oystercatcher, Double-crested Cormorant, Mottled Duck, Brown Pelican, and Osprey. Wood Stork, Sandwich Tern, White Pelican, Black Skimmer, Herring Gull, Lesser Black-backed Gull, Long-billed Curlew, Snowy Plover, Western Sandpiper, Dunlin, Short-billed Dowitcher, Red Knot, Bald Eagle, and Roseate Spoonbill are all possible. And the best news is that nearly all of the birds are silly tame.
Being in the right spot at the right time while photographing a huge feeding spree in gorgeous light is for me the thrill of Little Estero.
Your Favorite?
Which of the two images above do you like best? Be sure to let us know why you made your choice.
Southwest Florida Site Guide
My Southwest Florida Site Guide includes detailed instructions for photographing at the great spots within an hour or two of Fort Myers, Florida. Included are Ding Darling NWR then and now, Blind Pass Beach, the Sanibel Fishing Pier, the East Gulf Beaches–great for Snowy Plover, Little Estero Lagoon, the Sanibel Causeway, Venice Rookery, my secret White Pelican spot–head shots with a 300mm lens plus flight and action, and the two best Burrowing Owl sites on Cape Coral. Learn more or purchase here.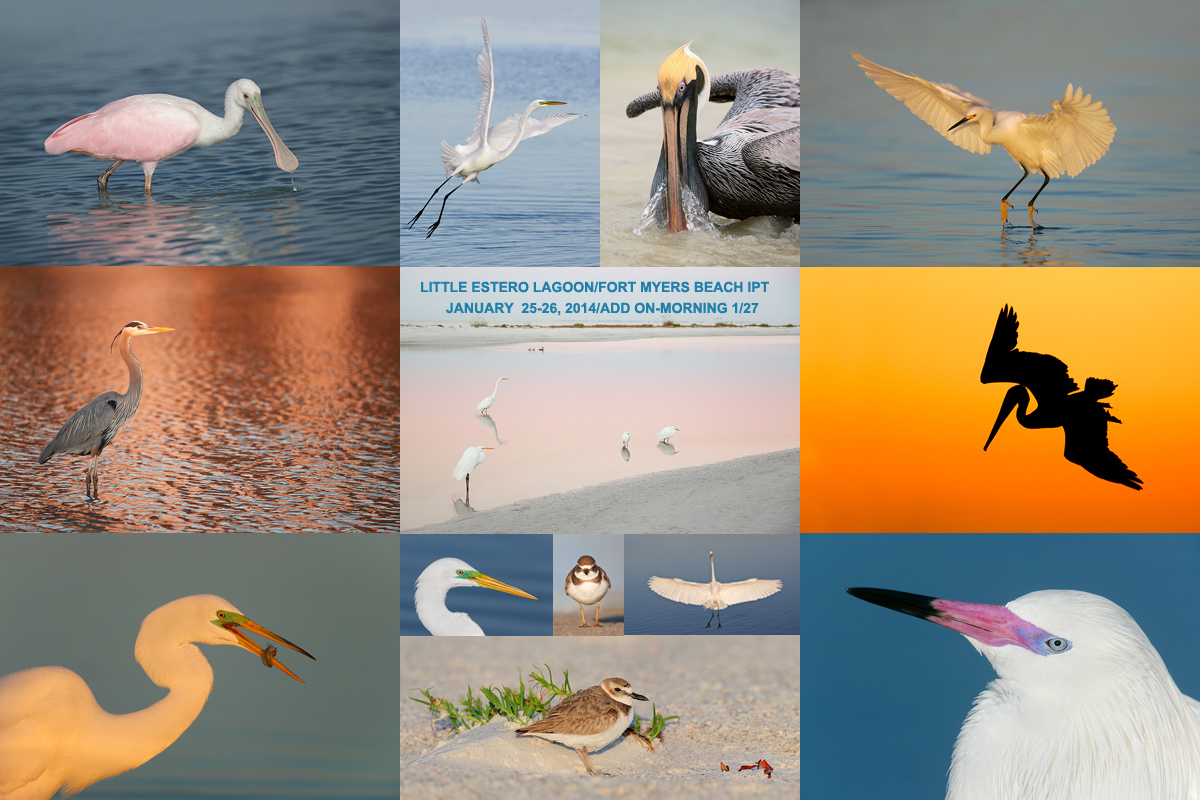 Join us to learn the ins and outs of Little Estero Lagoon.
Little Estero Lagoon IPT: 2 full days–Sat/Sun: JAN 25-26 (Limit 14/Openings 12): $799. Introductory slide program: 7pm, FRI, JAN 24, 2014
Join Denise Ippolito and Arthur Morris for four great photography sessions at one of the top bird photography hotspots in North America. Morning sessions: 6:15am to 10:30am. Afternoon sessions: 3:00pm till 5:45pm. Lunch included. Informal image review and Photoshop sessions after lunch. Call 863-292-0906 to registger; payment if full is now due so call with your credit card in hand. Please e-mail with any questions.
Monday: Jan 27: Optional Estero Add-on/morning only (Limit 14/Openings 12): $249
Adding the last morning as above is an option.
What you will learn:
When to be where and where to be when at Little Estero Lagoon to maximize the photographic opportunities.
Autofocus basics and correct camera and gear set-up.
How to get the right exposure with digital every time.
How and why to expose to the right.
How to create pre-dawn silhouettes.
How to design pleasing images.
How to find the best perspective.
How to make strong images in cluttered situations.
How to photography birds in flight.
In-the-Field creative techniques.
Do consider joining us for the all or part of the South Florida Composite IPT:
2014 South Florida Composite IPT: 6 1/2 days of photography spread over 9 days of learning, hanging out, and travel: $2644. (Limit 14/Openings: 12
Click here for complete details or to register. Please e-mail with any questions or leave a comment below.
Last Year's Grand Prize winning image by Lou Coetzer
Time is Running Out!
BIRDS AS ART 2nd International Bird Photography Competition
The December 31, 2013 closing deadline is fast approaching.
Learn more and enter the BIRDS AS ART 2nd International Bird Photography Competition here. Twenty-five great prizes including the $1000 Grand Prize and intense competition. Bring your best.
Support the BAA Blog. Support the BAA Bulletins: Shop B&H here!
We want and need to keep providing you with the latest free information, photography and Photoshop lessons, and all manner of related information. Show your appreciation by making your purchases immediately after clicking on any of our B&H or Amazon Affiliate links in this blog post. Remember, B&H ain't just photography!
Amazon
Everyone buys something from Amazon, be it a big lens or deodorant. Support the blog by starting your search by clicking on the logo-link below. No purchase is too small to be appreciated; they all add up. Why make it a habit? Because I make it a habit of bringing you new images and information on an almost daily basis.
Typos
In all blog posts and Bulletins feel free to e-mail or leave a comment regarding any typos, wrong words, misspellings, omissions, or grammatical errors. Just be right. 🙂
IPT Info
Many of our great trips are filling up. You will learn more about how to make great images on a BAA IPT than anywhere else on the planet. Click here for the schedule and additional info.