Three Frosties
A Guest Blog Post by Andrew McLachlan
On the morning of December 14th, 2013 the temperature outside my home in south-central Ontario near the small town of Barrie was hovering around -26 degrees Celsius. That's about -15 degrees Fahrenheit. That's cold. When these frigid temperatures descend, my not-so-energy-efficient living room window becomes coated with a vast array of intricate frost patterns that often resemble etched glass. Each fall when I am preparing this window for the onset of winter I remove the screens entirely and store them in the shed out in the backyard. By doing so, I do not need to fiddle around with them in sub-zero temperatures when the frosties arrive.
Keeping the Frost Cold
Photographing frost patterns on window panes is not necessarily difficult, but making sense of the intricate patterns to create a pleasing image can, at times be a little challenging. I frame my compositions through the viewfinder and then activate the Live View function on the Nikon D800, zoom in on a section of frost, and manually fine-tune the focus. Then I turn off the Live View function and select the mirror-up feature. Next I trip the shutter once to raise the mirror and trip it a second time to take the photo. Please note that I frame and focus the images through a double pane window. When everything is set I open the inside window pane, make an image or two, and then shut the inside window. If I were to open the inside window first and perform the steps above, the warmer temperature inside the house would very quickly melt the frosty patterns away.
The lens that I used to create these iamge is the same AF-S NIKKOR 24–85mm f/3.5-4.5G ED VR lens that folks like to trash in their on-line reviews. As you can see by the images here, I do just fine with it. After temporarily rearranging the furniture, the two close-up views of the window frost, images #1 and #2, were created in the comfort of my living room, with the camera firmly mounted on a tripod. A cable release was used to trip the shutter.
The Pine Tree Reflection: Brrrr!
The vertical image above with the pine tree in the background was created hand held from outside my home looking back at the window with the 24–85mm's Vibration Reduction feature turned on. The pine tree is a reflection.
The over-cast conditions gave a black and white appearance to the resulting images. To optimize each image minor adjustments were made during the Adobe Camera Raw (ACR) conversion. A bit of Detail Extractor from Nik Color Efex Pro was applied. All but the spruce tree reflection image (a slight crop) were straight out of the camera.
artie's Comments
When I saw these fine images on Andrew's blog I asked him immediately if he would like to go a guest blog post. He said yes. You can see more of Andrew's fine work on his website here. Andrew is the author of A Photographer's Guide To The Ontario Landscape, a great BAA eGuide. And along with Denise Ippolito and yours truly he is a co-creator of Fractastic,, another great eGuide the details the creative uses of the Reddfield Fractalius filter. Click here to learn more about or purchase Fractalius.
Andrew makes an important point about photographing patterns: you need to consider the shapes and lines carefully when designing the image. Just pointing and shooting just does not cut it no matter how amazing the patterns and the details. Andrew did a great job of framing each of the three images here.
I love that Andrew has made lots of great images with a lens that is routinely trashed by the internet experts. According to those knowledgeable folks none of my Canon lenses are sharp, none of my cameras are capable of focusing accurately, and it is not possible to create a sharp image with any teleconverter. You gotta love it.
Notice that Andrew was working in Av mode. In tomorrow's killer educational blog post I lay waste to the myth that real photographers work in Manual mode all the time. Coming soon: "Manual… Av… Tv… Program… Which is The Best Shooting Mode?"
Image Questions
Why did Andrew go from ISO 100 to ISO 800 to create the last image?
Both Andrew and I feel that one of these three images is the strongest. Which one do you think is the best? Be sure to let us know why.
Reflections, and An Invitation
Those of you who missed my career celebration gallery in yesterday's blog post may click here and then click on the gallery link to view it. Here's the best news: after viewing the 120 images and picking your 5 or more favorites–most folks could not limit their choices to 5, you will not have to hit the back button 122 times to get back to the blog:). You will simply be able to click on the tab to the left of the slide program tab.
Thanks to those who pointed out the two doubles. They have been replaced. That means that there are 2 new images. Folks with eagle eyes and photographic memories may leave a comment here if they can identify one or both of the new images.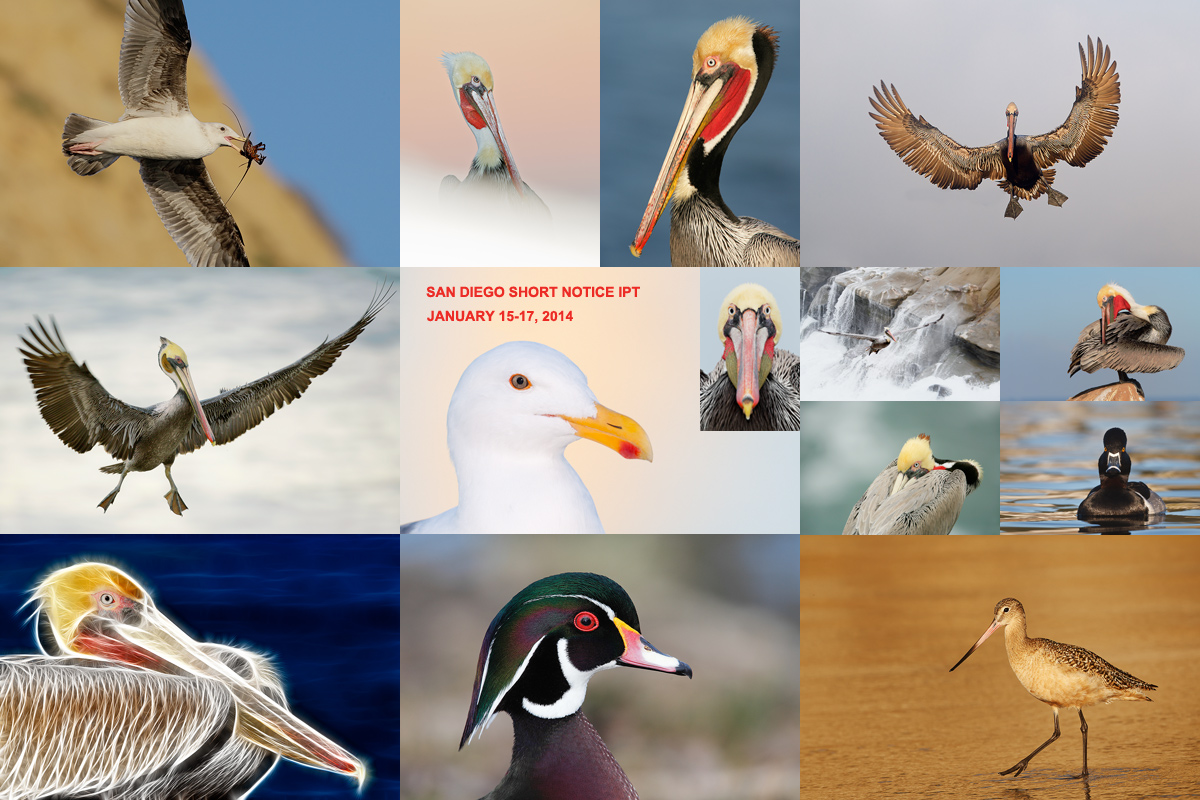 Join me in San Diego for three great days of photography and learning. Click on the image to better enjoy a larger version.
The San Diego Short-Notice Small Group IPT. January 15-17, 3-Full Days: $1049. Meet and Greet after dinner on your own at 7:30pm on Tuesday, January 14, 2014. Limit 6/Openings: 1.
We will get to photograph the California race of Brown Pelican in flight, resting, preening, cleaning their bill pouches, and talking to their neighbors by tossing their bills high in the air. The afternoon sessions will feature Marbled Godwits, several gull species, and Wood and Ring-necked Ducks. If we have a cloudy morning we will get to photograph Harbor Seals. You will learn to get the right exposure every time, to see the best situation, to think like a pro, to create sharp, pleasing images, and to understand the joint effects of light and wind on the birds. All in a small group with tons of individual attention.
A $500 non-refundable deposit is required to hold your slot for this IPT. Your balance will be due no later than January 7, 2014. The balance is alo non-refundable. If the trip fills, we will be glad to apply a credit applicable to a future IPT for the full amount less a $100 processing fee. If we do not receive your check for the balance on or before the due date we will try to fill your spot from the waiting list. If your spot is filled, you will lose your deposit. If not, you can secure your spot by paying your balance.
If you are planning to register please shoot me an e-mail.
Then please print, complete, and sign the form that is linked to here and shoot it to us along with your deposit check (made out to "Arthur Morris.") Though we prefer a check, you can also leave your deposit with a credit card by calling the office at 863-692-0906. If you register by phone, please print, complete and sign the form as noted above and either mail it to us or e-mail the scan.
If you have any questions, please feel free to contact me via e-mail
San Diego Site Guide
Can't make the IPT? Get yourself a copy of the San Diego Site Guide; it's the next best thing to being on an IPT. Nearly 30 years of San Diego bird photography revealed in one fell swoop.
IPT Info
Many of our great trips are filling up. You will learn more about how to make great images on a BAA IPT than anywhere else on the planet. Click here for info on the Anhinga Trail IPT. Click here for info on the Estero Lagoon IPT. Click here for info on the just announced San Diego Short Notice IPT–only 2 slots left on that one. And click here to learn about the just-announced 2014 Bosque IPTs. You will find additional IPTs and general info here.
Great Buy: Used Canon 800mm f/5/6L IS Lens for Sale
Friend and multiple IPT-veteran Monte Brown is offering his lightly used Canon 800mm f/5.6L IS lens in excellent condition for sale for $9,500. Purchase includes the lens case and hood, the 4th Generation Design Low Foot, the original foot, a LensCoat, the original invoice and the original Canon shipping carton. The lens was purchased new from B&H in April 2009 and was recently underwent a pre-sale clean and check by Canon. The buyer pays insured shipping via UPS Ground to US addresses only. The lens will be shipped only after your check clears.
The Canon EF 800mm f/5.6L IS USM Autofocus lens sells new for $13,223.00 so you will save a bundle on a great lens. No need to ever use a 2X…
If interested you can contact Monte by phone at 1-765-744-1421 or via e-mail.
Last Year's Grand Prize winning image by Lou Coetzer
Time is Running Out!
BIRDS AS ART 2nd International Bird Photography Competition
The December 31, 2013 closing deadline is fast approaching.
Learn more and enter the BIRDS AS ART 2nd International Bird Photography Competition here. Twenty-five great prizes including the $1000 Grand Prize and intense competition. Bring your best.
Support the BAA Blog. Support the BAA Bulletins: Shop B&H here!
We want and need to keep providing you with the latest free information, photography and Photoshop lessons, and all manner of related information. Show your appreciation by making your purchases immediately after clicking on any of our B&H or Amazon Affiliate links in this blog post. Remember, B&H ain't just photography!
Amazon
Everyone buys something from Amazon, be it a big lens or deodorant. Support the blog by starting your search by clicking on the logo-link below. No purchase is too small to be appreciated; they all add up. Why make it a habit? Because I make it a habit of bringing you new images and information on an almost daily basis.
Typos
In all blog posts and Bulletins feel free to e-mail or leave a comment regarding any typos, wrong words, misspellings, omissions, or grammatical errors. Just be right. 🙂