Photographing in the Fog
Many folks are turned off by photographing in the fog. On the foggy IPT morning when the image above was created at the Venice Rookery, I remember folks looking at my properly exposed-to-the-right images on the back of my camera. "They look so washed out, so foggy," was the universal reaction. Most folks do not realize that the potential for digital images created in foggy conditions is remarkable. Just be sure to expose well to the right so that the image on the rear LCD does look washed out. See the optimized image immediately below.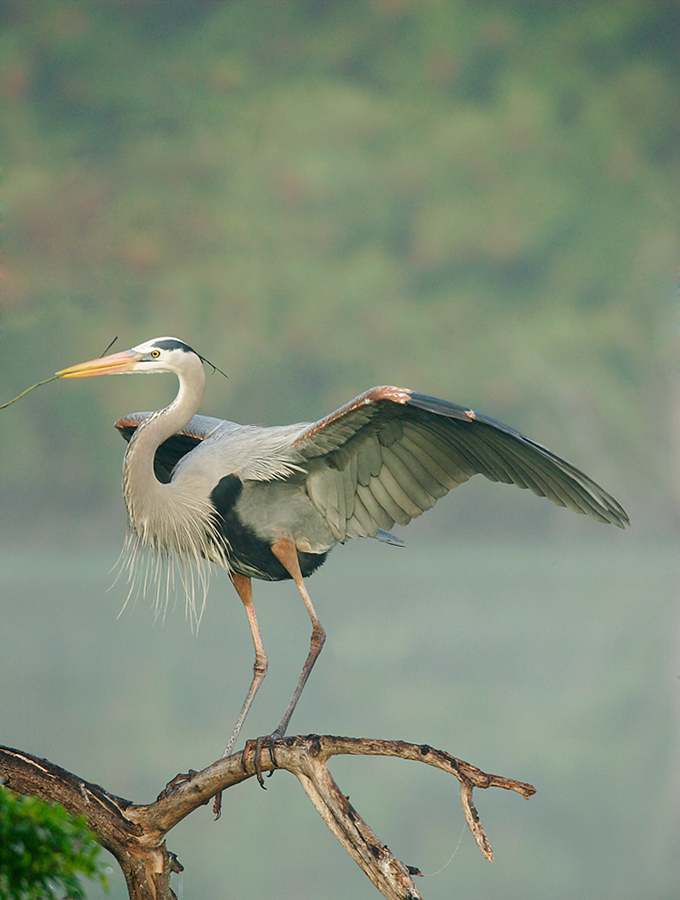 The optimized image here was created from the original image that opened this blog post.
The Image Optimization
Eliminating the foggy look was simply a matter of a Levels adjustment and a Curves Adjustment. Those represented one minute of work total. Cleaning up the image probably took 15-20 minutes using "Protect and Defend" work with the Clone Stamp Tool and "Divide and Conquer" work with the Patch Tool. All as described in Digital Basics File, an instructional PDF that is sent via e-mail. It includes my complete digital workflow, dozens of great Photoshop tips, several different ways to expand canvas, all of my time-saving Keyboard Shortcuts, Quick Masking, Layer Masking, and NIK Color Efex Pro basics, my killer image clean-up techniques, Digital Eye Doctor, and tons more.
Today clean-up would go a lot quicker using the Protective Cloning on a Layer with a Regular Layer Mask added that Denise Ippolito so kindly taught me.
Before and After
Hopefully the animated GIF file above will help you to learn to embrace foggy conditions. Just be sure to expose to the right; once you follow your normal conversion and Photoshop workflow procedures, you will be greatly rewarded.
Interestingly enough, I wound up using this image, cropped to a square, as back cover art for The Art of Bird Photography II (ABP II: 916 pages/900+ images on CD only). The back cover features a wonderful quote from friend and fellow professional Jim Brandenburg:
Arthur Morris's bird photographs have a truly unparalleled elegance. As artist, he shares a rare gift of intimacy in his work, then as teacher, powerfully describes the steps of this most delicate ballet with his shy and elusive feathered partner.
Learn lots more about ABP II and our other educational offerings here.
If you would like to learn to create your own animated GIFs and the basics of putting text on an image check out our "Animated GIF Video Tutorial" here. And be sure to check out our complete collection of Photoshop (and other) Video Tutorials by clicking here.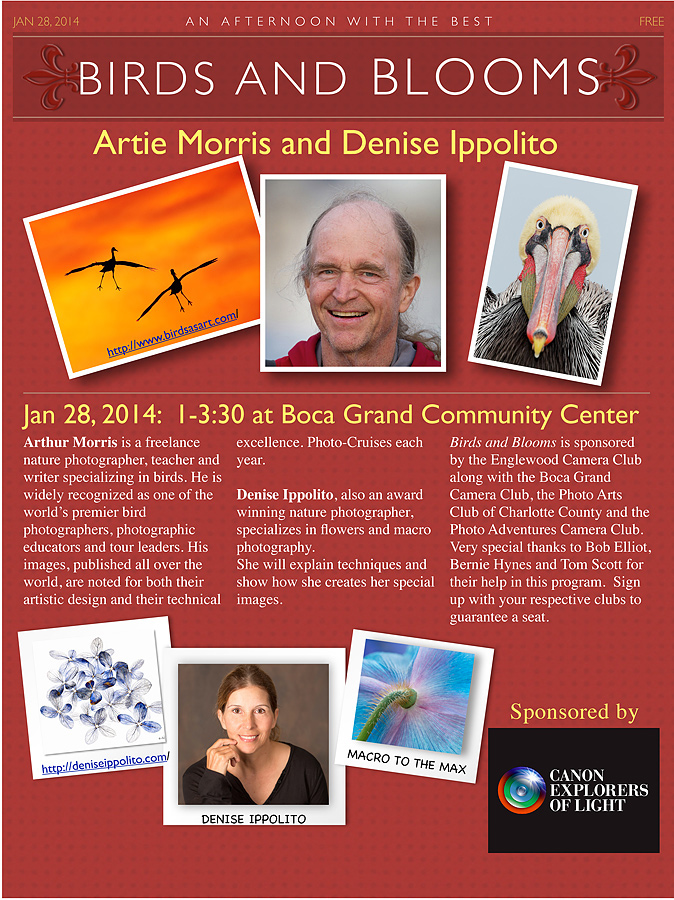 This afternoon seminar is 100% free and open to the public.
Free Afternoon Seminar
Join Denise Ippolito and me on the afternoon of January 28, 2014 at 1:00pm in the Boca Grande Community Center for a free two-part nature photography seminar entitled "Birds and Blooms." At 1:00pm I will be presenting "A Bird Photographer's Story" (updated with lots of my favorite new images). Denise will follow with her hugely popular "Bloomin' Ideas." The venue is located at 131 First Street West, Boca Grande, FL 33921.
Suggestion
Join us for the free seminar and then for the Venice Rookery IPT the following day.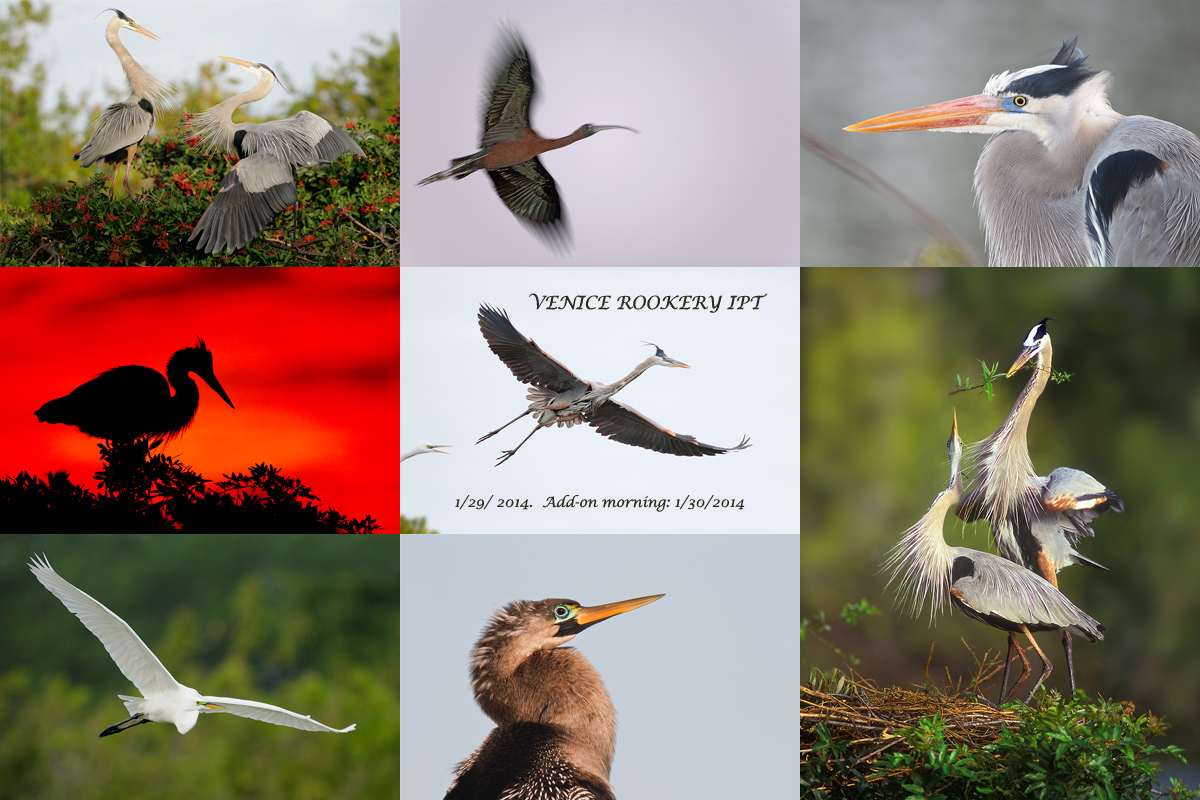 Do join us on the Venice Rookery IPT, or better yet, for the whole South Florida Composite IPT. Scroll down or click here for complete details.
The 2014 South Florida Mini-IPTs
Because of our intense travel schedule that includes a trip to Japan I will not be running the traditional SW FLA IPT. In addition, in an effort to give some folks a chance to get a taste of our teaching and our passion for bird photography, Denise Ippolito and I have organized a series of short IPTs that may be combined into one wonderful experience or enjoyed piecemeal.
Jan 29 (WED): Venice Rookery In-the-Field: all day: (Limit 14/Openings 10): $399. Introductory slide program 7pm, Jan 28.
30 (THURS) -Venice am only. (Limit 14/Openings 10):: $249
You can sign up for one or more of the short IPTs and/or one or more of the add-on days or you can opt to sign up for the all the sessions. Those signing up for the whole shebang will be having all lunches and dinners with us most every day.
A $500 non-refundable deposit is required to hold your slot for this IPT. For the short segments that are less than $500 payment in full is due at the time of registration. Your balance is due 4 months before the date of the IPT and is also non-refundable. If the trip fills, we will be glad to apply a credit applicable to a future IPT for the full amount less a $100 processing fee. If we do not receive your check for the balance on or before the due date we will try to fill your spot from the waiting list. If your spot is filled, you will lose your deposit. If not, you can secure your spot by paying your balance. Best to call Jim or Jennifer with a credit card in hand to register. Credit cards are not accepted for balances. Alternatively you can send a check for $500 made out to Arthur Morris to us at PO Box 7245, Indian Lake Estates, FL, 33855. Please include a note with your e-mail address and be sure to let us know what you are signing up for.
IPT Info
Many of our great trips are filling up. You will learn more about how to make great images on a BAA IPT than anywhere else on the planet. Click here for info on the Anhinga Trail IPT. Click here for info on the Estero Lagoon IPT. Click here for info on the just announced San Diego Short Notice IPT–only 1 slot left on that one. And click here to learn about the just-announced 2014 Bosque IPTs. You will find additional IPTs and general info here.
Great Buy: Used Canon 800mm f/5/6L IS Lens for Sale
Friend and multiple IPT-veteran Monte Brown is offering his lightly used Canon 800mm f/5.6L IS lens in excellent condition for sale for $9,500. Purchase includes the lens case and hood, the 4th Generation Design Low Foot, the original foot, a LensCoat, the original invoice and the original Canon shipping carton. The lens was purchased new from B&H in April 2009 and was recently underwent a pre-sale clean and check by Canon. The buyer pays insured shipping via UPS Ground to US addresses only. The lens will be shipped only after your check clears.
The Canon EF 800mm f/5.6L IS USM Autofocus lens sells new for $13,223.00 so you will save a bundle on a great lens. No need to ever use a 2X…
If interested you can contact Monte by phone at 1-765-744-1421 or via e-mail.
Last Year's Grand Prize winning image by Lou Coetzer
Time is Running Out!
BIRDS AS ART 2nd International Bird Photography Competition
The December 31, 2013 closing deadline is fast approaching.
Learn more and enter the BIRDS AS ART 2nd International Bird Photography Competition here. Twenty-five great prizes including the $1000 Grand Prize and intense competition. Bring your best.
Support the BAA Blog. Support the BAA Bulletins: Shop B&H here!
We want and need to keep providing you with the latest free information, photography and Photoshop lessons, and all manner of related information. Show your appreciation by making your purchases immediately after clicking on any of our B&H or Amazon Affiliate links in this blog post. Remember, B&H ain't just photography!
Amazon
Everyone buys something from Amazon, be it a big lens or deodorant. Support the blog by starting your search by clicking on the logo-link below. No purchase is too small to be appreciated; they all add up. Why make it a habit? Because I make it a habit of bringing you new images and information on an almost daily basis.
Typos
In all blog posts and Bulletins feel free to e-mail or leave a comment regarding any typos, wrong words, misspellings, omissions, or grammatical errors. Just be right. 🙂