Another Gatorland Short Notice Saturday Full-Day In-the-Field Workshop
Saturday March 22, 2014. 7:15am till 10:15am & 4:00pm till dusk. Lunch, image review, and Photoshop session included. Limit 6. A very small group is again likely: $399.
The cost of your Gatorland Photographer's Pass is not included.
Gatorland is so good right now that I am going back this Saturday to try for tiny Great Egret chicks in the nest. Head portraits of this species in full breeding plumage are pretty much guaranteed even with an intermediate zoom lens. Nest building and flight likely. Here's the story: there about two dozen photographers at Gatorland on Saturday past. Aside from one photographer from Slovakia and another, wearing a blue and white checked shirt, nobody had a clue as to how to make a good image…. Most folks just stand in one spot and point and shoot. Without regard for light angle or background. Join me on this, the 2nd Gatorland Short Notice Saturday Full-Day In-the-Field Workshop and you will learn to spot the good situations, to choose the best perspective, to see and understand the light, to get the right exposure every time after making a single test exposure, and to design pleasing images by mastering your camera's AF system. A big part of the above is that you will learn how and why you must work in Manual mode 90% of the time at Gatorland. That is one of the things that Dana-see her e-mail below, and Chris Billman learned last Saturday.
At lunch we will review my images, take a look at five of your best images from the morning session (for those who opt to bring their laptops), and process a few of my images in Photoshop after converting them in DPP. That followed by Instructor Nap Time. Last Saturday all 3 folks had a great time and learned a ton. And the weather for this coming Saturday is looking good.
Payment in full via credit card is due upon registering. Please call Jim or Jennifer at 863-692-0906 to register. Ask for me if you have any questions.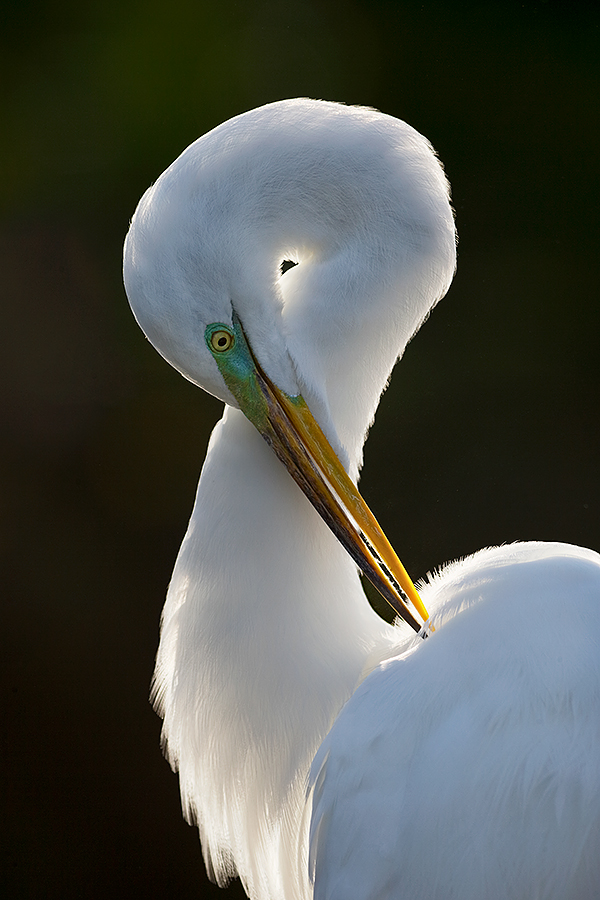 This backlit Great Egret was created last Saturday at Gatorland with the Canon EF 200-400mm f/4L IS USM Lens with Internal 1.4x Extender (hand held with the internal extender in place at 467mm) and the Canon EOS-1D X. ISO 400. Evaluative metering -1 2/3 stops as framed: 1/1000 sec. at f/7.1 in Manual mode. AWB.
Two sensors up from the central Sensor/AI Servo-Surround/Rear Focus AF on the bird's neck active at the moment of exposure. Click here to see the latest version of the Rear Focus Tutorial. Click on the image to see a larger version.
Your browser does not support iFrame.
Gatorland is Gatorland–Why Join Me?
I spotted the situation above from 50 yards away. It was being totally ignored by all of the other photographers. I called Dana over and she was thrilled. We went over the exposure–be sure to get just a very few blinkies on the rim lit highlights, and talking about moving up or down a bit to ensure the darkest background. Chris joined in a bit later. Most amazingly, nobody else was in the least bit curious as to what we were doing….
Join me next Saturday at Gatorland to see what you have been missing and to get your eyes opened!
Thanks to Denise Ippolito for helping me to fine-tune this image. There will be lots more on this photo here soon.
Image Question
Why did I need -1 2/3 stops for this image?
Gatorland In-the-Field Kudos
This yesterday via e-mail from Dana Campbell of Maryland who signed up virtually at the last second:
It was a wonderful day today! You taught me so much; I am still thinking about it all. I will now go back and read the archives, practice, and make some equipment changes/new purchases (Mongoose M3.6) soon. It was an honor and a pleasure to have met you and spent the day learning from you. You were so patient and generous sharing your knowledge and talent as well as a wonderfully nice and fun person! I hope to be able to join you again soon for an IPT. Thank you. Thank you. Thank you. Sincerely, Dana
Your Help is Needed
Locations where fresh water abuts salt are often a mecca for birds. Many decades ago at many of the great east coast birding locations–Edwin B. Forsythe NWR (formerly Brigantine) in New Jersey, Bombay Hook in Delaware, and my beloved Jamaica Bay Wildlife Refuge (JBWR) in New York City, salt marsh was purposely destroyed to create fresh water impoundments in close proximity to salt water. Less notable sites like Wolfe's Pond Park on Staten Island, NY are no less extraordinary.
At JBWR two such impoundments have existed since the early 1950s: the West Pond and one of my soul places, the East Pond. The late Max Larson showed me my first breeding plumage Curlew Sandpiper on the West Pond well before I even thought about photographing birds. And it was there that I saw a juvenile Broad-billed Sandpiper, a mega rarity from Asia. Hurricane Sandy put the hurt on the West Pond in October 2012. The West Pond was breeched and the former avian fresh water haven once again became part of Jamaica Bay which is of course completely saltwater.
Douglas Futuyma posted "Birder Action Needed to Restore Jamaica Bay WR West Pond" to the ABA (American Birding Association) blog:
New York's famed Jamaica Bay Wildlife Refuge (JBWR) has been damaged beyond recognition. It will never again be such a wonderful resource for birds and birders unless it is repaired – and that may depend on the voice of birders (and bird photographers) everywhere.
Whether by personal experience or by its reputation, birders throughout North America and beyond know the refuge. Some came from far and wide to see the Broad-billed Sandpiper, the first in the lower 48 states, in 1998; others came there to see their first Spotted Redshank, Fulvous Whistling-Duck, Sage Thrasher, White-faced Ibis, Reddish Egret, or King Eider; countless birders have enjoyed the diverse winter waterfowl, seasonal shorebirds, and summer herons and terns that a walk around the West Pond. More than 330 species of birds have been seen in the Refuge, owing to the unusual proximity of a freshwater Pond to a saltwater bay, together with saltmarsh, tidal flats and groves of trees. Five federally Endangered or Threatened species, 8 of 10 New York State Endangered species, and all 19 New York Species of Special Concern have occurred on the West Pond. Some of these have bred almost annually, and many other species use the refuge for resting and refueling during migration. BirdLife International and the National Audubon Society have designated Jamaica Bay an official Important Bird Area (IBA)
You can read the whole thing here.
The West Pond, and The Birder's Coalition for Gateway, needs your help. Please click here, sign the petition, and spread the word on Facebook, Twitter, and elsewhere. The petition route successfully stopped the shooting of Snowy Owls at various NYC airports. Your help here can help to get the West Pond restored to its former glory. Please take a moment to click and sign.
108
This post marks 108 straight days with a new educational blog post. With so many folks getting in the habit of using our B&H and Amazon links why quit now? To show your appreciation for my efforts here, we do ask that you use our B&H and Amazon affiliate links for all of your B&H and Amazon purchases. Please check the availability of all photographic accessories in the BIRDS AS ART Online Store. We sell only what I use and depend on. We will not sell you junk. We know what you need to make creating great images easy and fun. And we are always glad to answer your gear questions via e-mail.
This blog post took well more than 3 hours to prepare. Enjoy. And learn.
Huge Thanks!
Huge thanks to the many readers who continue to use the BAA B&H and Amazon Affiliate links for purchases large and small. March has gotten off to a great start with folks buying several Version II Super-teles, several 1D X bodies, and a 200-400. Way to go and greatly appreciated. It is wonderful to see so many folks being appreciative of the streak. Remember, every purchase helps no matter how small and getting in the habit of using the BAA links will not cost you one penny more.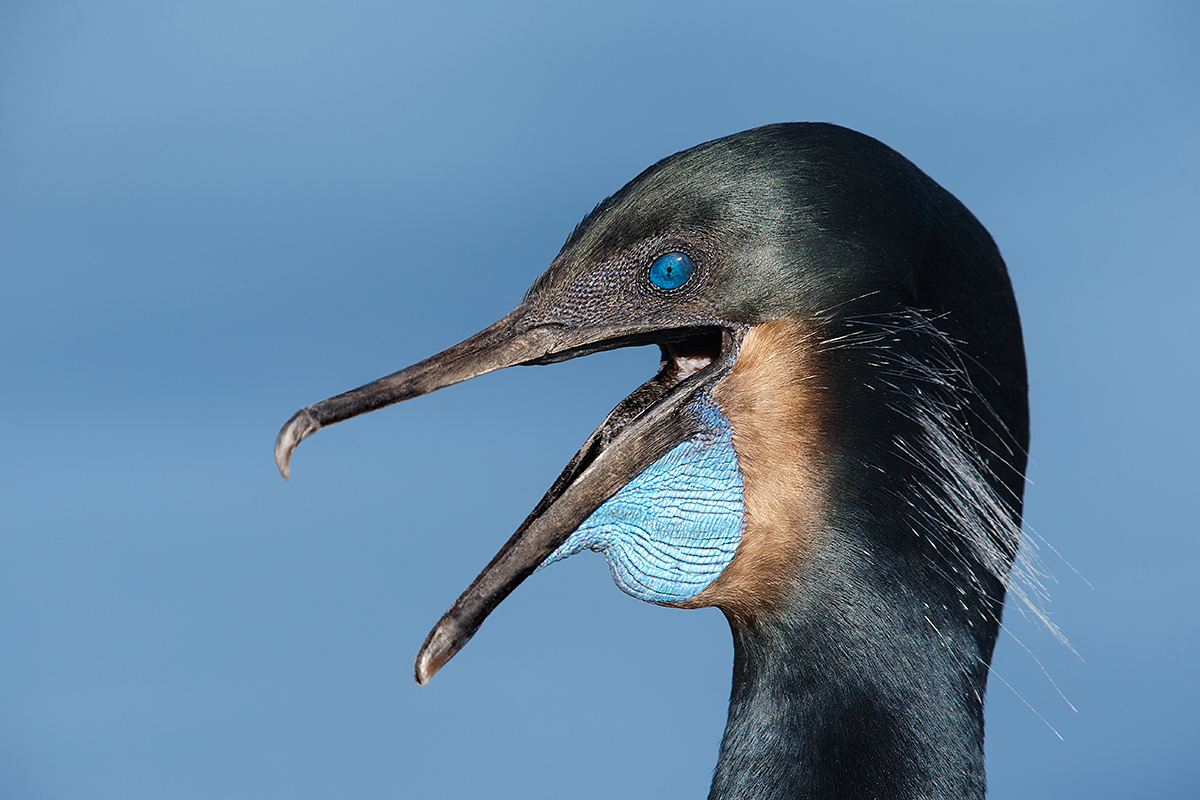 This image of a breeding plumage Brandt's Cormorant was created at 8:59am/January 16, 2014 on the San Diego Short Notice IPT with the Gitzo 3532 LS carbon fiber tripod, the Mongoose M3.6 head, the Canon EF 600mm f/4L IS II USM lens, the Canon 2x EF Extender III (Teleconverter), and the Canon EOS-1D X Digital SLR camera. ISO 400. Evaluative metering +1/3 stop as framed: 1/400 sec. at f/11 in Manual mode. Color Temperature: AWB.
We were quite lucky on this IPT as many individuals of both species of cormorants, Double-crested and Brandt's, were sporting all their breeding colors and dress. They were about 2-3 weeks ahead of their usual schedule.
Central sensor (by necessity) Expand/AI Servo/Rear Focus just caught the top of the proximal third of the lower mandible. Click here if you missed the Rear Focus Tutorial. Be absolutely sure to click on the image to see a larger version.
Your browser does not support iFrame.
What's So Funny?
When I see images like this on my laptop, I often wonder whether the bird was yakking, yawning, or gular panting. Or perhaps it was laughing….
The gular skin or pouch is the blue skin that we see in the image above. I believe that the tan feathers to the right of the gular skin may be part of the gular region. Doug Wechsler, feel free to chime in here. Digested bits of food to be fed to small chicks may be held in the gular pouch. We frequently notice the gular region when a variety of birds, most especially cormorants, are engaged in gular flutter to help keep them cool.
I had always called this behavior "gular panting" but while doing the research for this post I learned that the correct term is "gular fluttering."
From "Patterns of Panting and Gular Flutter in Cormorants, Pelicans, Owls, and Dvoes" (Bartholomew, Lasiewski, & Crawford) here:
Most birds pant when subjected to heat stress, but some supplement evaporation from the respiratory tract by fluttering the gular area. Gular flutter occurs in at least the following taxa: cormorants, pelicans, boobies, anhingas, frigate-birds, herons, owls, doves, , roadrunners, colies, and many gallinaceous species.
They go on to note that in Double-crested Cormorant, a species closely related to the Brandt's Cormorant depicted in the image here, that the rate of gular flutter varies from 645 to 730 per minute and was relatively constant over a wide range of ambient temperatures, body temperatures, and breathing rates.
Exposure Question
What is the primary exposure danger when creating an image like this.
Image Optimization and Bill Cleanup
Image optimization here was relatively straight-forward. After converting the image in DPP I dust-spotted the image, selected the bird's head, face, and bill, and ran a layer of my favorite NIK 50/50 custom preset (50% Tonal Contrast & 50% Detail Extractor) and painted that out on the tan feathers using a Regular Layer Mask. Notice the difference in the detail on the face in the animated GIF above. With all the fluffy stuff on the bill, especially near the tip, bill cleanup took about 10 minutes as I need to work large and carefully. I used all of my usual cleanup tools: the Spot Healing Brush, the Clone Stamp Tool at various opacities, and the Patch Tool. I darkened the bill a bit using Selective Color on a layer after selecting the bill using the Quick Selection Tool. The bit of Eye Doctor work that I did is also evident in the animated GIF.
Digital Basics
Everything mentioned above and tons more are detailed in my Digital Basics File. Are you tired of making your images look worse in Photoshop? Do you have no clue as to what I was talking about above? Digital Basics is an instructional PDF that is sent via e-mail. It includes my complete digital workflow, dozens of great Photoshop tips, the use of Contrast Masks, several different ways of expanding canvas, all of my time-saving Keyboard Shortcuts, Quick Masking, Layer Masking, and NIK Color Efex Pro basics, my killer image clean-up techniques, Digital Eye Doctor, creating time-saving actions, and lots more.
The DPP RAW Conversion Guide
After seeing the accurate colors that I get from my DPP RAW conversions, Japan in Winter co-leader Paul McKenzie has switched to DPP conversions and Denise Ippolito is considering doing the same. Now that is amazing…. To learn why I use Canon's Digital Photo Professional (DPP) to convert every image that I work on, click here.
Support the BAA Blog. Support the BAA Bulletins: Shop B&H here!
We want and need to keep providing you with the latest free information, photography and Photoshop lessons, and all manner of related information. Show your appreciation by making your purchases immediately after clicking on any of our B&H or Amazon Affiliate links in this blog post. Remember, B&H ain't just photography!
Amazon
Everyone buys something from Amazon, be it a big lens or deodorant. Support the blog by starting your search by clicking on the logo-link below. No purchase is too small to be appreciated; they all add up. Why make it a habit? Because I make it a habit of bringing you new images and information on an almost daily basis.
Typos
In all blog posts and Bulletins, feel free to e-mail or to leave a comment regarding any typos, wrong words, misspellings, omissions, or grammatical errors. Just be right. 🙂